If you frequent The Dundee Hotel, you may have noticed that we have a brand new tasting room in the building: North Valley Vineyards. This, however, is no ordinary winery. Starting off as a sister brand to the famous Soter Vineyards, North Valley has recently branched off as a collection of the best of the best. Sourcing from the top blocks throughout the north valley (as well as their own grapes, of course) NVV provides the most flavorful and nuanced blends no matter the vintage. And no one is more excited about the opportunities this brings than the head winemaker, James Cahill. Read below to learn all about James, his journey to making wine in the Willamette Valley, and his hopes for the future of Pinot Noir in Oregon. And when you're ready to try it for yourself, there's no better (or more convenient) place to host you than The Dundee Hotel.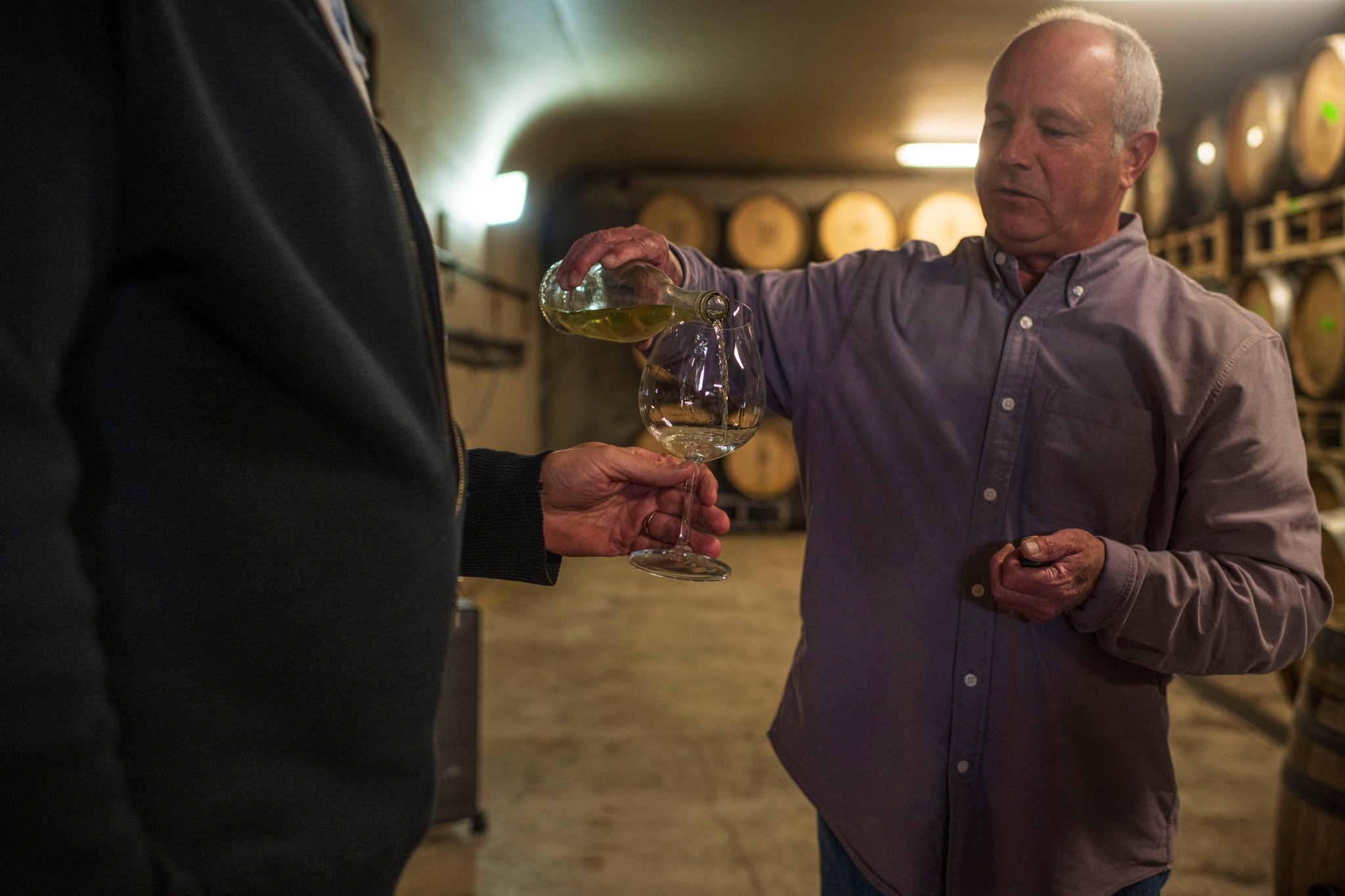 Pinot may be King but North Valley boasts celebrated Chardonnays and Rosés as well.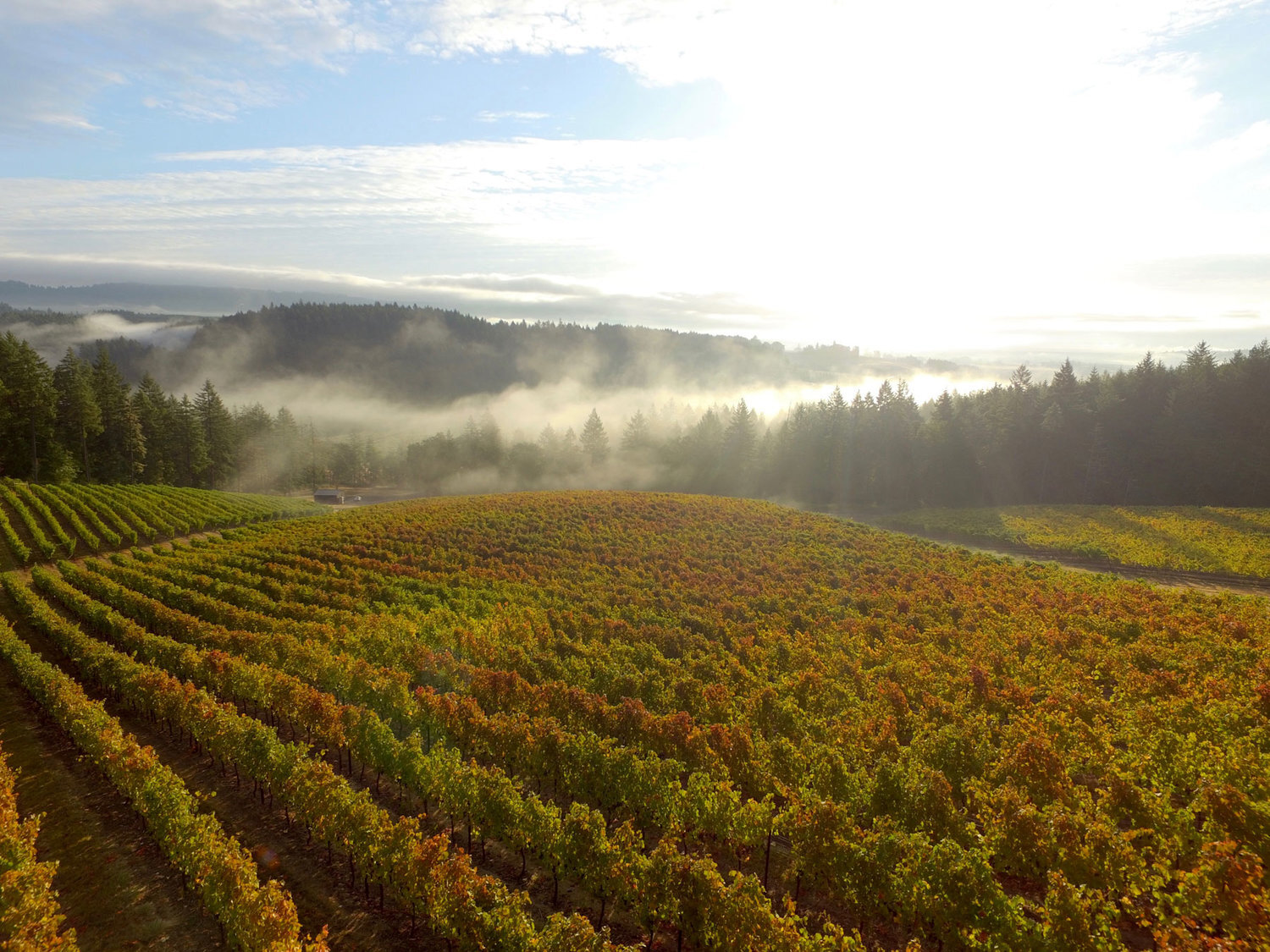 North Valley's vineyard in the Yamhill-Carlton AVA
The Dundee (TD):  Can you tell me a little bit about your background and what brought you to making wine at NVV?
 James Cahill (JC):  Well, like a lot of other people, my background is that I started as a wine lover. It was an affection that I acquired. I was raised in a house where wine was a special occasion. If fancy neighbors were coming over, there might be a bottle of Chianti on the table. Keep in mind, I grew up in the 70's and believe it or not, California wine was new. The country was waking up to wine and wine production here.
 I worked in restaurants from the time I was about 14 years old. I started washing dishes, and when I was in college, I felt like I was a good enough server to coax money out of people's pockets… and that meant getting a good bottle of wine on the table.  I had the good fortune to work in a couple of nice restaurants where I was introduced to wine as something that's "on the table," which became a lifelong philosophy of mine. I picked up bits of information about wine and learned that there was a culture about it. For the first time, I tuned into the fact that there were a lot of different wines in the world. That realization of, "Wow, this wine comes from a place." I mean, if you're having Italian wine, it's authentic. Right? It comes from Italy. It's not American Italian wine. It's from a place and culture. That was intriguing to me. 
So one thing led to another and I was very fortunate to gain an affection for burgundy in my early twenties. I got to travel and the lucky chance to taste burgundy in the 90's, which meant wines that are almost absolutely unavailable nowadays. Beaux Freres set me up with a harvest position, and I continued learning and growing from there. But it was not exactly random. I was educated when it came to reading how wine production worked, but I was as green as could possibly be. Thankfully, I was able to do the work. And that's the mantra, right? "Do the work."
And in terms of my experience in the Willamette Valley, I worked for Elk Cove first, before receiving a job with Soter, which lasted twenty years, and that's how this project came around. It was handed to me from Soter, and when it branched off, I branched off with it.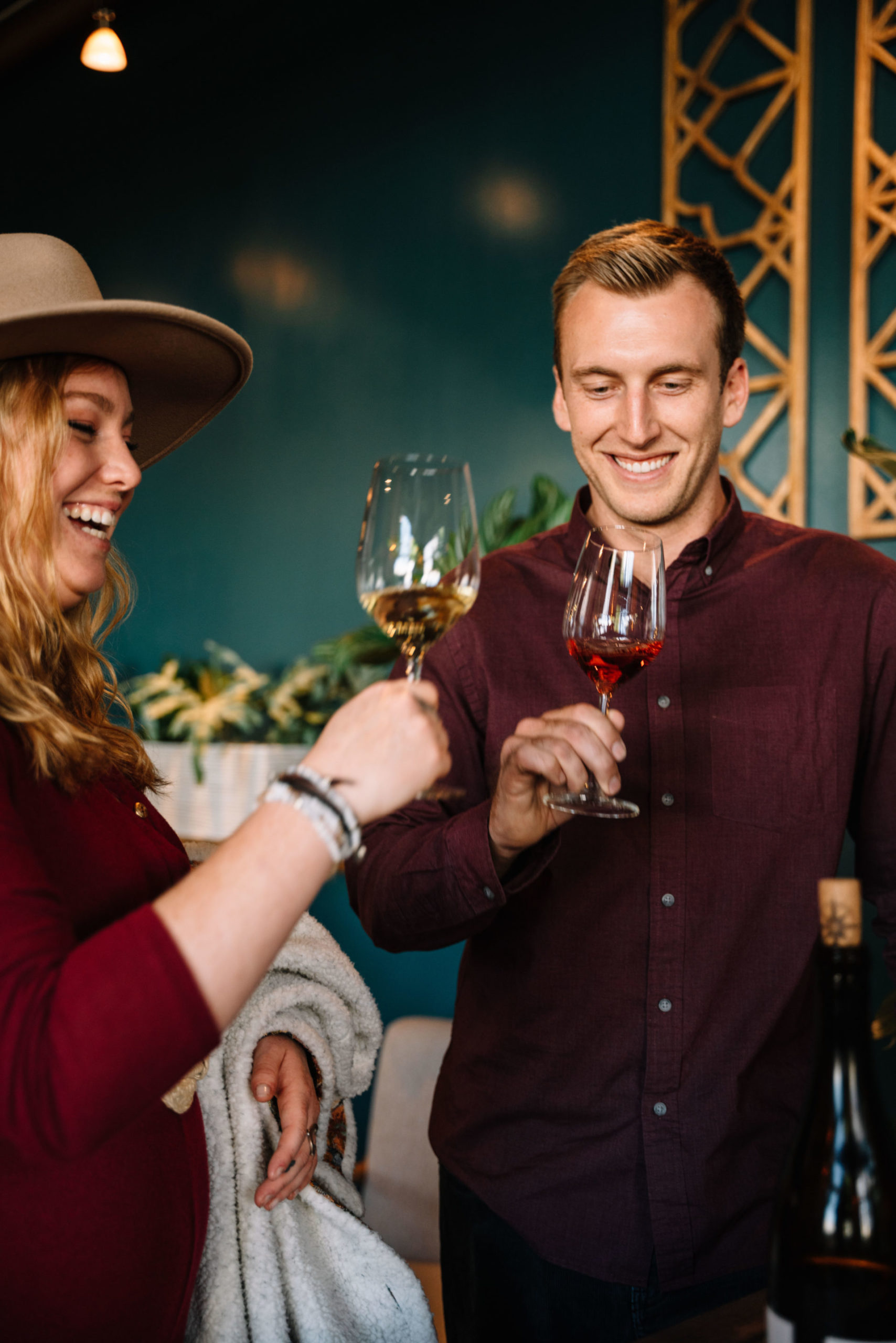 TD:  What does the name "North Valley" represent?
JC:  When we talk about Oregon Pinot Noir, we're really talking about (with all respect to southern Oregon) Willamette Valley Pinot Noir. And all the "cool kid" AVAs (Dundee hills, Ribbon Ridge, Yamhill Carlton, Eola Amity, etc.) are located in the northern Willamette Valley.  Now, the northern valley is not its own AVA, but it is absolutely apparent to those of us who live here or get wine from this area that it's a clustering of good zip codes for wine. Our bottles have a compass on them and it's symbolic of our connection to this place. And to us we are impressed by and proud of how much diversity and quality there is in the north valley.
 TD:  What makes NVV different from the rest of the Willamette Valley?
JC:  The focus of the prestige of the sources. Like I said, good zip codes. We can select for diversity and the quality by not just picking any patch of grapes, but the best of the season and blending those grapes to represent the top tier of each vintage. One of the bottles we make is called "Classic," and I think that means a standard of excellence and a representation of what's possible and valued in this area. By blending, we can achieve something extraordinary every year. Right now Oregon is on such a roll that every year seems to be a great vintage, but in the 90s that wasn't the case. During years like that it's so important to be able to blend from the strengths and play to what is good. So North Valley, through blending and careful site selection is able to consistently produce something that is a standard for what's possible.
"North Valley" is used as a geographical reference to the area from which the wines are sourced, farmed and produced
North Valley Pinot Noir is a blend of varietals sourced from select vineyards
TD:  What is the NVV process of acquiring grapes?
JC:  We visit various vineyards. Since 2005 when the project began at Soter, the idea was to explore and try grapes from all over. We acquire grapes through exploration, embracing the spirit of collaboration and the fact that we've made wines at several different facilities now with great comrades, hosts, and fellow experts.
TD:  What is your favorite part of making wine?
JC:  That it's a way of life. Just as soon as we put one vintage to bed, we're looking ahead to next year. Did this site deliver like we thought it would, and is there something we could've done better? Then we immediately set back to work to create and craft the next vintage. It's a way of life, and a connection to this place that's quite rich. Year round we have a project.
TD:  What do you wish more people knew about wine?
JC:  Just how we can lose sight of how useful and important it is on our tables. So often we're caught up in scores or thinking there's trophies to be had. Wine and food shouldn't be something abstract; it shouldn't just be for rich people. Wine is a beautiful extension of putting something delicious on the table, and we're often so distracted by scores or things that are hard to get that we often forget the most practical and important aspects of wine as part of our culture.
As a winemaker James has developed relationships with growers throughout the region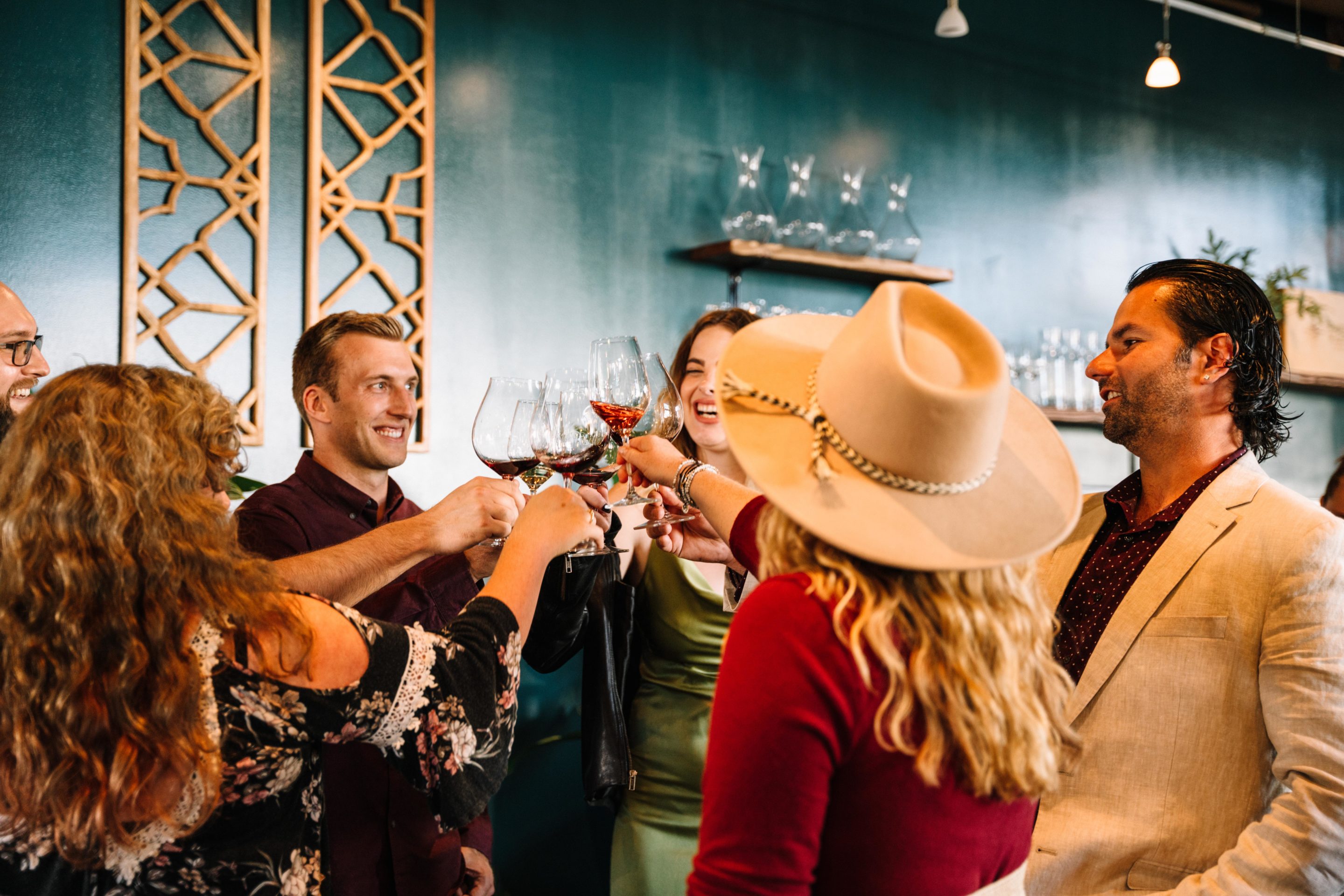 With a tasting room located at The Dundee, North Valley's wines are both unassuming and accessible to all
TD:  What would you say is your most controversial wine opinion?
JC:  I'm a grumpy old guy, so I do have opinions, but one of the beautiful things about this job and specific situation is the exposure to young, bright people who are making contributions. So my opinions are still evolving. I would say though that dogma is a pet peeve of mine. The deification of people in an exploitive way that can lead to losing sight of the fact that collaboration is so important. People should be recognized for their work, but we're also a part of something bigger. And it's easy to forget how important our community is.
TD:  What is your personal favorite wine at NVV, and what do you recommend pairing with it?
JC:  It has to be Pinot Noir. We have tremendous affection for the Chardonnays we're making, and it's OK to like more than one thing, but we should not forget that as competitive as it may seem, our best work for all of us is still ahead and the Pinot Noir here is gorgeous. So while it doesn't have to be mine, when I'm sitting in a restaurant, that's the wine I want to get. It's not ridiculously expensive, it's true to type (always good), and food-friendly. There's nothing I like better than a perfectly roasted chicken and a bottle of Pinot Noir. That's a happy place for me.
James shares his more than 25 harvests of expertise, experiences, and tales
Pinot is the pick ten times out of ten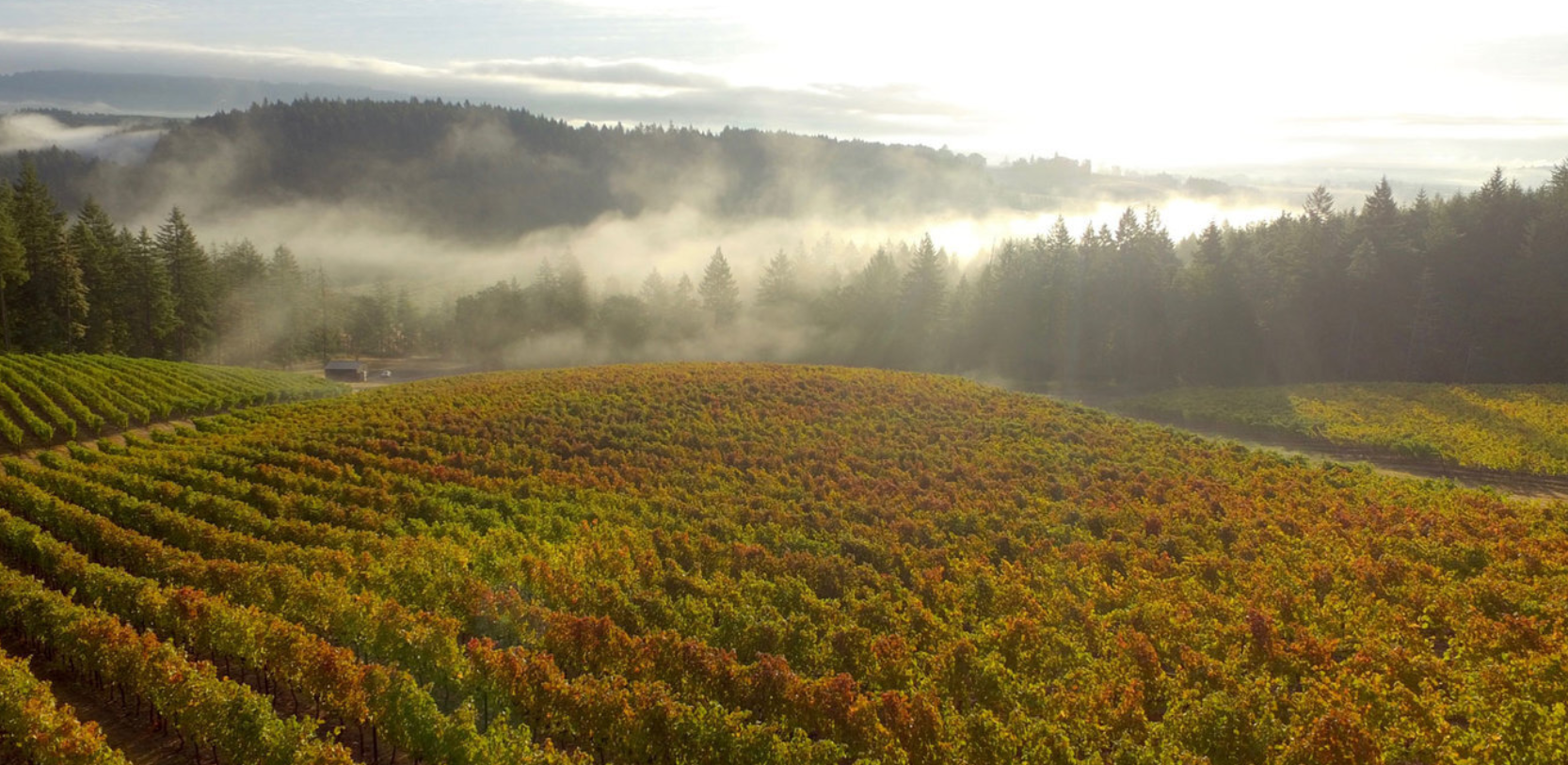 A breathtaking view of North Valley's ten acre vineyard nestled around many other acclaimed vineyards

TD:  What time of year do you think is the best to come wine tasting in the Willamette Valley?
JC:  It's a beautiful place on earth regardless of season. Even in winter, you see green. Oregon has this reputation as a rainy place but people can miss the fact that the summers can be dry and the sheer bounty of what you can find here reflects everything good about Oregon. But my favorite is when Oregon produce is in season. And the long warm days and cool nights can't be beat. Let's just say anyone who lives here isn't leaving in July. 
TD:  Is there anything coming up at NVV that you're excited about?
 JC:  Since we just branched out, we are particularly excited about the fact that 2021 was our first vintage away from Soter. We have the mixture of this established brand that's simultaneously a start up, and also being reinvented. The new owners have had vineyards here since 2007 and saw North Valley as a perfect opportunity for them to take another step forward. And there's tremendous ambition to grow in volume yet also make North Valley something of a collective, with different projects. It's a moving train, and isn't that a lucky place to be?
TD:  Did you make any changes during the pandemic that you're planning to keep long beyond quarantine?
 JC:  I can't say that I'm stumped, but it's such an interesting question. Frankly, it was an important reminder that everyone stays together. Harvest, I've been told, is like working on a submarine. You better get along with everyone because for the next month you'll be seeing them constantly. So the pandemic further emphasized with its protocols how much of a team the harvest crew is. It's not just workers; its people collaborating. That tightly knit group is special.
Nathalie Quick, Director of Sales and Marketing gets those North Valley bottles to you!

Hit up the tasting room to meet the associate Jen and find out what her favorite North Valley wine is
Or, say hello to Tasting Room associate Catie
North Valley's beautiful tasting room in The Dundee is open Sunday through Thursday from 11:00am to 5:00pm
TD:  What is your favorite wine story or memory?
 JC:  There are so many really special moments. The 'epiphany' bottles here and there. It's a montage of that first great bottle of burgundy, other great tasting moments, and great meals. Those moments of perfect dinners, people around the table, and here we are on Earth enjoying these moments. So yes… it would be a montage populated by a nice bottle of wine shared by a special group of people.
Make a reservation at The Dundee Hotel in November and get a free tasting experience at the North Valley tasting room (located in the hotel), use code NV&DUNDEE! (or just book using the "book now" link below).