At The Dundee, our 22 rooms are completely unique, from compact and chic, to spacious and luxe. Our colors are inspired by the vibrancy of the Willamette Valley with bold art by local artists, custom furnishings, and mid-century touches. High ceilings, luxury bathrooms, and thoughtful design make every room feel modern, spacious, and comfortable. We've got all the essentials for your wine country visit including plush robes, wine glasses, and bottle openers, to relax and restore at the end of the day.
Our rooms are a perfect jumping off point for exploring Oregon's Wine Country or just walk a few steps and enjoy a variety of outstanding vintages from the five tasting rooms onsite!
Every Room Includes:
High ceilings and luxurious showers, towels, and bathrobes
Custom furnishings featuring our exclusive, artisan-made headboards
Luxury mattresses made exclusively to our specifications
Original and engaging art by regional artists
Wine glasses and openers
Refrigerators
Keurig coffee makers with coffee
Complimentary premium speed Wi-Fi
Fine bath products
Quiet and comfortable heating and cooling controlled by you
Plasma TV with many cable channels
Hair dryers
Iron and board
Alarm clock with Bluetooth speaker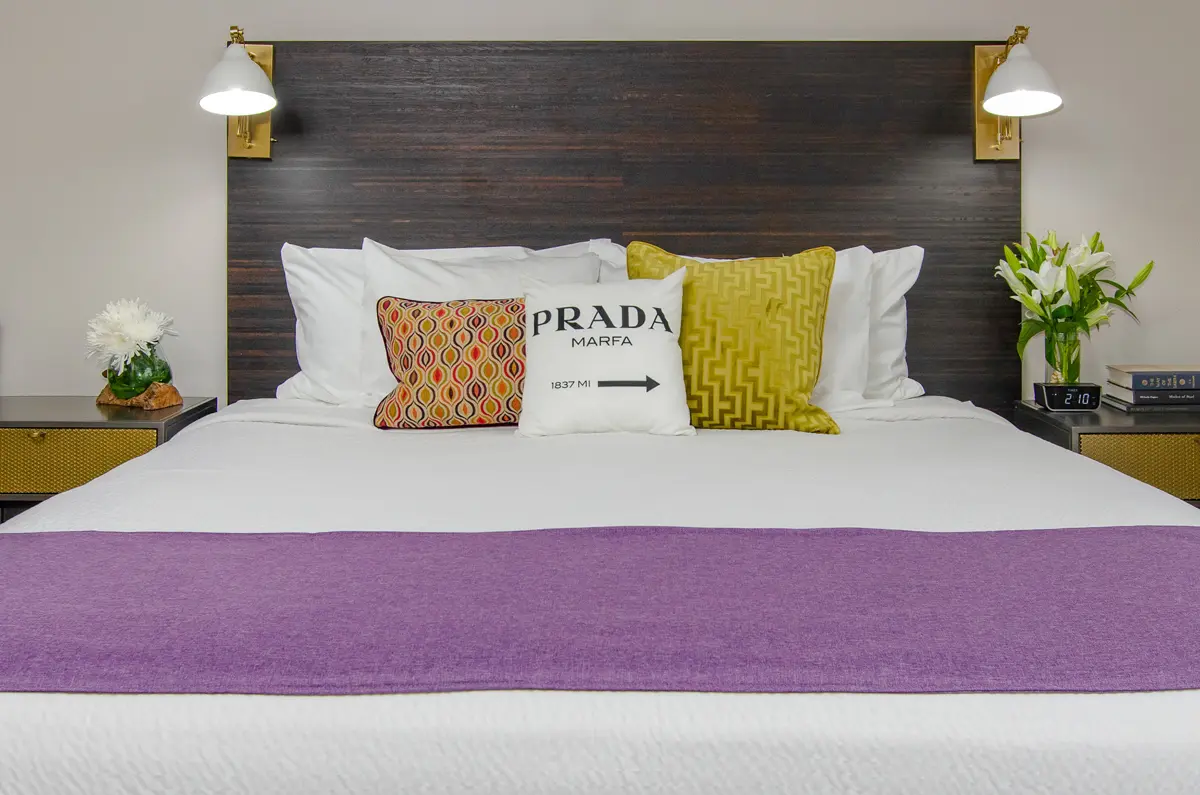 Each of our King Deluxe rooms is unique featuring local, bold art and comfortable, spacious designs. A king size bed, cozy chairs, desk space, luxurious bathrooms, and all the amenities you need to kick off your wine country journey.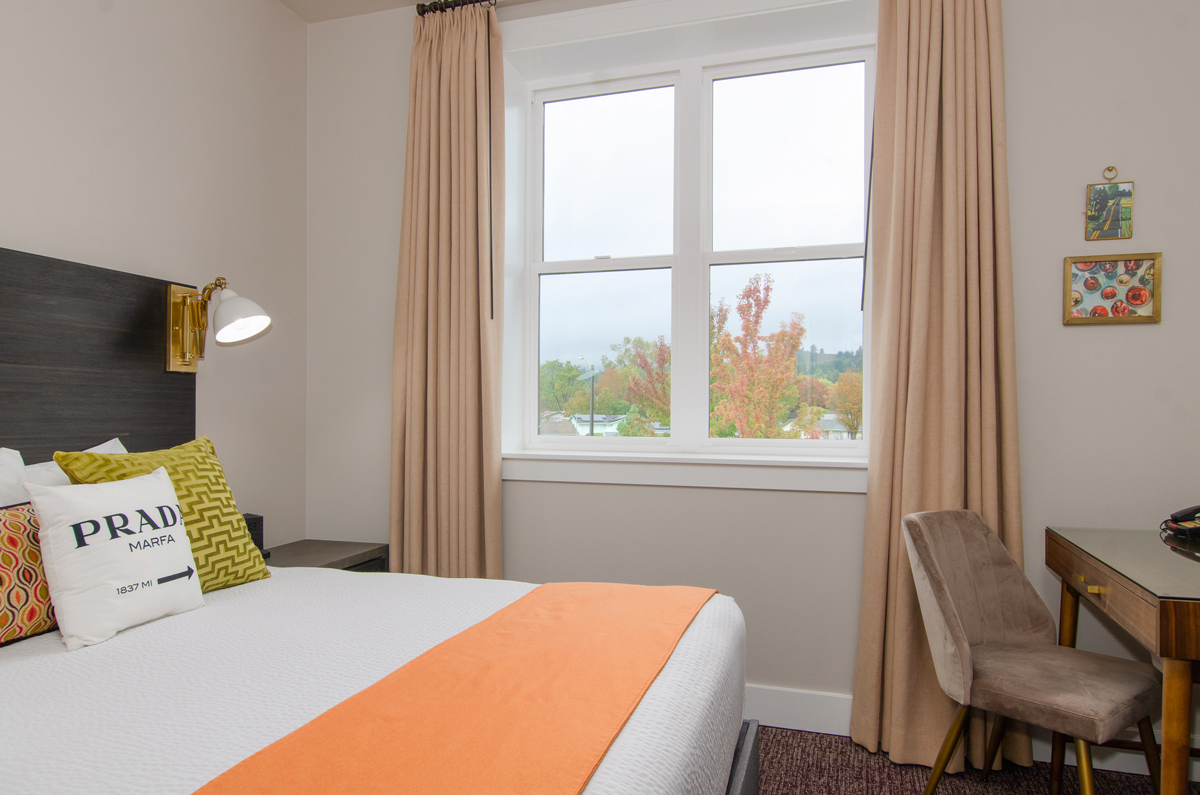 Our Cozy Queens are perfect for travelers who will be spending most of their day – and most of their budget – out exploring wine country. Rooms are compact and chic with high ceilings, custom furnishings, and all of the essentials you need for your Willamette Valley adventure.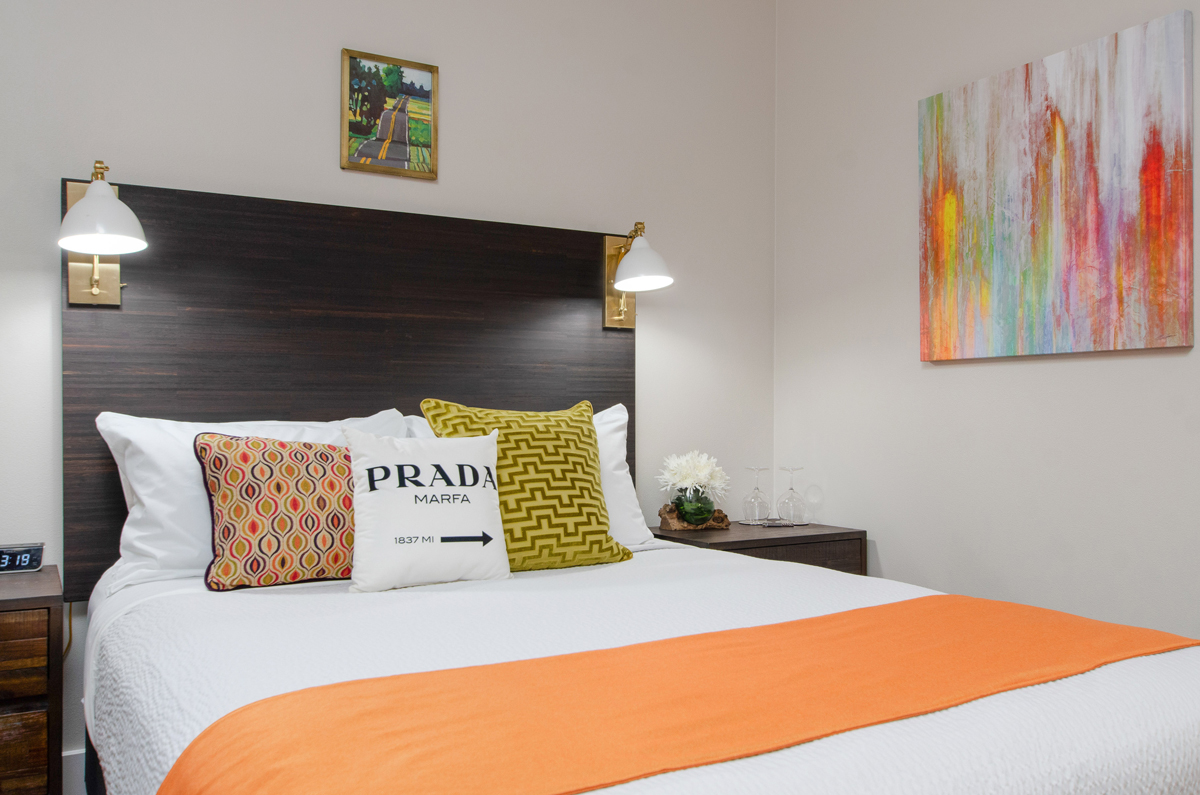 Our Queen Deluxe guest rooms feature a comfortable queen size bed, plush chair, and desk. Our Queen Deluxe rooms make for a perfect Willamette Valley home base. Our luxury bathrooms and luxe robes revive and restore so you can head out and enjoy the fruits of the valley..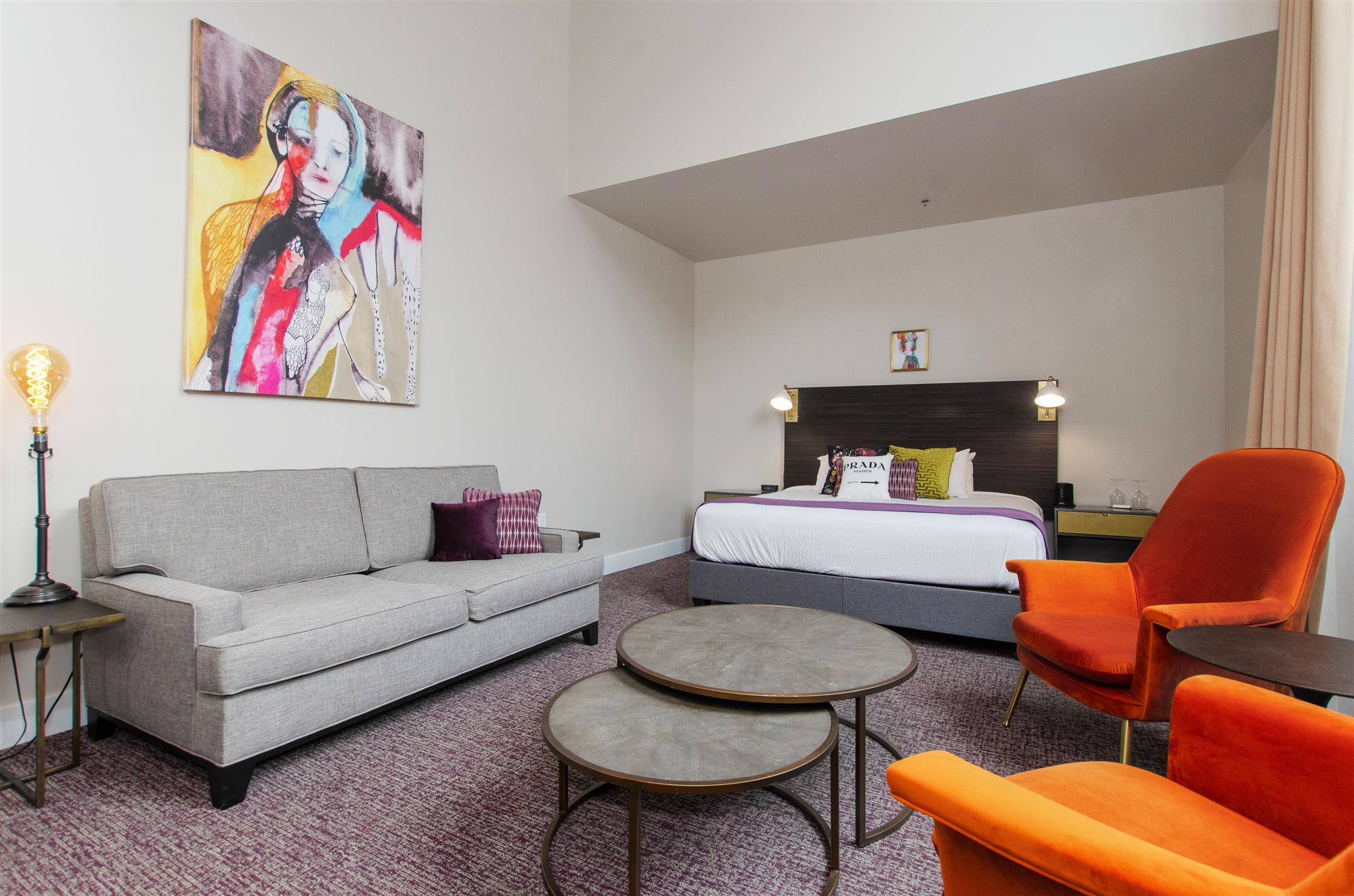 Roomy and luxe, our King Suites are great for longer stays, entertaining guests, or simply spreading out and enjoying the space. Each of our King Suites have a loveseat, chairs, coffee table, luxury bathrooms with large showers, and thoughtful amenities to make the most of your time in wine country.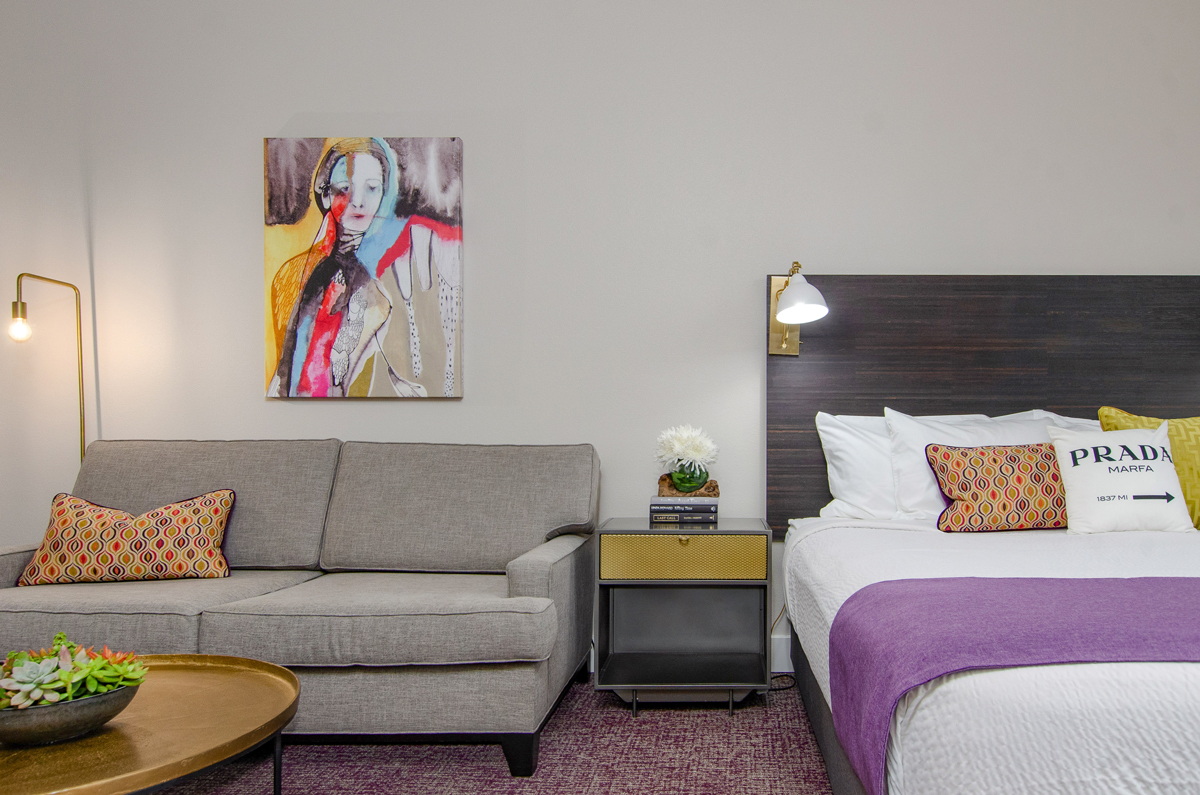 Offering plenty of space to settle in, our Junior King Suites have all the features of our King Deluxe rooms plus a generous seating area and more space to relax in. All the essentials for a memorable wine country experience!
One of our most popular rooms! The Queen Hospitality Suite is gracious and spacious with high ceilings, four dramatic, arched windows, a beautiful dining table with chairs, and a living room seating area with a cozy sectional leather couch and a second TV, perfect for entertaining friends or colleagues.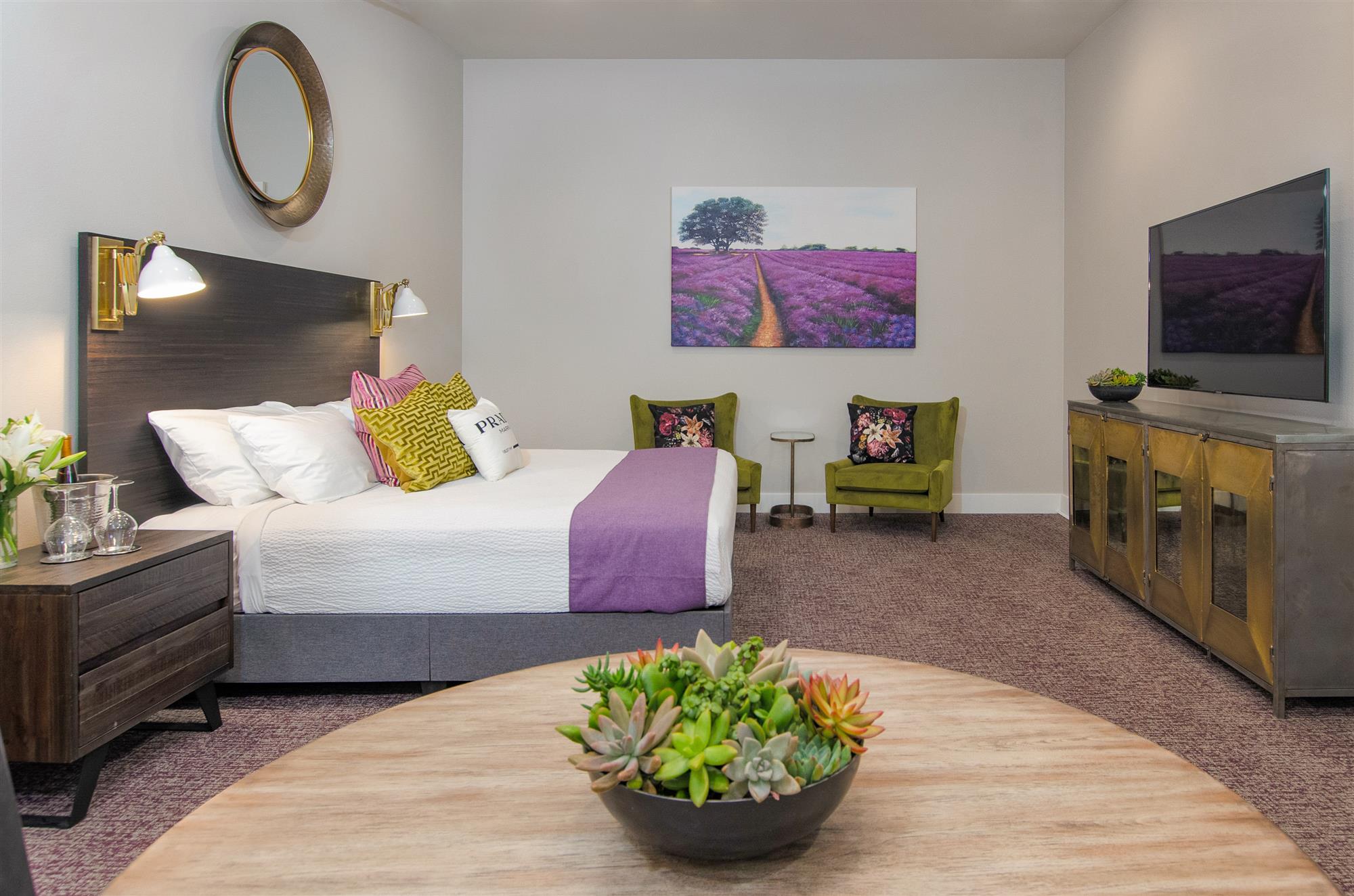 Traveling with friends and family or hosting business colleagues? Our 600 square foot Dundee Suite includes a king bed, dining table and chairs, a full-size refrigerator and kitchen sink, a two-temperature, luxury wine refrigerator to perfectly chill your red and white wines, and a book shelf with our favorite picks. The high ceilings, stately arched window, and custom design details make this a very popular room. Perfect for longer stays.
Traveling with your squad? We've got you covered for a completely unique wine country experience. This spacious suite is designed specifically for groups and features six custom bunk beds with our signature, luxury mattresses in extra long twin size, a wet bar, two-temperature controlled wine refrigeration for both red and white wines, an entertainment area with a very large TV, a huge bathroom with two vanities, a private shower, and two private stalls. Ask us about our packages and custom wine experiences and we can put together an unforgettable adventure specifically for your crew.