When I was asked to write up a spotlight on "Wellness in the Willamette," I wanted to first make sure that I understood the all-encompassing definition of wellness. I knew it centered on taking care of oneself, whether that be through food, exercise, diet, meditation, etc. But it was the second half of the dictionary definition that made me take pause when considering the weekend. The Oxford Language Dictionary defines wellness as: "The state of being in good health, especially as an actively pursued goal."  When it comes to taking care of ourselves, it's easy for us to forget that wellness must be an active choice. We have to make time for it. Put effort into it. Or the strong current of everyday life obligations and responsibilities will sweep that part of our lives beyond reach.
So for the purpose of this trip, I wrote down some intentions before planning my trip.
First, what do I want to include in my wellness weekend? I decided on the following categories:
Food (I wanted to feel full and healthy),
Distance (I wanted to feel small in a good way… more on that later),
Mind Body Connection (I wanted to give my body the time and care it needed to let go), and
Lifted Spirits (I wanted to reconnect to joy in my life and focus on the good). 
When you're planning your own wellness weekend, it might look completely different than this because there are countless ways to practice wellness in the Willamette Valley and elsewhere. But I hope my experience helps inspire you to create your own itinerary and cut out the time needed in your schedule, to start off this new year with yourself as a priority.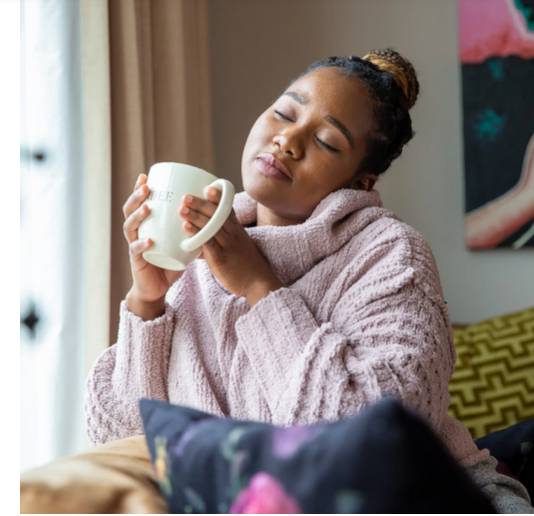 Wellness is an active choice, make time to reconnect and renew.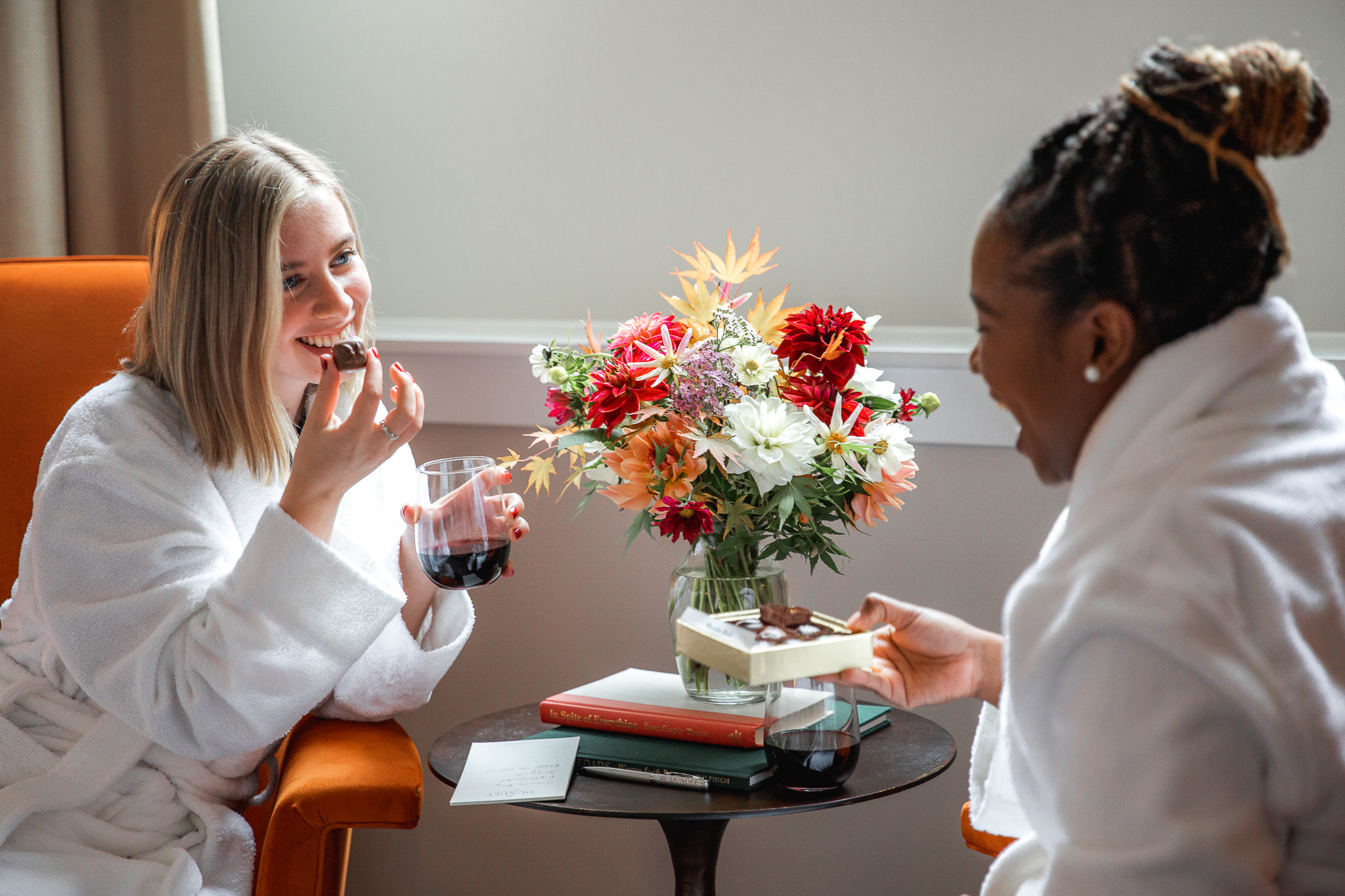 Time with friends, laughter, and connection have been shown to improve health and well-being.
Friday:
1:30pm: I picked up a friend of mine, Sarah, and headed to Dundee. She had had a particularly hard week and so we spent a lot of the drive venting out all that we were leaving behind. This trip was all about wellness, but that included not censoring ourselves or avoiding negative topics. The car was a safe space. We hoped it would set the tone for the weekend: that there is no wrong way to 'do' wellness.  (I say 'do,' since again, my approach was to make it an active priority).
3pm: Sarah and I arrived at Agape Healing and Massage in Newberg for our bodywork/massages. If you're anything like me, you carry a lot of life tension in your physical body. So sometimes when I find I need to let something go (a bad day, negative thoughts, stress about the upcoming week, etc.) it helps me to start with trying something physical, and letting that body awareness set the tone for the mind. If you're looking for a more spa-like experience (where you can hang out all day, perhaps find a sauna or book multiple treatments), I'd recommend checking out Luminous Boutique Spa or A Balanced Touch. But if you're looking for deep bodywork, Agape Healing and Massage offers Deep Tissue release with the option for added services such as fascia scraping (that's my jam), hot stones, herbal therapy, essential oils, and foot reflexology. They also offer "Maternal Nurturing," which includes special prenatal equipment and techniques. Agape Healing Massage is run by a husband and wife team, Benjamin and Sonja, whose aim is to bring release, relaxation, and better anatomical awareness to their clients.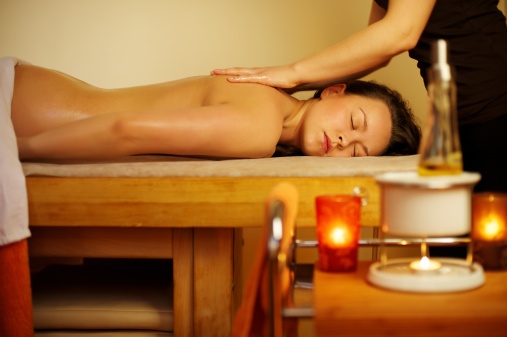 Agape Healing and Massage offers a range of services for customers looking for release, healing, and more body awareness.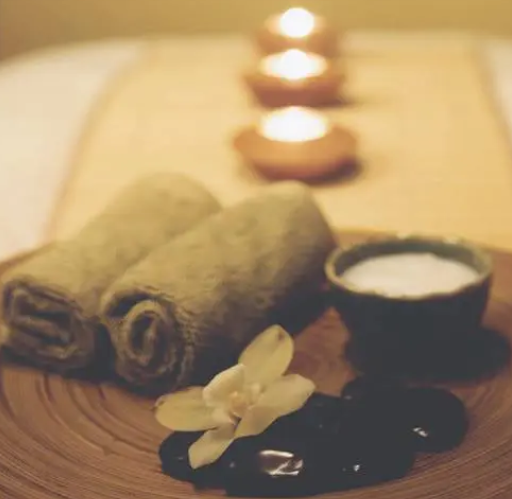 Absolutely everyone deserves a massage.
4:30pm: Feeling blissed out from our massages, Sarah and I headed to The Dundee to check in and enjoy our one of a kind room. We had a king suite with what I later found out was the world's most comfortable couch, but didn't know then because I went straight to the bed to take my post-massage power nap. The Dundee Hotel beds are famous in my eyes, the perfect balance of firm (I have a bad back) and soft (I still want to feel like I'm sleeping on a cloud). The last thing I remember hearing before falling asleep was Sarah saying, "Wow, that massage just took all the mad out of me." We were leaving our regular world behind. This, after all, was wellness weekend
6:15pm: For dinner, we headed to the Dundee Bistro, one of my favorite spots in the area. For the purpose of my wellness weekend, I wanted to feel full but light. I wanted to let my body feel supported with nutrition without needing to take a post-feast nap. Dundee Bistro is one of my favorite options in Dundee for this purpose. They use local, seasonal, PNW cuisine that adds bright, unexpected, and textured flavors to staple dishes. For example, my go-to dish is their Butternut Squash soup, which they make with a splash of curry to give it that extra oomph. (I honestly think I could eat nothing but this soup for weeks.) On top of that, I chose the Brussels Spouts with almonds while Sarah chose the mushroom Bruschetta and Beet Salad. Mushrooms were the stars of the menu as they're currently in season and carry that rich, earthy flavor of the Valley's famous winter soil. For this meal, we stuck with water and tea to help hydrate our post-massage selves. The wine would come tomorrow.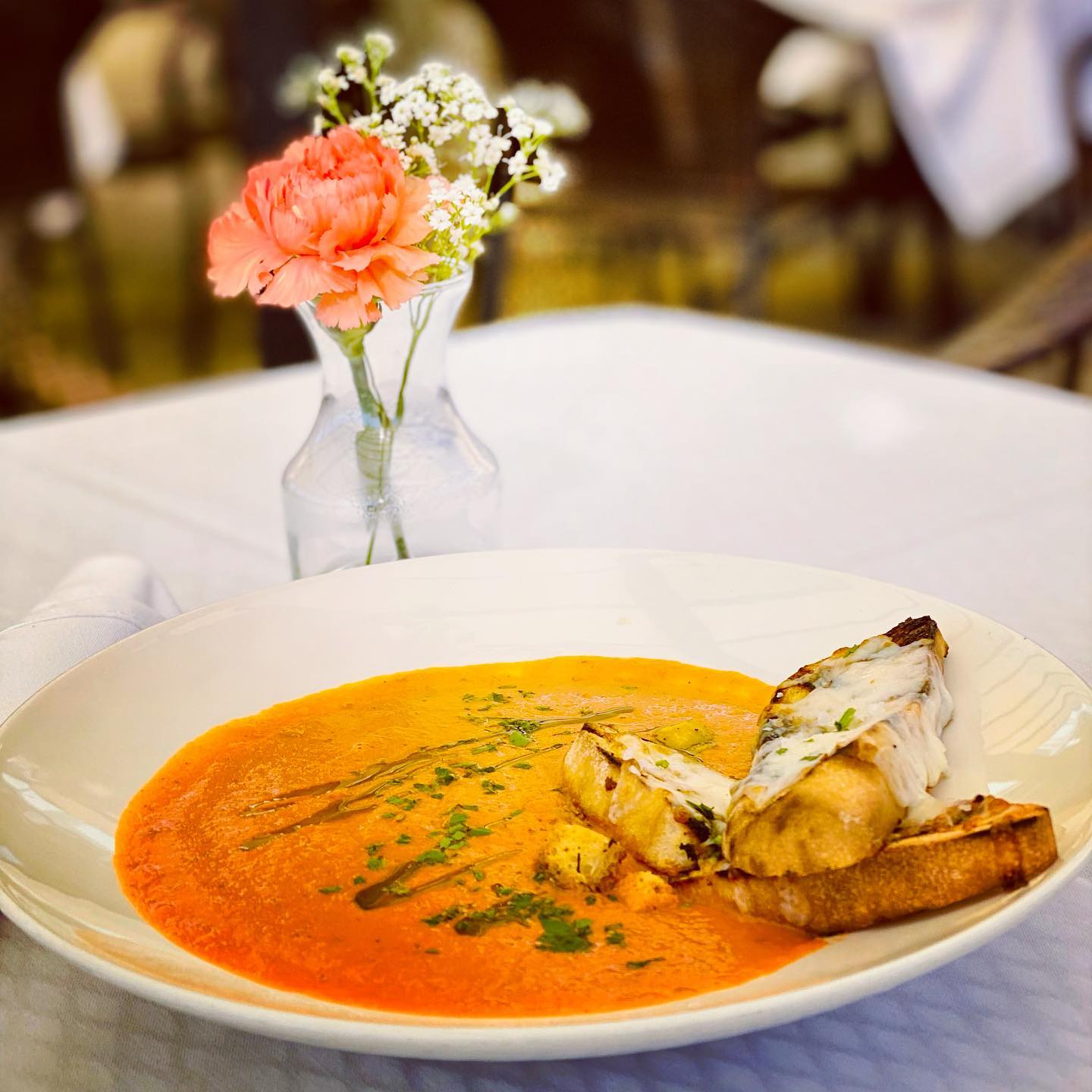 The Dundee Bistro features fresh, local, seasonal dishes and offers a deep connection with the bounty of the Valley.
8:00pm: It was time to head back to the room. We debated whether or not we wanted to try a yoga class, or perhaps do a seated meditation. But instead we chose a different category of wellness: laughter, and time spent with friends. For us, this meant putting on back-to-back cheesy Hallmark Christmas movies and talking through it in a way that only close friends can. We laughed to the point that my abs hurt, while sharing each other's skin routine products during the commercial breaks.
10:00pm: At this point, Sarah decided to get a good night's rest and went to sleep. Being more of a night owl myself, I looked up a yoga class online and was pleased to find there was plenty of space in the room for a full practice.  I finished the video, washed my hair (The Dundee's showers are famously luxurious), put on one of their extraordinary robes and pair of slippers, and read on the couch for a bit. There is a feeling late at night (or early in the morning for early risers) where the rest of the world feels dormant and it's as if you're the only person awake in the universe. A different kind of calmness washes over you in that state. The world is quiet, and there isn't a need to perform. It's just you and the moon.
11:55pm: With my hair once again dry, I got into bed and listened to a meditation series on my phone. The topic was insomnia, and clearly it worked, because I was asleep before the hour was up.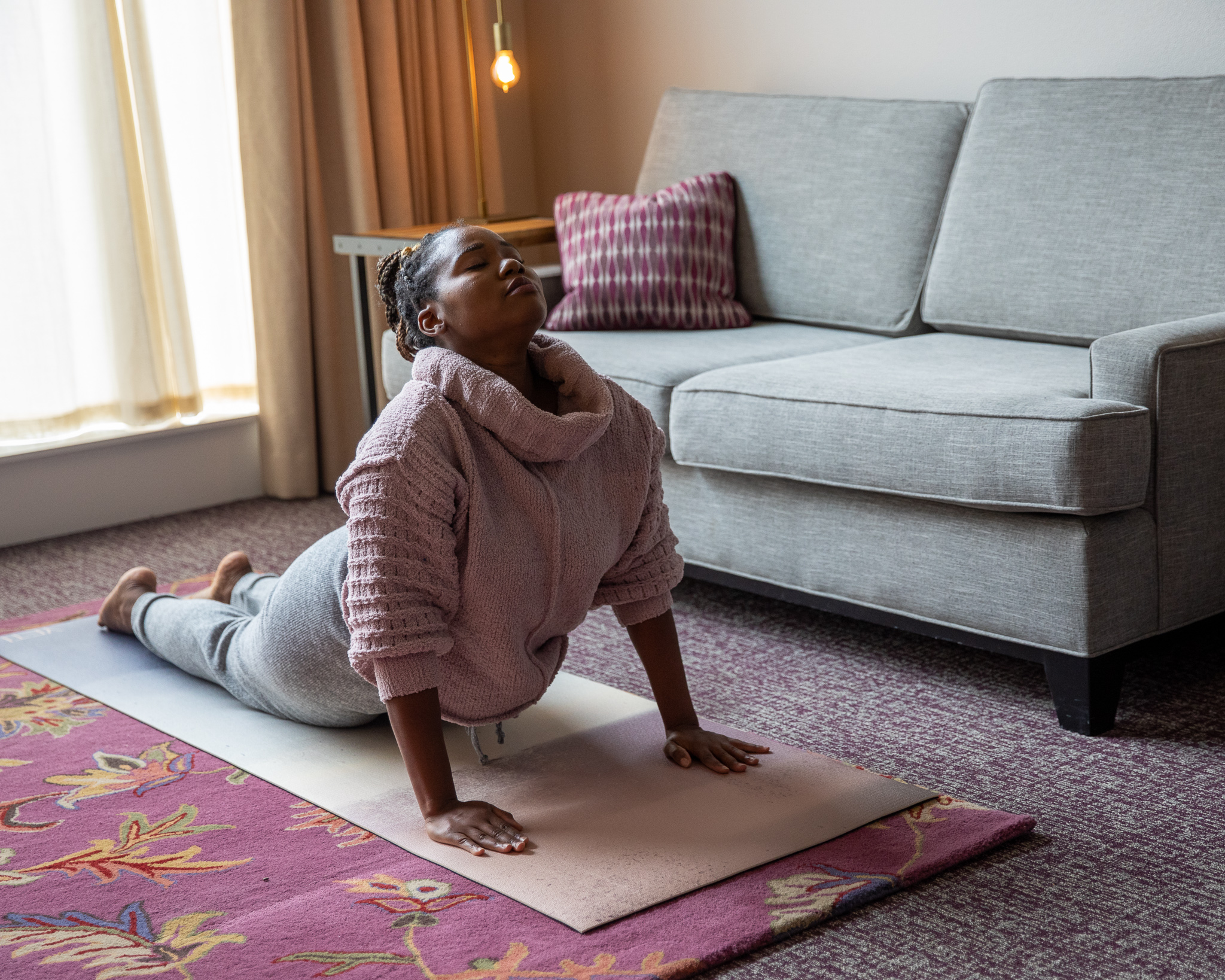 At The Dundee, we have yoga mats in our suites and available to borrow for all rooms.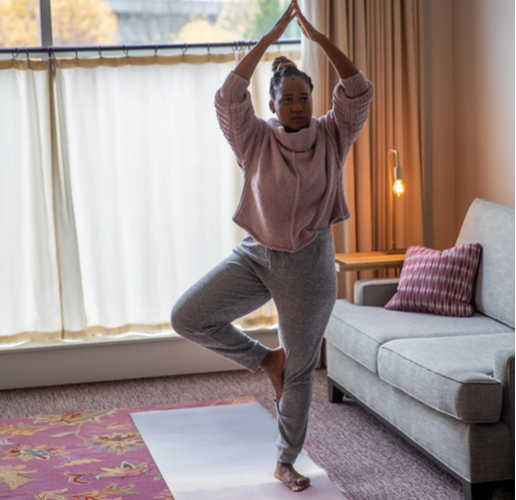 In-room yoga in the morning or evening helps put the day in context.
Saturday:
 10am: Sarah and I woke up fully rested and packed the car for another day of wellness. Today we would start with brunch! Luckily for us, we had a perfect spot that couldn't have been any closer if we wanted it to be. We chose Field + Stream, which is part of The Dundee Hotel. I had known about Field + Stream for a while, but hadn't eaten there before this trip. When it comes to wellness, they have perfectly sized portions and a really nice range of different menu items. I ordered the fritters to share and eggs benedict (which, they lovingly swapped out ham for avocado since I'm currently avoiding meat), with an incredible hollandaise sauce that should honestly be it's own category of wellness. Sarah and I took this chance to further catch up and talk about the importance of wellness and how we felt we'd let that slide as of late. Not to mention, how taking time to prioritize wellness not only helps us personally, but the people around us (family, friends, co-workers, etc.) since we can't be of help to others when our own cups are empty.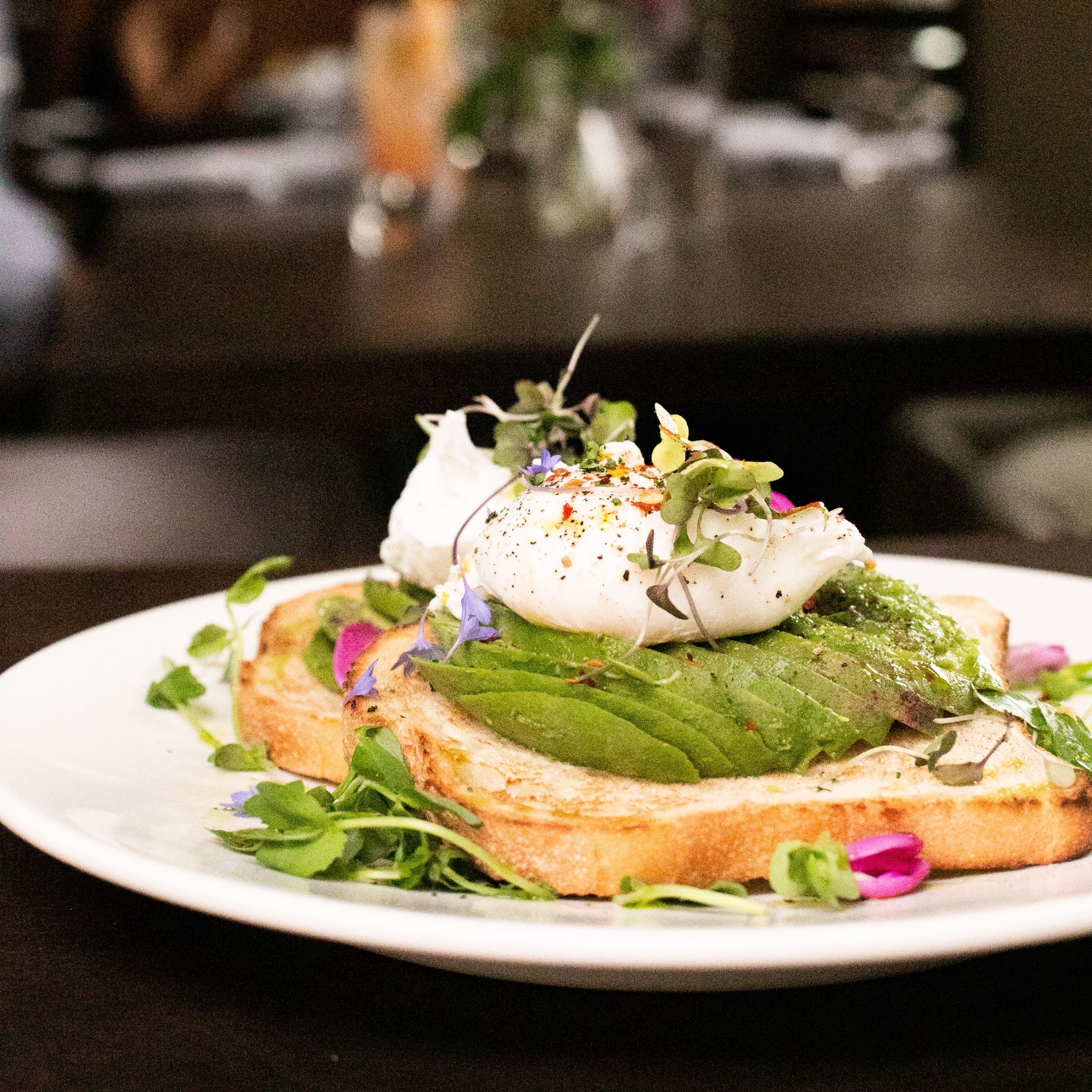 Field + Stream's nourishing Avocado Toast is a great way to start the day.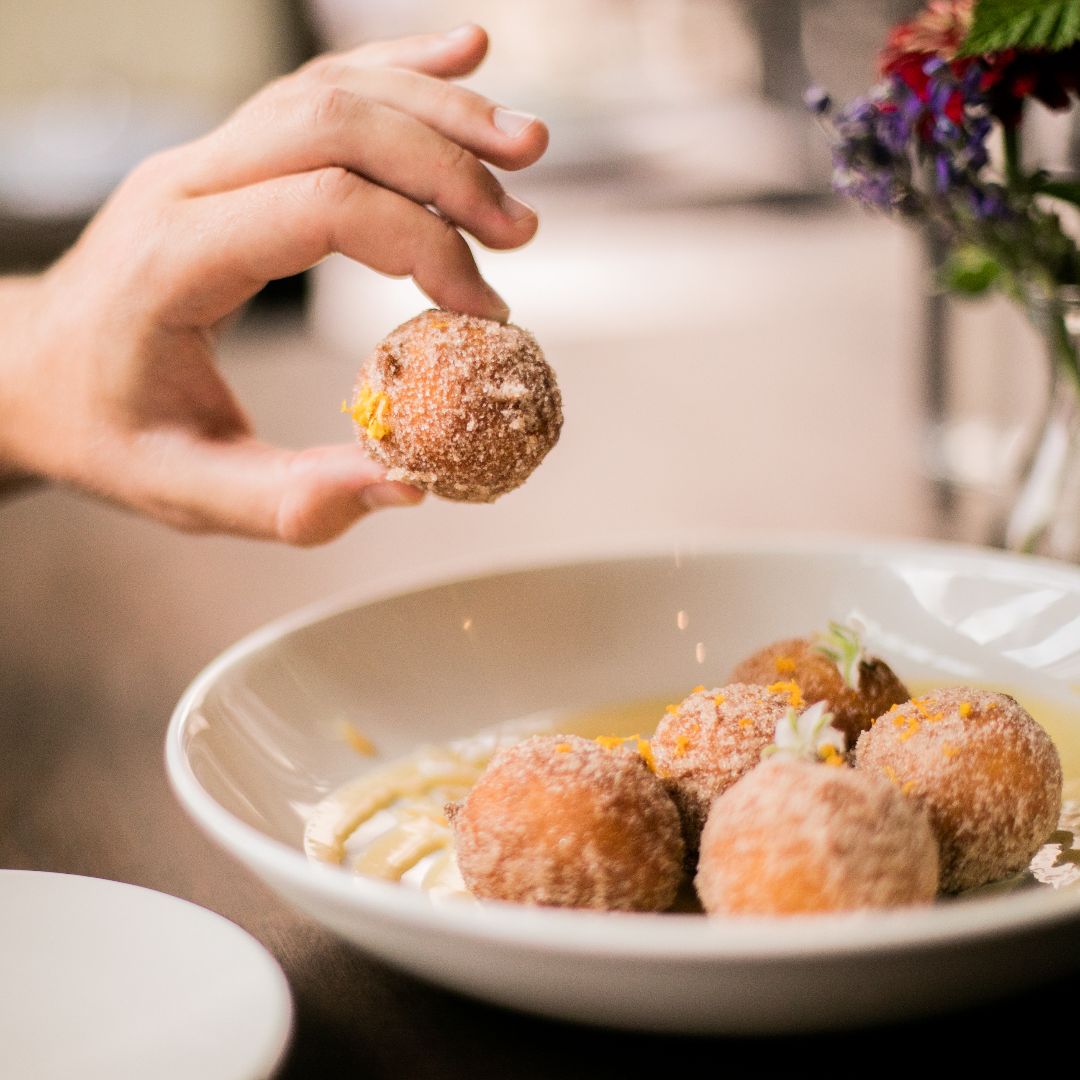 Fresh, hot fritters demand that you enjoy the moment!
11:30: After brunch, Sarah and I headed to Harvey Creek Trail for some time in nature. While exercise is a common wellness technique, that wasn't my aim for this portion of the day. (There are, however, tons of trails you can try for that purpose, including Harvey Creek.) On this day, however, I wanted to feel small in a good way. To feel engulfed by nature. To remind myself that there is so much world out there beyond my feelings and outside of my own ego. Harvey Creek Trail is a perfect spot for that. The trees are lush (especially this time of year) and covered head to toe with a thick green moss that resemble sweaters, which in my mind, the trees have put on for winter. We were surrounded by the sound of rain falling, yet we stayed dry thanks to The Dundee Hotel for lending us two umbrellas for the day.  We took our time, breathing in the petrichor, and feeling the fallen leaves crunch under our feet. When we reached the bridge, Sarah and I played Pooh Sticks (a game from the Winnie the Pooh series) and ended up just watching the creek flow for the better part of an hour. No need to talk. No need to fill up time or space. Just allowing ourselves to be present, and a part of the bigger world around us. If it helps on your journey, here are a couple of quotes I like to think about when planning a day in the forest.
"In nature, nothing is perfect and everything is perfect. Trees can be contorted, bent in weird ways, and they're still beautiful." –Alice Walker
"Forget not that the earth delights to feel your bare feet and the winds long to play with your hair." —Khalil Gibran
"Come to the woods, for here is rest. There is no repose like that of the green deep woods. Sleep in forgetfulness of all ill." – John Muir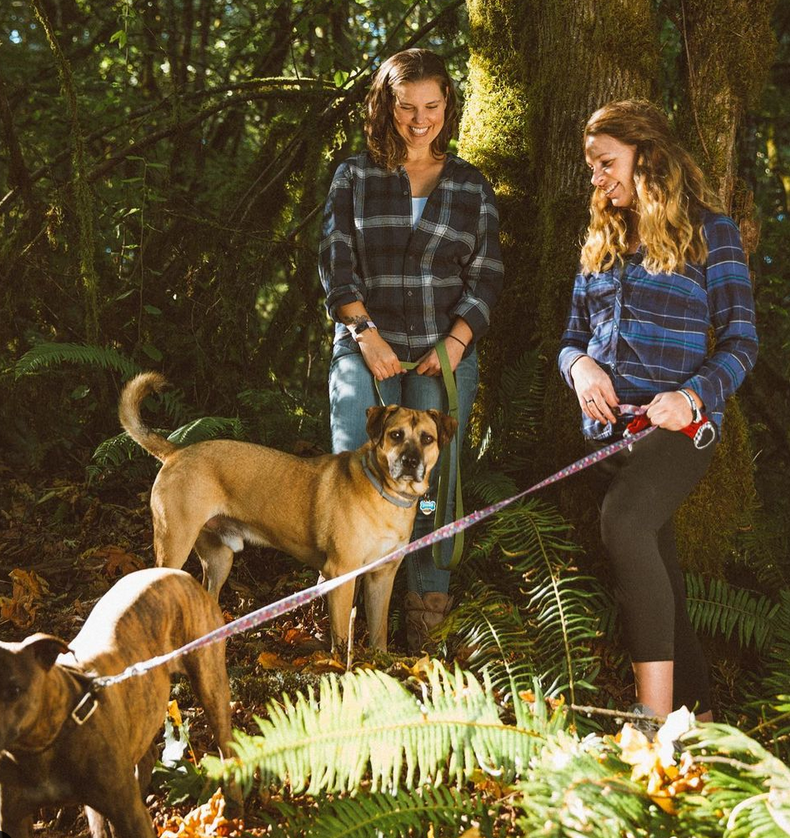 1:30pm: Having centered ourselves in the woods, it was now time to celebrate the joy of life, because obviously you can't travel to wine country and not try some wine!  So we headed to Adelsheim Vineyards for their Estate Tasting. I had never been to Adelsheim before, and it has quickly become a new favorite. They have a stunning tented tasting room outside with 270-degree views of the vineyard. We watched the rain dance against the roof and sides of the tent, as we stayed warm and toasty inside with nearby heaters and pre-provided blankets. The tent is decorated beautifully with swooping white curtains and Edison bulbs. Honestly, the space could easily serve as a wedding venue; it was that beautiful. Our tasting room expert, Nicholas, let us take our time, checking on us every so often without ever making us feel rushed. He asked us between each tasting what our thoughts were so he could customize the experience to our personal preferences, and he'd stop and pause to give thoughtful answers to each and every one of our questions.
Don't hesitate to get a glass of wine at the end, especially since the Estate Tasting comes with a snack box filled with jams, cheeses, crackers, olives, and dried cherries.
I would count the wine tasting itself as part of a wellness weekend, but an opportunity arose for Sarah and I to then add onto that by paying it forward. There was a woman nearby who had just lost her grandfather and was mourning by drinking the wine she and her grandfather had most enjoyed sharing. It was Sarah's idea to invite her over to join us, where she discussed the life of her grandfather. While this is in no way a requirement for a wellness weekend, it always surprises me how much fulfillment you can receive from supporting another person. From letting someone know they're not alone in their grief. Perhaps that's inviting someone over to share a glass of wine, or perhaps that's writing an email to a friend who's been having a hard week. Maybe it's giving a parent a call or any other option of limitless possibilities. Whatever it means to you, paying it forward by sharing kindness can be a powerful aspect of a self-journey into wellness. (Also, it's important to note that proof of vaccination is required to taste at Adelsheim, so make sure to bring it with you if you choose to taste there, and sip comfortably knowing that everyone you're sharing the space with is vaccinated as well.)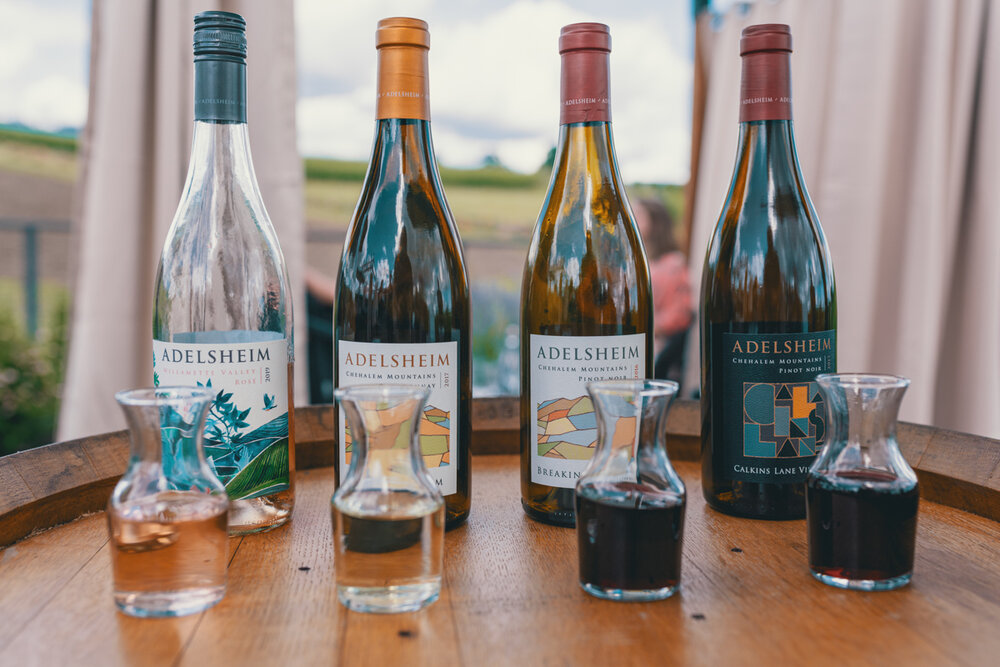 A tasting at Adelsheim is an experience for all the senses, the scenery is breathtaking and the wine tasting is a special treat.
3:30pm: Sadly, this is when Sarah and I had to start heading home. If you have time in your schedule/budget, I definitely recommend staying for a couple of nights. Methven Vineyards has live music on Friday and Saturday nights (plus Los Kopitos Food Truck next door is delicious). There are countless other wineries, restaurants that celebrate fresh, seasonal cuisine, nature walks, and hikes. Luckily, driving back on a Saturday meant there was no traffic and we cruised home feeling refreshed and rejuvenated.
We hear a lot about wellness, and it's easy to think it's a luxury, that it is too self-focused. But that approach misses the point. It is not selfish to take care of yourself. It's important. Show yourself the same thoughtfulness and attention that you show to those you love. It will not only improve the quality of your life, but also your ability to help others around you. So the next time you find yourself with a few days to spare, I highly recommend a Wellness Weekend in the Willamette (which of course, can be mid-week as well). Fill it up however suits you best, and don't forget to plan your joy. Make it active. Make it a priority. Whether that means adventuring all weekend or sleeping from Friday afternoon-Sunday. Find what brings wellness to your soul and gift yourself that time this year. We at The Dundee can't wait to host you through all of your wellness journeys!