We've all heard the term "Weekend Getaway," but did you know there's still a lot to do in the Willamette Valley during the week? We at The Dundee Hotel sure did! That's why we want to share with you one of many possible itineraries full of fun ideas and activities extending from Monday-Thursday, when there are fewer crowds to navigate. This "Weekday Pick Me Up," will have you craving Mondays in no time!
*Note: Many of these activities require reservations, so make sure to book ahead of time.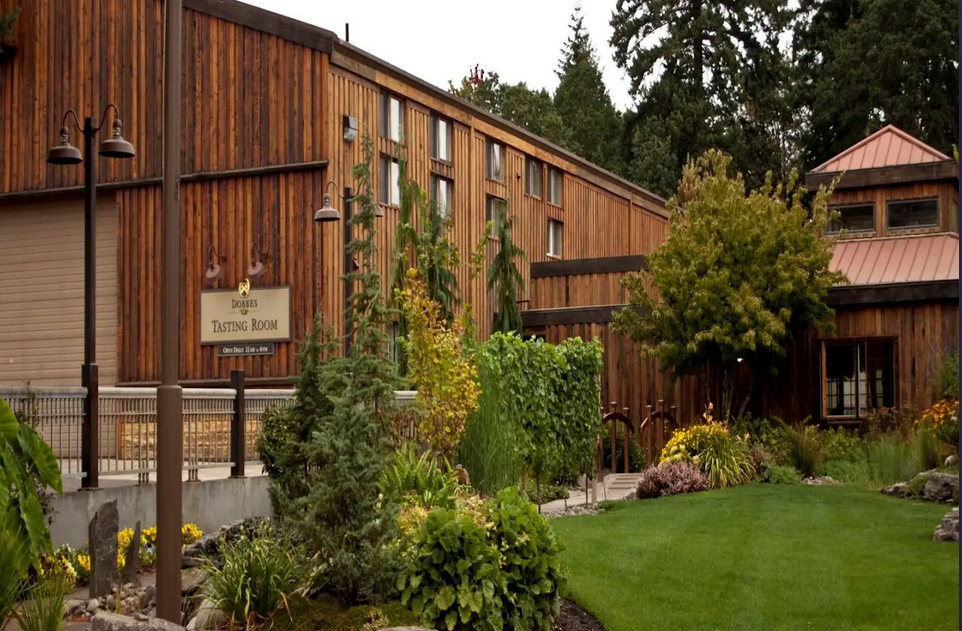 Dobbes' Tasting Room, blocks from The Dundee, offers a range of tasting experience options.
Enjoy Dobbes' wines in their Hideaway, Hideout, or as part of their "Oregon Bounty" pairing.
Day 1 (Monday)
11:30- Arrive in Dundee and head to Dobbes Family Estate for wine, lunch and/or light snacks.
Check out the Hideaway, Hideout, or "Oregon Bounty" experience.
The Hideaway takes reservations up to 6 people and opens at 11am.
The Hideout provides private seating in rainproof domes for up to two hours.
For both, snack items are available for pre-purchase, as well as onsite ordering (subject to availability).
Feeling something a little more in-depth? Make an 11:30 am reservation for Dobbes' "Oregon Bounty:" a selection of local bites paired with Oregon wines and guided by a trained purveyor.
2pm- A wine tasting experience at Purple Hands.
The name comes from the stained purple hands one gets from working the land and becoming an active participant in all areas of winemaking.
Wines are sustainably produced and organically certified, with a tasting room built from recycled steel and cedar salvaged throughout Oregon.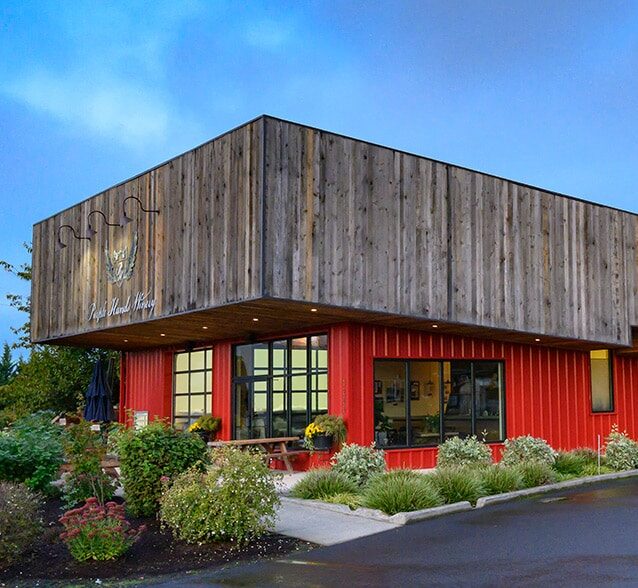 Purple Hands Winery – Located near The Dundee with a beautiful tasting room and fantastic wines.
Refresh and enjoy one of our cozy robes before heading out to dinner.
Day 1 – Continued:
4pm- Check in at The Dundee, enjoy one of our luxurious showers, and put your phones on Airplane mode because it's time for more vacation life!
6pm- Dinner at Trellis.
Trellis is open for both indoor and outdoor seating.
It is locally owned, and prides itself on delivering the famously fresh culinary bounty of the PNW.
Menu rotates to keep everything vibrant, evolving, and seasonal.
Enjoy a large selection from salads and sandwiches, to vegetarian options, roasted chicken, and fresh fish. (However, we say you can't go wrong with the Oysters if you're a seafood lover.)
Accompany your full and happy belly back to The Dundee for time well spent with loved ones and a good night's sleep.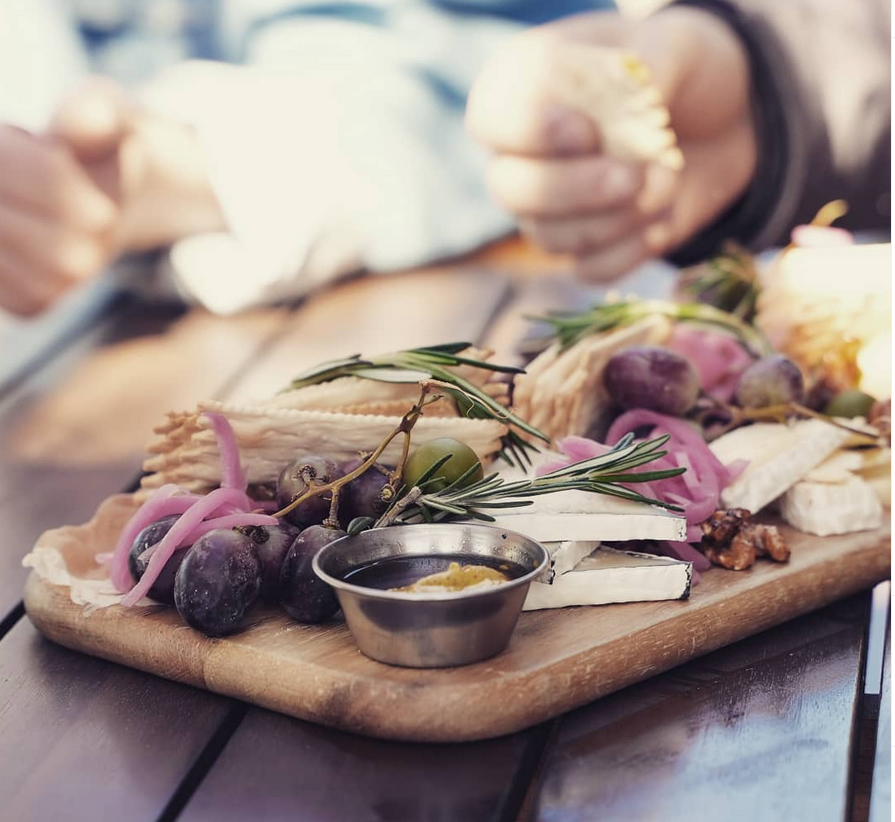 We love the beautiful and delicious spreads at Trellis, to enjoy on their patio, or even to get to go and enjoy at a local park or viewpoint.
Day 2 (Tuesday)
11am- Grab a sandwich at Red Hills Market and bask in the sun as you eat at one of their outdoor tables.
12:30pm- Head over to Red Ridge Farms at Durant Vineyard and give yourself permission to take your time. There is so much to do here you could easily spend a few days at this one property, but here are some good places to start…
Begin with the olive mill: the only Olioteca in the PNW and home to 17 acres of olive trees, plus a state-of-the-art Italian Mill.
While we recommend a full tour, tastings are available throughout all hours of operation.
Did we mention one of the tour options is FREE??
If you fall in love with the olive oil (and trust us, you will) the Mill also provides several recipes on their website to try at home.
Take a leisurely stroll across the property and enjoy a wine flight from Durant Vineyards. The wine is delicious (we expect no less in the Willamette Valley) competing with the spectacular view of the vines, including (on a clear day) Mt. Jefferson, Mt. Hood, and miles of farmland.
Don't forget to stop by the gift shop (perhaps walking through the greenhouse to get there) and purchase your favorite flavors of the day from olive oils and wines, to cheeses, crackers, and recipe books!
6pm- Take advantage of the late summer sunsets in Oregon and head to a local park or scenic point, feasting on your purchased goods of the day.
There are several spots you can look up, from Dundee Scenic Overlook to Billick Park, but we personally recommend taking a drive until you find a spot that calls to you!
8:30pm- Head back to the hotel and relax. Tomorrow more adventures await!
The views from Red Ridge Farms
A picnic pack from the Durant at Red Ridge Farms
Day 3 (Wednesday)
Sleep in (trust us, tomorrow starts early, stock up on the zzzz's).
Noon- Enjoy a delicious lunch at The Dundee Bistro
Now that you have experienced wine tasting in The Willamette Valley, ask the friendly staff at the Bistro what food they recommend pairing it with.
From its grand opening, the Dundee Bistro has been a pioneer of sourcing from neighboring farms, ranches, and even water sources.
The restaurant was not only founded by wine lovers, but by winemakers. (Can't beat that.)
2pm- Check out a Sparkling Wine Tasting experience at Argyle Winery.
There are several options to choose from, but the 2021 summer season marks their "Summer of Sparkling," which includes special selections for all flights.
Regular tastings are of course still available, as are their year-round experiences.
Well-mannered pets are allowed at outdoor tables as long as they remain on leash.
The Dundee Bistro's delightful patio, is the perfect spot for outdoor dining.
Argyle's spacious, beautiful tasting room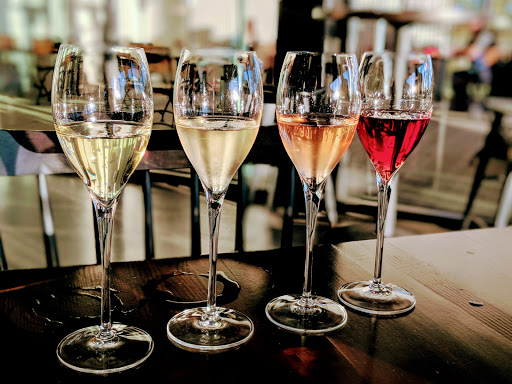 Bring on the bubbly! Try a variety of sparkling wines, Argyle's specialty
Day 3 – Continued
4pm- Walk off some of that bubbly by exploring one of our nearby trails.
We recommend Harvey Creek Trail, a 1.6-mile loop with 345 feet of elevation gain. Great for the whole family, it allows for shade as the light of summer dances across the tops of the trees. If you're traveling with young kids, we suggest a fun game of Poohsticks when you reach the footbridge.
The hike itself is rated as "easy," but multiple trails do cross paths, so just make sure to pick your route ahead of time so you can complete the full loop without circling back.
6pm- Dinnertime! And we hope you're hungry, because tonight's spot is a favorite: Tina's Restaurant, one of the first fine dining establishments in Dundee.
Enjoy modern reinterpretations of classic PNW dishes.
Tina's embraces seasonal selections as well as prioritizing locally sourced goods.
Tina's is also family run!
8pm- Return to the hotel and pack your bags for an early departure tomorrow, and make sure to get some sleep!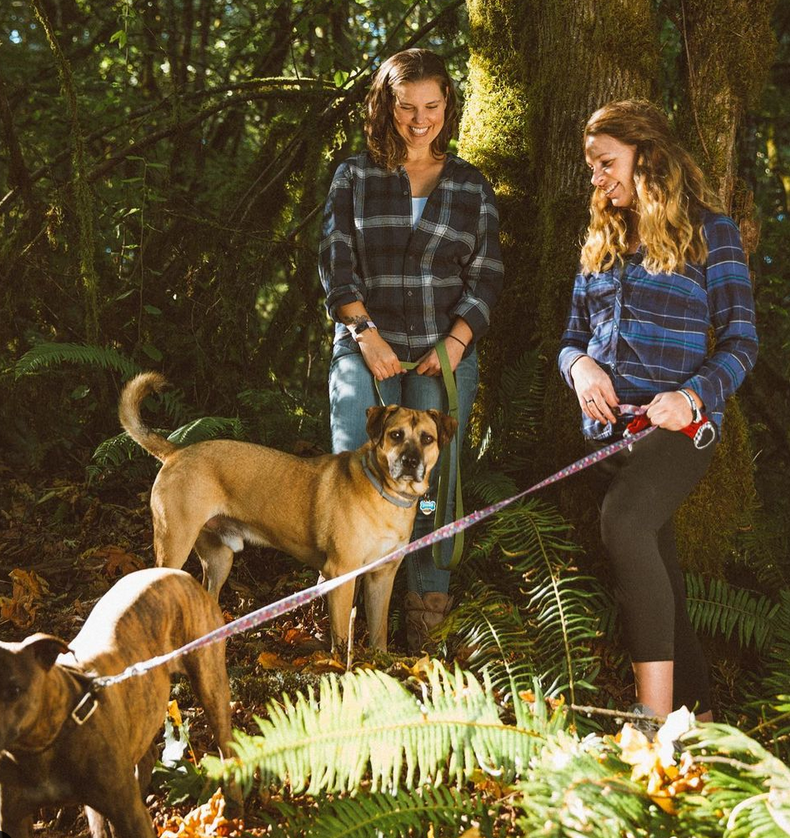 Take a hike on the Harvey Creek Trail, it comes highly recommended by both dogs and humans, locals and visitors!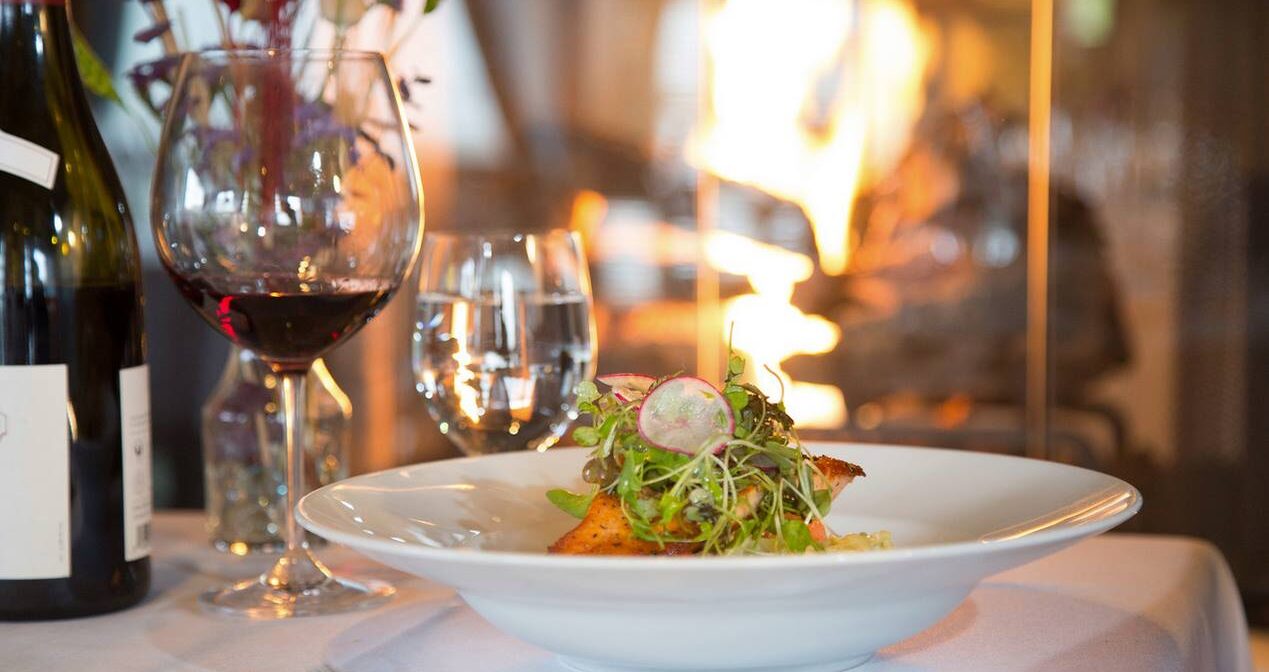 A fireside table setting at Tina's, a classic Dundee dining experience!
Day 4 (Thursday)
Check out with a bang! Wake up early for the opportunity to see the Willamette Valley in all of its glory: riding a hot air balloon over the vineyards!
Arrive at the Vista Tours meeting point (provided to you when the reservation is made) and prepare to soar into the sky, watching the mist hug the hills as sunlight stretches across the grapes. Spend an hour floating amidst the clouds as you experience the ultimate view of the Willamette Valley, the land that produces the grapes you've come to know and love.
If you see a vineyard that catches your attention, ask your guide for the name and see if they can fit you in for a tasting after you land.
When you're ready (as ready as one can ever be at the end of a vacation) start your journey home. But don't be sad! Because you picked the "Midweek Pick Me Up," which means it's almost the weekend. (Good choice, you!)
Return home, and start planning your next trip to The Dundee!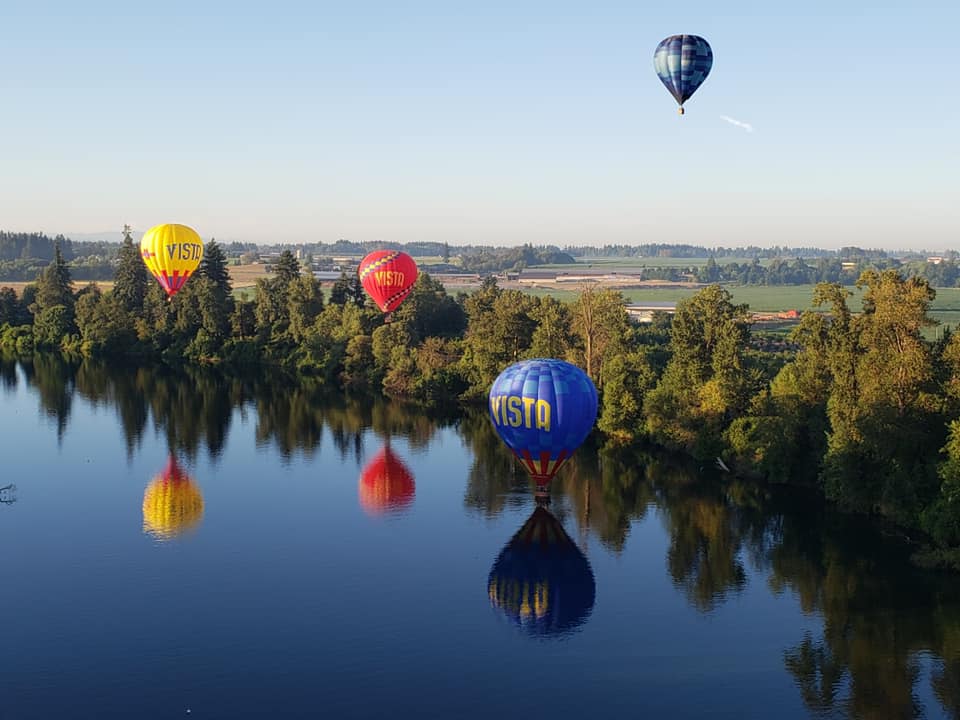 The views from the Hot Air Balloon Tours with Vista Tours out of Newberg.
Planning your next adventure in Wine Country…..
For your next trip, check out our Packages, for completely unique wine country experiences.