Wine can be extravagant or subtle, complicated or simple, multi-layered or elegantly pure, but in the end, it has to taste good, and Denise at Native Flora knows that good wine first and foremost comes from the land. That is only one of the reasons why she emphasizes sustainable growing and biodiversity, with a goal to ensure that this land is able to provide the same bounty for generations to come. We at The Dundee were lucky enough to chat with Denise Flora and we are excited to share some of her wisdom with you below. Tastings are available through us or their website, and while you can't go wrong with any choice, we do have a soft for Native Flora's summer "Tinkle Me Pink," Rosé.
DH: How do you describe your role at Native Flora, and what about it brings you the most joy?
FW: As a partner in this business, I am involved in many aspects of Native Flora. I did not grow up around wine nor did I drink wine until later in my life. I have enjoyed learning all aspects of the business. What brings me joy is sharing our place and our passion for wine and friends with visitors to "our Winery Sanctum".
DH: I'm not going to lie; I have fallen a bit in love with your website. "A private owner-led experience for the wine enthusiast?" Yes please! I really appreciate how you say wine 'enthusiast' over 'expert,' because it leaves the door open for so many more people. Do you have any advice for beginner wine tasters?
FW: Don't be afraid to ask questions and don't be intimidated to express an opinion. What ultimately matters is how each wine tastes to you. My husband always says there are only two types of wine in the world – wines you like, and wines you don't like.
DH: Going off of the idea of enthusiast vs. expert, Native Flora welcomes "people who enjoy great wine [and] and a good laugh." How important would you say it is in the wine world (as a taster or provider) to keep a sense of humor? What is a time a sense of humor has helped you in the industry?
FW: I personally think keeping a sense of humor is important in life, not just in the wine world. It is a far more fun way to experience life in general.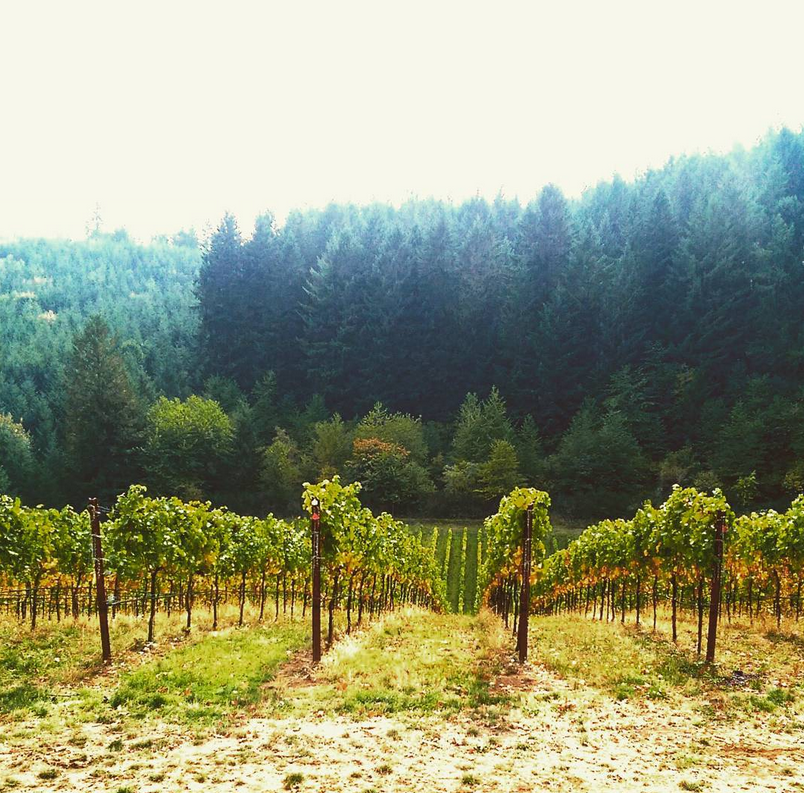 With a 33 acre estate surrounded by forest and tranqulity, guests are offered the unique oppourtunity to explore the vineyard and all it holds.
DH: What is "intelligent integration," and how does Native Flora enact it?
FW: Intelligent Integration embraces the idea that every part of our farm and winery can contribute positively and symbiotically to the wellbeing of the entire endeavor. A simple illustration is that the facility roof collects rainwater for vineyard use, while geothermal loops beneath the vineyard supply the heating and cooling capacity for the facility. Both are inanimate objects, yet they actively support the wellbeing of the vines and humans at Native Flora. We installed 10,000' of geothermal lines deep in the ground before the first vines were planted. A heat exchanger and pump system moves water through the lines gathering heat from the earth in the winter and dispersing it in the summer. That net temperature change is condensed and circulated through a floor loop system in our structure, warming or cooling us with radiant energy. We collect rainwater off the roof, run it through filtration planters and store it tanks, cisterns, and ponds across the farm. – including our 12,000 gallon koi pond. The nitrates produced by the koi are a great liquid fertilizer for our flowerbeds – another example of intelligent integration.
DH: I've decided I'm borrowing my new life motto from your website, which describes Native Flora as having "an inherent sense of tranquility filled with plenty of purpose." Isn't that what we all strive for? What is one moment in particular where you have felt this way on the property?
FW: Most mornings, my business and life partner, Scott (hubby), and I share a cup of coffee overlooking the valley, as we discuss our plans for the day. The amazing vista changes slightly each day but the feeling of gratitude for what we have, and the tranquility of this space is always present. We love to start our days together in this way.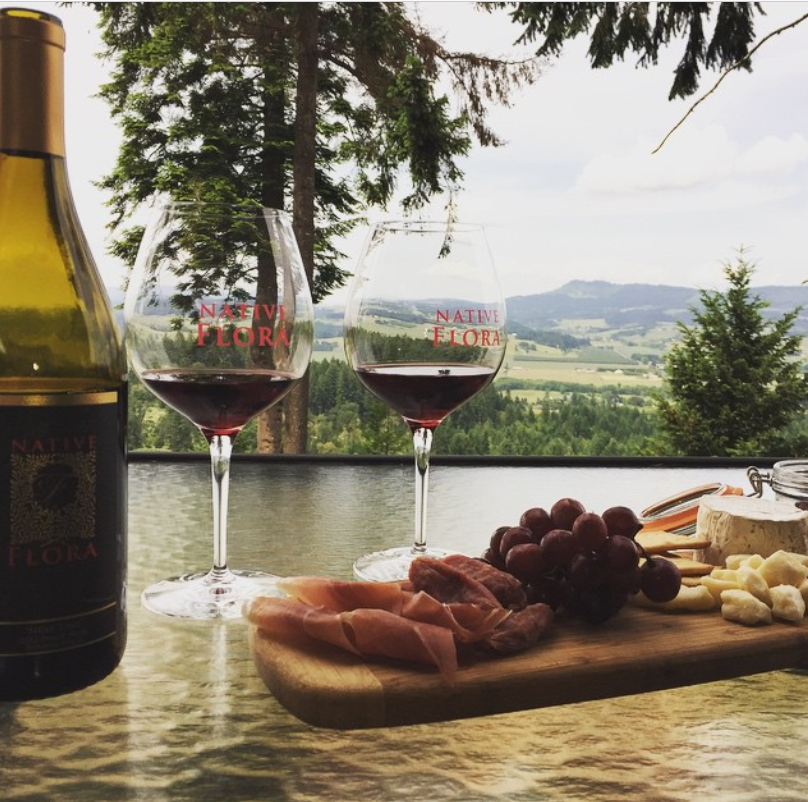 Owners, Denise and Scott have a deep love of wine that is reflected in each bottle they serve.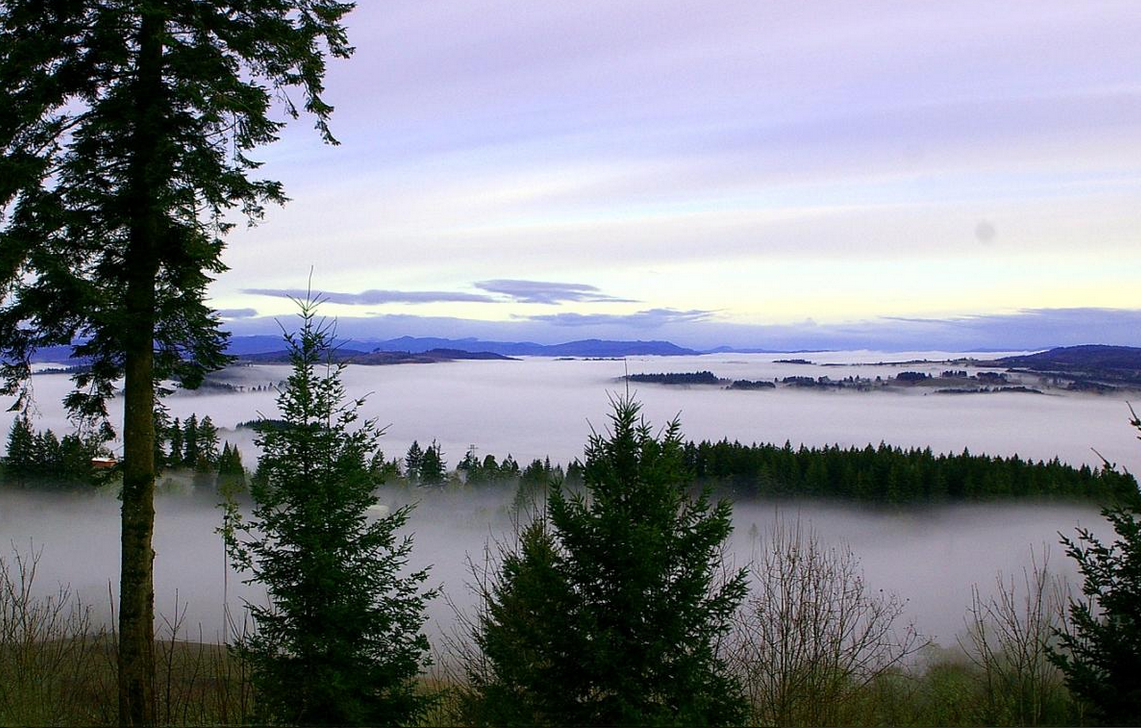 The fog puts on a show for visitors to the Native Flora tasting room, meandering in and out of the Chehalam Valley!
DH:  Going back to biodiversity and an overall holistic approach to winemaking, I read that you use sheep to help maintain the property, and that they have become such a vital part of Native Flora that a unique trellis system has been installed, allowing the sheep to remain on the property year round. How does that work?
FW: We have had sheep in the vineyard from the very beginning. Our trellis fruiting wire is much higher than the norm to keep the fruit out of reach of the sheep. We have a smaller breed of sheep, Southdown Baby Dolls that are kind of chunky and unable to stand on their hind legs. They are great mowers, sucker the vines, keep weeds down, and fertilize while they work. By not mowing, we reduce diesel consumption and soil compaction.
DH: How does using insect predatory populations such as frogs, ladybugs, and praying mantises help keep Native Flora from having to use pesticides, insecticides, and herbicides?
FW: Those are larger predatory examples you cite, which are great at eating aphids, cutworms and a host of other bad critters. But some of the very best work is done on a much smaller, microscopic scale. We have also released beneficial predatory mites over the years. They feed on tiny destructive bugs, like spider and red mites that are a severe burden for many vineyards. We seem to have established permanent populations of the good mites, since our damage from the bad actors continues to diminish each year. When we can use good guys  to take out bad guys, we eliminate the need for a chemical weapon.
"Our entire wine life, from farming to sales is rooted in intelligent integration."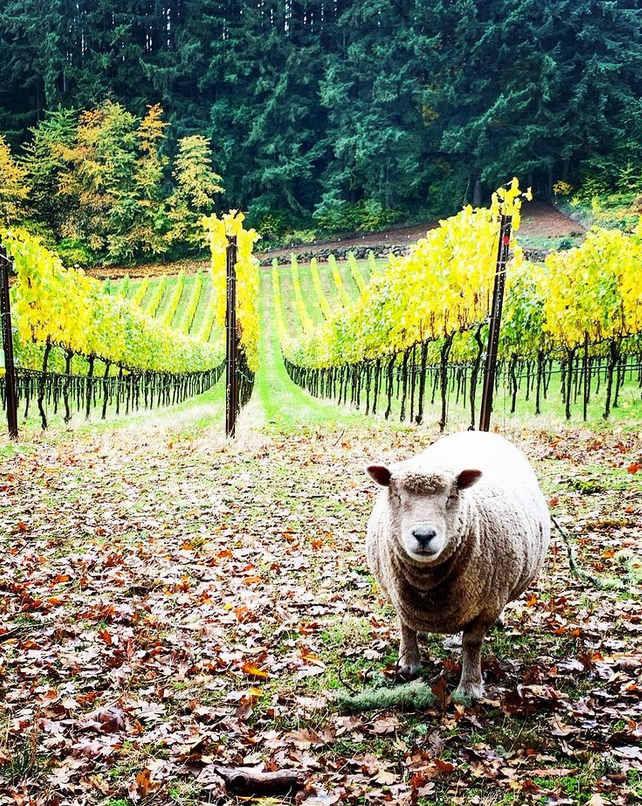 The Native Flora Sheep are all-terrain, self-propelled, mobile composters. Easy, effective, environmentally friendly, and amusing!
Leslie, a long time Native Flora fan and animal lover posing with one of Native Floras oldest rams, Happy!
The mowing crew a well earned break! Sheep are an integral part of the team at Native Flora
DH: The names of your wines are charming. The Pinot Noirs specifically tend to follow a theme of time. With titles such as "First Time," "Time in a Bottle," "Serving Time," and "Pressed for Time," what role do you think time plays in the making of great Pinot Noir?
Our Time series is our main estate Pinot Noir each year. It is made from the same proportional mix of 9 pinot noir clones grown on our estate. This blend showcases the impact of climate on our vineyard. A 4 or 6 year vertical set of our Time series is like a
master's class in climate impact on finished wine. The entire series is solely about the changes that each year – that period of time – has on our wines.
DH: Native Flora has a motto: "Not just sustainability, but improvability." What are some current projects Native Flora is working on towards improvability? How would you say Native Flora is improving at present, and are there any changes you implemented during the Pandemic that you think you'll keep indefinitely?
FW: Sustainable, as a goal, seems inherently flawed. It implies that the objective is to maintain a certain level of proficiency or product year after year. Imagine Apple with a sales slogan like, "The new iPhone 12 – just as good as the 11!" Our goal is to improve each year. That can take place in the vineyard, the winery, business operations, customer communications – anywhere. Every year we run a variety of empirical experiments in vineyard and winery. We plant new varietals, prune in different ways, thin shoots differently, selectively cultivate and improve small weak areas in various grape blocks, try new yeasts and fermentation techniques, new cooperages, vessel sizes and shapes, the list is never ending – but the goal is singular: To improve.
Sharing their love for helping others in times of need, Denise and Scott graciously donated 5,000 dollars to the Red Cross Wildfire Relief fund.
 hDH: Do you have a favorite wine fact, quote, or song?
"The best wines are always found at the end of gravel roads."
DH: What is your personal favorite Native Flora wine, and what food do you like to pair with it?
No personal favorite, it depends on the day, the meal, and the mood!
DH:. In your opinion, what is the biggest wine faux pas?
FW: That people say they only like red wine. White wines are exquisite and to everyone who says they don't like white wine, we always reply that they just haven't had a good one yet!
We were so excited to talk to Denise and learn what makes Native Flora Wines so special. With its integrated environment and special community, each guest will learn about the important ecosystem Native Flora has created while also tasting an array of delicious wines.
Native Flora's tasting room has incredible views and is a one-of a-kind tasting experience. They are offering tastings Thursday-Monday by appointment only. Interested in booking? Visit their website and be prepared to enjoy sheep, views and, of course, the wine!