Looking to sip your worries away, take time in nature, and distance yourself from the hustle-and-bustle? I recommend a DIY picnic at a beautiful vineyard via The Dundee's  "Bottles and Blankets" experience at Domaine Roy and Fils.
The wineries of the Willamette Valley tend to fill up quickly, but with this experience, The Dundee provides you with a luxurious blanket (courtesy of Sackcloth & Ashes) to spread out on the grass at Domaine Roy. Sitting by the olive trees, you can listen for birds, breathe in the many scents that help create such flavorful grapes, journal, meditate, or hang out with friends. You can bring up to 3 others with you, but there's no group too small (I went by myself and absolutely LOVED it).
Booking this "add on" includes a $40 credit for wine at Domaine Roy and Fils, a $30 credit to Red Hills Market, and The Dundee will set you up with Sackcloth and Ashes blanket for the day.
My recommended itinerary (but feel free to make it your own): check in and pick up the blanket from the front desk, then pick up some lunch from Red Hills Market on your way to Domaine Roy, as "Bottles and Blankets" is one of the rare exceptions to the "no outside food" rule currently in place throughout the Valley. But if you feel like skipping that step (after all, we did say this trip was all about relaxation) there is food for purchase at the winery as well. You have lots of options, but I say you can never go wrong with a cheese or charcuterie board.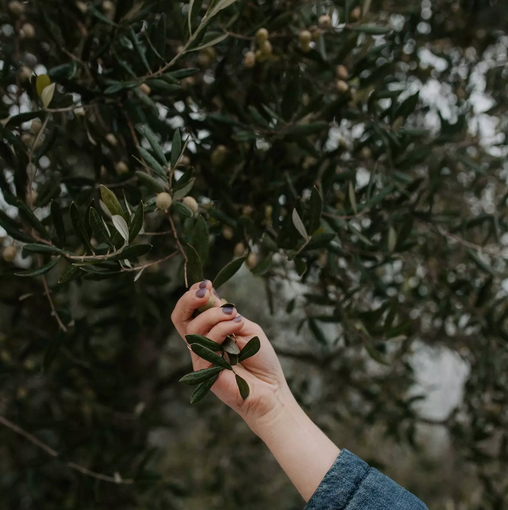 The beautiful olive trees add to the lush grounds and sense of place.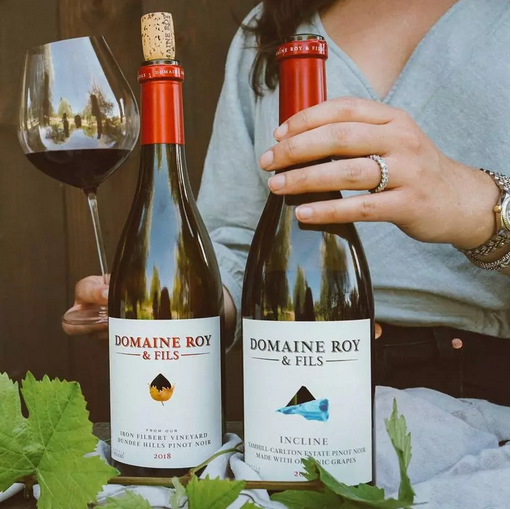 Selecting your bottle(s) is no easy task with so many great choices, but you will be in good hands with the knowledgeable team at Domaine Roy to help guide you.
edAt Domaine Roy, wine experts, Asher and Os helped me and you can count on a knowledgeable host to lead you through the menu, answer any questions you may have about the different vineyards, what makes a top tier wine, and how different soils create different flavors. They are excited to get to know you and share the wine they love so much, while also making sure to give you plenty of time alone without any rushed decisions or pressured pacing. As long as there's space, you're welcome to hang out as long as you like. During your tasting the team at Domaine Roy will recommend similar wines, help new wine drinkers develop their palates, or perhaps even introducing new flavors to the more experienced taster. If it's not too busy, I recommend asking if they can sneak you inside to see the cellar!
Domaine Roy is relatively new when it comes to wineries in the Willamette Valley, which is why the depth of flavor in each tasting will blow you away. Domaine Roy is also Pinot Noir focused, showcasing the range of this incredible fruit. Their Dundee vines, which comes from the iron-rich Jory soil, produces juicier, fruit-forward grapes, while their Yamhill-Carlton vines, which grows from more sand-like sedimentary stone, produces bolder flavors.
Their delightful patio overlooking Olive Trees and sweeping views of vineyards.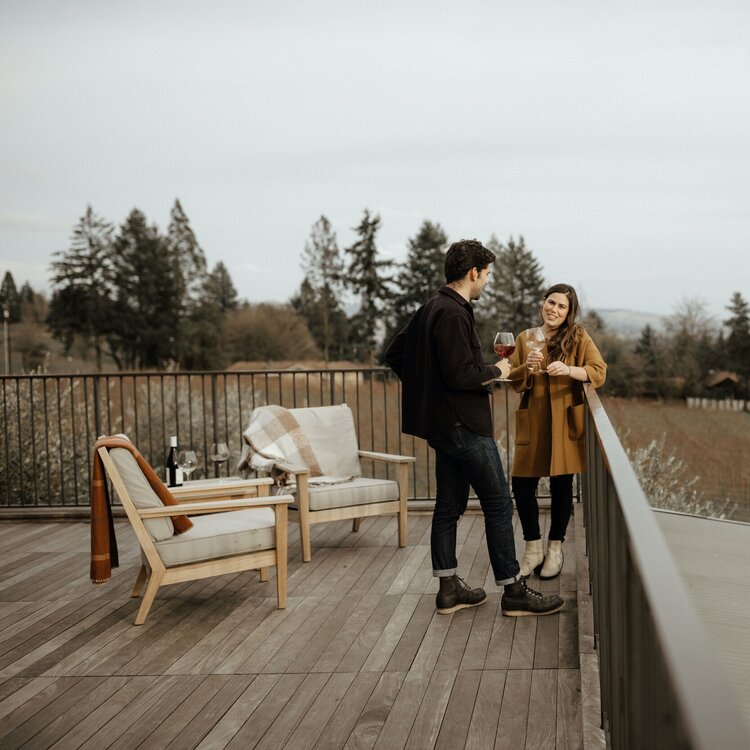 Wine just seems to taste better in the Vineyard, closer to the source and the people who lovingly nurtured and crafted it.
Now, if you become as obsessed with the Sackcloth and Ashes blankets as I am, check out their website for more information. Each blanket is made from 100% recycled material, and is ethically made and produced in Salem, Oregon. The best part? For every blanket purchased, Sackcloth & Ashes will donate a blanket to a shelter for people experiencing homelessness. Their current goal is to reach one million blankets donated by 2024, so it's a good time to keep them in mind when purchasing presents for loved ones (especially if that loved one is YOU).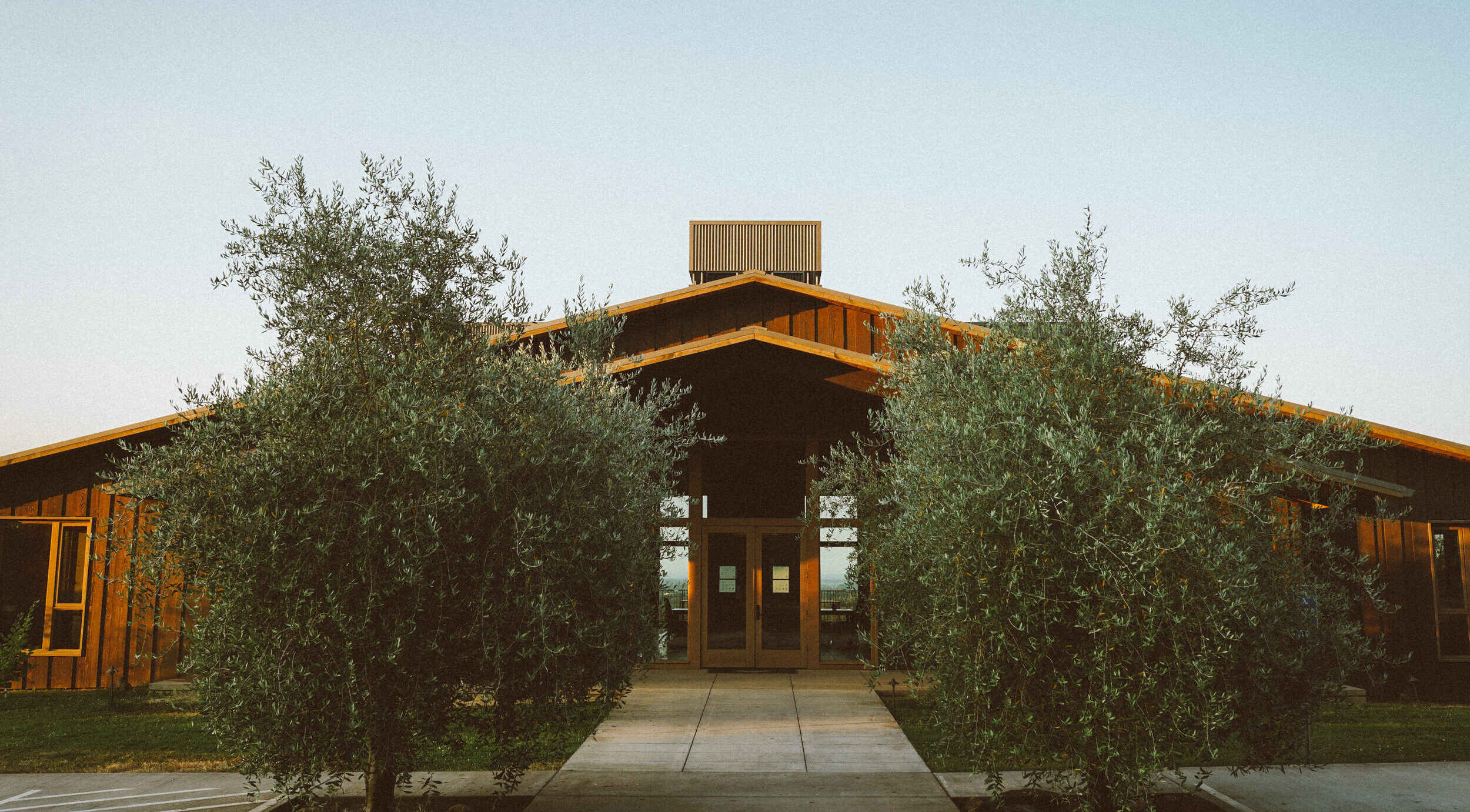 Their gorgeous tasting room with fabulous views and a design connected to the vineyards and grounds.
A few things to know before your visit: Make sure to bring layers! While outside tastings allow for the best views possible, the Pacific Northwest weather is always changing. The Dundee can provide you with ponchos, but sweaters and closed-toe shoes are good options, as well as a sun hat for those brighter days. Make sure your phone is fully charged as you'll want to take lots of photos, and don't shy away from water to hydrate and cleanse your palate between tastings.
If you order a bottle to drink there, I encourage you to ask what menu items your wine-connoisseur would recommend pairing with each particular wine. My favorite was the "pizza wine" that elevated one of my favorite "go tos".
The "Bottles and Blankets" experience can be added to your reservation while booking online, or when calling to reserve at 503-538-7666.  Asher, Os, and the entire staff at Domaine Roy & Fils are ready and excited for your visit!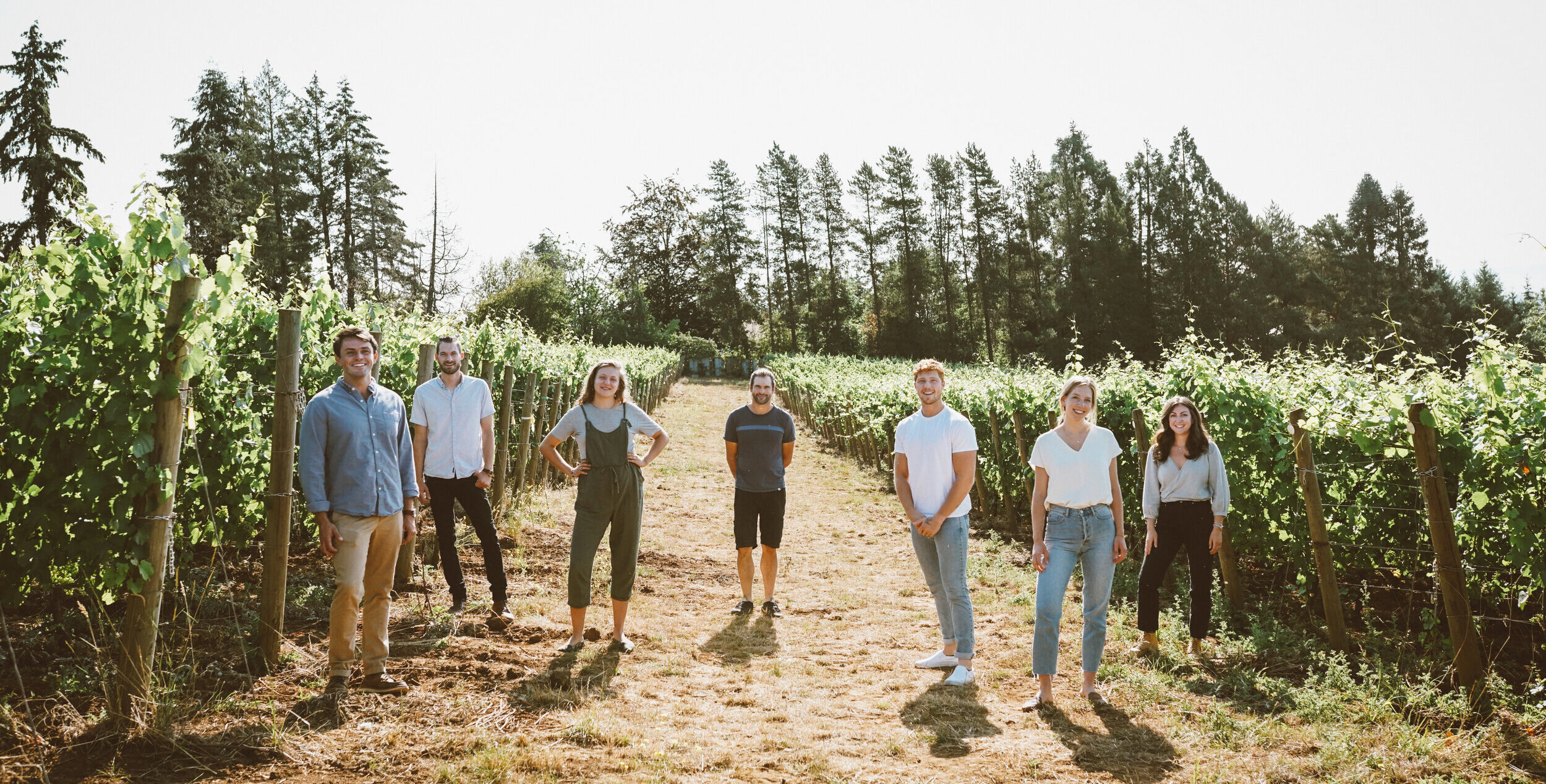 The team at Domaine Roy and Fils will take good care of you!