97!
Domaine Divio's 2020  Chardonnay (Willamette Valley) received a 97 from Wine Enthusiast! It's a big deal!
"Intense and concentrated, this stunning wine is loaded with robust and varied tree fruits and saturated with lush barrel flavors from aging in 45% new French oak. Accents of cinnamon, peppery herbs, caramel and honey show incredible depth and length, making this a superb Oregon Chardonnay.
It was one of those perfect Oregonian spring days. The sun was shining brightly but a cool breeze kept the day crisp. Birdsong filled the space of an otherwise quiet afternoon, and local flora shed petals over a nearby pond. Every now and again, I heard the sound of glasses clinking in cheers from Domaine Divio's tasting deck around the corner. Bruno Corneaux, the proprietor and winemaker of Domaine Divio, arrived with a warm and welcoming smile. He thanked me for taking the time to chat and learn about his process, and his genuine love for his farm and property were apparent right away.
"I grew up in a family of growers and winemakers in Burgundy," he said when I ask about his background. He immediately joked that it wasn't the most prestigious part of Burgundy, but Burgundy all the same. I then learned that back then (in the 19th century) it was common for farmers to grow wines grapes, not to sell, but for their own consumption. So Bruno's family winemaking lineage was born from a true and practical love of wine.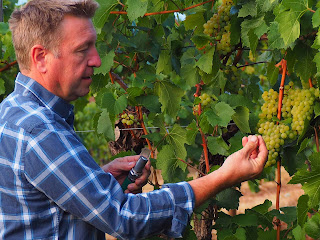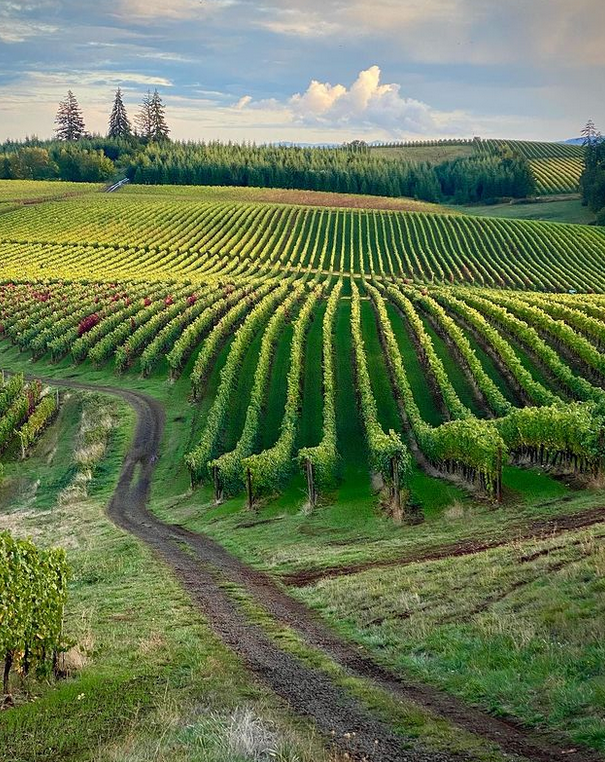 When his grandfather inherited the land, he expanded the vineyard, but at this point it was still a functioning farm with cows and chickens. From the time Bruno was a child to when he was a young man, he would help with whatever he could. But when it was time to choose a career, Bruno wasn't all in right away. "I found out it was very hard work and maybe not for me," he said with a quiet chuckle. "So I went to study biochemistry and microbiology." Eventually Bruno received a position in the Pharmaceutical industry where he worked for over a decade. It wasn't until then that he felt a pull towards his roots. Bruno found upon visiting home for vacation that he craved making something with his hands. Working the land and seeing that bear fruit. "So I went back to school to get my degree in winemaking," he said, "and I did, to potentially take over the family farm." Life, however, had a different plan for Bruno.
At this point Bruno was a young man, and took some time to travel the world. This is when he was introduced to the United States, specifically Oregon, and he fell in love with Willamette Valley. "It was heaven on Earth for growing grapes," he said. "Pinot Noir and Chardonnay. […] I fell in love with everything." In 2010 he returned for good, working at various wineries both making the wine and growing the grapes. Bruno considers himself first and foremost a farmer. "I love making wine, but it's easy when the fruit is good. So I focus on grape growing." In 2012, Bruno decided it was time to start his own label: Domaine Divio.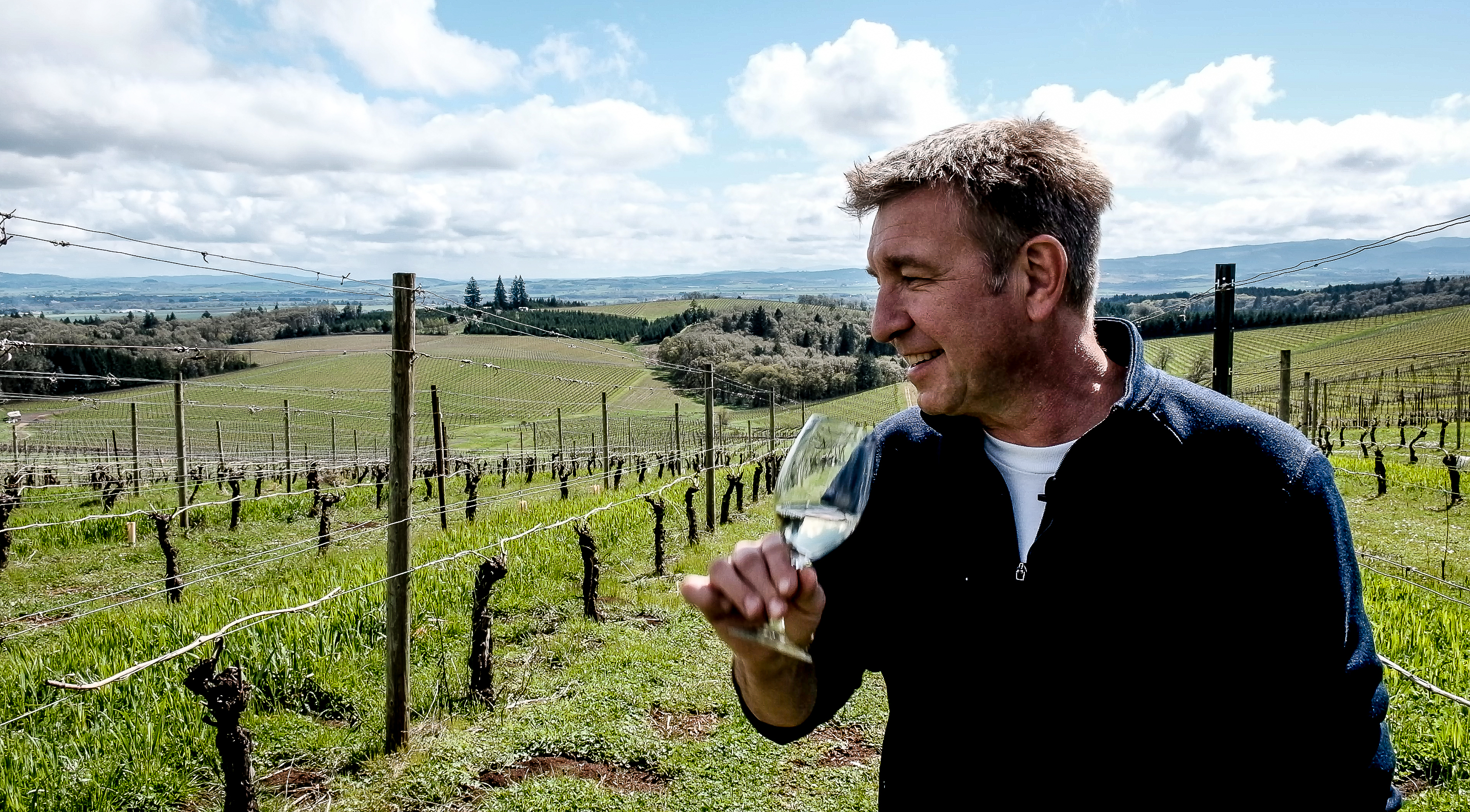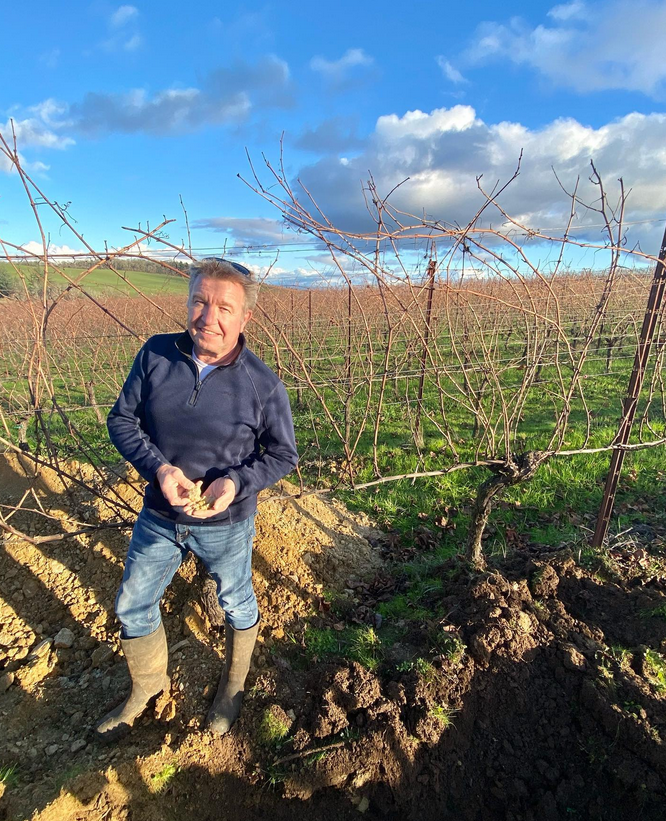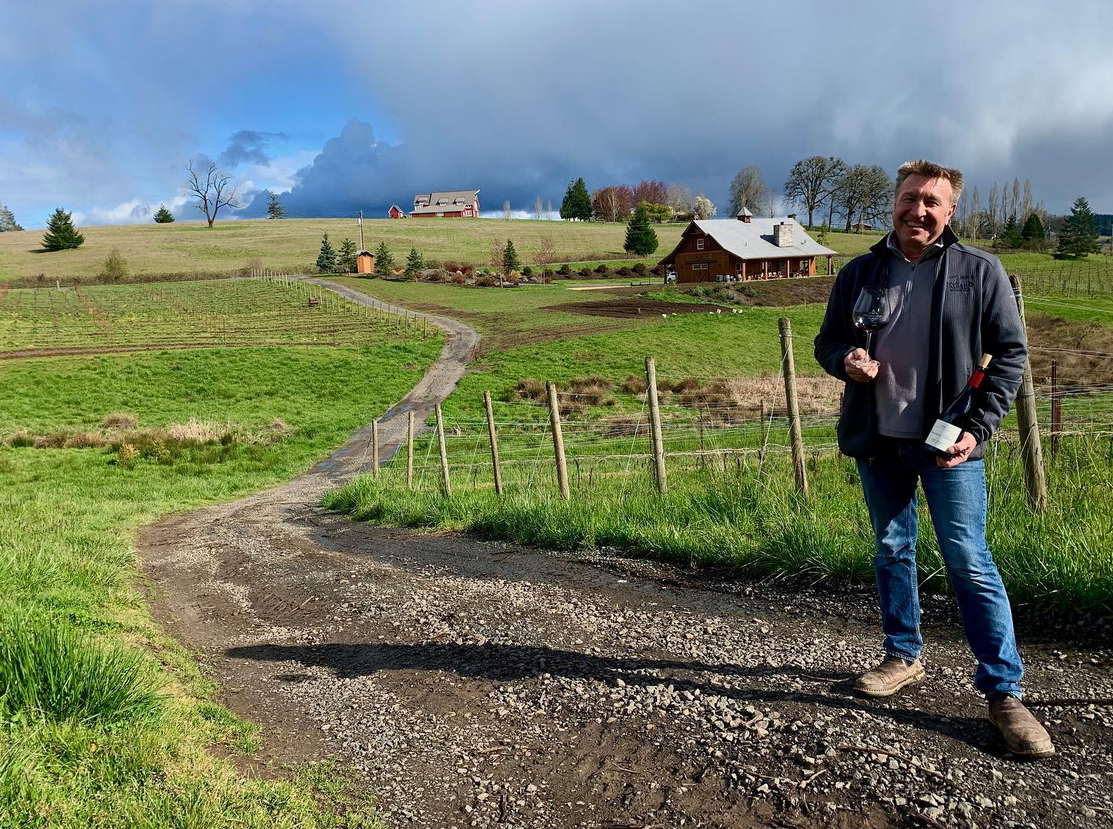 First thing he had to do was find land. Turns out, he already had a preference. "Ever since I first came here I loved the wine from the Ribbon Ridge AVA, but I didn't know why." Turns out, after farming the land more and more, he discovered that not only did the Ribbon Ridge AVA have a much higher clay content in the soil then its surrounding AVA's, the clay content was also vastly similar to the levels in Burgundy. "So I thought, 'Wow! I want to be in Ribbon Ridge.'" In 2014, Bruno purchased the land, and three years later (the usual time it takes for a vine to yield ripe fruit) we made our first estate wine." Growing up as a fourth generation winemaker has its perks, but you might also wonder if it's hard to shape your own voice and style after growing up with so much tradition. For Bruno, however, this wasn't the case. "All the techniques now a- days are pretty universal," he said. "There isn't much that's secret about growing or making. The skill is in adapting to your land in terms of environment and equipment." Bruno then tells me a brief history of the equipment used in Burgundy; where the rows are much more narrow because there is less sun in the summer, so the shadows don't cover the close-knit rows as the sun passes overhead. That isn't the case here in Oregon, so the rows must be further apart. And yet, for the same reasons, the canopies in Oregon can be taller because there's room for the casting shadows of longer days. "I came with my knowledge of Burgundy," Bruno said, "and adapted it to this environment."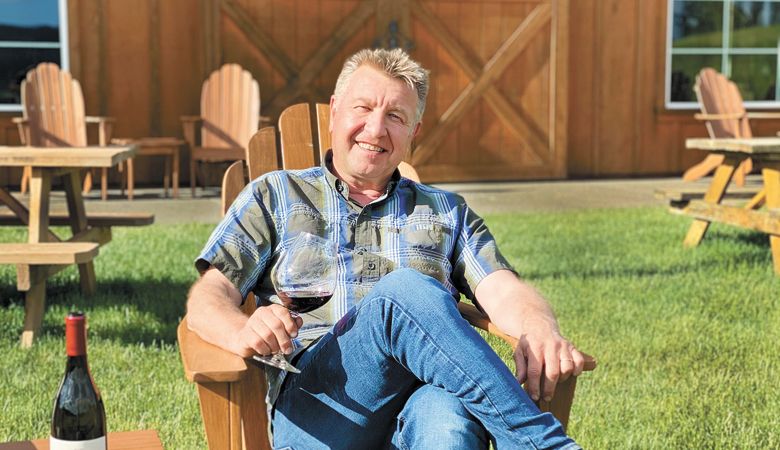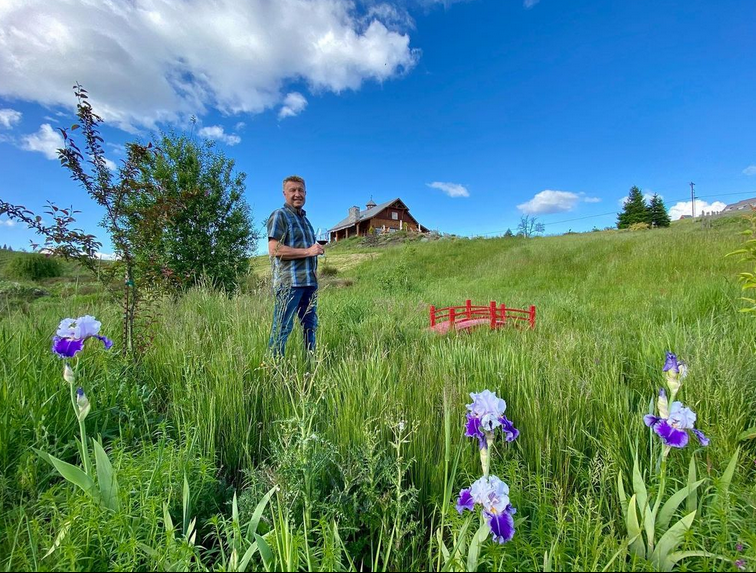 When it comes to the wines themselves, Burgundy and Oregon have similarities and differences when it comes to Pinot Noir and Chardonnay. "Both are high quality, and very elegant in the sense that we are in a cool climate and we are growing in the same general style," Bruno said. But when it comes to the differences, the key once again comes down to Oregon's warmer and sunnier summers. "We tend [in Oregon] to have grapes that reach maturity without any problem. This is because the extra sun allows the grapes to grow more sugar. But we're not going to keep as much acidity as we would in Burgundy. In Burgundy, we have a hard time reaching full maturity, but we have much brighter acids." Cliff Note version: More sun = more sugar and therefore a slightly sweeter flavor. Less sun = less sugar, and therefore a more acidic flavor profile. "But both are stylistically complex," Bruno added.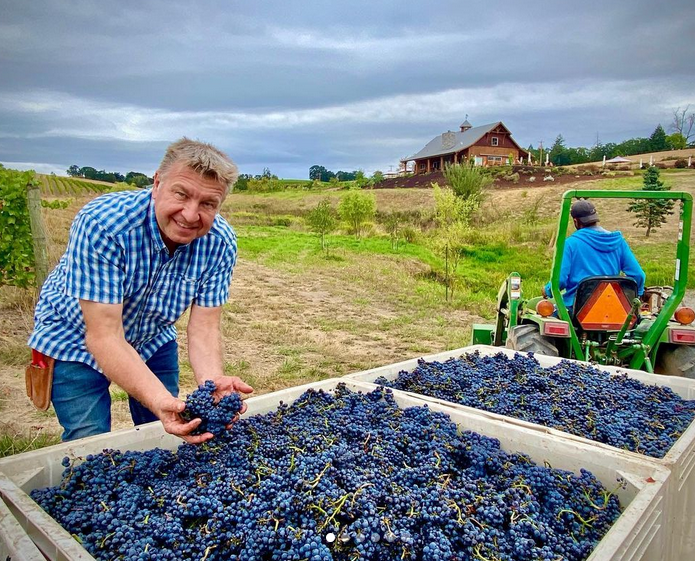 Bruno is "hands on" and involved in every aspect of the winemaking and operations.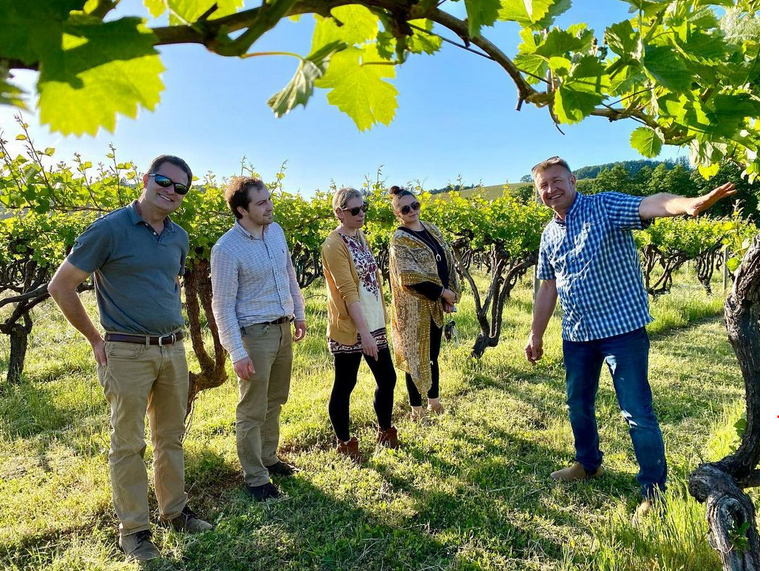 Domaine Divio field trip and team building at Hyland on this beautiful vineyard's 50 years anniversary.
If you haven't already heard, Domaine Divio received an immensely prestigious scoring of 97 points by Wine Enthusiast on their Chardonnay. For Bruno, he is very humbled and grateful for the score, but for him it's all in a day's work of loving these grapes. "I'm really into Chardonnay," he said. "For me it's the most interesting grape to grow and make. […] With Chardonnay, you have to pay attention to every single step of the process. Which clone will you start with? What will the exposure be? You must pay close attention to the yield, and the picking decisions are very detailed and specific. Pick a little too early and the grapes will be green and not ready. Pick a tiny bit too late and… it's not overripe per se, but you lose the vibrancy you're looking for. So it's tight. A much shorter window. And in the making, every step is critical. You need to be there all the time when pressing. If you press too much, you have harsher tannins, and if you don't press enough, the body of the wine won't ferment the same way. If the barrel is too heavy it'll ruin the wine, and if it's not heavy enough it'll come out flat." When I asked if he knew his Chardonnay would score so well, Bruno replied matter-of factly, "I don't pour them if I don't think they're good. And I taste them regularly as they age. I wasn't expecting anything like awards or anything. It's more if people love it… that's good. But I was very proud to see this high score. It's rewarding."
2020 brought a lot of hardships for Oregon Wine Country (along with the rest of the world) but part of what makes this community so special is its ability to support each other in times of need. "People were supportive," Bruno said. "Coming through the winter months with snow, even though our only tastings were outside. We had blankets and heaters and we'd check in but they said they came for the wine so being outside was OK. We thought it would be difficult, […] but it created a bonding experience between the clients and myself, a momentum we both weren't expecting."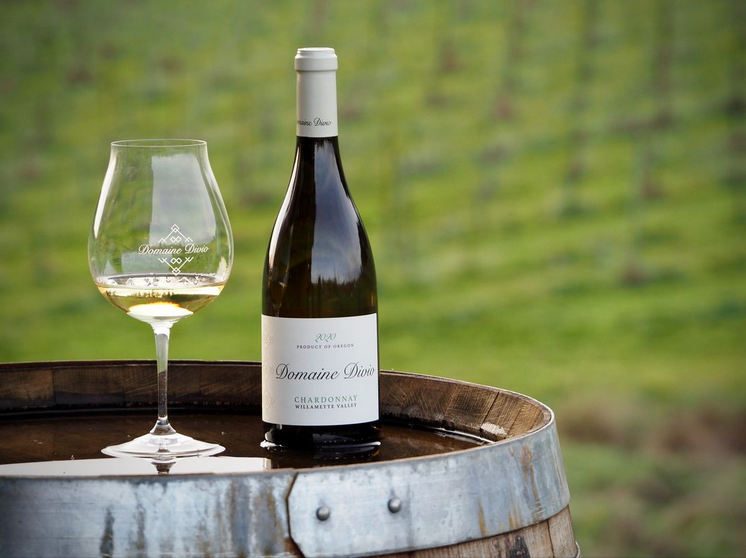 The high-scoring Willamette Valley 2020 Chardonnay! Bruno says he doesn't pour it if it isn't good….It's the people's praise rather than the awards he cares about most.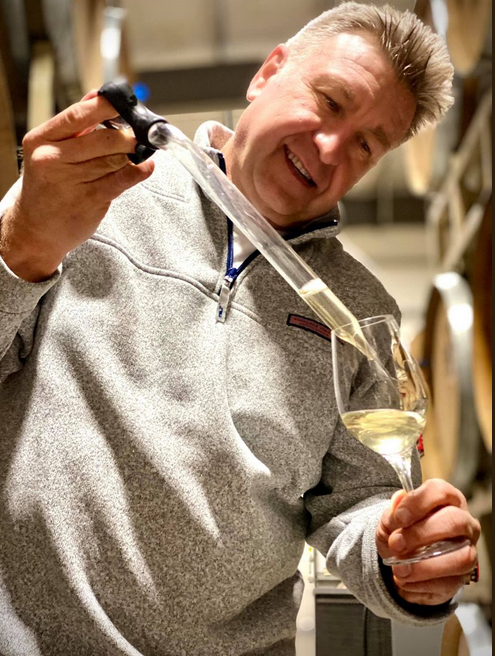 Bruno does a first check of individual barrels after primary fermentation of the Chardonnay Estate 2020. It's very vibrant!
Bruno may have relocated to Oregon, but community and family remain important to him. In fact, his own son, Louis, just graduated with a degree in Viticulture and now plans to attend the same graduate program as his father in Burgundy, with the idea of one day taking over the winery. Gabriel, his second son, is currently interested in engineering, so perhaps he'll lend his expertise in future renovations?? Both sons, however, are forever tied to the vineyard with a block of planted Cuvees named for each of them.
Family matters, and that philosophy shined brightest with Bruno when I asked him about his favorite wine-related memory. "It's the oldest one I have," Bruno said. "I see myself with a glass under the press with my grandfather, trying to get some drops pouring out of the press (still juice). I have this image of myself, and the smell, and the people working. The pumps at the time– feels like the middle ages –we had hand pumps moving the juice. I see my father doing that and me trying to get the juice out of the press." Now if that doesn't make you want to go try some of their wine, I don't know what will! Good news is, as soon you step onto the property,you feel like part of that family too.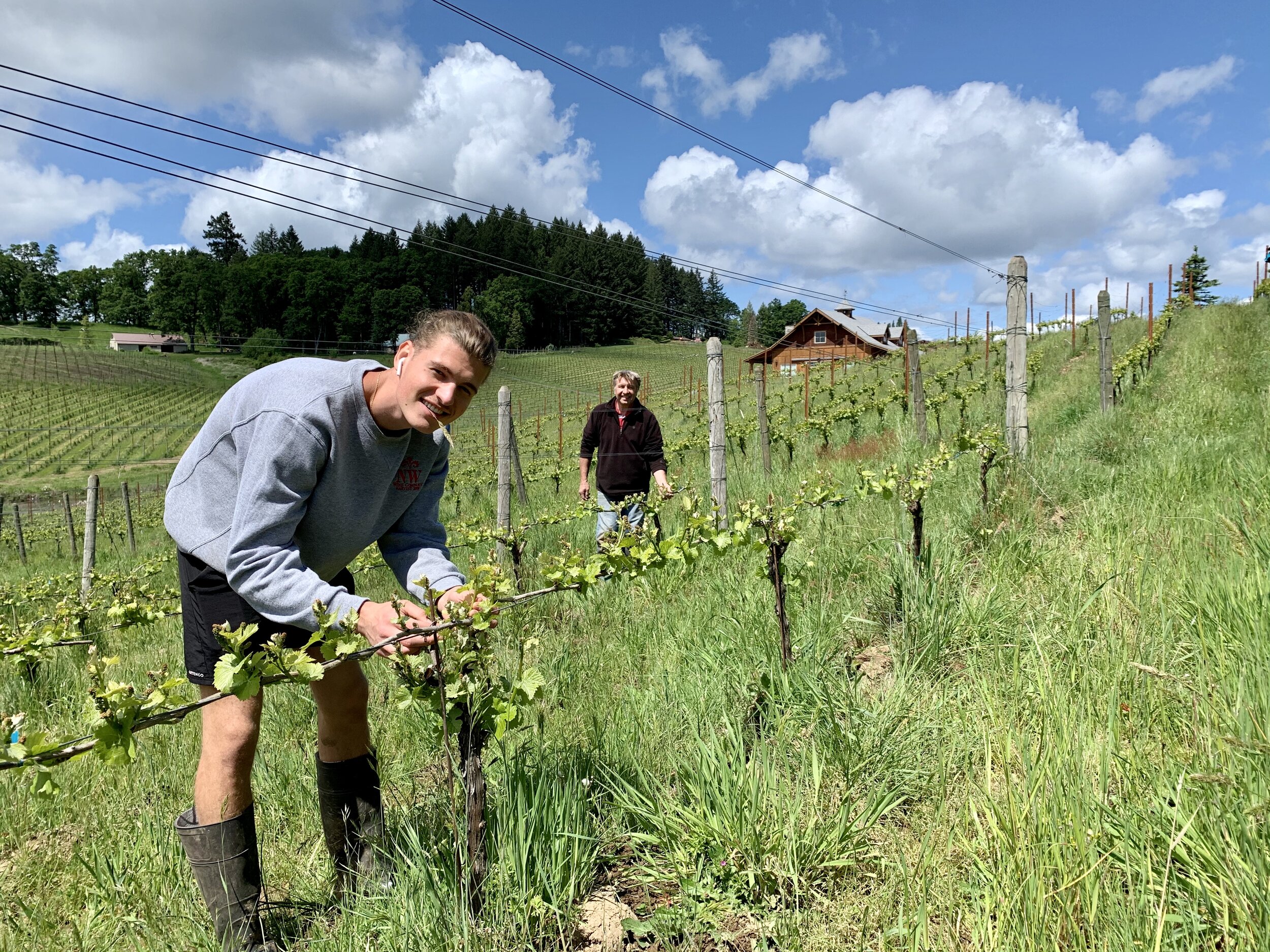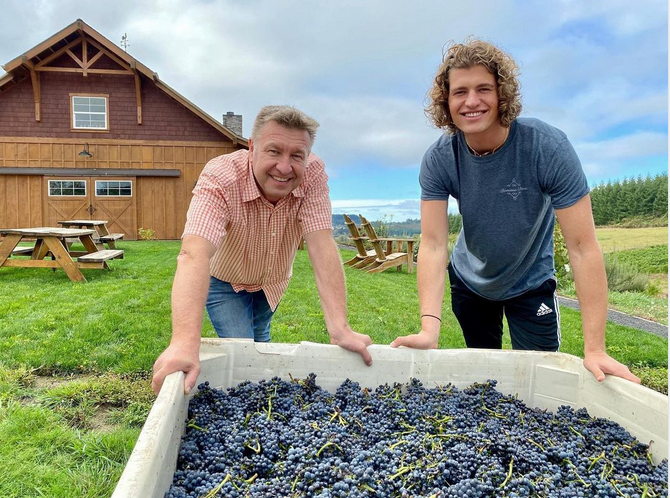 It's a family operation. Here with son Louis as ties the canes, helps with harvest, and of course tastes along the way.
Check out Domaine Divio's website for upcoming events. From Mother's Day, to Labor Day and Bastille Day, there will be celebrations happening throughout the summer. Or call ahead and book a tasting anytime. We at The Dundee would love to host you during your next visit to Oregon Wine Country, and we can't wait to hear about your experience on Bruno's property, sampling a taste of Burgundy in Oregon.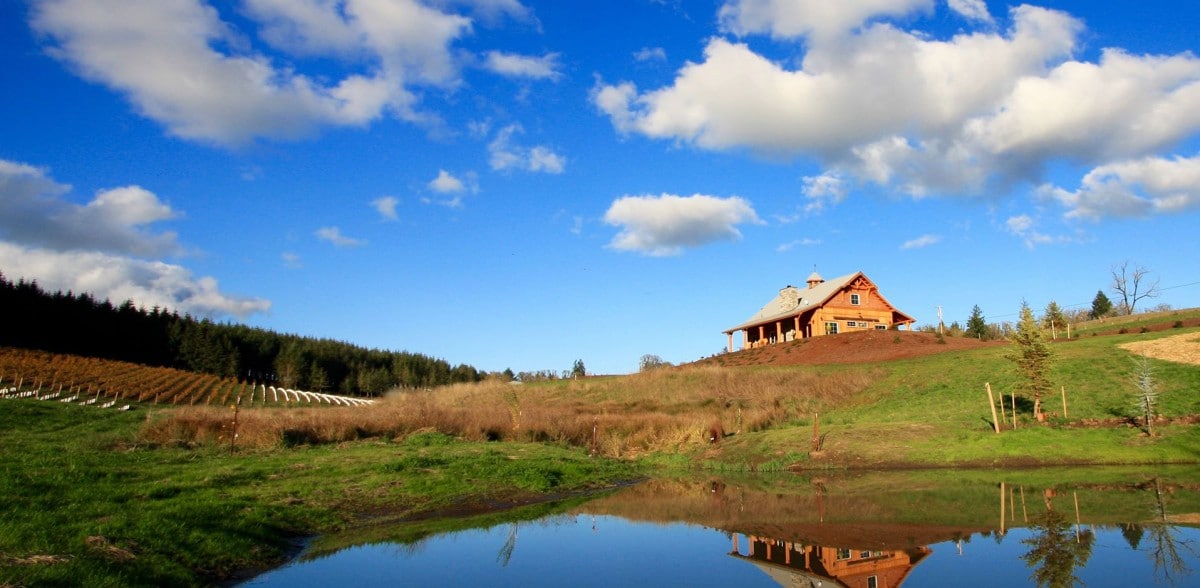 Photos provided by and credited to: Isabelle Corneaux