Everyone knows that the Willamette Valley has world-class wine, and most of us know that there is no better partner to wine than local, freshly made cheese. That's why you'll find dozens of wineries that offer a cheese plate to complete the experience. But what if you flipped the coin and let the cheese lead the way? We at The Dundee have put together the ultimate itinerary for a day of cheese tasting that showcases what Oregon Wine Country has to offer, from cheese selections at wineries and breweries, to markets, shops, and local restaurants. Now the question is: what are you waiting for? I mean, it doesn't get cheddar than this!
Noon: Lunch at Trellis
With the warmer weather approaching, make a reservation ahead of time to book a table at Trellis' outdoor patio. The covered and heated area is the perfect way to start any cheese day in the Valley. The meat and cheese plate is our recommendation, with an all cheese option available upon request for vegetarians. The plate includes three rotating cheeses, three different types of cured meat, red pickled onions, candied walnuts, dried fruit, (dried cherries for the win!) jam, and wait for it… FOCACCIA bread! I don't know why focaccia is so seldom used for cheese plates, but once you try it you'll be hard-pressed to go back to other forms of bread. If you're feeling fancy, pair it with one of Trellis' signature cocktails like the Guava Drop or Apple Elderberry Martini!
With a full bar right on site, you can pair your charcuterie board with various wines, whiskey, or cocktails, your choice!
We ALWAYS reccomend adding a meat and cheese board to your meal at Trellis.
2pm: Wine and Cheese at Hyland Estate
Don't worry, we wouldn't let you complete a Dundee itinerary without any wine tasting! Your next stop is Hyland Estate, where you have the option of trying their traditional tasting flight, or an all-red variation. We went with the red wines this time, but you can't go wrong with anything at Hyland. As we sipped on their complimentary tasting of a brut sparkling wine (before the official flight began) we were served two of their signature cheese and charcuterie boards. This particular selection showcased three different types of cured meats, with a variety of hard and soft cows cheeses, including a bright orange cheddar (think pumpkin-orange) that gets its vibrant color from the grounding of tree seeds. In addition, you will be served fresh olives, quince paste, and whole grain spicy yellow mustard. The Hyland Estate team seemed delighted when we told them we were there for the cheese, as they admitted to putting a lot of time and effort into curating a top-notch variety of local selections that can pair well with either flight.
Enjoy a mouth watering meat and cheese board at Hyland Estate paired beautifully with their vast array of wines.
3:30 pm: Cheese to go at Red Hills Market:
Next up is a choose-your-own-selection-adventure at Red Hills Market. RHM is one of the most popular spots in Dundee and carries countless local goods, but we would like to make a push for their selections of Briar Rose Creamery cheeses. A local creamery to the area, Briar Rose makes some of the absolute most delicious cheeses you will ever sample. And while the creamery tours have been put on hold due to Covid restrictions, we in the Valley are blessed that Red Hills Market carries so many of their selections. With that said, if you're unsure where to begin, our personal favorite is their fromage blanc. Add some olive oil and pepper, and you've made yourself a snack for the ages. If the weather is nice, there is outdoor seating for you to enjoy at RHM, or of course you can always pack your cheese up to take on a picnic at a neighboring park.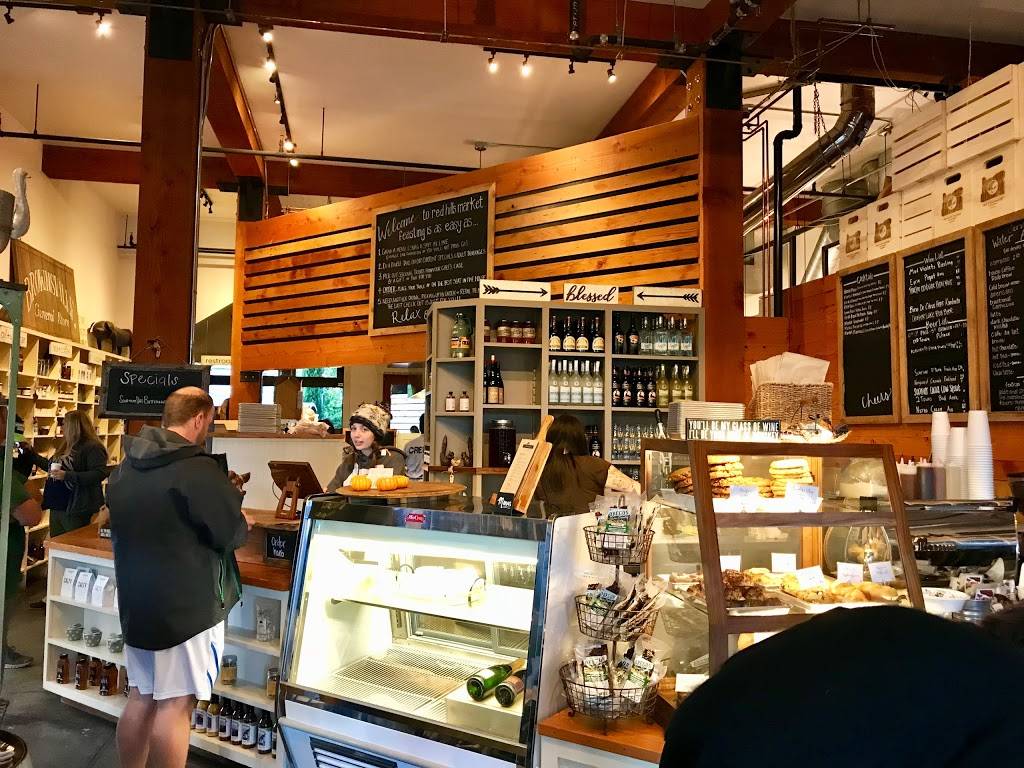 You can find a wide range of locally sourced cheeses, wines, meats and great food right down the street from us at Red Hills Market.
Briar Rose Creamery, named one of the top 50 cheesemakers in the United States, sources cheese for many wineries in the valley. We highly reccomend their fromage blanc!
5pm: Cheese and Good Company
No cheese day in the Willamette Valley would be complete without a stop at Good Company Cheese. Here you'll find every kind of cheese you can think of. Pick your favorite, or as we like to recommend, tell the cheese experts at the store what your preferences are and let them pick a few out for you. You can add crackers, chocolates, or beverages to your purchase, and take the cheese to go, or dine in the cute café that's attached to the store. If you're feeling almost full of cheese though (gasp!) there is no shame in getting the cheese wrapped up for later, as Good Company Cheese and Red Hills Market are probably the easiest places on the list to do so. (After all, who says the cheese fest needs to end after this one day?)
Located in the heart of downtown Newberg, Good Company is a great stop for every cheese lover.
All cheesed out? Not to worry! at Good Company, they sell many other local goods.
7pm: A Cheesygoing Finale
So at this point we have feasted on cheese in a restaurant, winery, store, and market. "What's left?" You must be thinking. Fortunately we are here to tell you! Your final stop of the day will round out your PNW experience by trying the cheese plate at Barley Vine and Tavern. (Quick note though if you're traveling with kids: While Hyland Estates has a 21+ policy, Barley Vine and Tavern does allow minors inside.) Grab a beer on draft and pick between their charcuterie and cheese board, (again, a meat free option is available for vegetarians) or their "Adult lunchable." (If you know, you know.) The lunchable is smaller if you're feeling full, but both options will leave you wanting more. One of our favorite aspects of the cheese plate here is its ability to feel well rounded and balanced even for vegetarians. The plate is not merely a charcuterie board sans meat, but stocked with dried fruits, fig jam, spicy honey (SO good, BTW), crackers, crostini, and mini-pickles. They also served the biggest portion of goat cheese I have ever seen on a cheese plate (even we couldn't eat it all and had to get a container to-go). Also, if you are feeling that you might not be able to handle another cheese plate (we forgive you) there are multiple options here that still include delicious cheese such as the ham and brie sandwich, three types of nachos, and herbed goat cheese with crostini.
Herbed goat cheese and crostinis
Continued "Research":
If you're spending more time in the PNW and have the accessibility to travel further, Oregon has not only one, but TWO, world class cheese factories. About an hour and a half from The Dundee hotel, you'll find Tillamook Cheese Factory. Take a full tour (with cheese tastings, of course), send your friend "Cheese Mail," (you'll see what that means), add Tillamook Ice Cream to your agenda, and spend the rest of the day at the beautiful Oregon Coast. Or, about four hours south, you'll come across Rogue Dairy Farm. Now, you may be thinking "That's way too far away!" But we couldn't write a cheese itinerary without mentioning our neighbor to the south, who recently won the GRAND CHAMPION prize at the World Cheese Awards in Bergamo, Italy. That's right y'all, the 2019/2020 awards proclaimed Rogue's River Blue cheese the best cheese IN THE WORLD, a first for any American-made cheese. So whether or not you have the time to stop there on this particular trip, keep this gem in mind for any and all future cheese tastings in the future.
Wherever you stop and however many samples you taste, we hope you have a great time, and that this list helps put your mind at cheese!