We know you pets are your family and we welcome them at The Dundee Hotel! With so many dog-friendly wineries, trails, and treasures to sniff out, Oregon Wine Country is a great destination for dogs and their owners. With so much to do and see, we've plotted out a three-day itinerary. All stops along the way are dog friendly, so there's no need to leave anyone behind! (Note, we recommend making reservations for these activities in case they require advance bookings or have changes in hours of operation. But we also love to assist guests plan their trips and can help you with all your reservations and details: info@thedundee.com)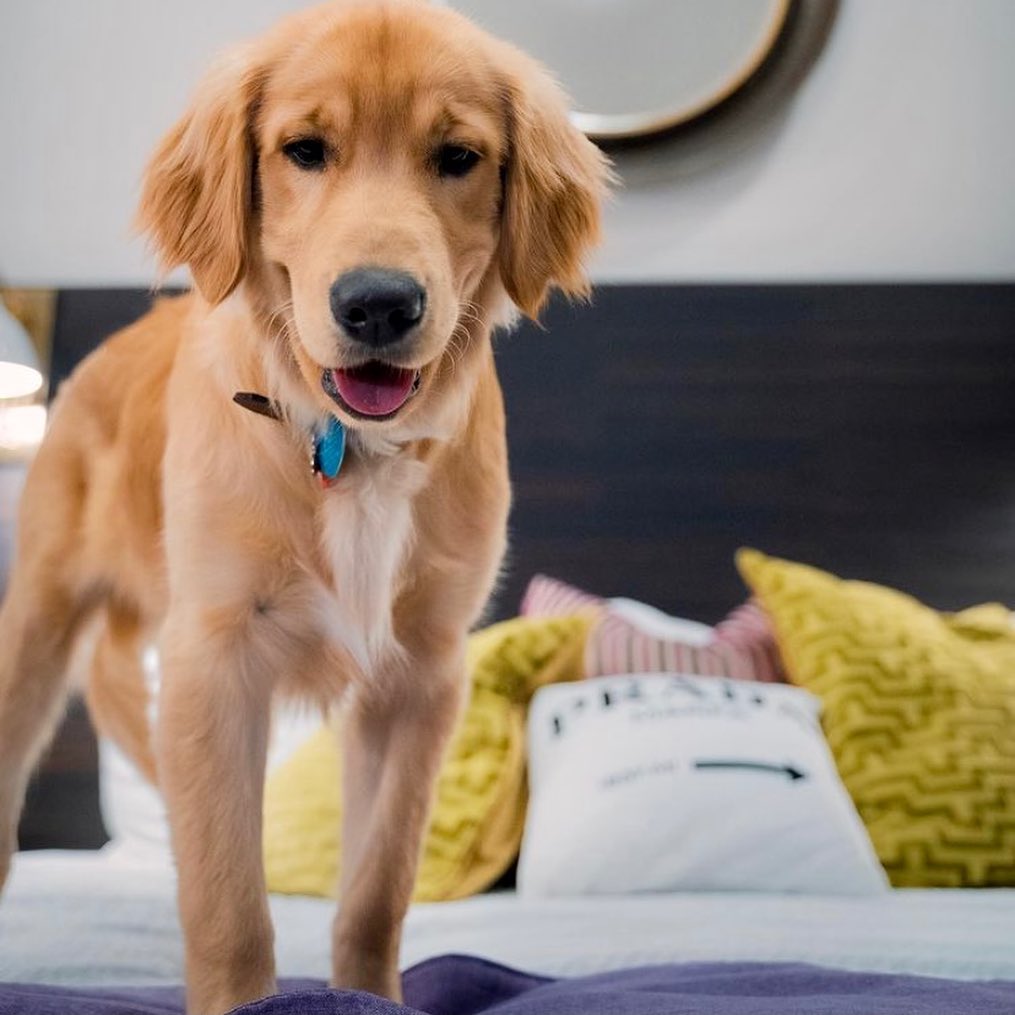 April's photo contest winner won with this photo with help from this golden beauty!
Our rooms are dog approved!
Day 1
Arrive at the hotel at your convenience, and let us make a fuss over your adorable pup(s)! When ready, travel to Dobbes Family Estate for a wine tasting. Dogs are permitted at outdoor seating areas, and if you're hungry, order their cheese plate (maybe sneaking a piece or two to your cheese-loving canine companion). If you're there on a Friday, you are in for a treat, because its trivia night!
After your first wine tasting of the weekend, take your doggo for a scenic walk at Newberg Dog Park (a stone's throw away from the hotel) or visit a local farm. The Woodburn Tulip festival opens late March and continues through early May. The endless fields of vibrant tulips are so impressive, even your dog might start to see color! If you're feeling peckish, just grab one of the many snacks offered to hold you over until dinner.
Speaking of dinner… it's time to head to Bistro Maison, McMinnville's premiere French culinary destination. Outdoor seating is offered for all members of your party, but if you're feeling spent and wish to retire for the night, take out is also available.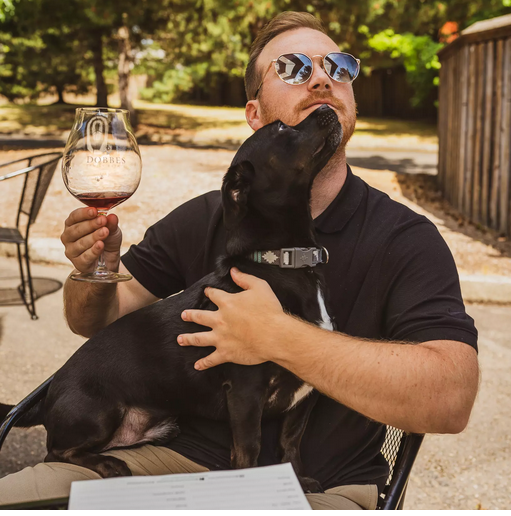 Dobbes is open for dogs and their humans!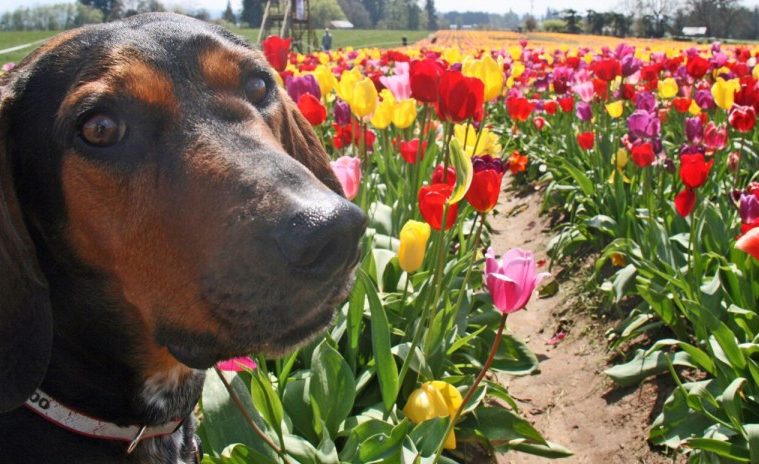 The Woodburn Tulip Festival provides not shortage of photo ops for your pup's IG.
Day 2:
Wake up leisurely, perhaps pressing snooze once or twice for extra snuggles with your BFF. When you're ready, hop in the car (or hire a driver if you're sans a DD) and head to Keeler Estate Vineyard. Keeler prides itself on not only being a provider of excellent wine, but also "an experience for the soul." And you know who deserves an experience for the soul? You guessed it! All dogs, but especially yours! Order a charcuterie board while you sip one (or both) of their two offered wine flights. Then take your time walking around the property and check out some of the nearby hiking trails.
Bonus, if you're a Keeler Estate Wine Club Member, or decide to become one, you can sign up for their "Pinot and Puppies" for just an additional $15 a year. This membership includes organic treats, puppy play dates at the vineyard, and a chance for your bestie to be featured as the dog of the month! In addition, a portion of each membership goes toward supporting "Homeward Bound," Oregon's first no-kill animal shelter.
If you're able to pull yourself away before dinner, there are more wineries to see! Next stop is Sokol Blosser Winery. Just give them a call beforehand and let them know you're bringing your dog so they can ensure the best possible space for you. The tasting will be held outdoors, so stack up on layers and blankets! Sokol Blosser is a family owned and operated winery that has been in the Willamette Valley since 1971, growing and evolving throughout the rise of the famous Oregon Pinot grapes. Sokol Blosser also prides itself on using sustainable farming techniques that express distinctive flavors through respecting the soil. They believe there is no commitment to wine without a commitment to the environment.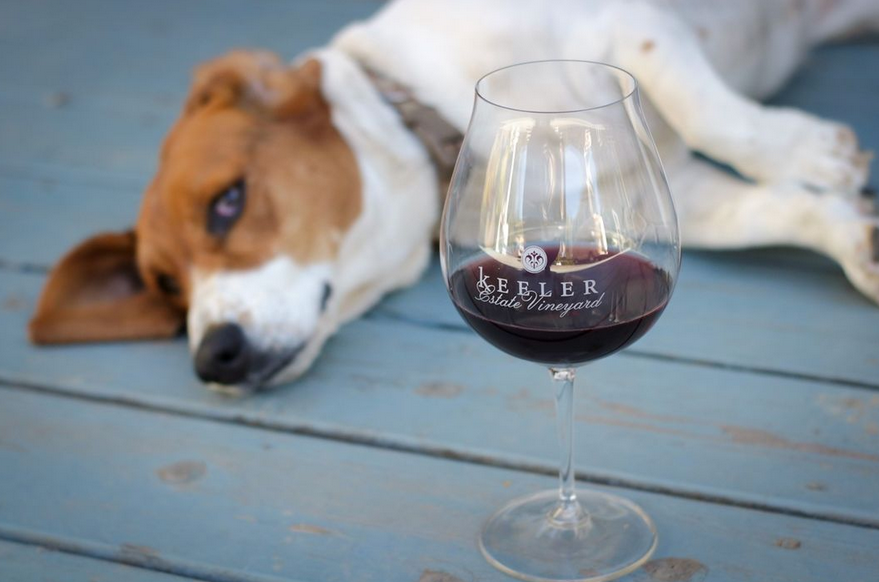 Members of Keeler Estate Wine Club can sign up for "Pinot and Puppies" to bring the pup in on the fun.
With all that wine, it's time for some food! Luckily, Dundee has great dog-friendly options. Tonight's suggestion is Trellis (although we recommend making a reservation ahead of time). Trellis is one of the most popular restaurants in Dundee and dogs are permitted when you dine on their covered, heated patios. If there's anything that can compete with Willamette Valley wine, it's the fresh local bounty of PNW cuisine, and that's what Trellis aims to exemplify.  Chef Joe Jackson keeps the menu fresh and rotating, always offering what's in season to bring you the brightest flavors possible. From seafood to sandwiches, short ribs, and vegetarian options, you can't go wrong.
Return to The Dundee for more dog snuggles and a restful sleep.
Dogs are welcome on the patio at Trellis
Day 3:
Wake up next to the best companion anyone could have, and head out to Red Hills Market, just a stone's throw away from The Dundee. Grab some food to go and settle on their outdoor patio so you can dine with your pup. Red Hills has an endless assortment of food from local cheeses and olives, to breakfasts, sandwiches, pastas, wood-fired pizzas, and their signature "steak n taters."  Not to mention, desserts.
When you're finished, head to Argyle Winery, where the cozy-covered patio is heated for you convenience. Argyle is devoted to all things sparkly, being one of the top sparkling wine destinations in Oregon. No worries if you're not a fan of bubbles though, Chardonnays, Rieslings, and of course Pinot Noirs are also available for tasting and for purchase. Argyle is constantly updating itself, likening their approach to wine as a "true Oregonian tale," respecting the land while "taking risks, and embracing opportunities and possibilities." Argyle is also the exclusive wine partner for the James Beard Impact Program, which works to establish "a more sustainable food system through education, advocacy, and thought leadership." Check out their website to learn more about their other philanthropic investments.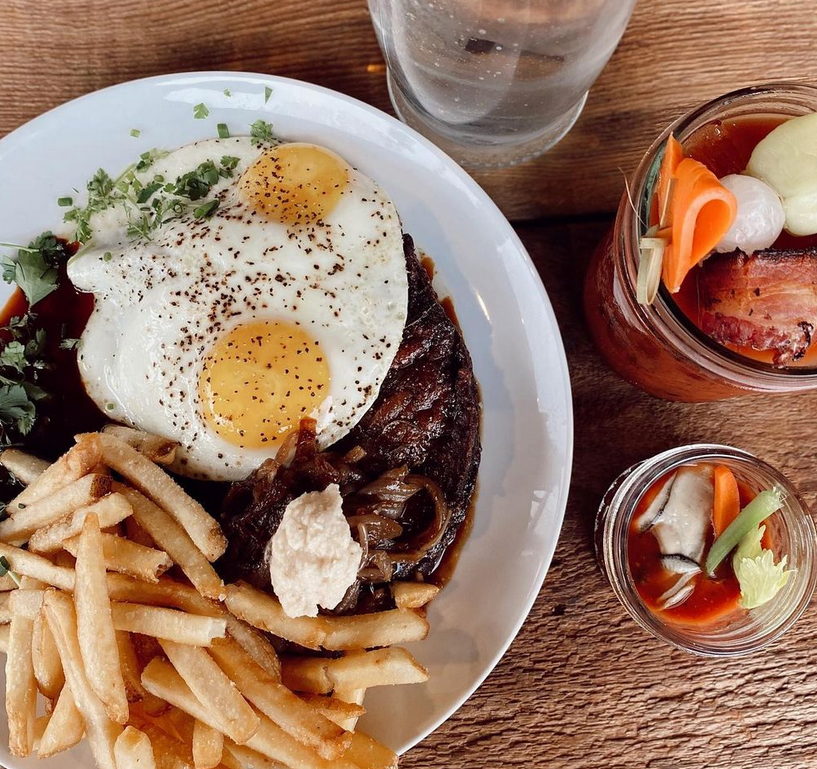 Dogs are welcome on the patio at The Dundee Bistro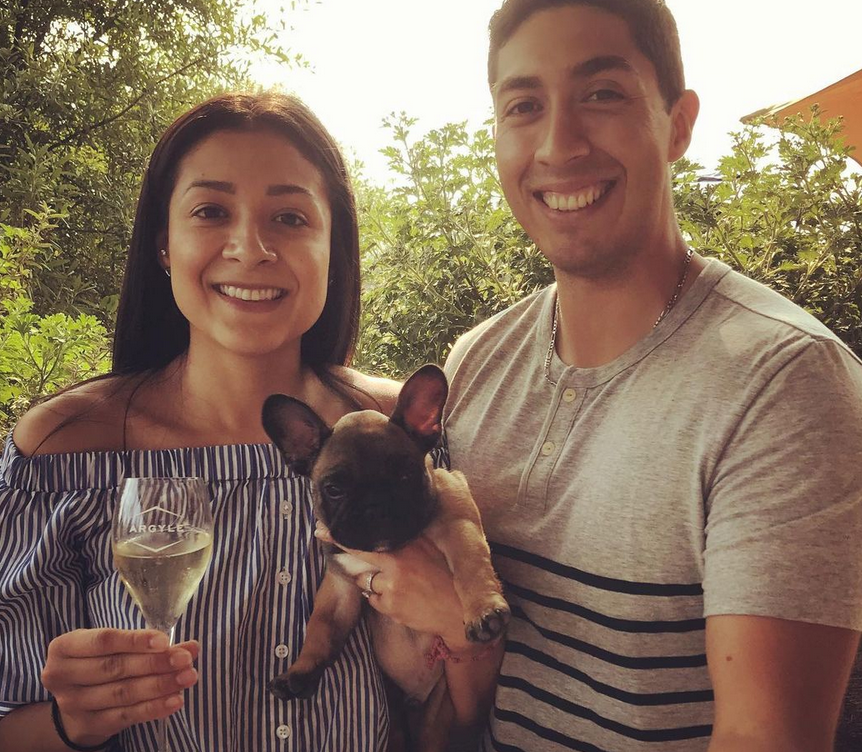 This Dog and their owners are enjoying Argyle Winery's beautiful grounds
After all that wine, it's time to get the blood moving. Enjoy the sites at Harvey Creek Trail. This hike is a non-aggressive 1.5-mile loop, so you can take your time, allowing for plenty of pup-sniffing pit stops. One of our favorite games to play on Oregon hikes is "How many shades of green can you spot?" I personally lose count every time. Pass over bridges and rivers, feel the lush wet moss between your fingers, and allow the tall trees to make you feel pleasantly small. The best part? You'll feel free in the wilderness while really only being about a five-minute drive from The Dundee.
Finish up the day with a dining experience at the Dundee Bistro. Dogs are permitted on the outdoor patio, and the menu changes daily so quality is never sacrificed. And if you ask for it, your doggo shall be offered the finest water in the land! An added bonus of eating here is that each food item has been curated to partner with wine, so no matter what you get, it's sure to be wine friendly and another opportunity to branch out and try something new!
After dinner, return to your room and start planning your next trip to The Dundee!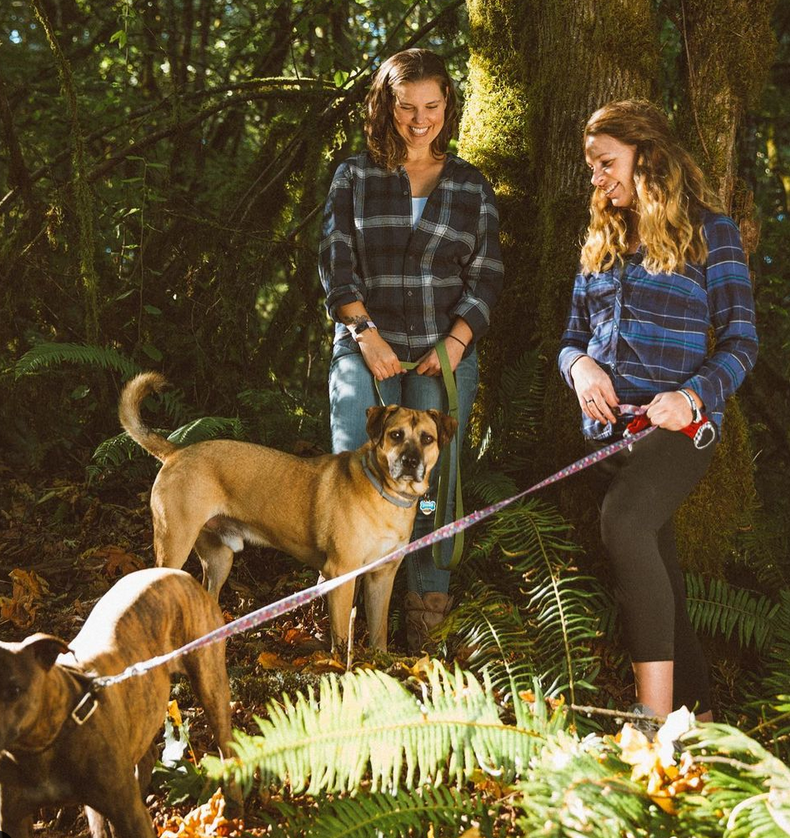 Take a hike on the Harvey Creek Trail, it comes highly recommended by the Valley's canine class!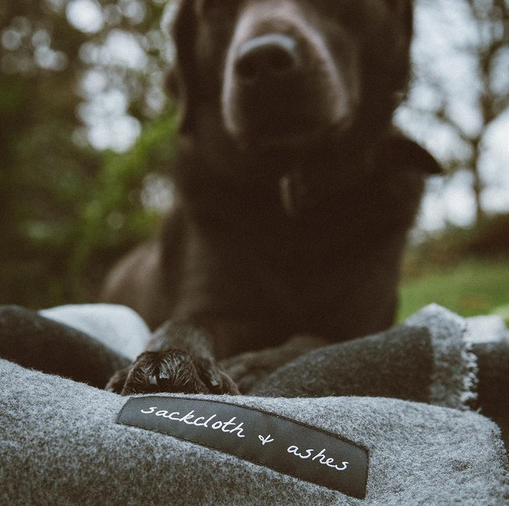 Blankets available at The Dundee Hotel as part of our Outdoor Tasting or Blankets and Bottles Packages, they make for a perfect picnic lunch with your pooch!