Domaine de Broglie, is a favorite among our guests for their beloved wines, vibrant history and story, as well as their gorgeous tasting room with sweeping views over the Willamette Valley and beautiful interior rich with art, ambient design and a welcoming fireplace.
The Family Coppola is anchored in Sonoma, with Domaine De Broglie in the Dundee Hills, they continue their legacy of quality winemaking, and the complete property experience with compelling storytelling authentic to The Family Coppola.
To find out more, we talked with Jon Meola, the Assistant Manager at The Academy (Domaine De Broglie's wine club).
1. What is your position at Domaine de Broglie? What excites you most about it?
I am the Assistant Manager at The Academy at Domaine de Broglie.  I help manage the wine club, called The Academy, and help in the tasting room by hosting guests. I love teaching about wine and creating relationships with guests.  When guests start asking the hard questions is when I know they are really interested.
2. What is your relationship with the winemaker? 
Our winemaker, Dave Petterson, is always available to help answer questions whether it is about our wines, the property, or winemaking techniques and processes. I often ask him to join me during tastings or our virtual events.  He is always willing to help the whole team at Domaine de Broglie.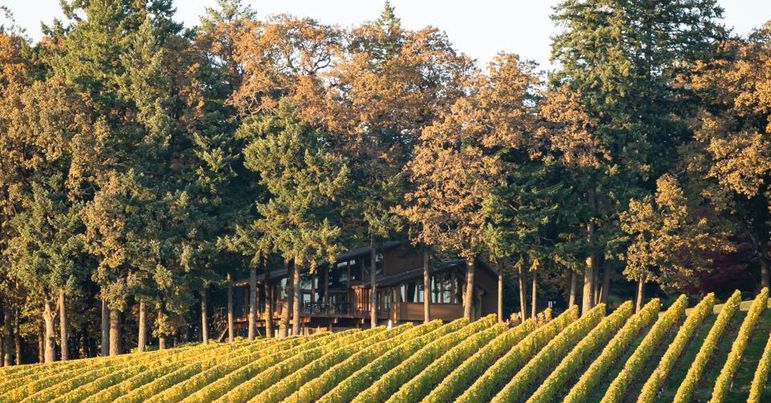 3. What inspired Francis Ford Coppola to open a winery in Oregon? And what are the biggest differences in the wines here vs. California?
Francis loves Oregon and wanted to create a small production label in the famed Dundee Hills AVA. Domaine de Broglie focuses on colder climate grape varieties such as Pinot Noir, compared to the warmer climate wines you find in California.
4. How has Covid-19 changed the wine industry? Do you think you'll keep any of those changes after quarantine is lifted?
We are looking forward to normality through all aspects of society. I know I cannot wait to bring people back together for friends or family gatherings.  We started to introduce more virtual tastings such as Paint Nights and Bingo that guests have enjoyed greatly.  I believe we are going to keep these fun kind of virtual experience even after everything goes back to normal.
Domaine De Broglie adapted during Covid restrictions, with outdoor tastings even through winter, with warm blankets, heaters, and wine, not to mention spectacular views.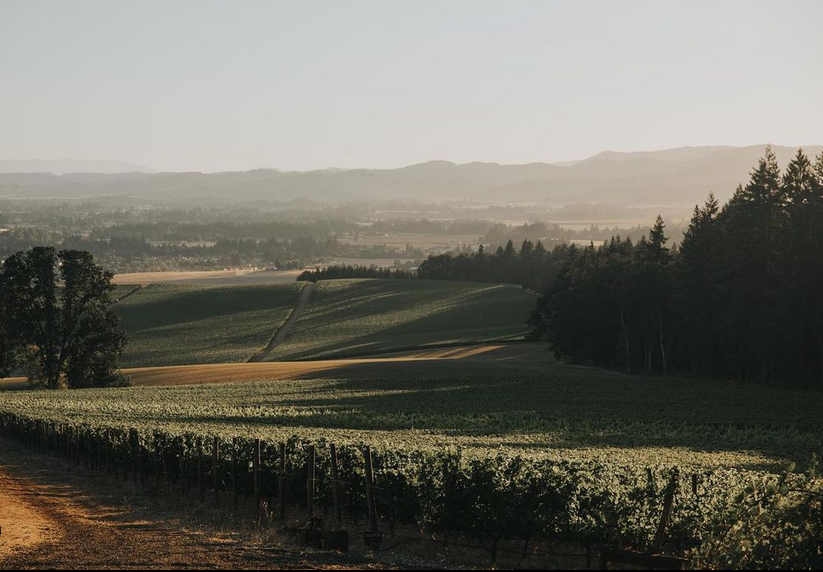 Oh those Oregon vines, Oregon views, and famed Dundee Hills soil!
5. What would you say is Domaine De Brogile's signature wine? And if you were throwing a movie night, what film would you pair with that wine?
I am in love with our new 2018 Reserve Pinot Noir because it is the boldest out of the five Pinot Noirs we produce.  I am an advocate for aged wines and see a great potential for the Reserve Pinot Noir to develop over the next several years. For my movie night, I would show Bram Stokers Dracula because Gary Oldman is one of the favorite actors and seeing him in is red armor in the movie makes me want to enjoy something red and bold such as this wine.
6. Many people know who Francis Ford Coppola is, but few know that his winemaking has been in his family for generations. How involved is Coppola in the winemaking process, and how do you think the wines change when ownership passes down to a new generation?
Mr. Coppola was very involved in development of the Domaine de Broglie brand, and everything tied to it.  He trusts Dave to make great wines, and enjoys them from time to time with his family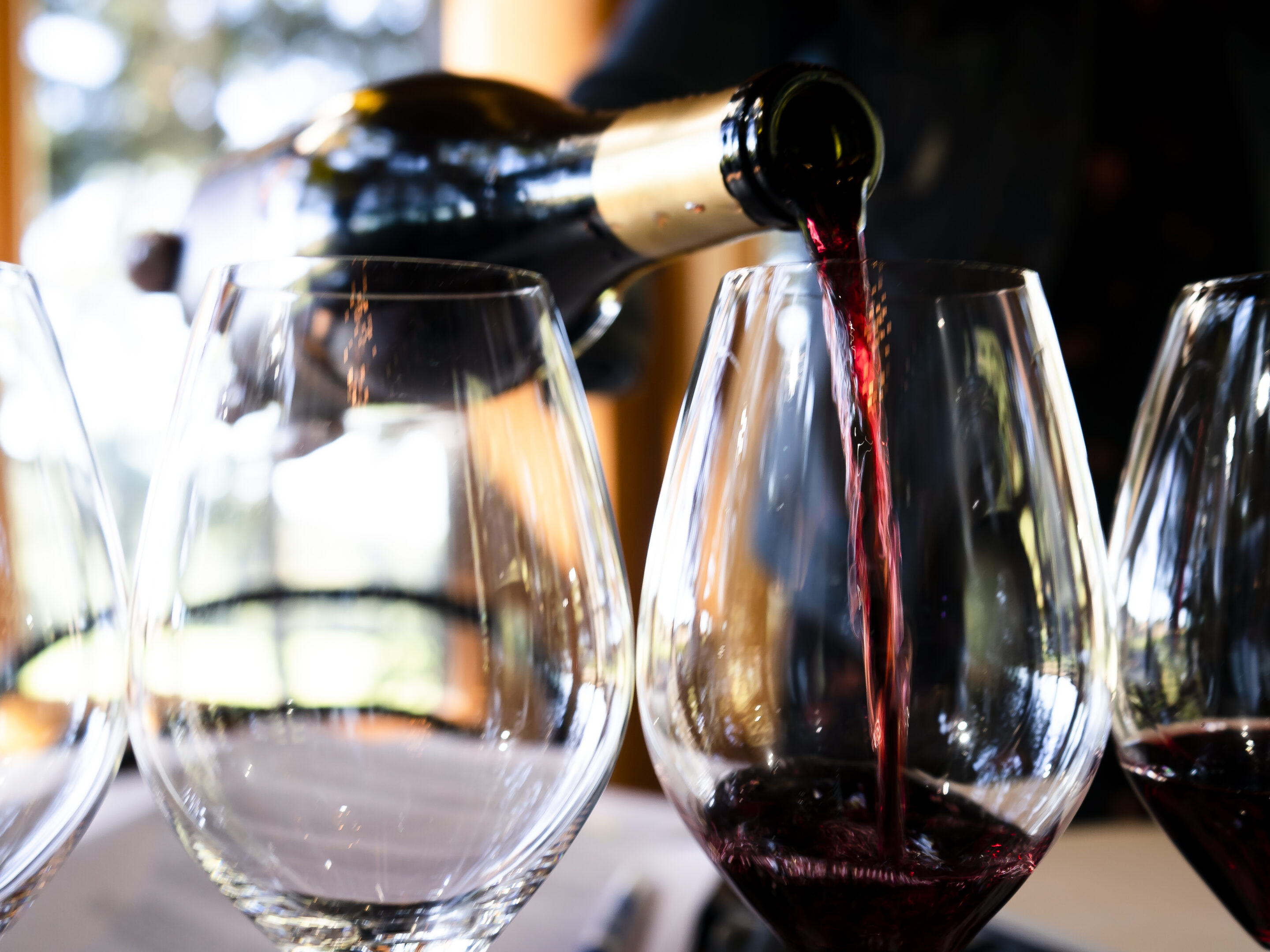 Meola recommends their 2018 Reserve Pinot Noir because it is the boldest out of the five Pinot Noirs Domaine De Broglie makes.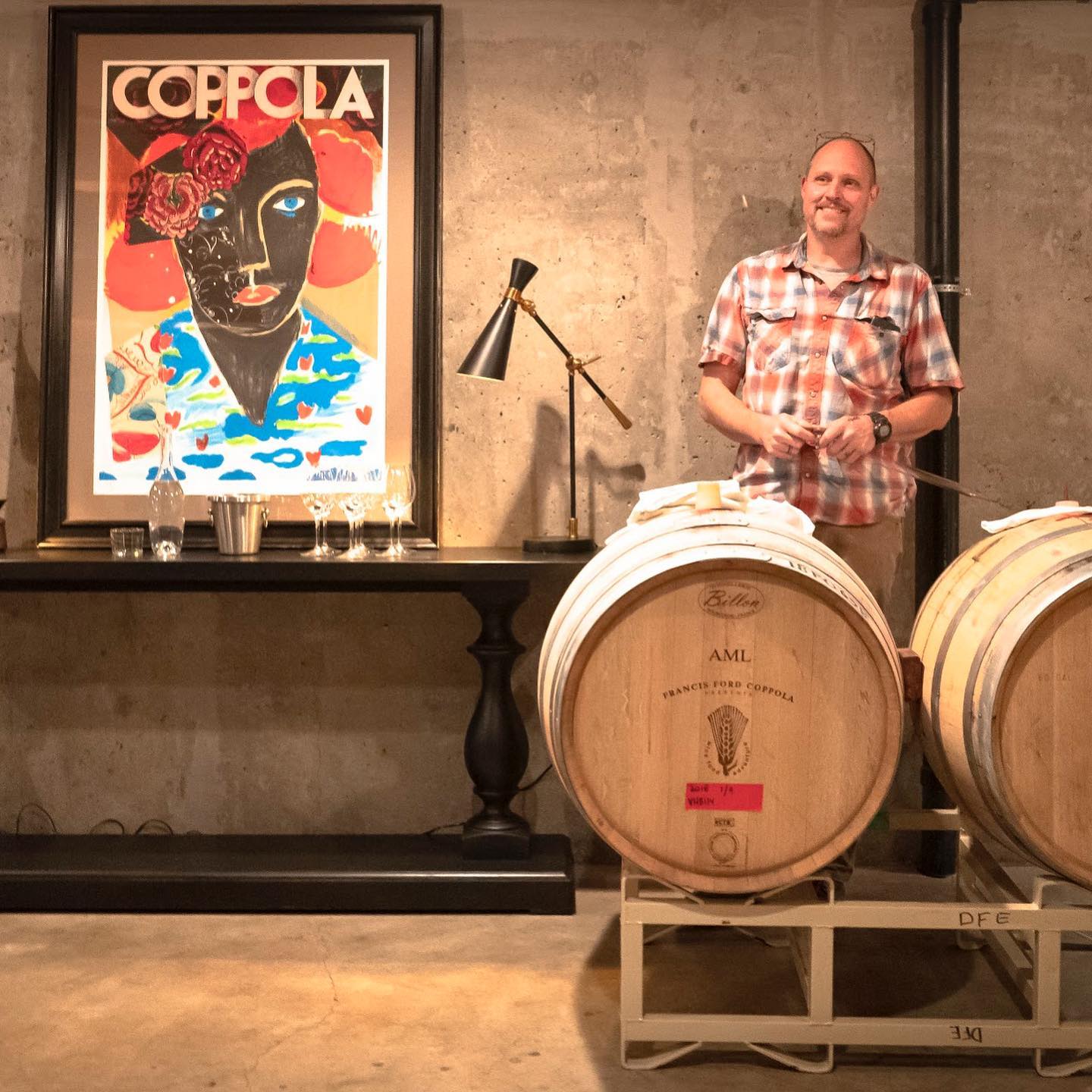 Domaine De Broglie's winemaker, Dave Petterson
8. What is something (or some things) you'd like everyone to know about Domaine de Brogile?
Everyone that works for Domaine de Broglie is a part of my family now and I love working with each of them.  We produce some of the best balanced Pinot Noirs in the Willamette Valley that I have had.
We have a collection of over 350 vinyl albums that we play daily.
Our wine club allows for discounts not only at Domaine de Broglie, but also the Francis Ford Coppola Winery and Virginia Dare Winery in California, along with website sales.
We can host multiple types of events including: Weddings, Private Events, Wine Socials, and Business Meetings.
We only source grapes from the surrounding 42 acres on our property.
We produce a Brut Rosé, Pinot Gris, Chardonnay, and Pinot Noir.
Domaine de Broglie is located less than one mile from where the first Pinot Noir vines were planted in the Dundee Hills.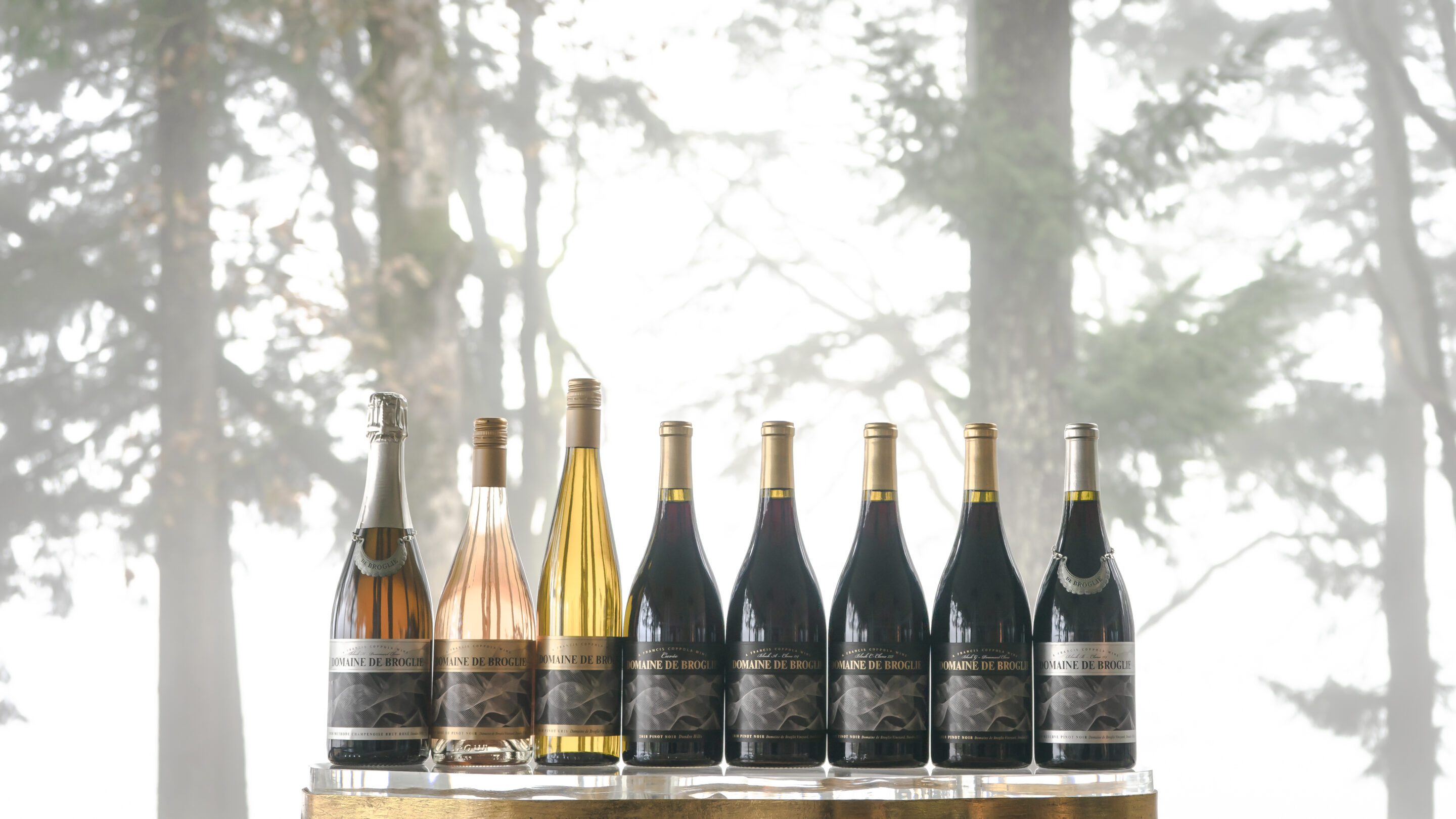 Domaine De Broglie makes Brut Rosé, Pinot Gris, Chardonnay, and five Pinot Noirs.
More about Domaine De Broglie
What's the story behind the name? Francis wanted to endow the estate with a name that honored the scientific accomplishments of Maison de Broglie, a noble house of France, whose contributions to physics and quantum theory resulted in a Nobel Prize for Louis de Broglie, a man whose contributions were critical to quantum mechanics.
The cool wave design adorning Domaine de Brogie's labels are a nod to Louis de Broglie's discovery that electrons behave as both particles and waves.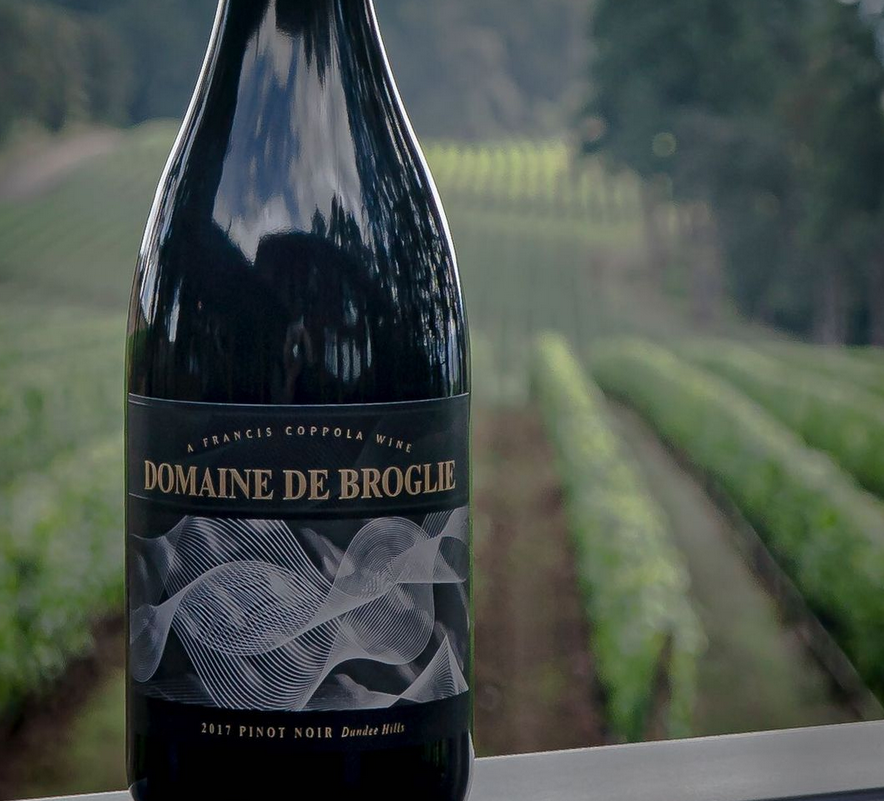 Pruning is done entirely by hand at Domaine de Broglie. All 59,911 vines are carefully assessed to determine which shoots will produce the best fruit for the upcoming vintage. The entire team puts their work boots on and takes on a row of vines so they can can get the first hand vineyard experience.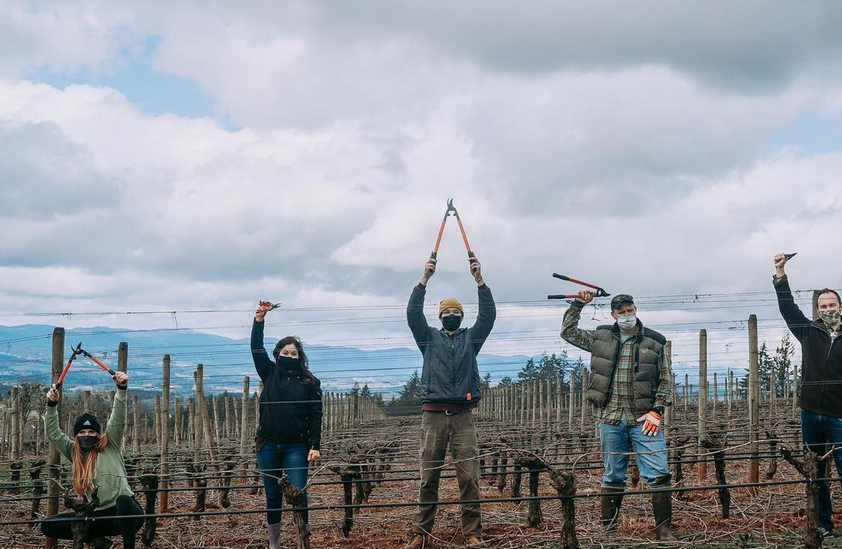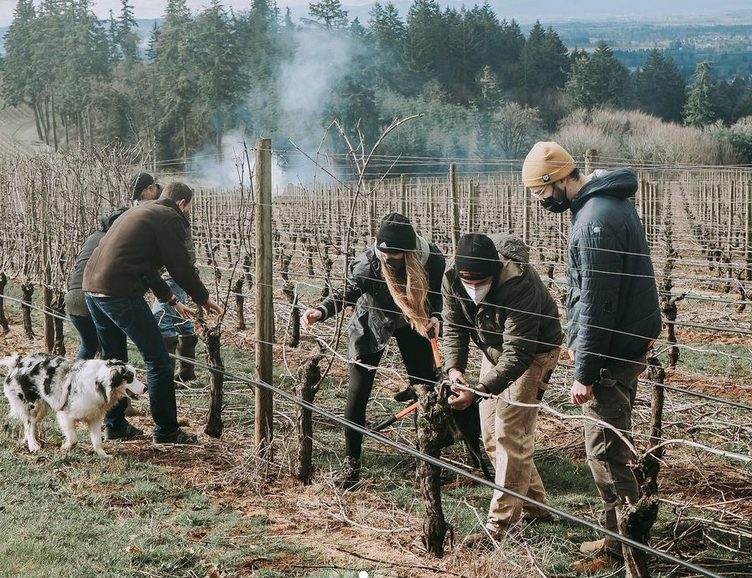 Sunsets at Domaine De Broglie offer quite the show. De Broglie is currently offering a range of in-person and digital experiences and events, check out the details here.