From outdoor adventures, to innovative local cuisine, and world-class wineries, there's so much in Dundee to explore! That's why we are so excited about Dundee's new digital passport program. Sign up for the passport online (it's FREE) and discover itineraries that will make the most of your stay and  give you a chance to win prizes just for having fun. We sat down with Molly Bailey with Travel Dundee to get the inside scoop on how the digital passports work.  So, read on to learn about all the ins and outs of this exciting new program, from food based-tours and pet-friendly vacations, to local business itineraries with a focus on diversity and family-owned establishments. And if you're thinking it'll be hard to pick just one, who says you have to? The more itineraries guests complete, the more prizes they can take home!
Interview with Molly Bailey at Travel Dundee:
1. Can you tell me a little bit about your background and your role with Travel Dundee?
I have been supporting Travel Dundee off and on since its inception, but my involvement has grown even more over the last year. In my role I work closely with the tourism committee and marketing subcommittee to lead the marketing strategy.
2. What inspires you?
I get really excited about sharing stories – and luckily Dundee is full of them. I am inspired by others who are excellent at their craft and are willing to share their reasons why with me.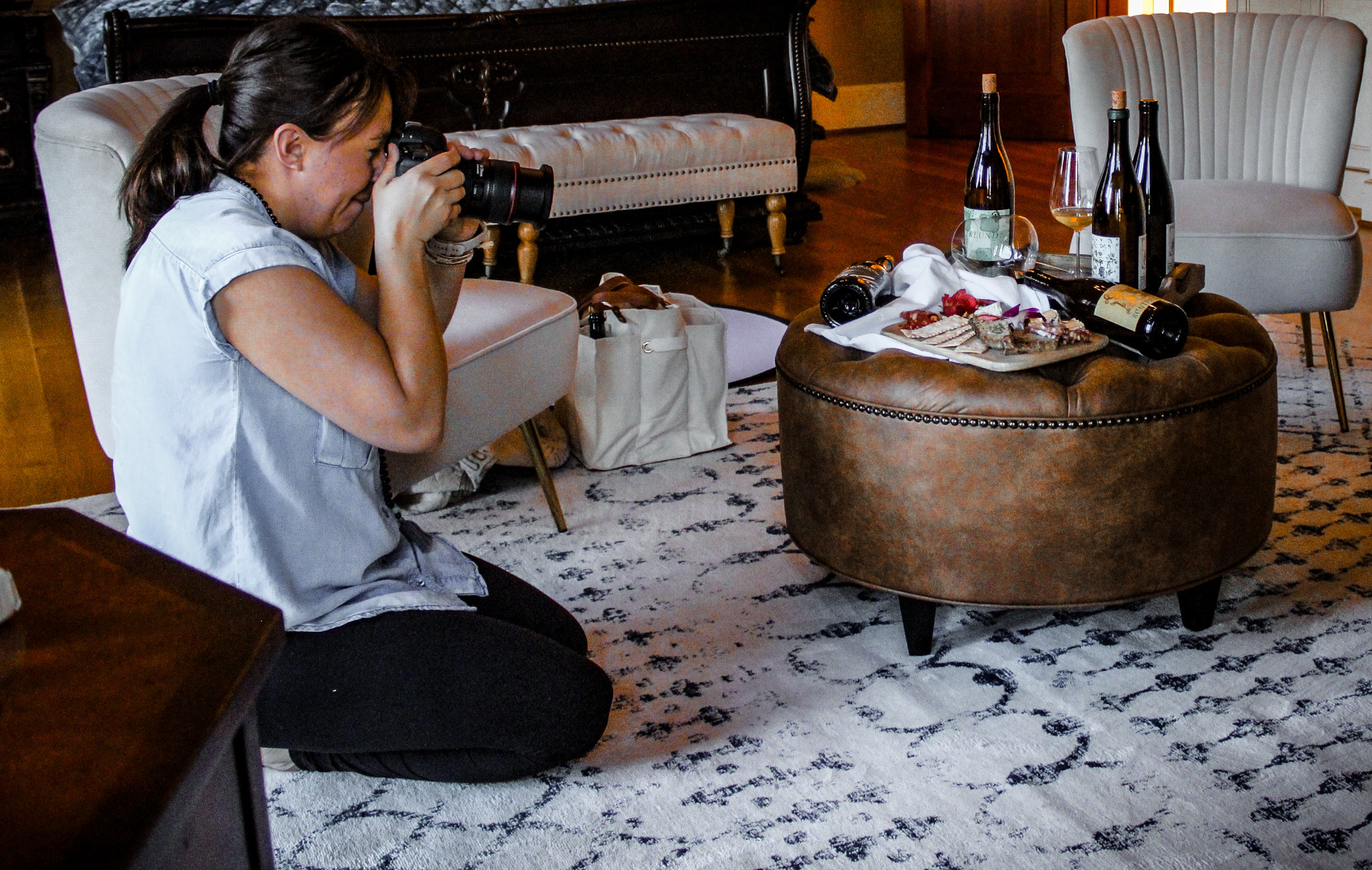 Molly has an eye for capturing the depth and the spirit of the people and the places that make Oregon Wine Country!
3. How did the Travel Passport Itineraries come to be? Why do you think they are a smart way to explore Dundee?
We were sitting around (with a glass of wine) thinking about what makes Dundee unique. Then we wanted to create an easy and curated way for visitors to take part in these experiences. The way the passport works is this. Visitors sign up for the passport (free) and they visit each spot on the itinerary. When they visit they check in using the passport. As a bonus, once they've completed the passport they earn a giveaway, special discounts, and are entered to win a special weekend in Dundee.
4. How do you decide what to focus an itinerary on? And how often do new ones come up?
We decided to start off with these three itineraries – one on our community-focused businesses and events (those who are minority-owned, LGBTQIA+, environmentally-minded); an itinerary for those who want to bring their dog along for the fun; and the third itinerary we are launching with we're calling our foodie-adventure itinerary for those who love food and… well food-related adventures.
5. Can you walk us through one of the itineraries? 
For the dog-lovers itinerary we start out with lodging. Locally-woman- owned Lifestyle Properties has several dog-friendly vacation houses including the Greenhouse (super cute cottage with a big yard). The Dundee Hotel has a great package for people who bring their pups along. They'll set the room up with a dog bed, bowl, and a cute bandana. Once you check in and set up camp you can explore the many dog-friendly establishments in Dundee including Winter's Hill (great views and room to walk around), Torii Mor, Remy Wines, Evening Land Vineyards all welcome dogs as well. And Branch Point Distilling is ready to welcome you and your pup on their patio for whiskey tasting or a cocktail flight (and dog biscuits). Or if you're looking for a family-friendly spot to grab a pint, you can head on over to Barn Door Brewing (note their hours: Open 3-7p Thursday & Friday, noon to 5p Saturdays).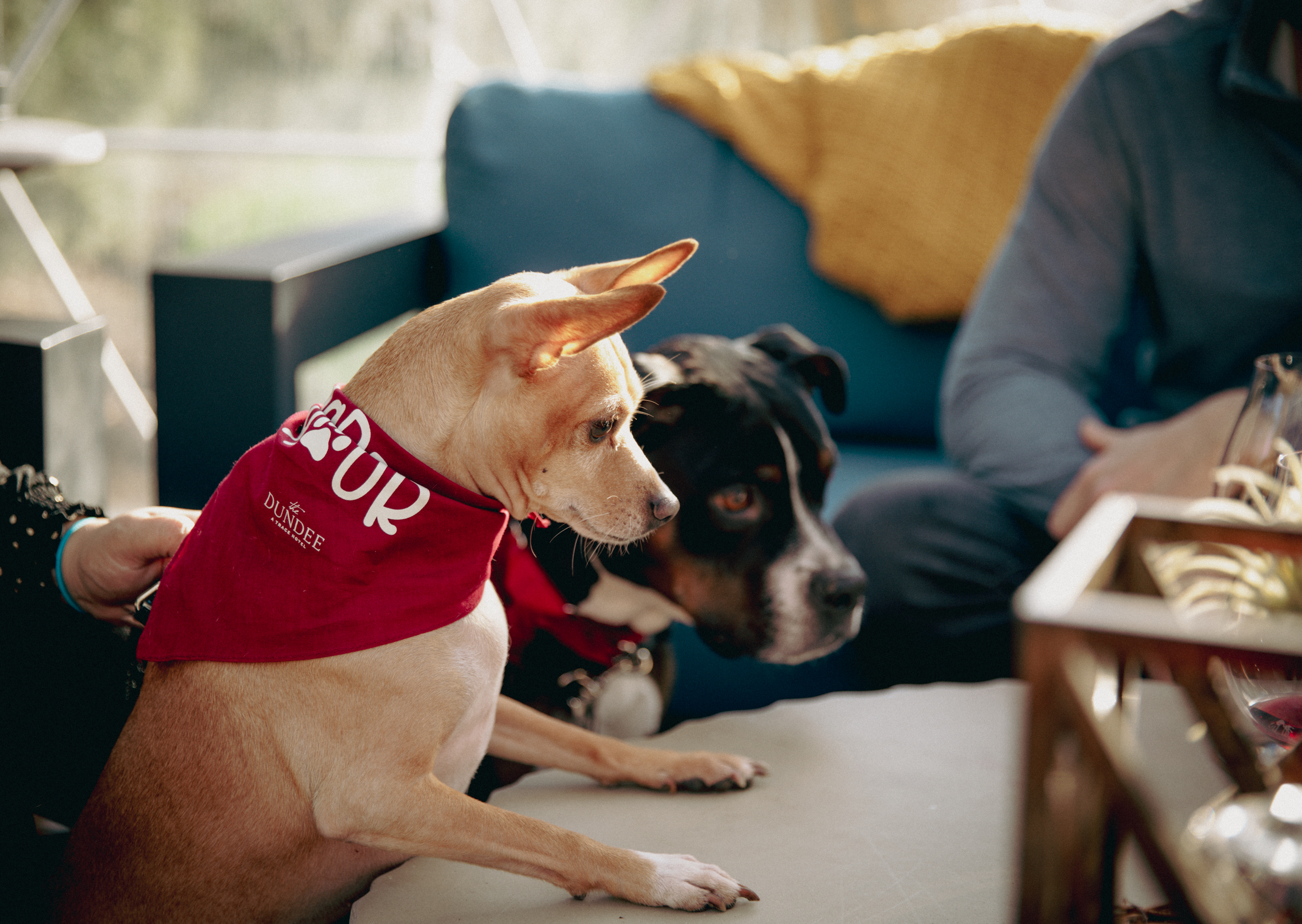 Dundee is a dog-loving place, a trip to wine country shouldn't exclude your pup! Travel Dundee has a digital passport perfect for you and your companion!
Explore everything that Dundee has to offer with your furry friends by your side!
Dog-friendly wineries are the best! While you enjoy tasting, your pup will enjoy the trails, the smells, and the views too!
The Dundee has your pup covered, with a dog set up and special bandana set up for your furry friend when you arrive!
7. Is there an expiration date for these tours? Do people need to finish the whole itinerary by a certain date?
They'll have a year to complete them and earn a prize.
8. Is it possible to complete the itinerary in one day? Do you suggest breaking it up into multiple trips?
You could do it in a weekend for sure.
9. Is there a minimum amount of money one must spend at each stop in order to earn a stamp on the passport?
No, but we suggest you purchase something at each stop!
Dundee has SO much to offer, and with the help of Travel Dundee your digital passports make exploring the valley so much easier.
10. In addition to heading the marketing at Travel Dundee, you also own your own business! Can you tell us a little bit about Yellow Cactus? How did it come to be? What are your hopes for it, and what would you say is Yellow Cactus' mission statement?
People everywhere are doing, making and saying incredible things the world needs to know about. Yellow Cactus is here to tell their stories. We're a collective of creatives committed to building community, inspiring others and advancing human potential. No employees. No overhead-stuffed studio space. No kombucha kegs or ping pong. We're a non-agency with more agency to deliver exactly what our clients need. Problem-solvers at the ready, crackling with sharper ideas for visual storytelling. We work remotely, from winery tasting rooms to our treehouse HQ.
11. What about working at Travel Dundee brings you the most joy? What about Yellow Cactus?
When I get to put on rain boots and traipse through a vineyard with a farmer or sit and chat over a cup of coffee with someone who manages a vacation rental in Dundee. Then when I get to share those stories on social media and people connect with them. That brings me a lot of joy.
12. What is/are your favorite aspect(s) of living in Oregon?
I love the trees and people!
Yellow Cactus works to spread creativity by sharing stories of individuals who are constantly creating. Their services range from creative concepting to photography and videography.
Molly's keen eye captures photos that evoke the spirit of the Valley!
Molly capturing the perfect angle!
If there's anything better than visiting Oregon Wine Country, it's experiencing it with an itinerary created by locals who want nothing more than to share their community with you. So check out the Travel Dundee passports here and book your next stay with us here at The Dundee!