If you are visiting The Dundee, you may notice the vibrant and evocative art of Dayna Collins hung throughout the hotel. We feel honored and lucky to have 9 pieces of Dayna's, each beautiful and unique! Our team members have come to love Dayna's pieces, they provide a splash of color and craft, bringing artistry into the space.
Dayna's work is rich with color and textured surfaces that draw you in. Her curiosity, playfulness and joyful spirit can't help but lift your mood and connect you with beauty!  Her work can be found on her site, and at the following galleries: Salem on the Edge, RiverSea, and Guardino.
We had the chance to interview Dayna about her work, process and approach.
The Dundee Hotel (DH): What is your background when it comes to art? What made you want to become an artist?
Dayna: My art and life has been an evolution of color and represents a rise out of darkness. Twenty-one years ago after entering recovery for addiction, I discovered I was an artist while taking a 12-week course on creative recovery. My first art was collage – on bowling pins. A whole new world opened for me and I knew I wanted to paint, explore texture, and experiment with putting bold, vibrant colors together.
DH: What inspires you currently?
Dayna: In my years of journaling and writing, the words that describe my inspiration appear again and again: Texture, history, layers, intersections, swaths, mystery, playful, remnants, transformation, excavation, color . . .these are the things that inspire me.
DH: What does your work aim to say (or perhaps even more importantly, feel)?
Dayna: Joyful, playful, sassy, irreverent, light, funky, energetic, free, vivid, wild. These are the words that I associate with the color in my life. They appear in my art and in my life; they are reflected in my fiery red hair, my multi-colored bracelets, my numerous tattoos, my avant-garde clothing, my crazy green boots and my Chuck Taylor All-Star Converse tennis shoes.
Dayna's recent show at Salem on the Edge.
Always with an eye for color, Dayna finds art all around.
DH: Would you say your work comments on current social or political issues, or would you say you lean towards escapism and other worlds? (Or both/neither?)
Dayna: Current social and political issues influence the flavor, color, and intensity of my art, but I do not create pieces generally as a response or to take a position. An exception was a show in January of this year at RiverSea Gallery in Astoria; the show was titled "Emotional Alignments," and it was a show created entirely as a response to what was happening in 2020. An excerpt from my Artist Statement:
Painting got me through the roller coaster of 2020. As I painted during the pandemic and the mounting death toll, amidst a divisive political climate, racial inequality protests, devastating wildfires, and personal traumas that kept hammering my family, I painted. I applied plaster to boards and spread layer after layer of oil paint mixed with cold wax. These sensuous, tactile materials allowed me to explore color, texture, intersections, to lay down paint, draw into it, scrape it away, add another layer, and yet see the history of earlier layers, marks, and color.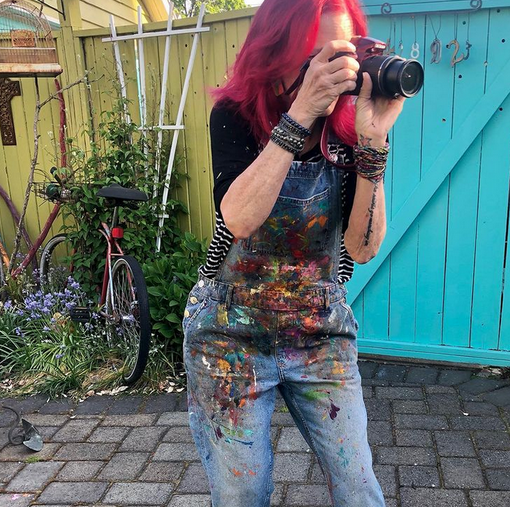 Through the lens of an artist!

DH: What habits do you find help (or hinder) creativity?
Dayna: I nurture my creativity on a daily basis by incorporating rituals throughout the day that influence my art (and life). I start my day with a latte and reading from a book on some kind of creativity. Currently I am reading about a color a day from "The Secret Lives of Color" by Kassia St. Clair. My day always involves a walk, sometimes several walks. Visiting Instagram to see what other artists are doing is always inspirational for me. I try and get to my studio in some way every day, whether to tidy things up, or to jot an idea in my visual journal. Sometimes by dong a small thing, I end up staying and working on a project.
 DH: Do you plan out ideas ahead of time, or does spontaneous inspiration take over?
Dayna: I work intuitively, enjoying the process of putting things together in random and unexpected ways. Abstract landscapes seem to find their way into my work, but other than a landscape orientation, I let the colors take me on the journey. One of my techniques is scraping and excavating and there is no way to plan ahead for where that will lead me.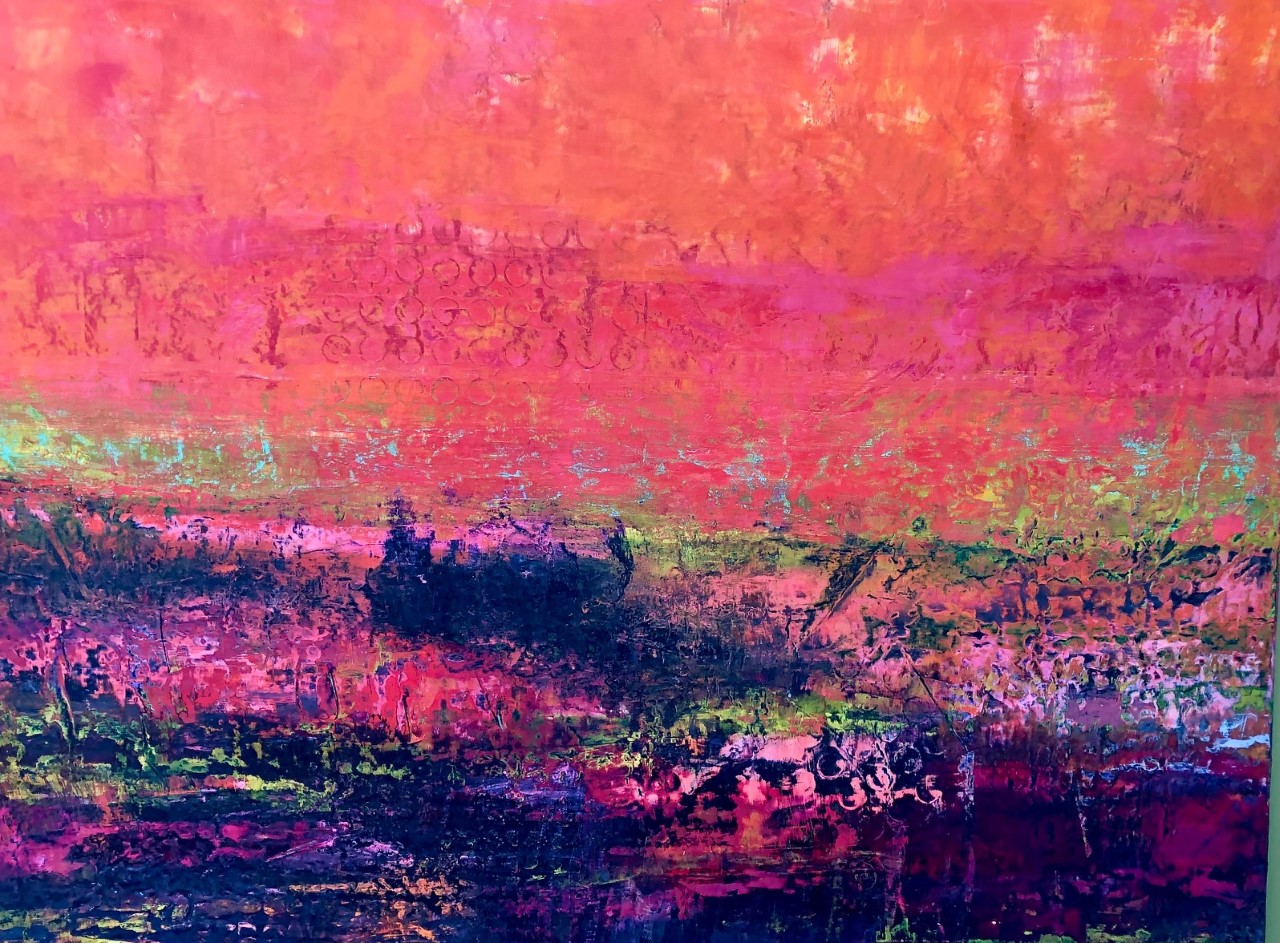 [Dayna: This photo is of Baffled Amazement, a 36×48 inch piece that was giving me grief. There were multiple layers of oil and cold wax (over plaster), but nothing seemed to be working. In frustration, I took a spray bottle of solvent, soaked the lower portion, then began scraping off thick layers of paint. Much to my surprise and delight, all the layers of paint had deposited colors in the crevices, and a very interesting surface emerged.]
DH: What is the earliest memory you have of creating art?
Dayna: I think I was in third grade in Portland when student created a book of all the bridges in the city. We learned about the different kinds of bridges and to draw each one. I sure wish I had that book now.
My next memory was taking an art class in high school and I created a mosaic of a king and a queen; the king hangs in my daughter's house in Portland.
DH: What's the best piece of advice you've ever been given as an artist?
Dayna: Many years ago when my husband and I were planning our first visit to New York City, and we were feeling a bit apprehensive and a friend told us to BE BOLD. That really stuck with me and although the advice wasn't specific to making art, it has been mantra in art and life ever since.
Dayna with her husband and business manager, Howard at the opening of a recent show at Salem on the Edge.

Dayna is reunited with her piece at The Dundee!
DH: I really adore your titles. "It Smelled Like the End of Summer," "A State of Constant Transition," "The Emporium of Small Delights," etc.  What comes first, the title or the piece? And how do you go about naming them?
Dayna: Titling art is one of my favorite things and I recently did an entire blog post about my process! Here is an excerpt:
I am often asked how I come up with the titles for my paintings, so I'm going to spill the beans. Whenever I'm reading a beautifully written novel, I keep a piece of paper and a pen handy to jot down portions of sentences or phrases that resonate with how the words are put together. I do the same when I am reading poetry, just taking a few of the words, or "word fragments," and scribbling them on a scrap of paper. I keep all of my pieces of paper gathered together on a clipboard, which I then refer to when it is time to name a painting. 
I wrote more about this in a recent blog post.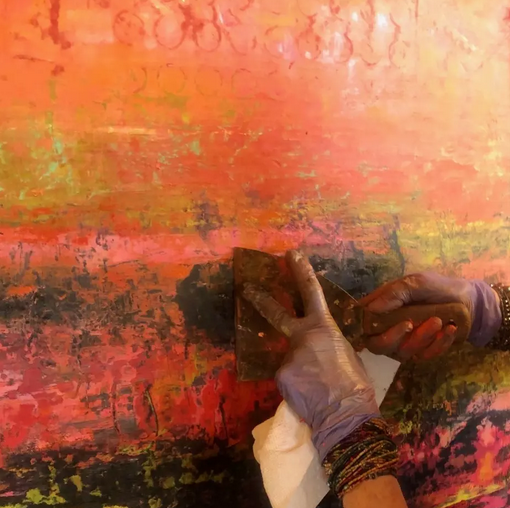 Dayna works with a putty knife to add texture and swaths of color to her work.

Without Thought or Emotion, a favorite of Dayna's at the Hotel, shows going from darkness to light.
DH: Do you have a favorite piece at The Dundee? (Mine is "A Stirring of Possibility." There is something both energetic and calming about it. And I think it fits so well with our current times. A hope for something better ahead, whatever that may be. And yet not a promise of possibility, but a stirring. To achieve it, we must put in the work.)
Dayna: I love hearing what you see and feel in viewing this painting. The marks are bold and decisive and possibility is one of my favorite words. My favorite painting at The Dundee is "Without Thought or Emotion." It is a big one (30×40 inches), and has such a feeling of hopefulness, going from dark into light, a common theme in many of my paintings. And this piece also incorporates pink, one of my favorite, unexpected colors to use.
DH: How did you decide which pieces to send to The Dundee?
Dayna: This is kind of a funny story. I was working with Paula Booth, who was working with the hotel's interior designer, Carole, and when it was time to select art for The Dundee, Paula came over to see a couple of possible pieces of art for the hotel.  As I was walking around our house with Paula, she started asking about pieces of art that were hanging. They were pieces I had painted and were hanging in our bedroom, living room, and basement. Paula started sending photos of the pieces to Carole, and Paula ended up selecting nine paintings. A few were on loose canvas, which Paula took and framed, but the others were decorating our house!
DH: What do you want people to know about your work?
Dayna: I would love for people to see joy and a sense of playfulness in my art, a reflection of how I view and live my life.  I want the titles for my art to be ambiguous enough for the viewer to make their own interpretation, without me telling them what they should see or how they should feel, but rather, through color and how I make my marks, they experience a response that resonates with them.
 Bold color represented at one of Dayna's 9 pieces at The Dundee.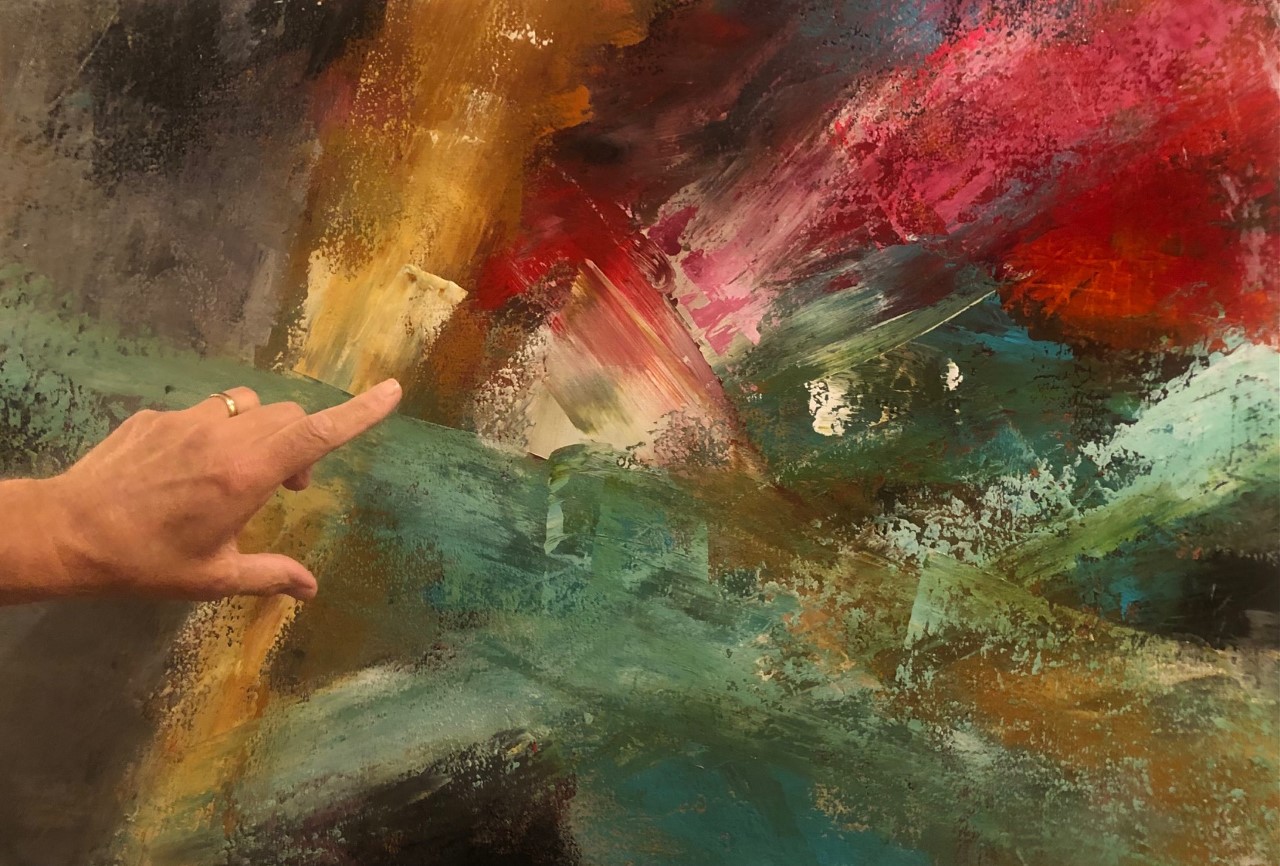 A closer look at the Author's favorite piece, "A Stirring of Possibility".
Our team members have a special relationship to Dayna's work and shared with us what their favorite painting makes them think of.
Come see Dayna's work at the hotel! We are happy to show you all 9 pieces.
Jenna's reminded of all the depth and texture of the ocean.

Chris is drawn to the warmth and color reminiscent of sunsets in the Valley.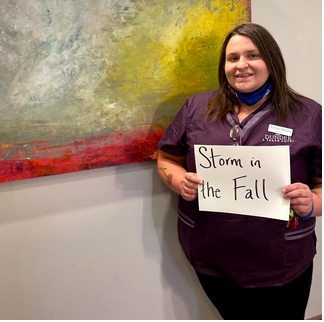 The interplay between dark and light, cool and warm, bring to mind a storm in the fall as the season is changing for Taylor.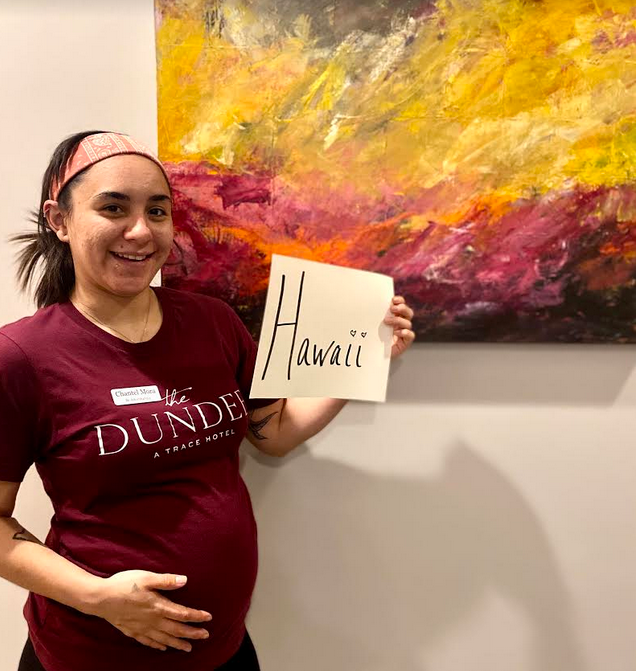 Chantel is dreaming of tropical sunsets and warm breezes.
Jim discusses the Artist's work with her while she was visiting.
Jenna hugs her favorite piece, there just aren't words!