As spring arrives and the days get longer, it's time to get back outside! That's why we are excited to share with you our Knudsen Vineyard Hike Adventure Package. Arrive at The Dundee, and grab a to-go bag filled with coconut water and locally made, Better Bars, AKA, the breakfast of wine-tasting champions. When you get to Knudsen, keep an eye out for bluebirds as you meet the rest of your group (socially distanced of course, and kept to a maximum # of 7) before the tour begins.
Upon meeting your guide, you'll discover she's the owner and managing partner of the winery, Page Knudsen Cowles. Page hosts all of the hiking tours herself, providing guests with the ultimate knowledge of Knudsen directly from the source. This is no surprise once you get to know Page, as her philosophy is so embedded with Knudsen family ethos. The vineyard is currently celebrating its 50th anniversary as a family run vineyard, for club members their "founders series" consists of two wines named after Page's parents, (with their pictures and initials on the bottles to boot) and Page hopes that when you visit Knudsen, you'll feel as if you too are part of the family.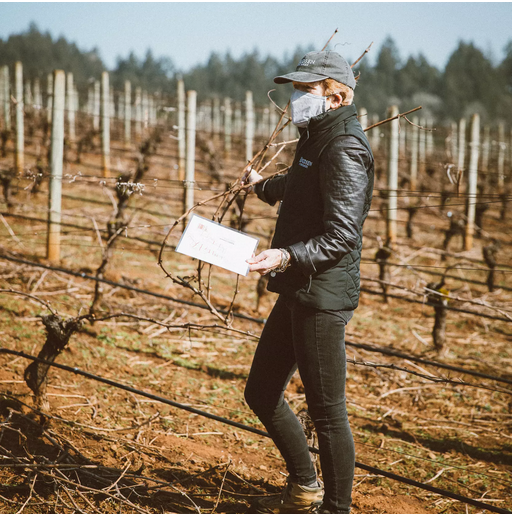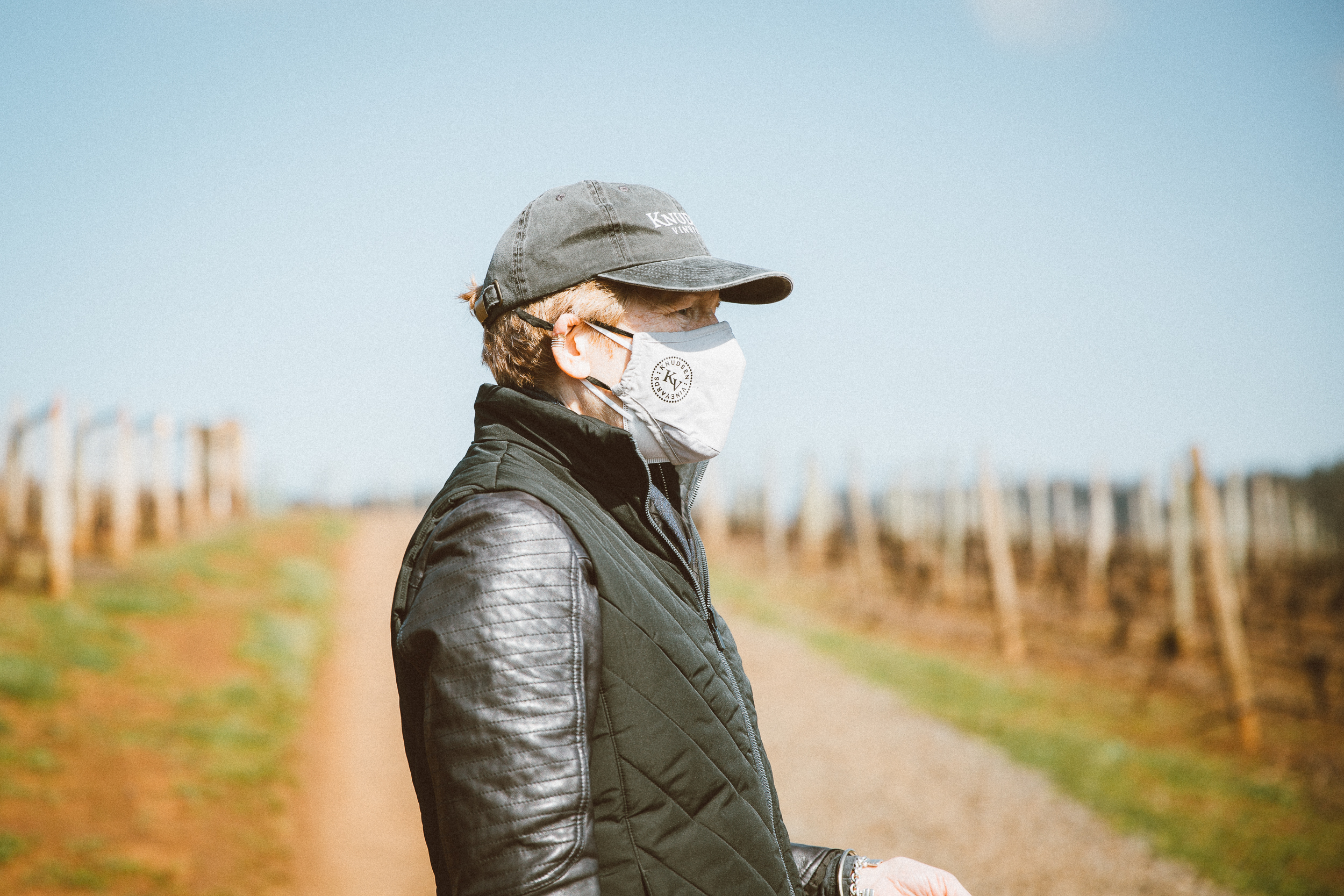 Page Knudsen, 2nd generation owner and managing partner will give you the insider scoop on their beautiful vineyard.
The hike begins as Page leads you through the vineyards, surrounded by breathtaking views of the world-renowned Willamette Valley. Watch the newest Pinot vines discovering their fresh and distinct personality in the soil, while paralleling Knudsen's original vines, which are lovingly referred to as the "old souls," deeply rooted and covered in gentle green moss. The hike, while only being a mile, has an incline and is sure to get your heart pumping, which is why you'll think Page is a mind-reader when she pauses partway through for a tasting of their crisp Rosé. You can spot the white tent with an iced bottle of wine and glasses waiting for you ahead, motivating you to pick up your pace and bask in the vineyards as you drink. You'll continue to learn the history of the vines as you leisurely sip from your glass.
Note: In true PNW fashion, the hike marches on no matter the weather, so make sure you bring lots of layers and closed toe shoes for vineyard exploring. (Need a poncho? Not a problem! The Dundee will provide one for you.)
Your next stop is the top of the vineyard, where an even more beautiful view of the valley awaits. You'll feel a sense of excitement, because not only does this mean your up-hill walking is complete, it also means it's time to return to the tasting room for lunch and more wine. The outdoor covered and heated patio is a delightful way to still feel in nature without sacrificing social distance or comfort, and you get the feeling right away that there isn't any rush. Enjoy each pour as it comes and relish the local flavors of PNW cuisine before heading back to The Dundee or continuing your day of adventures.
If you have any questions while you're there, Page is one of the nicest people you'll ever meet and is happy to talk with you about any aspect of Knudsen wines. We had the opportunity to talk with her during lunch and Page's genuine excitement about the 50th anniversary will make you feel as if you were a part of the achievement. If you're interested in learning more about what events will celebrate this anniversary, check out the Knudsen website or watch their brand new virtual video series, "The Outlook: Reflecting on the Past, Present, and Future of Oregon's Dundee Hills," where those at Knudsen interview other pioneering winemakers in the area.
Fortunately for us, Page is calling Dundee home for now. Usually based out of Minnesota, she just so happened to be in Oregon overseeing the 50th Anniversary renovation when closures started. Once quarantine began, Page knew she wanted to stay to see the vineyards through this hard time, direct any changes that needed to be made, and maintain the Knudsen spirit and ethos even as adaptations were made. I was able to ask Page what she wanted people to know about Knudsen, and she jovially replied, "That we're out here, we're open, and we'd love to have you!"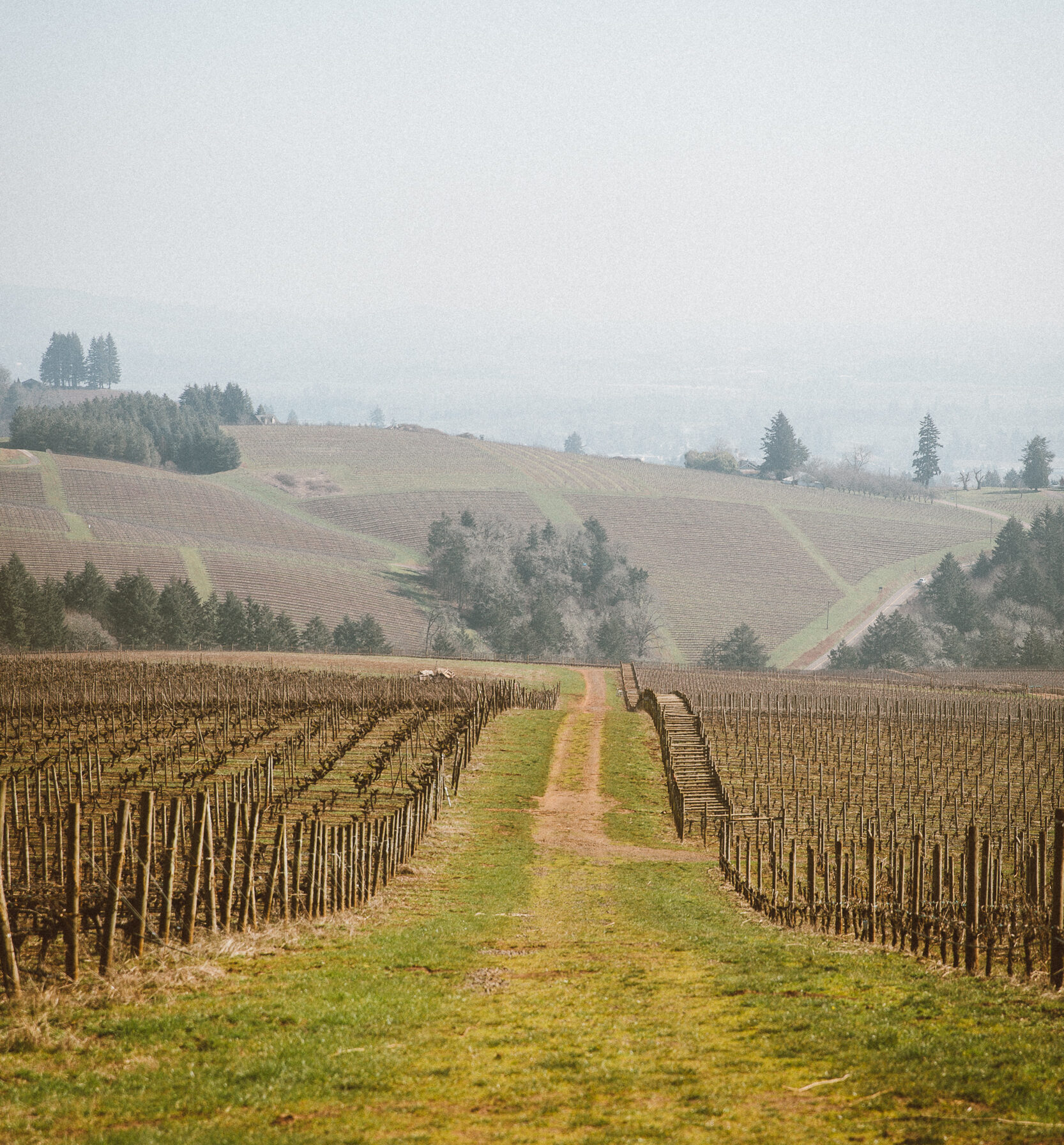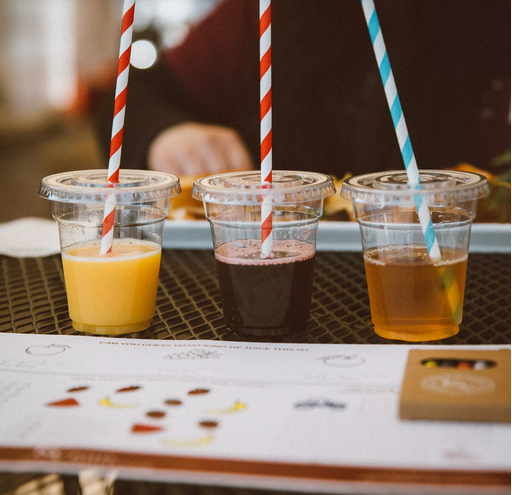 Juice flights available for kids or adults who might enjoy a non-wine option.
If you're not feeling up for an on site tasting, Knudsen also offers "tasting kits to go." And if you're here with the whole family, kids can order their own tasting flight of juice (how cute is that?). After all, there's no reason developing one's palate should have an age limit.
Knudsen, is a beautiful vineyard to visit anytime. If you're visiting through The Dundee's Knudsen Vineyard Hike Package, in addition to a 2 night stay at The Dundee, and the guided hike, the package includes a grab 'n go hiking breakfast (coconut waters and 4 Portland-made Better Bars – vegan, gluten-free, all the healthy things), Lunch during your hike prepared by The Horse Radish,$50 credit for dinner at Trellis, downtown Dundee (curbside or dine there, reservations recommended)
To book this package, or any stay at The Dundee, give us a call 503-538-6777, or book online. Spring is out and about, and we'd love to celebrate with you!
A sneak preview of the grandeur of this hike! The whole experience is a must do!