Insider Perks
Perks and specials exclusive for our guests, just show your The Dundee room key to redeem:
Featured Artist
At The Dundee, we feature local, talented artists to bring compelling work to the hotel for staff and guests to be inspired.
We are lucky to feature several of Dayna Collins pieces throughout the hotel, including the three pieces below.
Checkout our blog post on Dayna, and her website here. Like one of her pieces? Ask us, we are happy to connect you with Dayna to purchase.
Without Thought or Emotion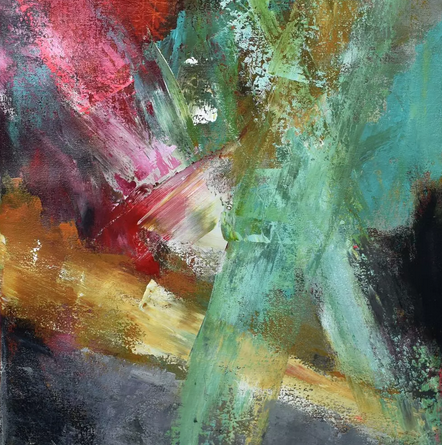 A Stirring of Possibility
PHOTO CONTEST
ENTER OUR PHOTO CONTEST TO WIN A COMPLIMENTARY TWO-NIGHT STAY!
We select the winner once a month and announce on Facebook and Instagram.
Everyone who enters receives a promo code for a 10% discount on a future stay
How to enter?
Take photos during your stay, to qualify be sure to:
Tag The Dundee Hotel on IG or FB
Message us your photo on IG or FB
By entering, you agree to allow us to use your photos online and in promo items
Check out these recent winners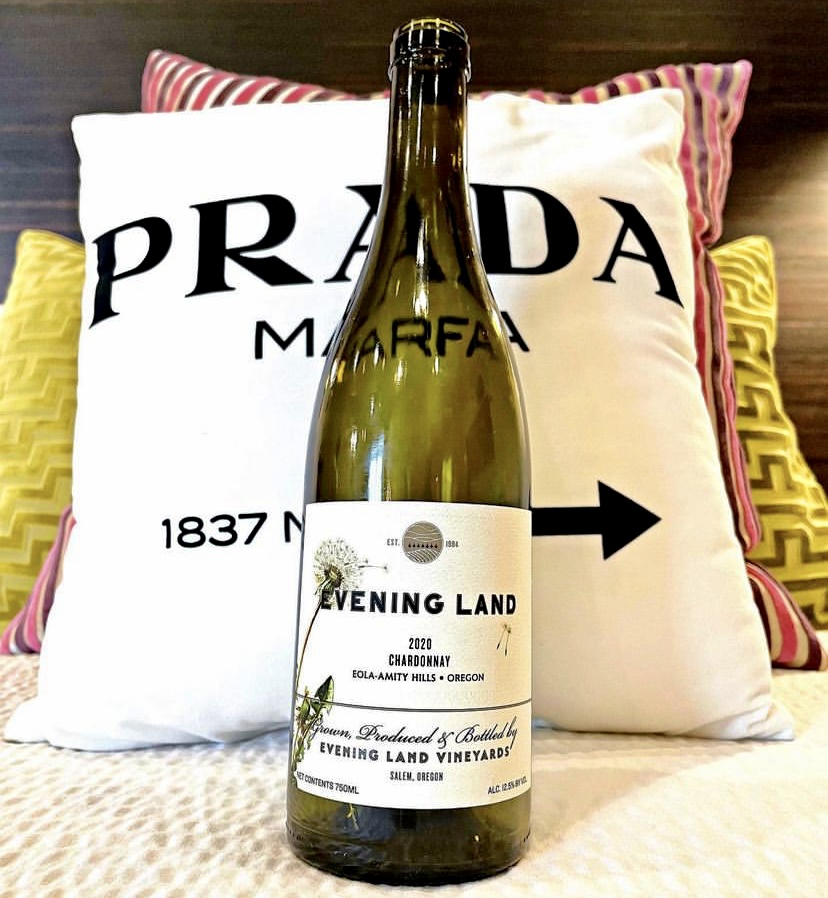 May's photo contest winner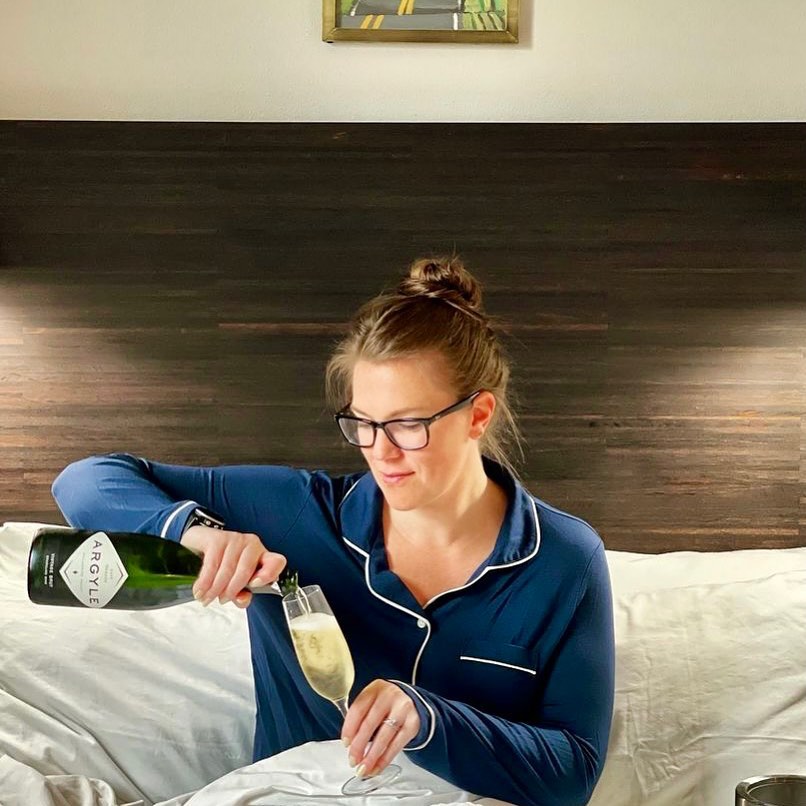 April's photo contest winner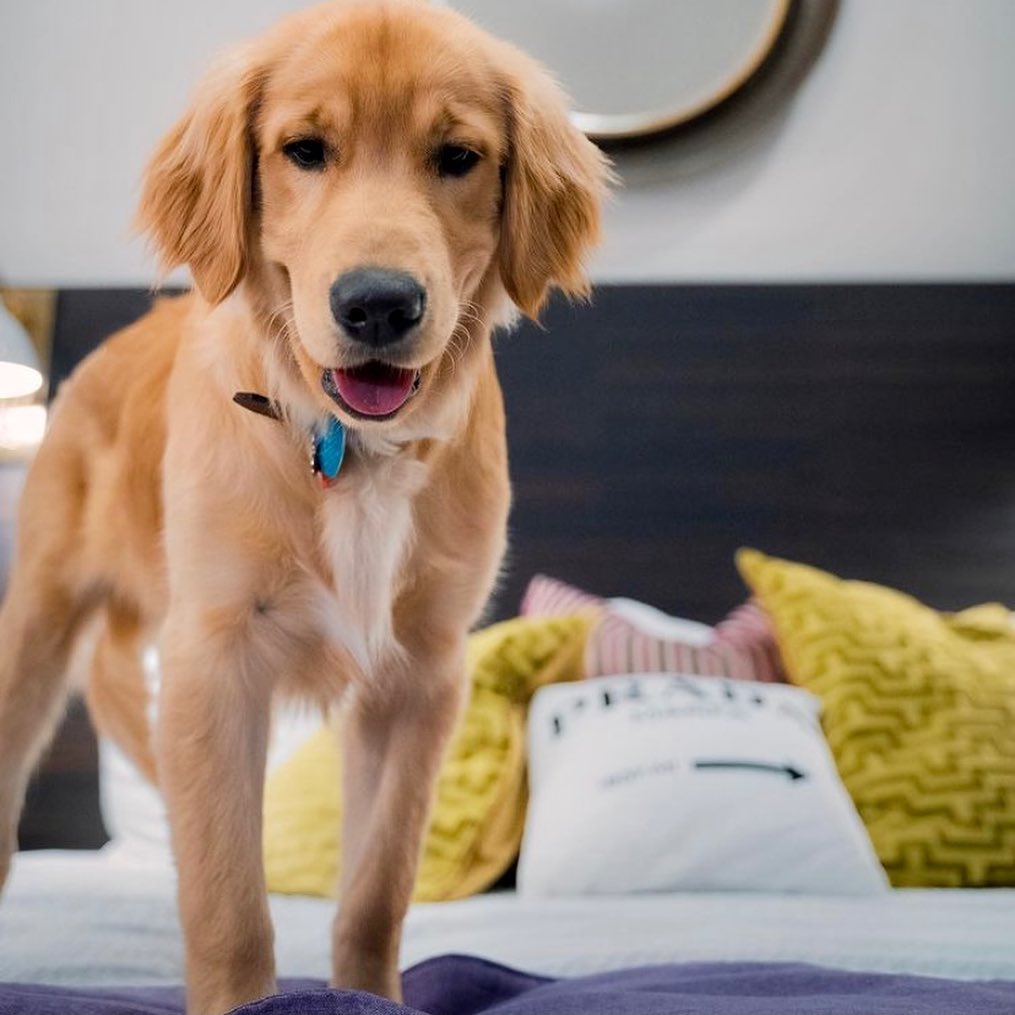 March's photo contest winner
ADD ONS – DELIVERY TO YOUR ROOM
While you are staying with us, call down to the front desk between the hours of 8:00 am – 9:00 pm to have any of the following delivered to your room.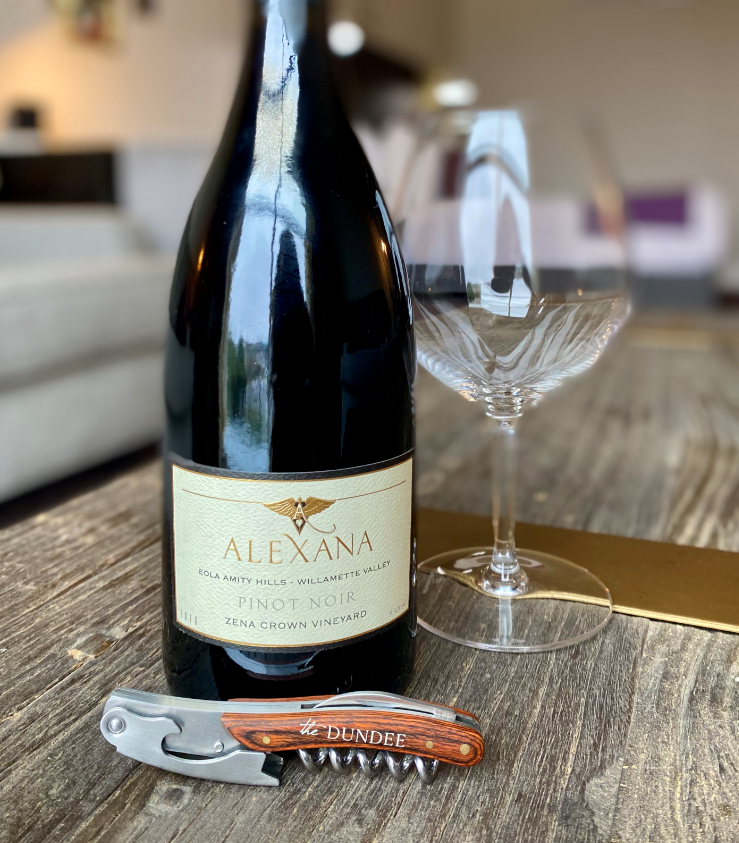 Alexana - 2016 Zena Crown Pinot Noir
Most collectors of Oregon Pinot Noir recognize Alexana Winery for the highly-acclaimed wines from their estate vineyard in the Dundee Hills, but very few are aware of the small amount of wine they make each vintage from Zena Crown Vineyard located in the Eola-Amity Hills. 94 – Pts (Wine Spectator)
$75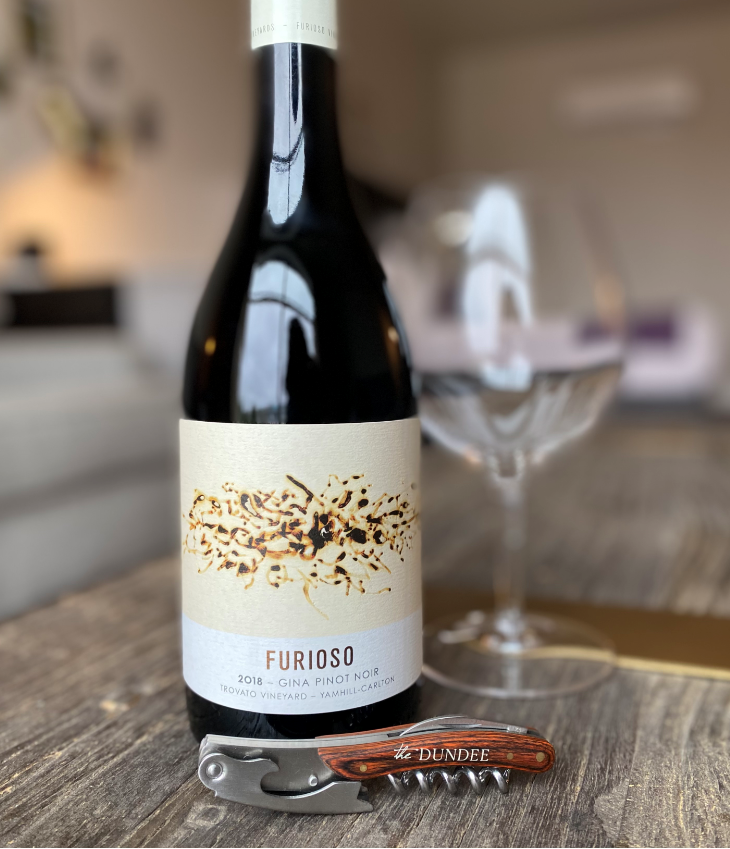 Furioso - 2018 Gina Pinot Noir
Owner Giorgio Furioso's aunt, Gina, was a formative influence in his lifelong love of food, wine, and family. In her honor, Giorgio wanted to name this wine after her so she will always be present at the family dining table
$75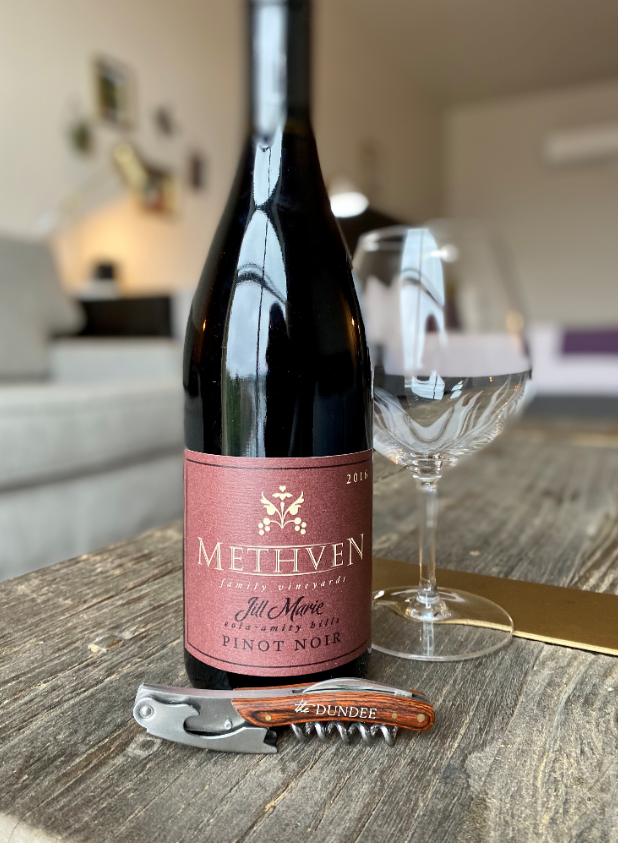 Methven – 2016 Jill Marie Pinot Noir
Jill Marie is a soft velvety wine. It as nice as the owner's wife, Jill Marie.
$25
Purple Hands - 2018 Latchkey Pinot Noir
Cody Wright is a second generation winery owner & winemaker, who has been working with Latchkey Vineyard since 2013. One of our Estate Vineyards on Jory soil, 100% Pommard clone, showcasing classic volcanic red fruit tones
$55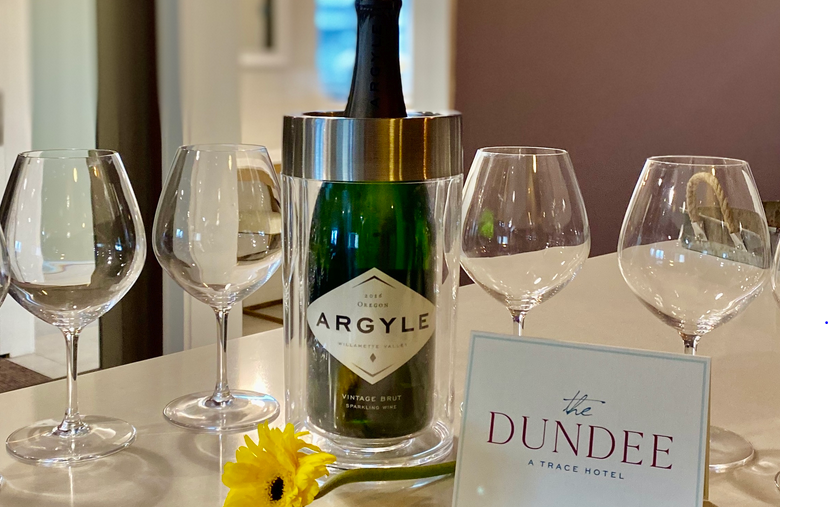 Argyle Brut
Everyday deserves a celebration. Add on a bottle of Argyle Brut and pop some bubbly!
$35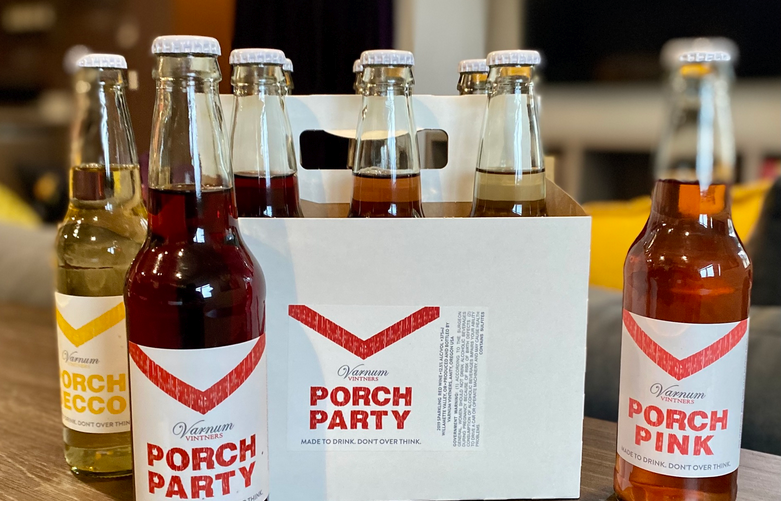 Varnum Vintner's - Porch Party 6 Pack
Did someone say, SPARKLING? Since outside is the new inside in the Willamette Valley, why not bring the Porch Party, to your room and add a little sparkle? This six pack is equal to 3 bottles of wine. You heard us right, 3 bottles! Add on your party pack today, because everyday, is worth celebrating.
$60
Morning Mimosas
Bottle of chilled Argyle Brut perfectly paired with Simply OJ. The only way to wake up in the Willamette Valley. Morning mimosas are delivered to the room between 9am-11am. Just give us a call when you are ready to pop those bubbles and start your next adventure.
$35
Specials and Deals!
For your next visit, stay with us Sunday through Thursday and qualify for one of our weekday specials:
Use code WEEKDAY for 10% off your weekday reservation
For Oregonians use code LOCAL for 20% off your weekday reservation
For teachers, medical professionals, or caregivers use code HALO for 25% off your weekday reservation
*Codes most be applied at the time of reservation and can't be applied during your stay or post check-out.
The Dundee – Playlists
Because every great adventure deserves a kickin' soundtrack! Check out some of our favorite playlists to assist with the good vibes as you explore Wine Country.
The latest in the valley!
Check out our blog for interviews, features and stories about the people, places and history that make the Willamette Valley so special!
It is not uncommon to see a harvest spotlight on this blog, but while we at The Dundee have focused mainly on the process of the winemaking in the past, (what happens once the grapes are picked) what might be overlooked is just how much variation, time, creativity,...