DH: Your official title at Furioso is "Direct to consumer & Hospitality Manager." Can you tell us a little bit about what that means, and what part of the job brings you the most joy?
I am accountable for all "direct to consumer" operations, in other words the products and services we sell directly to the public, as opposed to a wine shop or restaurant. I am accountable for all tasting room operations, wine club operations, shipping, marketing, and human resources. What brings me the most joy is interacting with the public and doing my utmost to lead my team by example.
DH: How do you celebrate Pride, and what does Pride mean to you?
I celebrate Pride by living my life authentically and not hiding who I am. Working in the wine industry, weekends fall in the middle of our workweek, so I rarely get to go to Pride Parades, etc. At Furioso Vineyards we proudly fly a Pride flag year round to let folks know all are welcomed here. Pride means to me that we need to remind people that in almost half the states in this country we are second-class citizens in the eyes of the law, and this is wrong. I saw a quote the other day that really inspires me this year: "Remember what it felt like when you saw a queer person owning it, and it gave you permission to be yourself? Be that person for someone."
Jim at Furioso's tasting room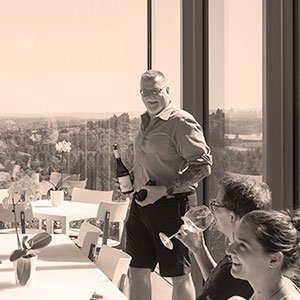 Jim serving and sharing his knowledge with guests
Pride month in San Francisco is world-renowned. As a San Francisco native, are there any elements of San Francisco Pride that you hope Wine Country Pride will adopt?
I love the fact that so many businesses in San Francisco celebrate Pride by flying flags and letting the queer community know they are welcomed. Last year and this year, I was SO very proud to see so many businesses in Newberg flying pride flags and actively welcoming the Valley's queer community. I would love to see more of that in Dundee, McMinnville, and other towns in Yamhill County.
Giorgio Furioso states on the website that "life, like art, is a building process, and making wine is no exception." If you could design your own "Future of Pride" wine, what kind of wine would it be and what would you call it?
I would build a méthode Champenoise sparkling Brue Rosé wine because this wine, like most of us, would require time and nurturing to reach its full potential. It begins as something completely different – a still wine – that with care, coaxing, skill, and time becomes something bright, alive, effervescent, pink, and exciting – just like the queer community. I would call it "Sibi Aequum" – "Be True to Yourself"
Bonus question: What would you want on the label?
It would be three interlinked Celtic hounds (I'm Irish-American). Each Hound's design would be slightly different, but essential and integrated to make the pattern complete – kind of like people.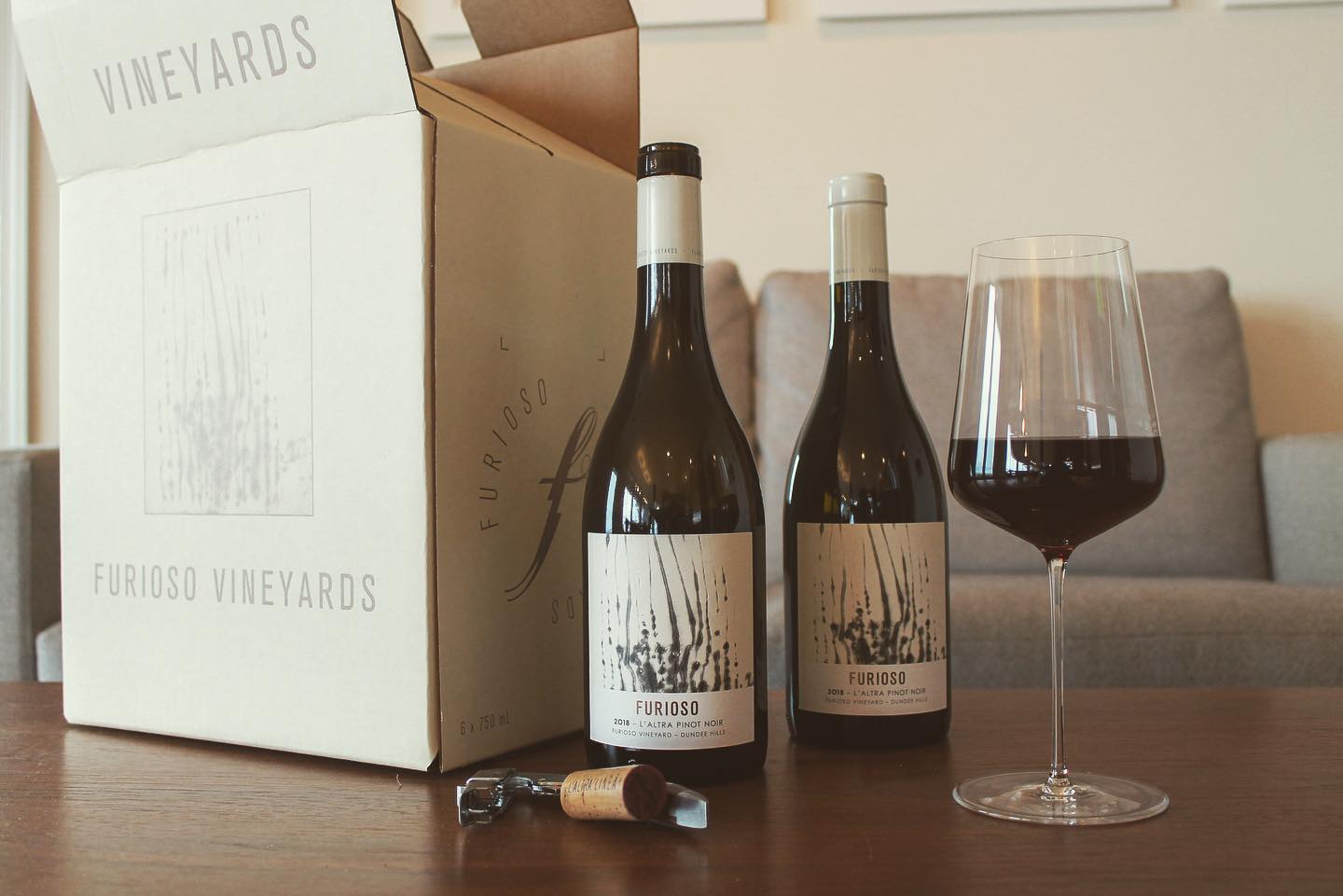 Furioso is participating in Rainbow Quest, for the month of June, $5 from each of their 2018 L'Altra Pinot Noir bottles sold will to to LGBTQ+ graduates in the community.
At Furioso, you can enjoy Wooden Heart's Rainbow Pizza – with Pollinate Farms flowers, Liberty Harvest tomatoes and micro greens, orange bell peppers, Furioso garden grown kale, sweet corn, red onion, zaatar crema drizzle. Yum!
DH: What can people do for Pride month to help raise awareness about LGBTQIA+ discriminations and the fight towards equality?
Talk to your friends and neighbors. Ask those who grew up with a different experience (mine as a 55yo is different from a current 20yo's) what their life was/is like. Pledge to never forget the past and to always fight for an equal future.
DH: What are small ways in which people can make Pride celebrations more inclusive and diverse as they go about normal festivities?
Invite your non-LGBTQIA+ friends to come with you and/or to support Pride. In our digital world, we forget that we are essentially really smart primates that need contact with others to thrive. Talk to people – especially people who are different from you.
DH: Are there any events coming up at Furioso that you'd like to tell us about? Will Furioso be participating in Pride month?
Furioso is participating in Wine Country Pride's Rainbow Quest. We are donating $5 from every bottle sold of the selected "Rainbow Pride" Pinot Noir to go towards scholarships for LGBTQIA+ youth. Our food cart partner, Wooden Heart, is offering a Pride Pizza for the same cause. They are onsite offering wood-fired pizzas, sandwiches, and salads 7-days-a-week.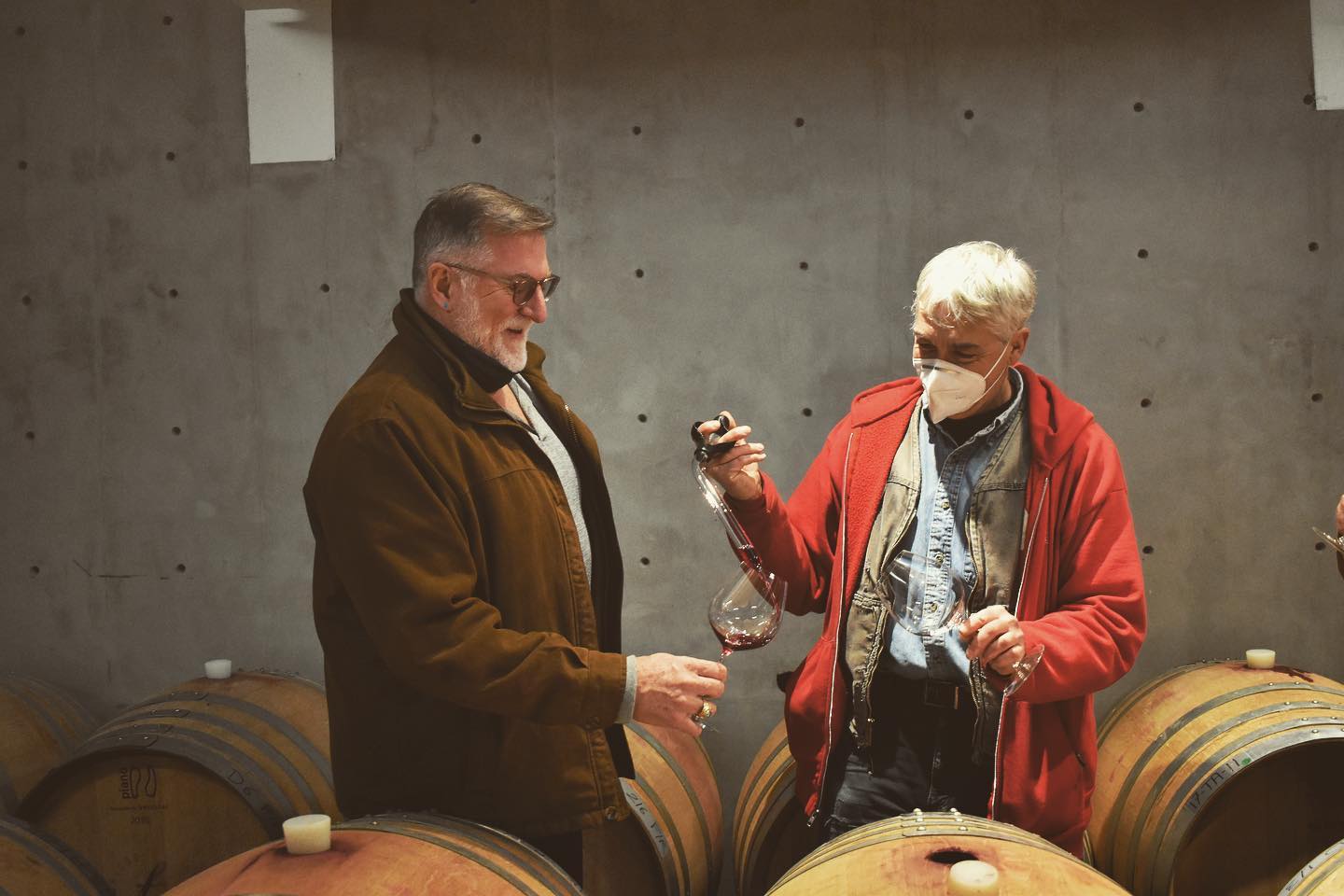 Jim engaged in the critical process of tasting through the 2020 vintage, straight from the source!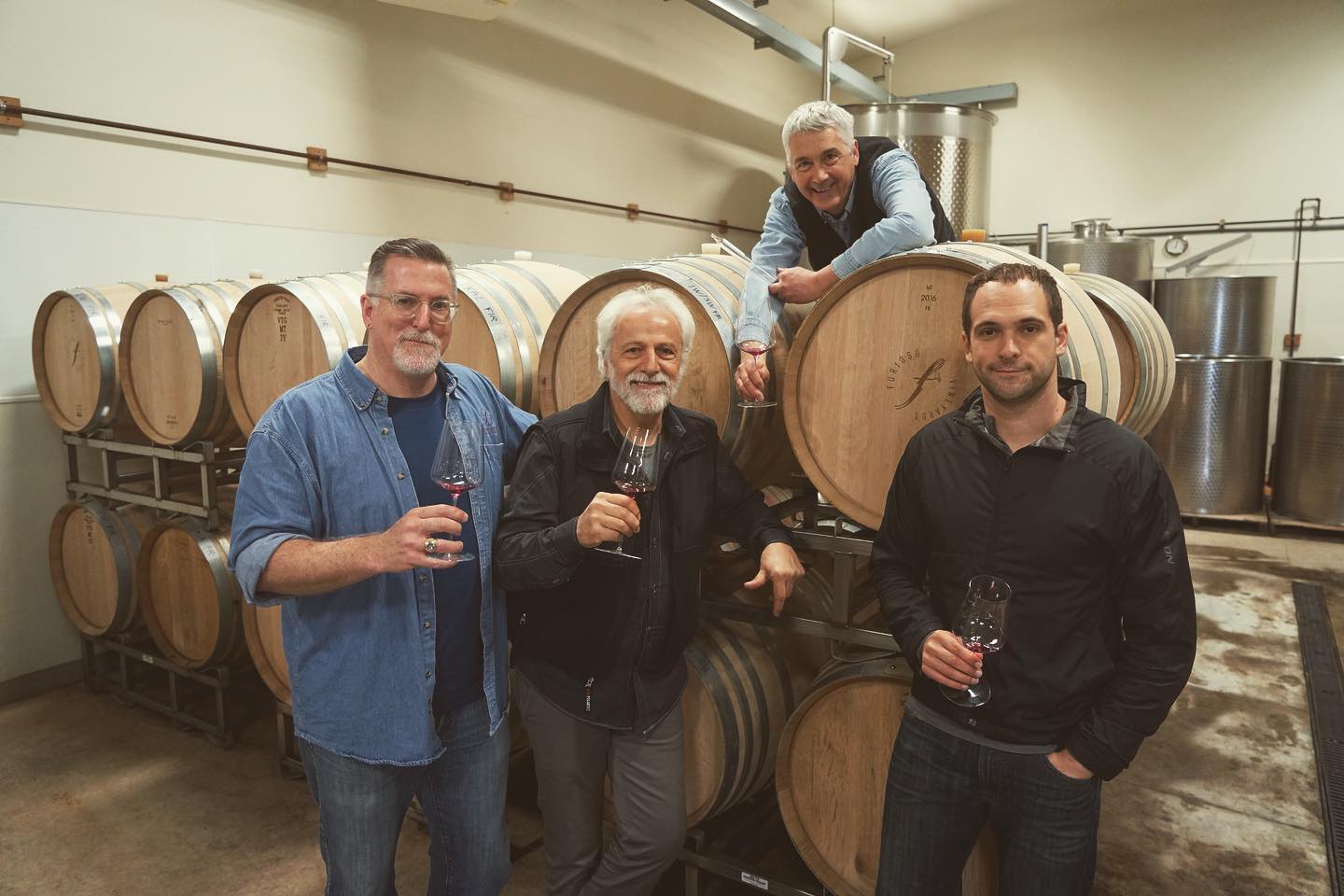 Jim with the Furioso Family!
DH: What inspires you?  
Jim: The example of the life my parents lead. My father was career enlisted US Navy and was deployed to Viet Nam three times. My Mom was home with three of us under the age of four, with my little brother having Down Syndrome. They persevered and raised their family successfully despite numerous challenges, and they did it with love and caring, giving us all the tools to succeed at whatever we put our minds to.
DH: What is one piece of advice you have for new wine tasters?  
Jim: ASK QUESTIONS! There is truly no such thing as a dumb question.
DH: Do you have any advice for queer folks entering the wine industry?
Jim: Be yourself. The Oregon wine industry cares more about your work ethic and integrity than it does about your sexual orientation or gender identity. Truly.
DH: What is your favorite Pride tradition?  
Jim: My husband of 27 years and I get Pride colors pedicures every year.
DH: Tell us something about you that most people don't know (can be silly).  
Jim: I can say the Our Father prayer in Irish Gaelic.
The incredible and inspiring view from Furioso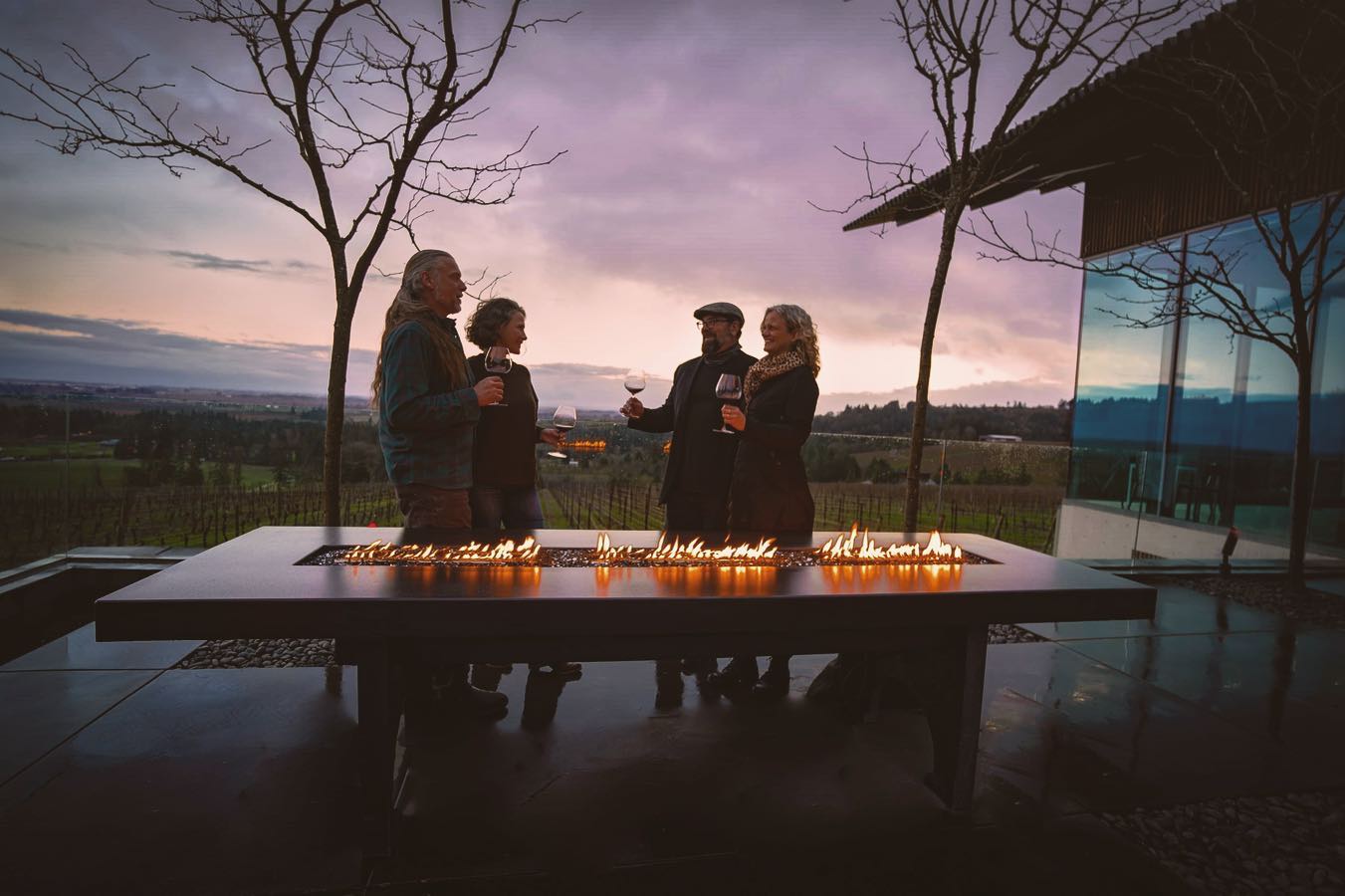 An outdoor tasting, the views are stunning!
More on Furioso
Check out a previous blog post with tasting tips from one of Jim's team members, Drew Hlidebrant.