Once a year, Mother's Day arrives to celebrate moms across the nation. But here at The Dundee, we see no reason why mothers should only be celebrated on that one day, which is why we have decided to dub the spring and summer of 2022 as "the season of all things Mom." Let the honoring of the ones who raised and influenced us commence throughout the sunniest and warmest part of the year with continued new adventures, pampering, and of course, world-class wine.
What encompasses 'Motherhood' is vast and growing more expansive everyday. The Dundee is here to help you celebrate the many forms of mothers or maternal bonds, whether that be with your familial mother, chosen mother, or any other maternal figures in your life. Maybe it's time to celebrate the mother in you; or honor a mother who has passed by participating in events that would have made her smile. Perhaps it's a big sister or mentor who has helped guide you through one stage of your life or another. Whoever you choose to honor when you think about moms, The Dundee would love to host you here in the Willamette Valley during Oregon's most beautiful seasons of renewal, longer days, and fresh beginnings.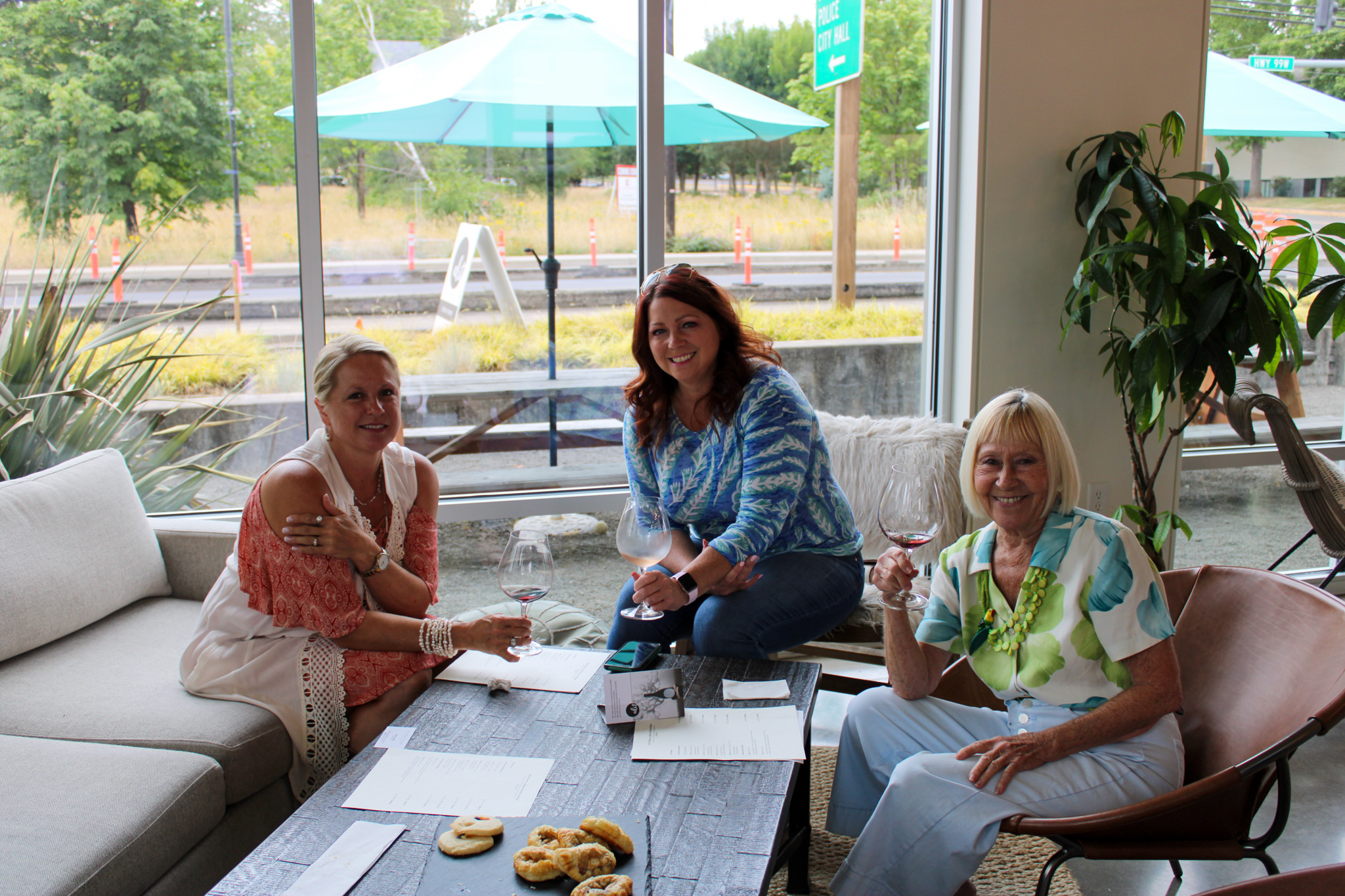 Mothers can be celebrated any time of the year, and with wine tastings all over the valley you can definitely create an itinerary to remember for your family.
How to plan:
When I was first embarked on creating an Itinerary for moms, I thought about what I generally wanted to include before diving into any specific research. I knew I wanted to include wine tasting, as wine celebrates the coming together of people. (Besides, how could you not in the Willamette Valley?) I wanted to include an activity; preferably something silly that wouldn't be taken too seriously. I wanted to highlight local shops and restaurants, and finally I wanted to visit at least a few destinations that were created or ran by mothers. The itinerary below is based on that approach, but there are so many options to choose from.
For my itinerary-test-weekend, I chose to celebrate with a mother figure in my life, Becky Lawhorne, who just so happens to be the biological mother of my two friends, Cassy and Kelsey (who celebrated with us). With my own biological mother in NY (shout out to Sandy Faison, hi Mom!) it was a real treat for me to celebrate honorary motherhood on this trip. I celebrated with people, but there's nothing wrong with booking a room on your own and taking the time to reflect and honor maternity in your own personal way.
The Itinerary:
Saturday:
11am-1:30pm: Sip and Paint at Chris James Cellars
1:30-2:30: Lunch at Ruddick/Wood in Newberg
3-4: Treat Yourself at Red Ridge Farms
4-5:30: Wine Tasting at Et Fille
5:30-8: Dinner at Los Kopitos with live music at Methven Winery
8-bedtime: Hang out in the squad room, drink wine, play games, and/or have a dance party!
Sunday:
9am-11am: Muffins and Mimosas for Mom
11:30am- Wine Tasting at Nicolas Jay Estate
1:30pm- Lunch at The Dundee Bistro
3:30-5:30- Explore the outdoors
530- Head back home at your convenience and don't forget to share your photos with everyone that celebrated with you!
The Experience: All the details for hanging out with Mom!

Saturday:
The day started semi-early, but when 'early' means 'wine country,' I find it's often easier to set that alarm. Becky, Kelsey, Cassy, and I headed from Portland to Chris James Cellars in McMinnville for the first experience on our Mother's Day Agenda: Paint and Sip! (Note: I knew that Becky enjoyed painting, but my main advice is to pick something personalized. What does the mother you're honoring enjoy? Chances are, there's a class or event at some point in the spring or summer that will cover it!) The class lasted about two hours, and included a complimentary flight, glass of wine, or mimosa, with the option of purchasing more. The teacher, Brandy, set a nice tone from the beginning that this class was meant to be fun, that it was okay to make our paintings our own, and that if we weren't liking what we created, all we needed to do was drink more wine. The space was beautifully set up with lots of room for social distancing, and Brandy showed us every step to follow from blank canvas to finished work of art. If this particular class appeals to you, I have good news! Paint and Sip classes are available in the Valley throughout the spring and summer.
Create a personalized painting to gift to someone special in your life, no matter the season!
Chris James Cellars is located in Mcminnville, Oregon just 20 minutes from The Dundee Hotel.
At 1:30, we headed to lunch at Ruddick/Wood. It was an accidental find, as I had mixed up times for our next wine tasting which gave us about a two-hour window to fill. Ruddick/Wood was directly next door to where we parked and was so highly rated online that we felt it was destiny that we came upon it. Ruddick/Wood in Newberg showcases local PNW cuisine with new specials often rotating in order to take advantage of whatever's in season. While everything we ordered was delicious, I must make a special shout out to the Fried Polenta Cakes (do NOT skip the mushrooms, they are to die for).
After lunch, we still had a little time to kill, so we stopped by one of my favorite destinations in the Willamette Valley: Red Ridge Farms. If you don't feel like driving to and from several places during your Mother's Day trip, Red Ridge Farms is an amazing spot to hang out for the entire day. On the property there is not only a winery with flights, glasses, and bottles available, there is also a working olive oil farm, a FREE tasting option at the olive oil bar, and a greenhouse/garden that often holds workshops. (Check their schedule for a full list of events here. On this occasion, my group decided to head straight to the gift shop where we bought some local products using the olive oil harvested on the property (body oil, hand cream, and foot cream, to be specific). I mean, why go to the spa when you can bring the spa to you in the Squad Room at The Dundee? But more on that later!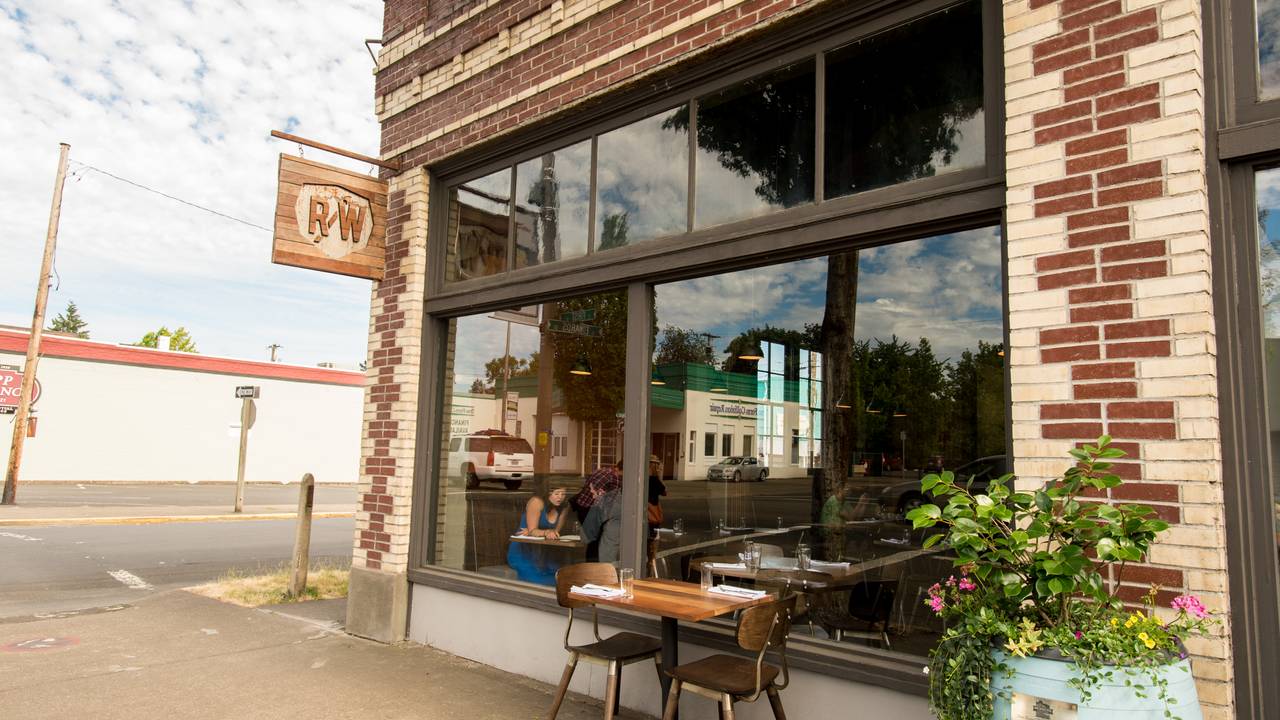 At Ruddick/Wood, the menu changes with the season so you can experience something new each time you visit.
If are looking for a place that carries more than just wine and offers several unique experiences, we highly reccomend checking out Red Ridge Farms!
Their gift shop features several handmade, local goods.
It was time for our first official tasting of the day, this time at Et Fille Wines. There were a couple of different reasons why I chose this winery. First off, I had never been there before and I always like trying at least one new place whenever I go wine tasting. Beyond that though, the story behind the winery is enough to make anyone teary (in a good way) especially on honorary Mother's day. I won't spoil it too much, but let's just say it was born from the bond of a father and daughter. (In fact, the name of the winery, Et Fille, is French for, "And daughter.") And with the father having passed away a few years ago, the daughter (Jessica) has taken over the winery and now loves to pass on her father's wisdom to her own daughter, Gabriella. (Keep your eyes peeled for Gabriella's height chart when you head to the restroom. It's adorable.)  The staff is knowledgeable and friendly, and allows you to take your time as you sip their current flight. Bonus option: purchase a cheese plate ahead of time and make the tasting experience complete.
Jessica Mozeico, founder of Et Fille Wines aims to continue the legacy her father built for generations to come.
Time flies when you're having fun, and next up it was time for dinner. We chose one of my favorite Dundee spots, Los Kopitos Food Truck. This hidden gem makes my mouth water just thinking about it. You can't go wrong, but I personally recommend the spicy carnitas gorditas … at least two of them. Los Kopitos works with Methven Family Vineyards (in fact, the truck is parked at their tasting room property) so once your food is ready, head into the covered, heated tent at Methven and feast as you enjoy some live music. No meal here would be complete, of course, without a bottle of wine from Methven as well. We went with one… okay, fine! TWO bottles of their 2017 House Block Pinot Noir, and it paired with Los Kopitos perfectly. Live music at Methven takes place every Wednesday-Sunday from now until the fall, from 5-8pm on Wednesdays-Saturdays, and 3-6 on Sundays.
We highly reccomend checking out Los Kopitos for mouth watering selections that pair perfectly with Methvens wine or beer on tap.
Rain or shine, the live music never stops at Methven Family Vineyards!
After dinner it was time to head to The Dundee and check-in to the Squad Room. We took long showers (the shower pressure is not to be missed in the Squad Room), put on the hotel's cloud-like robes, and busted out the products we had purchased from Red Ridge Farms. We closed our eyes as the skin products we applied did their magic, and we listened to Enya on Pandora as our troubles melted away. Afterwards, we sipped wine as we talked, played, Yahtzee, and eventually went to sleep.
Note! During this night, Becky French braided Kelsey's hair, and when she saw my face, I think she could tell that at 36 years old, I had somehow NEVER had my hair French braided before! So Becky, my honorary mother for the weekend, French braided mine too and the level to which that made me feel special is probably embarrassing to admit. But hey, that's part of the fun of a mother's day weekend!
The Squad Room at The Dundee is perfect for you and your family to celebrate all occasions and spend quality time together.
Sunday:
Sunday morning started around 9AM (well, it did for me at least, I was amongst earlier risers). We started the day with muffins and mimosas that we had brought with us from Portland. Nestled in the Squad Room's giant and unbelievably comfortable couch, we took our time and set a relaxing tone for the day. At 11:30 we had our next tasting appointment, this time at Nicolas Jay Estate. And if you're wondering if one of the winemakers here is a mother as well, then you're wondering correctly! Her name is Tracy Kendall, and the collaborative, familial vibe of Nicolas Jay (and the Willamette Valley in general) is part of what drew her here. "I love that anywhere I go, I will inevitably run into someone I know and have that strong sense of belonging," Kendall has said. "It's a very special place."
The property is breathtaking, with large glass windows to let in all of the added natural light of summer and sweeping views of the vineyards. You will find your tasting already set up with personal cards greeting you by name as you sit down. Cheese and nuts are served from local establishments, including a sprig of fresh rosemary from Nicolas-Jay Estate's own backyard. This is definitely an elevated experience; perfect for celebrating any mother-figure in your life (and that, of course includes if you ARE the mother-figure in your life)!
Located in the heart of the valley, you can expect stunning views and memorable wines at Nicolas Jay.
Nicolas Jay is rooted in generations of family, and motherhood is celebrated throughout the year.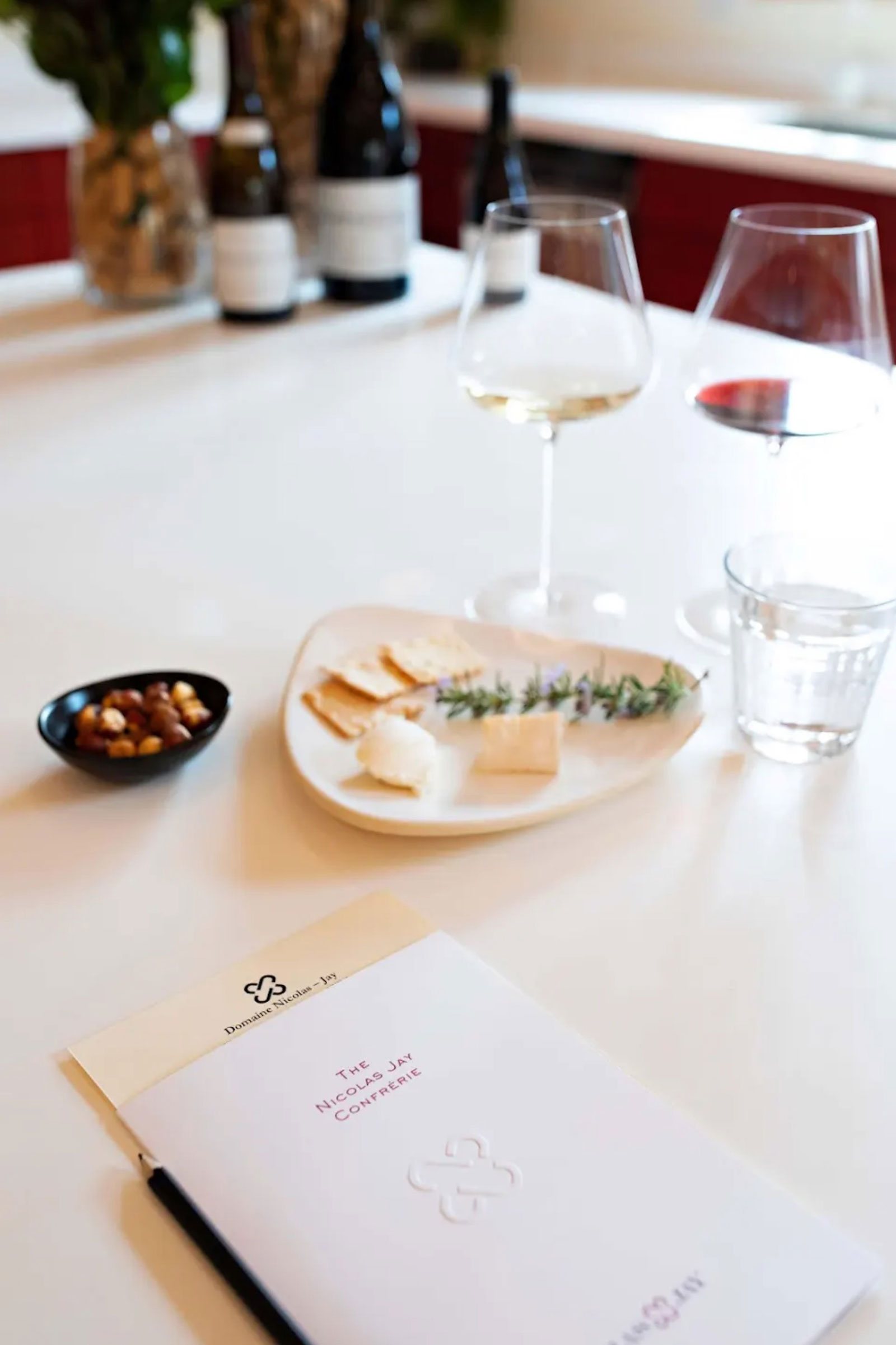 Experience wine and cheese pairings like you never had before with locally sourced cheeses featured in every tasting.
Next on the itinerary was lunch at The Dundee Bistro. This is one of my favorite spots in Dundee to take groups because there is something for everyone, and I have never had a dish I didn't like. (I particularly love the Butternut Squash soup, and for dessert, the Crème Brûlée). Reservations can be made online ahead of time for your convenience, and you are allowed to take your time "dining" as my grandmother would say, letting the conversation and company take precedence. Plus, if you or anyone in your party decides to take a taste of wine country home, Dundee's most popular market– Red Hills Market –is just across the street.
During the warmer seasons, check out the Bistro's outdoor patio to enjoy the sun while diving into delicious entrees.
You can always expect excellent service at the bistro with kind, knowledgable servers that can help you make the right choice for a perfect bite.
We finished around 3pm, but we weren't quite ready to head back yet, so we decided to take in some of the natural splendor of the area. There are countless ways to do this, from local hikes such as Harvey Creek Trail, to seasonal happenings like the Wooden Shoe Tulip Farm . While we ended up attending The Wooden Shoe Tulip Farm, don't be shy to ask the front desk what is best during the week of your visit!
The Tulip Festival, which runs during Mothers Day is the perfect event for all ages and to celebrate moms all over the valley.
Alas, it was then time to head home, but Mother's Day trips do not have to be limited to once a year. That's what's great about a Mother's Day Spring and Summer! Whenever you feel that celebration of maternal bonds growing within you, celebrate however 'motherhood' is defined for you, and don't forget to check out this full list of events happening throughout the Willamette Valley from now to the fall!
List of Spring and Summer Events throughout the Willamette Valley