To live in Oregon wine country is to know that wine is art, but there is one new local winery that is taking that idea to the next level. Artist Block, right here in Dundee, asks the question: if wine itself is art, why can't a winery also be an art gallery? The answer is… it can be! And that's just what Artist Block has created with their new Dundee tasting room: an art gallery that showcases up and coming artists from all over the world, including Artist Block founder, Anna Sweet. We sat down with Anna to talk about all things wine, art, and how the two intertwine at Artist Block's tasting room. Read below to learn about this bright, colorful, tangible, and non-stop fun approach to tasting wine, and don't forget to book a visit next time you stay with us at The Dundee!
The first thing you notice when walking into the Artist Block tasting room is the bright color and youthful energy that comes with wine "for a new generation." Anna is passionate about creating fine wine for the next generation. "It's time to throw some color into the Willamette Valley.  At Artist Block, we strive to bring ingenuity, inclusion, and inspiration to the Dundee Hills.  I want Artist Block to be the future of wine.  A place to be shared with a group of people from diverse backgrounds with one thing in common: A thirst for creative expression." And creative expression is exactly what you'll find in the Artist Block tasting room. The walls are decked from one side of the building to the next with daring, fun, and imaginative artwork, ranging from an entire wall covered in donut sculptures (each of which is available for sale!), to lines of wallpaper in the bathroom that display monkeys drinking tequila and smoking cigars. "Gen Z consumeswith their eyes," Anna says. "So we have an opportunity to express our approach to wine with our décor, including art-forward labels for each of our bottles (designed by Anna herself) and a one-of-a-kind  layout of the tasting room." There is nothing about Artist Block that claims to be the wine tasting experience of your parents' and grandparents' generation. Artist Block is for those who are curious, creative, and want to have fun with what can sometimes be a more serious or highbrow activity.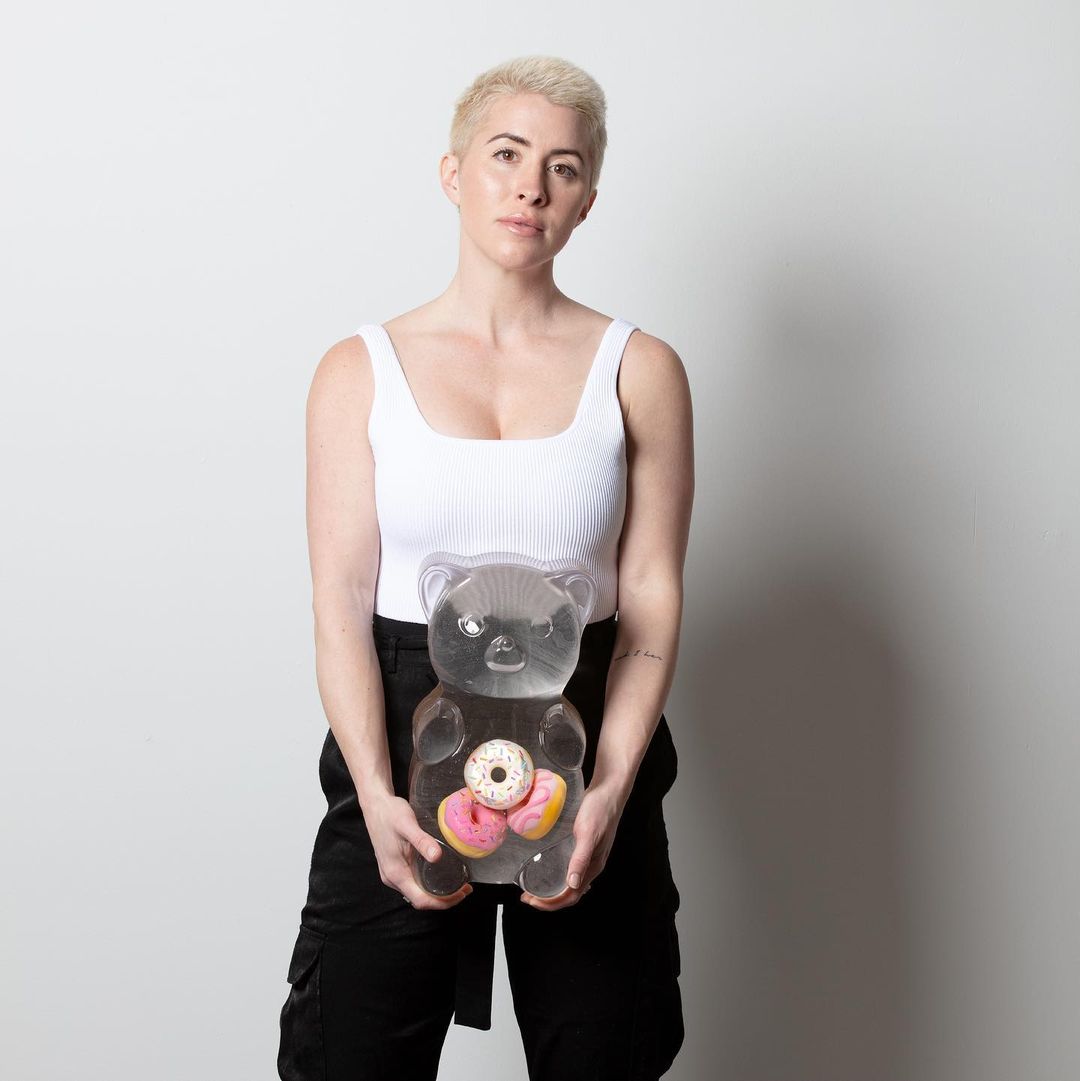 Anna's current collection includes "Yummy" bears!
"Dot Nuts" in every variety imaginable!
At Artist's Block they are serious about fun! 
If you look past the wine and art for a moment (don't worry, I'll get back to that later) the next most important aspect for tasting at Artist Block is community.  That is why, in addition to selling their own wine, Artist Block features wines from smaller production winemakers throughout the Valley; winemakers who perhaps do not have access to selling their product elsewhere. All of the wine and art showcased by Artist Block is available for purchase, and the hope is that both first time tasters and wine professionals alike can find a welcoming space here to exchange ideas, hang out, and compare the flavor profiles of new exciting Willamette Valley Varietals.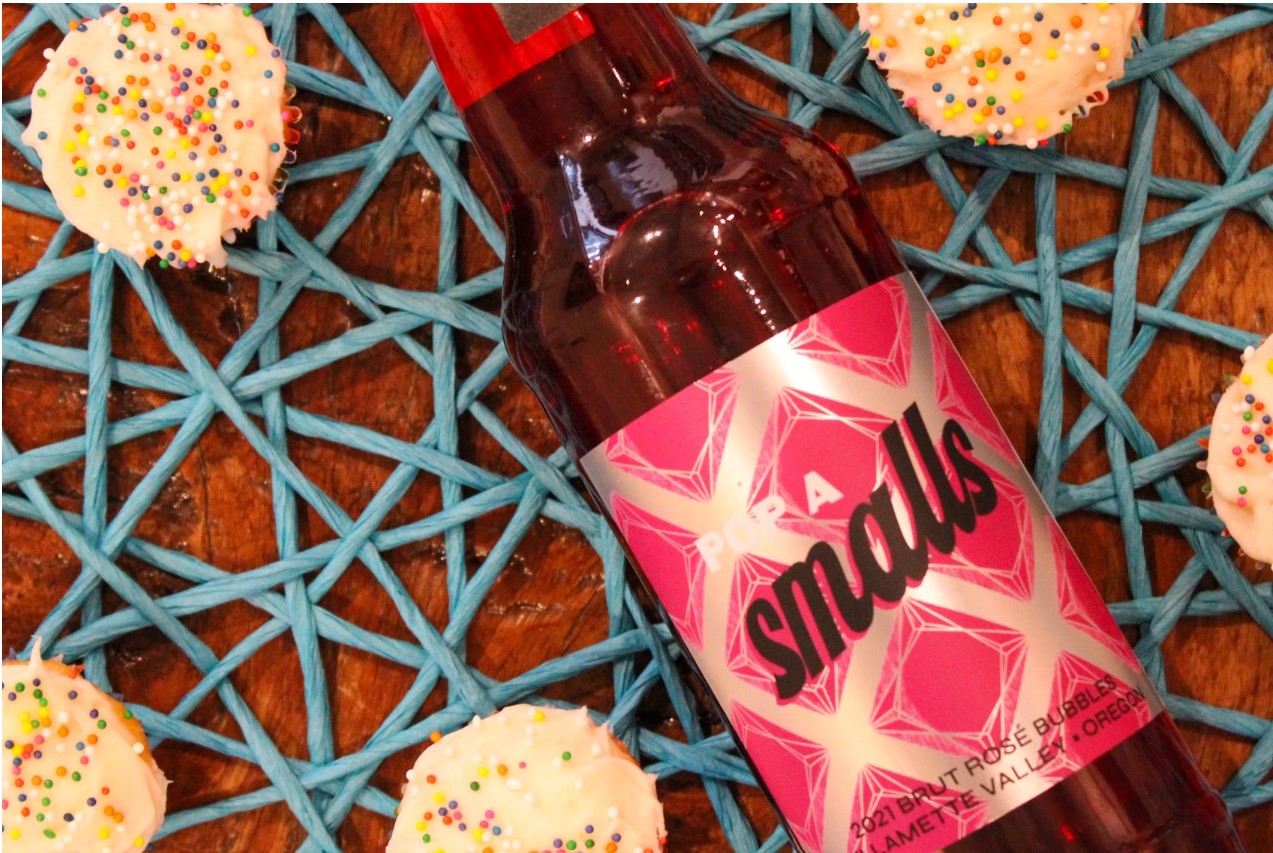 The Young Gun Winemakers brings together several small winemakers at Artist Block this summer, including Well Played Wines, Liska Wine Co, and Arablis Wine.
The Artist Block approach to art and wine doesn't stop at tasting and wall browsing. Anna hopes to soon host artists in residence, where creatives can work on new pieces in the tasting room, and wine enthusiasts can watch as they discuss the influences of wine on art, or more generally the experience of creating in Oregon wine country. Anna herself moved to Oregon to feel more connected to the land, and as any Oregonian knows, the nature that surrounds us is one of the Pacific Northwest's most valued and treasured aspects of life.
Anna and winemaker Bree Stock. 
You may now be wondering: how different exactly is the wine at Artist Block? And the answer is– like all things at this new spot –playful: "Our own wines are… I wouldn't say traditional per se, but familiar," Anna tells us. "We want to create wine that showcases what Willamette Valley Soil can bring to ancient grape varietals, and then color outside of the boxes when it comes to our branding. We thought, let's take the pretension out of wine. Make it approachable and even flirty without sacrificing quality.  We aim to create the highest quality wine with the highest quality materials and design" All you need is a sense of curiosity and Anna will take care of the rest. With that said, if you're hoping to try a varietal you've never even heard of before, have no fear! In addition to Artist Block's staple collection of wines, they're always experimenting with what to create in the future, and they showcase several other winemakers who are also pushing the boundaries of conventional Oregon winemaking.
Head to Artist Block on Sundays this summer for summer brunch – grilled cheese & bubbles!
The packaging from the limited edition "First 100" series is it's own work of art. 
Speaking of plans for the future, Artist Block has no intention of slowing down anytime soon. "We want to add hiking trails through the oak grove," Anna says. "I want to create a sculpture garden in the wetlands near the main entrance, and eventually even build the original 6,000 square foot design that was put on hold because of covid." She also hopes to offer live music soon, and just, in general, make Artist Block where people want to go on their time off. "I'm so grateful to be here," Anna says. "My favorite part of my job is just showing up to this place everyday."
Artist Block offer a variety of tasting options including a blind tasting that includes ABs wines alongside wines from the most coveted regions of Burgandy and Champagne.
The simple and undiscerning exterior leads to a multi sensory spectacle inside.
Before you go though, here are a few things you should know. Dogs are allowed on the outdoor patio, but only service dogs with proper paperwork are permitted indoors (it's an art gallery, after all). The tasting room is ADA accessible, but take note that there is a gravel road leading up to the entrance. You can make tasting reservations for groups of up to six online, but parties any larger than that require a phone reservation in advance.
Grab your crew and head to Artist Block for a wine experience unlike any you have had before!
If you'd like to become involved with Artist Block, either as an artist looking to showcase your work, or a winemaker hoping to expand your clientele, you can apply to Artist Block here. Whether or not you're a part of the industry though, Artist Block can't wait to have you visit their space, become a part of the community, and soon feel like neighbors. "It's time to throw some color into the Willamette Valley," Anna says. "At Artist Block, we strive to bring ingenuity, inclusion, and inspiration to the Dundee Hills." Artist Block is open everyday from 10am-6pm, but reservations are always encouraged to secure your spot and double check for any private parties or upcoming events.
Take your time, explore the art, and talk with Anna about all the ways wine and art intertwine. Then top your night off with a quick ride back to The Dundee Hotel, we can't wait to host you!
All pictures from Artist Block's Instagram.