There are hundreds of wineries to choose from in the Willamette Valley, so if you're wondering where to start, have no fear! There are multiple tasting rooms within The Dundee Hotel. Sip from several varietals and learn your preferences without having to drive anywhere that night. It's the perfect starting point to any future wine endeavor!
Le Cadeau
Nothing quite encapsulates the essence of Le Cadeau Vineyards like the translation of its name, which means "gift or present" in French. To those of us living in or experiencing the Willamette Valley, we understand that the wine here is just that: a gift to us, forged from thousands of years of history, geography, nutrient-rich soils, floods, multiple hard working generations, and an ever-advancing approach to winemaking. That is why it's so important to the staff at Le Cadeau to respect the land with eco friendly practices. The vineyard gifts us this wine, allowing for the achievement of Le Cadeau's main goal: to grow complex and distinct Pinot Noir. As you'll probably hear at your tasting, "Pinot Noir starts in the soil." Owners Deb and Tom Mortimer found a parcel of land with endless possibilities. There are several types of topography, including hills of various elevations, and slopes facing both towards and away from the sun (depending on the clone). The land also holds several types of earth. On the west side you'll find a majority of Witzel soil while the east side is where you'll encounter Jory (Oregon's official state soil). Jory is deep and well drained, providing support for forest vegetation, while Witzel resembles more of a shallow, broken, basalt rock. Now, we can probably imagine why a soil that promotes plant growth could be supportive of vine health, but you might be wondering what the Witzel has to offer. Luckily, we were able to speak with the Assistant General Manager, Brian Matta, who explained to us the importance of a more rocky terrain. "Stress can be a good thing," he said. "You don't want to kill the vine, obviously, but the right amount of stress will produce stronger, fuller, grapes." Partway through the growing season, the vines are even thinned, cutting some grapes and dropping them into the soil to replenish the Earth while also allowing the remaining grapes to demand the full attention of the vines. So a little stress is not only okay, but also sometimes helpful (let's all try to remember this for our next stressful day).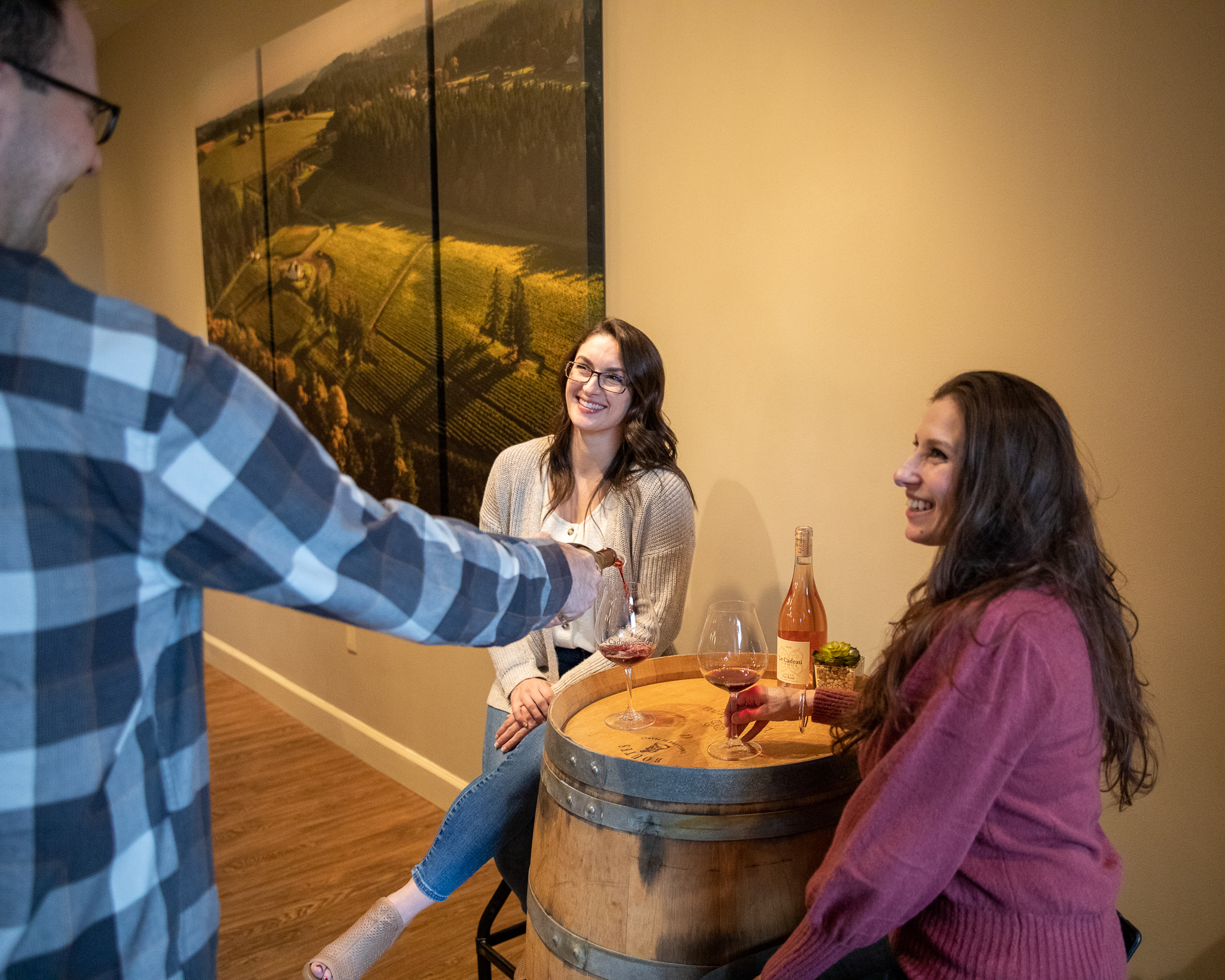 This well appointed tasting room is a great venue to tell the story of Le Cedeau and to learn from their tight-knit and highly knowledgable team.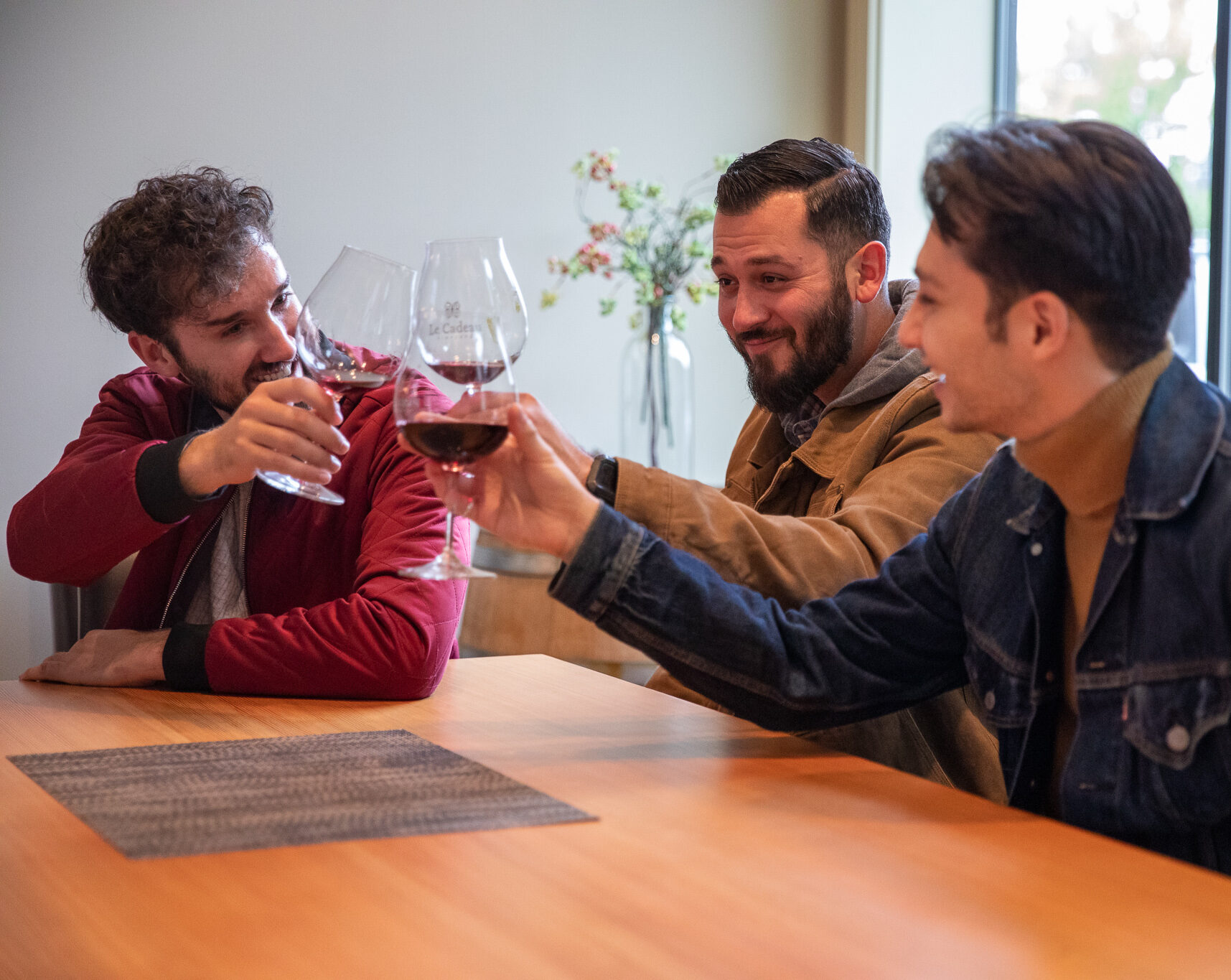 Ask about their intimate gathering space perfect for education sessions and tastings with small groups.
One characteristic of Le Cadeau that's easy to spot is their humility when it comes to winemaking. Despite creating world class vintages, the website isn't shy to admit, "The best wines are yet to come." That doesn't mean their wines aren't spectacular now, what it means is that we're only scratching the surface of what the Willamette Valley can offer. The more wineries like Le Cadeau practice, experiment, and learn, the more the Pinot Noir vines will grow into their full potential. It's amazing how many different flavor profiles one can find in a single glass of Pinot Noir, from bright and fresh fruit forward wines, to deeper grapes hinting with Asian spices and earthiness. But don't fear if you're brand new to wine! Brian Matta runs the tasting room and you might even see the owners there, stopping by to have a glass or answer questions. Le Cadeau is a welcoming, accessible space, and they can't wait to have you try their wines! Tasting room is open 11-5, Wednesday-Saturday, and 1-5 on Sunday.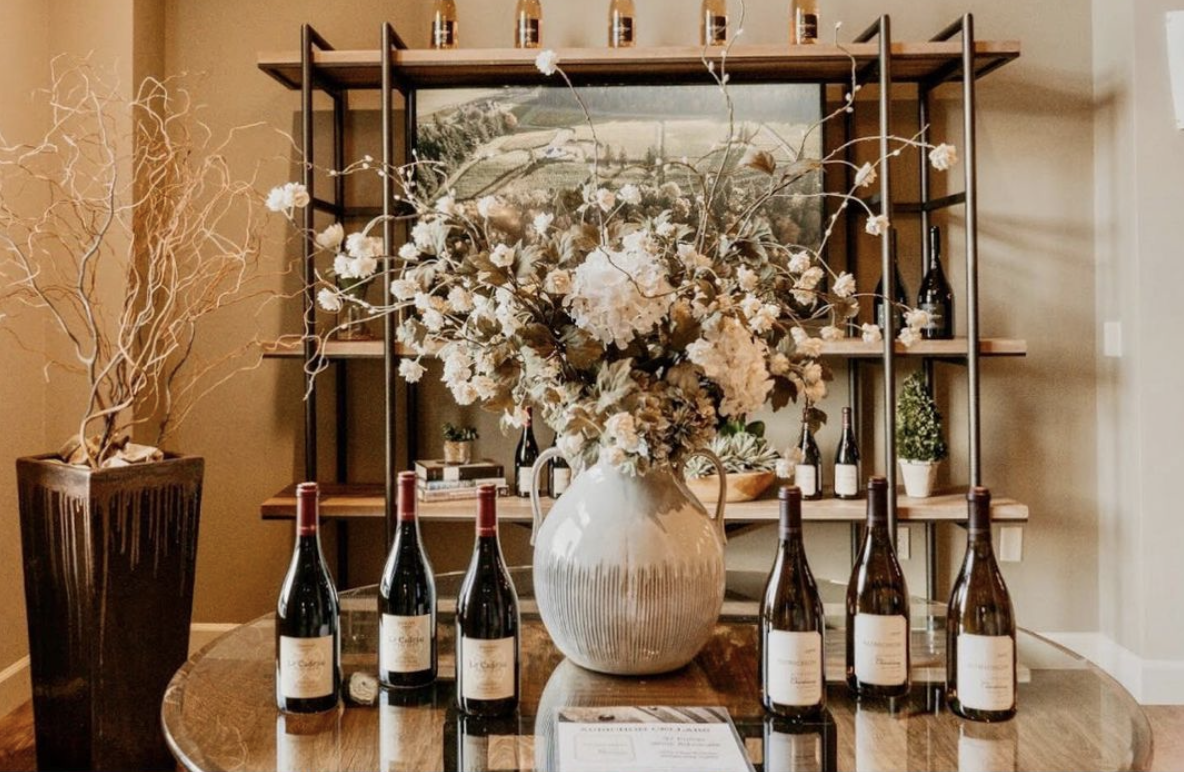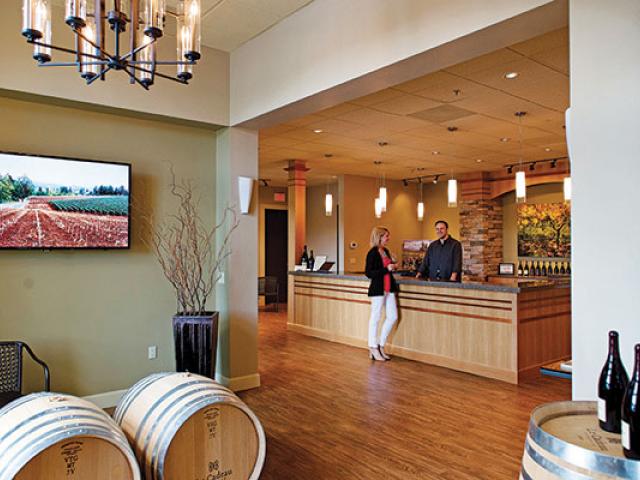 Their elegant tasting room is perfect for those looking for an elevated and intimate tasting experience.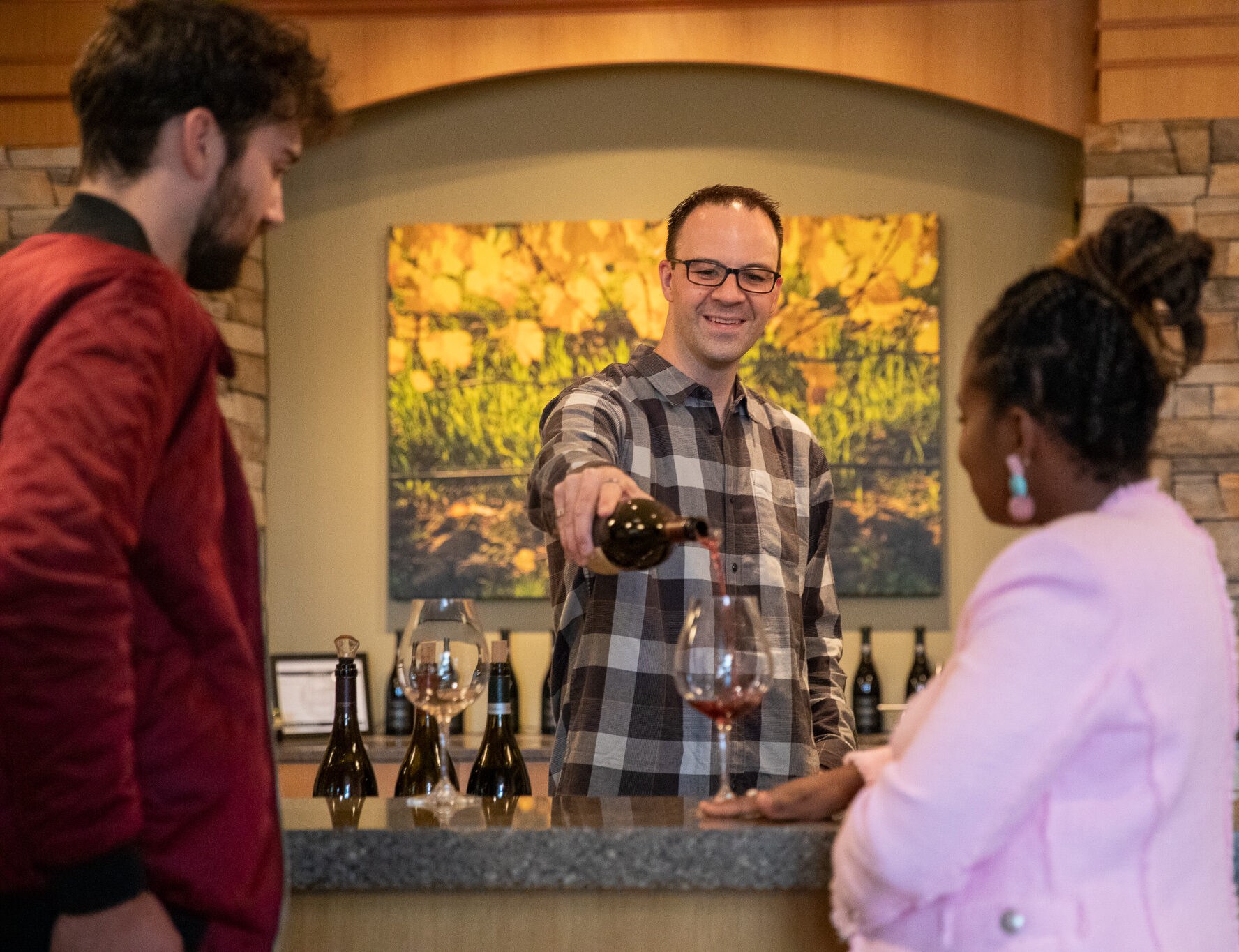 Be sure to say hi to Brian, Le Cadeau's Assistant General Manager and a long time lover of wine!
Cougar Crest
 Are you craving an on site tasting experience but don't want to be inside? Cougar Crest's tasting room offers an outside patio (as well as inside seating if the weather grows too warm). When the tasting begins you are immediately put at ease by the welcoming and informative staff, while being encouraged to ask questions on any level of the wine IQ scale. Now you may be thinking that you already know a lot about Oregonian wines, but Cougar Crest is one of two on-site tasting rooms that produce Walla Walla wines from Washington. "What does that mean?" you might ask. Well, we are here to tell you! Walla Walla is a drier part of the PNW climate, which makes it less than ideal for Pinots (it's Oregon all the way for that!) but perfect for other robust wines such as Malbecs, Ports, Merlots, Tempranillos, Syrahs, and more! This presents a unique opportunity to expand your wine tasting palate, while still surrounding yourself with the Oregonian flavor profiles you came here for.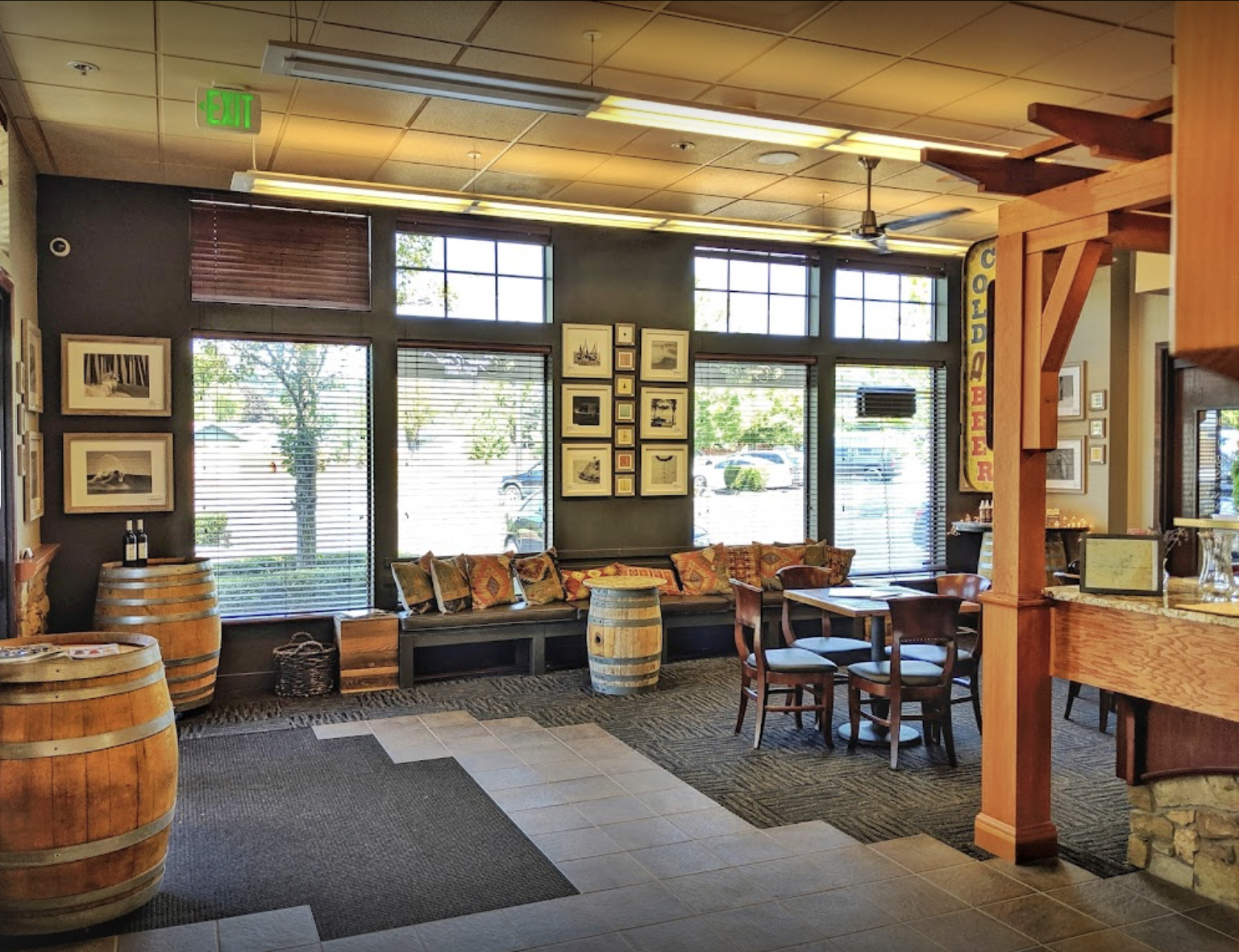 A rustic and inviting environment unlike any other tasting room at The Dundee.
We were able to talk to one of the new winemakers in training and when we asked him why he loved working in the wine industry, he said, "The free wine, of course." But joking aside, he then continued, "There is so much to learn." Turns out, he actually started within the world of beer, but when he discovered the evolution of wine, specifically in the PNW, he knew he'd never be bored or run out of new ways to approach something. The winemakers as well as the guests enter a world with no boundaries when it comes to wine. Yet it's important to be humble about winemaking too. "Nature dictates all," he said. You can train as much as you want to, but when it comes down to it, it's all about Mother Nature. The wine making process starts there. Eventually, he'll train under head winemaker, Deborah Hansen. We at The Dundee were also lucky enough to speak with a tasting room manager, who added a different experience. "For me," she said, "wine is about people, hospitality, and providing a good time." And what's the best way to have that experience? "Don't be snooty about it," she said. "Just come try it. Do you like it? Only one way to find out." That sense of experimentation and willingness to dive into the deep end has served Cougar Crest well, as showcased through their second harvest Syrah, which astoundingly (for its young age) won a spot on Winemaker's Top 100 Wines of the World, and that award was only the first of many more to come. So book your tasting now, or ask us at The Dundee to set it up for your next visit here. The tasting room is open Monday-Thursday 12-5, and Friday-Sunday 11-6.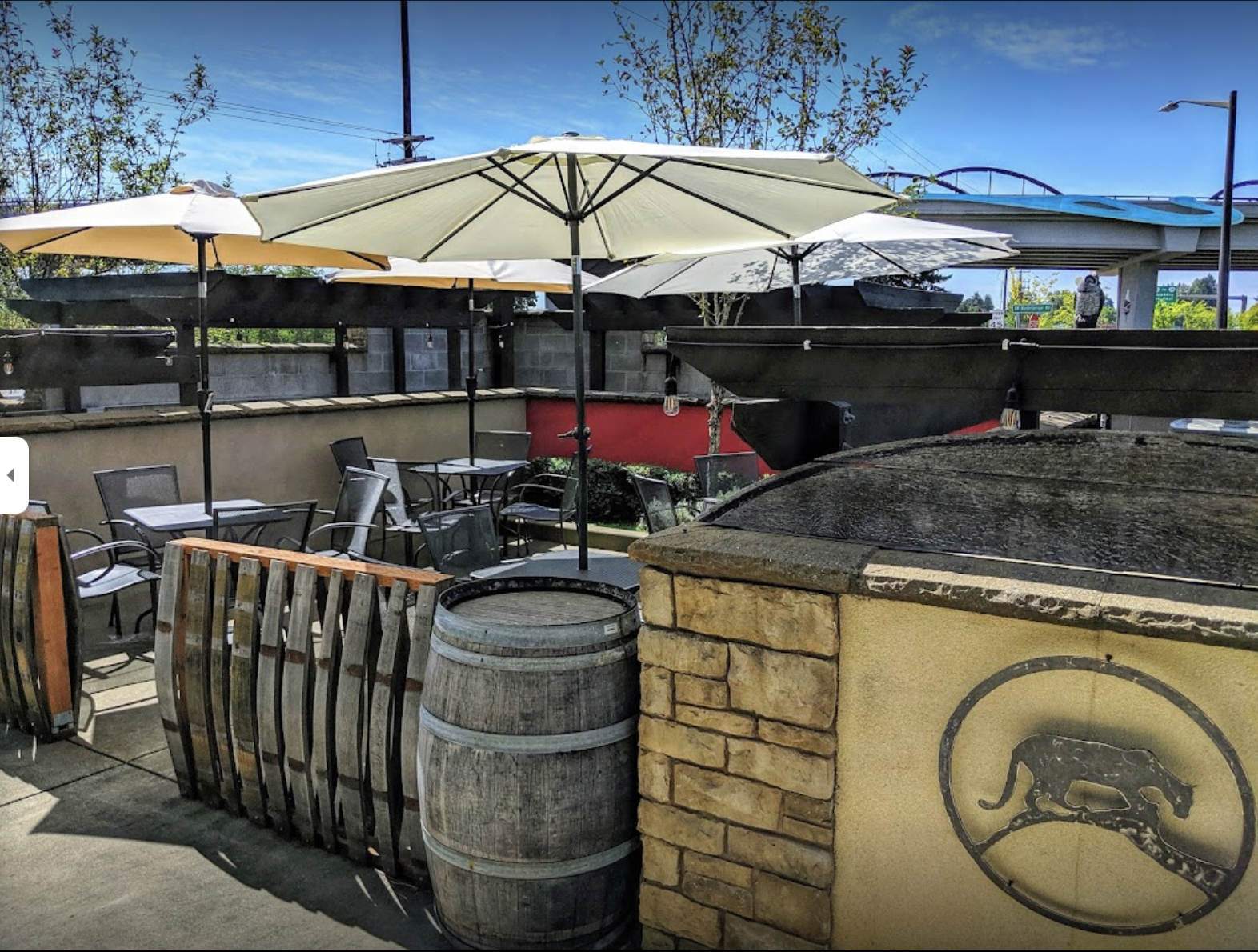 Cougar Crest is the only tasting room on site that has an outdoor patio seating, making for a wonderful outdoor tasting on a sunny day!
The Dundee Wine Library
When you walk into the tasting room for The Dundee Wine Library, it's not hard to believe it came from the minds of wine lovers. A self-playing piano fills the air with the sweet sound of a Nora Jones album; a lit fireplace cozies up the space, and further illuminates the work of a local artist, which is displayed around the room. This is a place that immediately encourages the taster not to rush. To sit back, absorb it all, and allow themselves the gift of taking their time. Owners Henry and Araminta Miller didn't mean to start a winery. In fact, Henry was a forensic psychologist who just so happened to love wine. But alongside his love for Pinot Noir, he and Araminta developed an immense collection of wine from all over the world. So when the opportunity came to acquire land in the Willamette Valley, they seized it, moved their home to the PNW, and hired the best of the best to cultivate their first harvest. If the Millers were going to do this, they were going to do it right.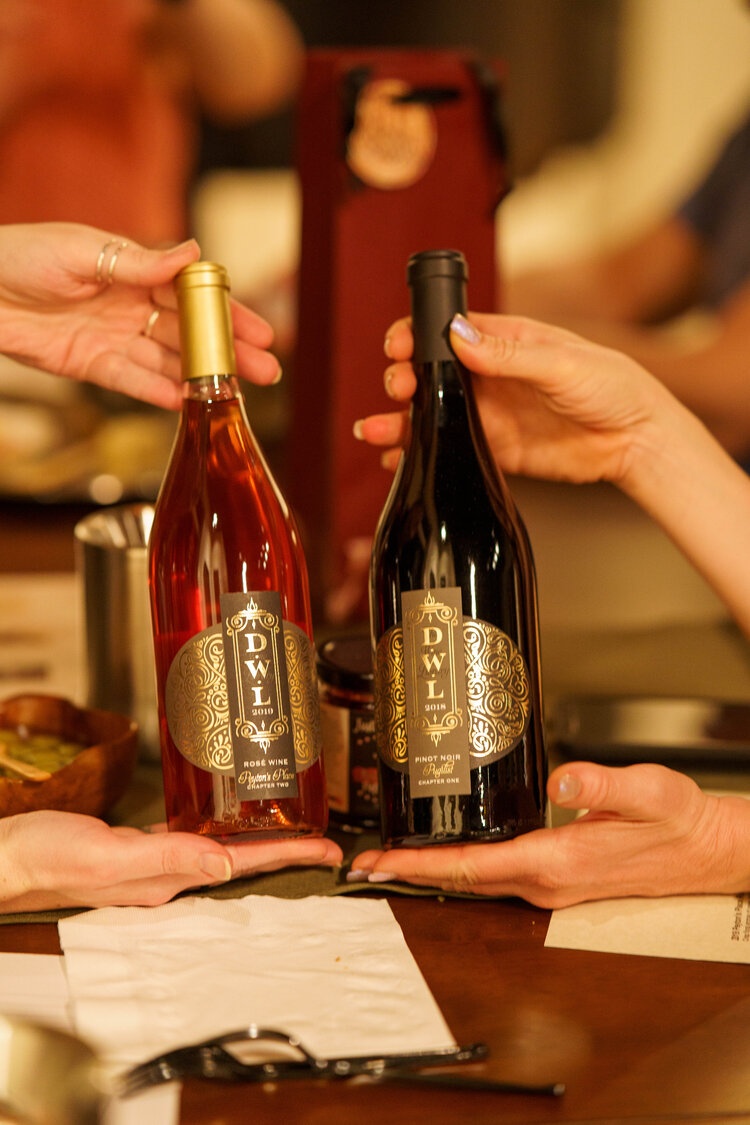 When talking with Henry at the tasting room, his calm, conversational demeanor makes one feel like a longtime friend, even if you've never met before. We asked Henry what he loves most about Pinot Noir. "The sensitivity of it," he said, the secret to Pinot Noir being its complexity hidden amidst its subtlety. "You have to have patience," he added. "The first time you try Pinot Noir you might not like it, because you won't yet know what you're tasting… Pinot Noir deserves your full attention. Patience is what we have to offer." Henry isn't shy about his opinion that Oregon has some of the best Pinot Noir in the world (an opinion which we wholeheartedly agree with). "Pinot Noir in the Willamette Valley embodies time," he said. "Not just the terroir, but the climate and season, harvest year, and the ones who harvested the vines. It's a story that I can go back to. A little piece of history. Drink a bottle from a specific year, and you'll learn something about that year." He continued to joke that every now and then you might not like the history, or perhaps you'll like it more than  your friends or partners, but its history nonetheless. Perhaps that's why The Dundee Wine Library has such charming story-focused names like "Protagonist," "Antagonist," and "Epilogue." To Henry Miller, drinking wine is a full sensory experience. In fact, that's the main reason he avoids twist caps. "You miss the sound," he said. "When you drink wine, first you look at it. Take in the color, the texture, how light dances through the glass… then smell it. What do you notice? There's no wrong answer. What do you smell?" He swirled his glass and sniffed it again. "It changes, you know, after you swirl it and more oxygen gets in." He took a sip and held the wine in his mouth for a long moment before swallowing. "You taste it," he said with an obvious laugh. "So where's the sound?" Using both hands, he mimed pulling a cork from a bottle. "You need the sound." Towards the end of our conversation, Henry stressed the point that wine is meant to be shared. It's about community, and at The Dundee Wine Library, the focus is quality over quantity, which is a major benefit to having a smaller production.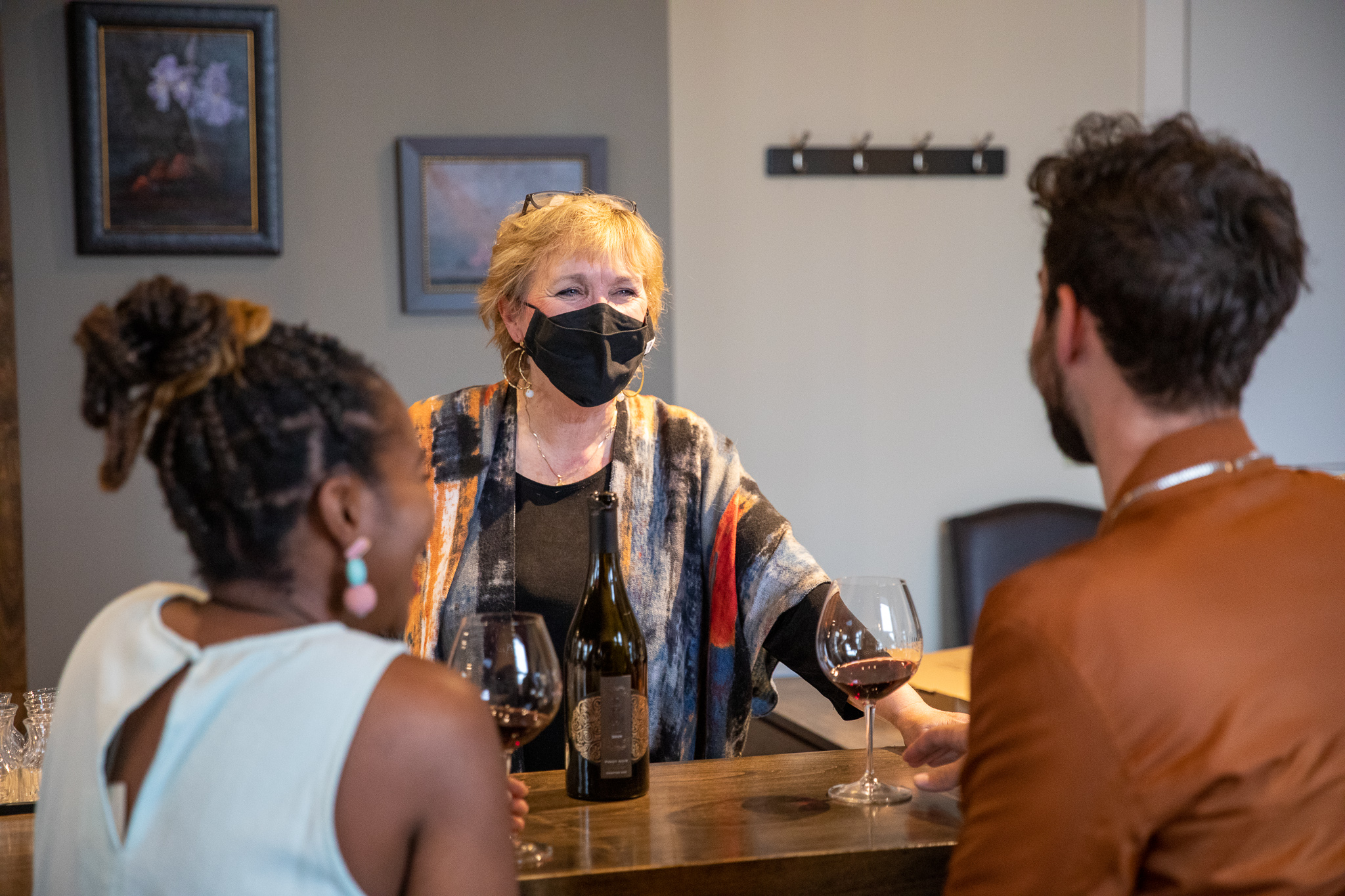 Co-Owner Araminta Miller serving a flight to some of our hotel guests!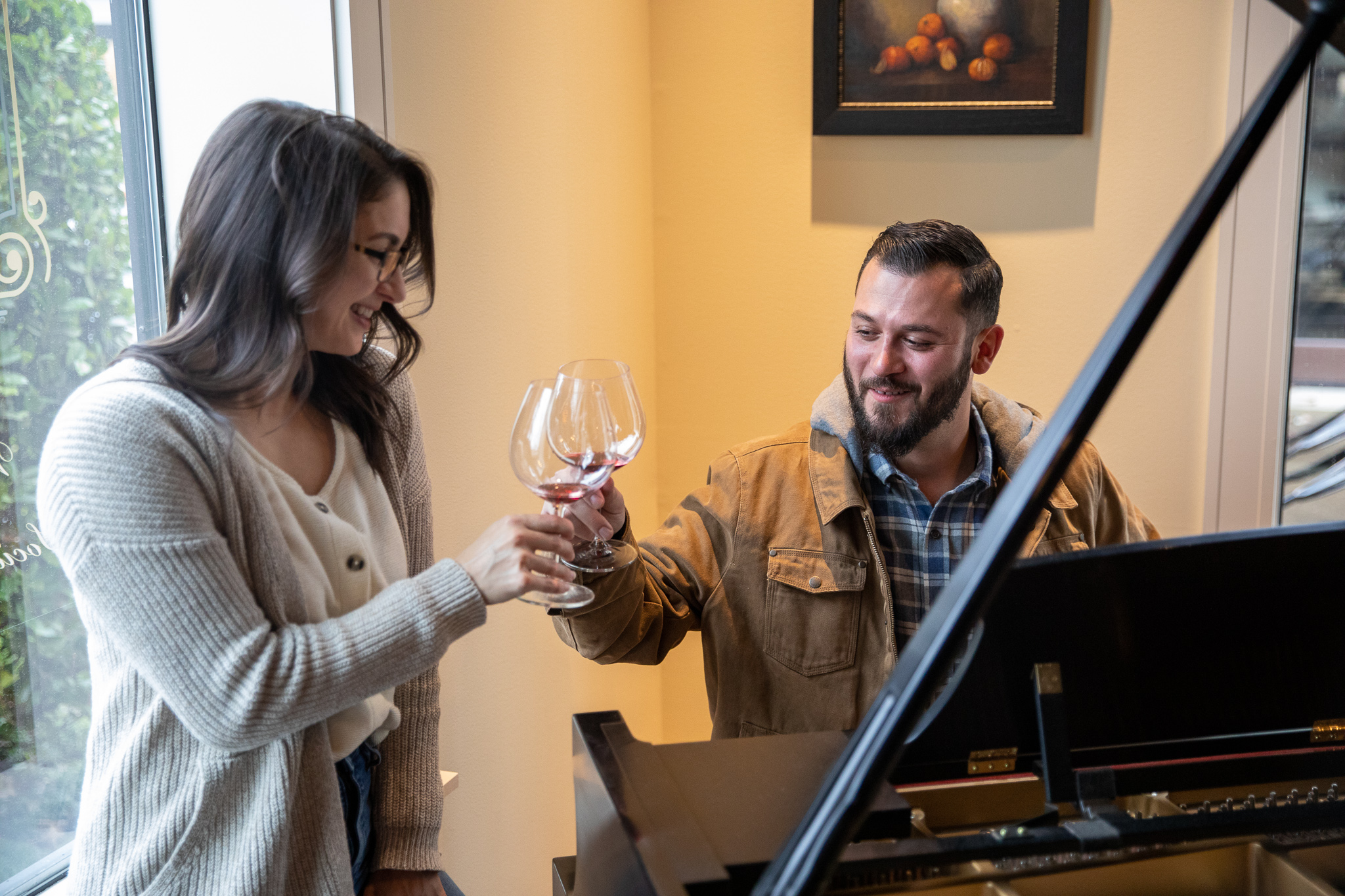 A tasting at the Dundee Hills Wine Library is unlike any other, with a self-playing piano and and a knowledgable pourer for a relaxed tasting.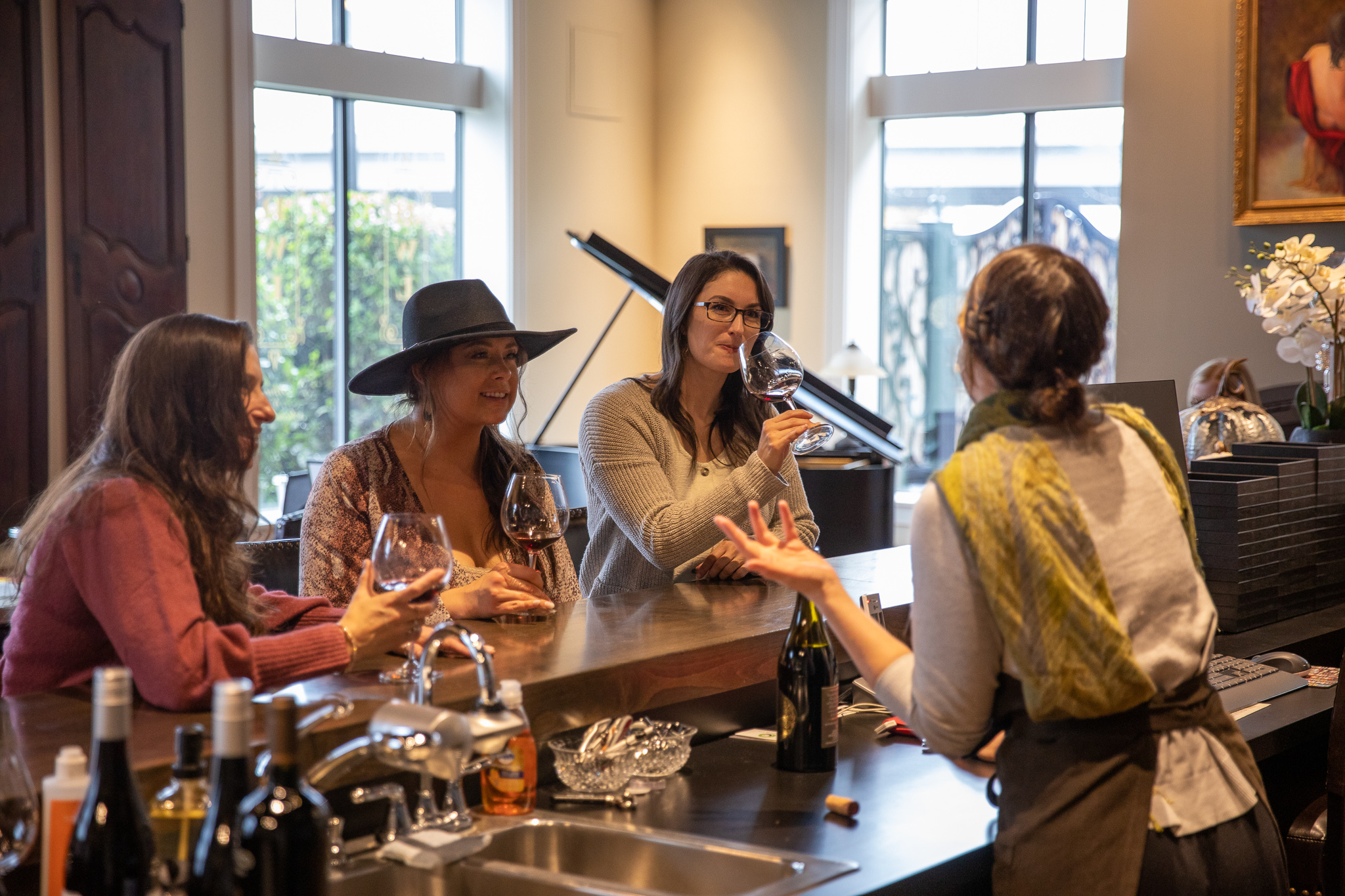 Evening Land 
I first discovered Evening Land Vineyards a few years ago and it was absolute love at first sip. So when I received the opportunity to spotlight them with a tasting, I was halfway in my car by the time the full suggestion was made. With sophisticated yet accessible flavors, you can tell that Evening Land has dedicated itself to farming the same site, enabling it to learn every detail about the soil, the weather, and how even the tiniest change in a season can completely redefine the final yield. Their philosophy goes: "Hands on in the soil, hands off in the cellar," and to me it perfectly encapsulates how the grapes can do most of the work. So the job of the vineyard is to support those grapes with innovative and eco-friendly farming practices, as well as highly trained professionals who know the land backwards and forwards, and therefore can read the soil as if it were a NY Times Best Seller. Taking care of the land comes first. That's why Evening Land holds a LIVE (Low Impact Viticulture & Enology) certification, which incorporates the health and well being of Oregon's aquatic life and food system. This certification has stricter standards than most others, including the banning of all copper on the vineyard's property. This isnt taken so seriously that Al McDonald, the original planter of Evening Land's Seven Springs vineyard, was even one of LIVE's founding members. Both the tasting room and Vineyard are currently open for tastings, and we at The Dundee Hotel would love to host you!
Evening Land's recently renovated space provides relaxed and chic environment, perfect for exploring their award-winning wines.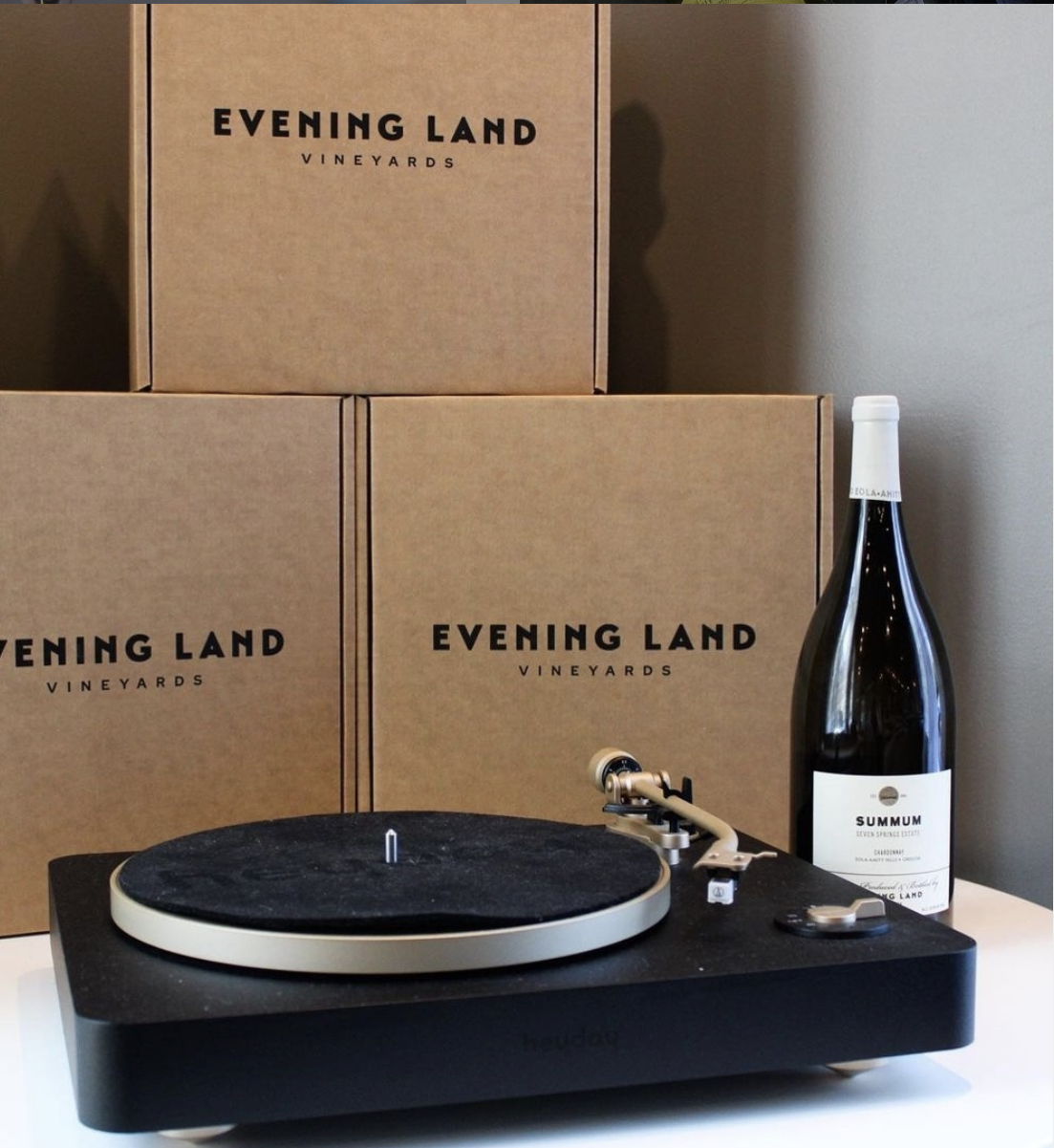 Evening Land is known for its hands-on approach to their vineyard, which in turn allows a hands off approach in the cellar.
With plenty of reading material, a record player, and incredible wine, Evening Land's tasting room is a great place to spend the afternoon.