F. Scot Fitzgerald once said, "Too much of anything is bad, but too much Champagne is just right." Well, we at The Dundee happen to agree, which is why we've created the "Sparkling Package," our newest wine experience showcasing the bubbles of the Willamette Valley. Oregon might be famous for its Pinot Noir, but there's nothing quite like the refreshing, crisp bubbles of a sparkling wine to round out your PNW experience. With so many established Oregonian wineries investing in the future of sparkling wine, this is an exciting time to visit this region and discover what happens when Willamette grapes– grown from our famous Jory soil are kissed with the gentle sizzle of carbonation.
"A full day's adventure with the focus being champagne, what more could you want?"
-The dundee Guest
This full day adventure begins like any magical day should: with a secret garden. At 10am arrive at Pollinate Flowers, and experience what Oregonians mean when we talk about local, fresh, and organic food. Jeremi, John, and Zach have created a truly special environment where you can learn first hand how bio-diverse ecosystems support each other. At Pollinate, the job of the farmer is not just to grow a food forest and flora, but also to provide space and time for nature to do its work uninhibited. Marvel at the purposeful chaos and expert planning that they've cultured so that various species of flowers, trees, herbs, and fungi can communicate with each other, going as far as sharing water and resources through their vines and roots.
Pollinate teaches us how anyone can garden if they learn the right techniques which enable them to listen to the land. Watch the various species of bees, bluebirds, and insects protect the foliage so that no pesticides or herbicides are needed. After your tour of the garden, you will have the opportunity to pick from the plethora of edible herbs and flowers available to you across the property.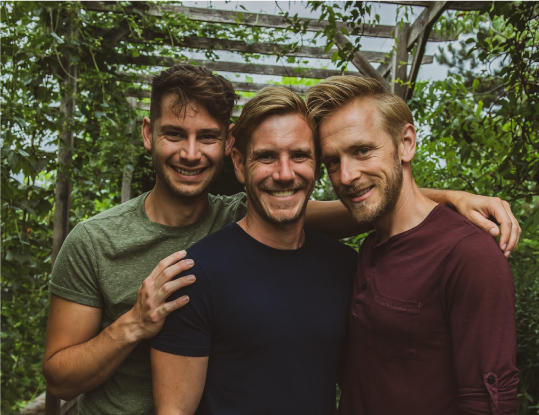 Zach, John and Jeremy, founders of Pollinate 
Pollinate also creates all of our floral arrangement "add-ons" for our guests!
Once you've collected your fill, hold onto your box of foraged treasures because your next stop is Furioso Vineyards, where the amazing staff will take your garden goodies and add them to a personal wood-fire pizza, courtesy of Wooden Heart food truck. You cannot get any fresher than this! However, there is one thing that would make this moment better, and that is Furioso's 2017 Spirito Brut Rosé: a bottle of bubbly that is reserved EXCLUSIVELY for Dundee Hotel guests participating in the "Sparkling Package." (That's right, folks! You can't buy this wine. It is reserved for this tour only, and it is simply divine.) Feast on your one of a kind pizza while sipping bubbles with an unparalleled view of the Willamette Valley. Both inside and outside seating are available, with win-win vistas and the opportunity to feel as if the real world is light years away.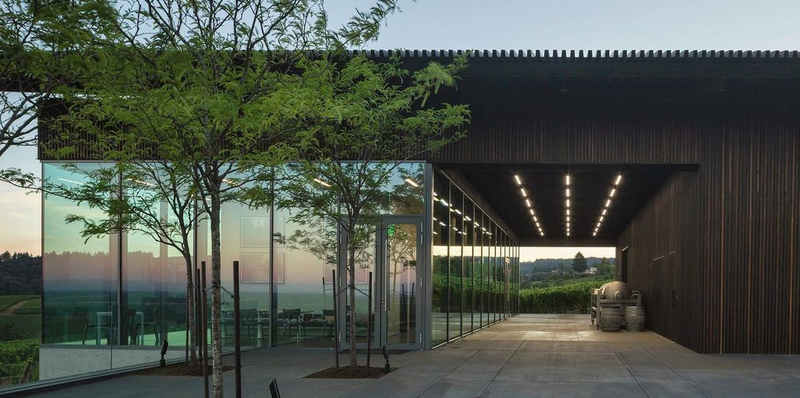 The stunning tasting room at Furioso is the perfect setting for enjoying more bubbly.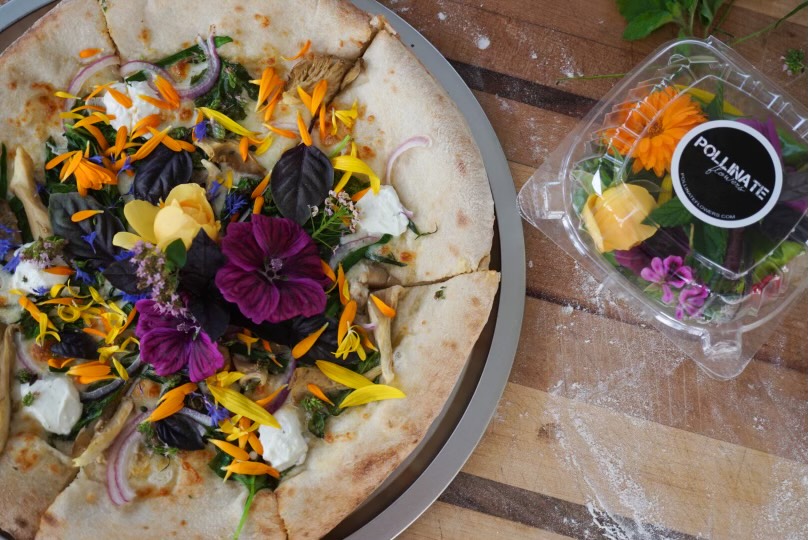 Custom made pizzas created specifically with the herbs and flowers you picked at Pollinate.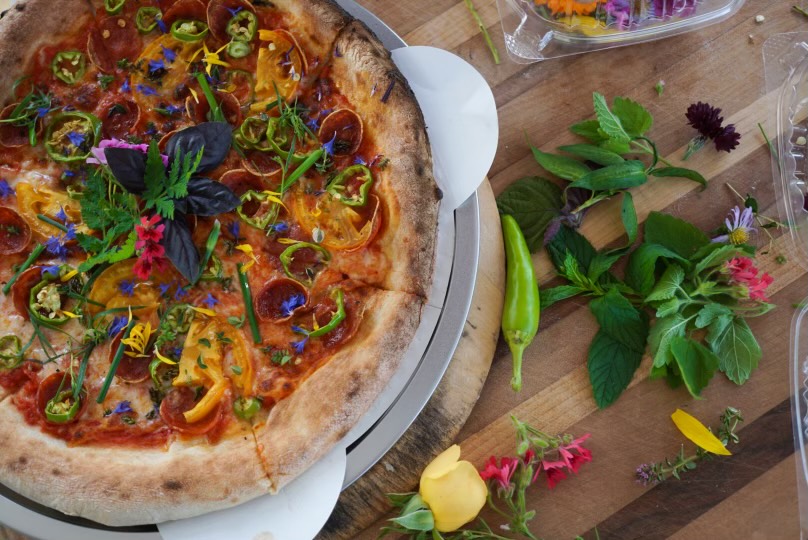 Appreciate your masterpiece, a personalized pizza experience!

Yet this is a day of sparkles, which means there are many more bubbles to sip! When finished with lunch, head to your first of TWO elevated tasting experiences, this time at Argyle Winery, perhaps the most well known spot in the Willamette Valley for sparkling wine. Enjoy a flight curated specifically for this experience package, and sip the best of what Oregon has to offer, including a taste of all three traditional sparkling wine grapes, and then some!
Argyle refers to their tasting room as a "living house," emphasizing their philosophy that wine is meant to be shared and enjoyed, and that the only bad question when it comes to tasting is, "the unasked question." If that wasn't reason enough to get excited, Argyle is also a fan of all things traditional, which means that their wine is naturally carbonated, using only the present yeast in the wine to create bubbles (not unlike how baking bread produces pockets of air… It's the yeast!). At Argyle, no carbon dioxide is ever artificially added. No wonder Argyle has been requested by multiple US Presidents to serve in the White House.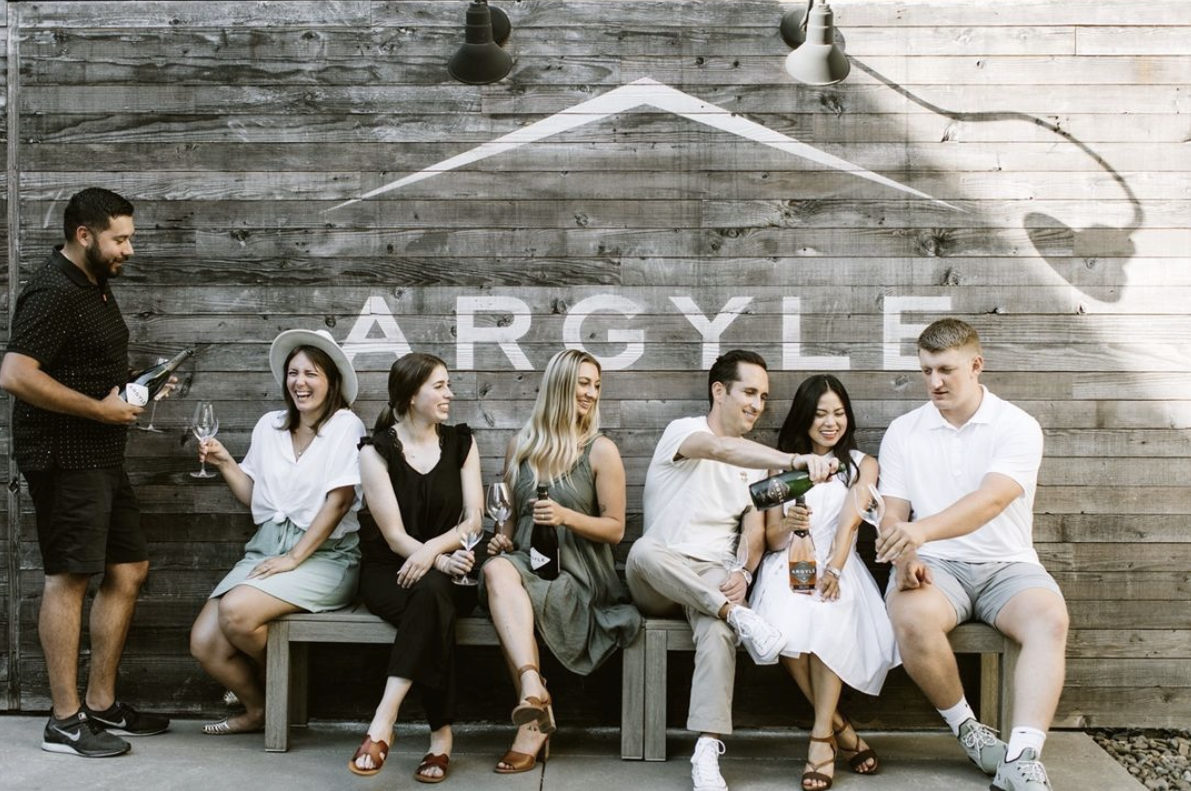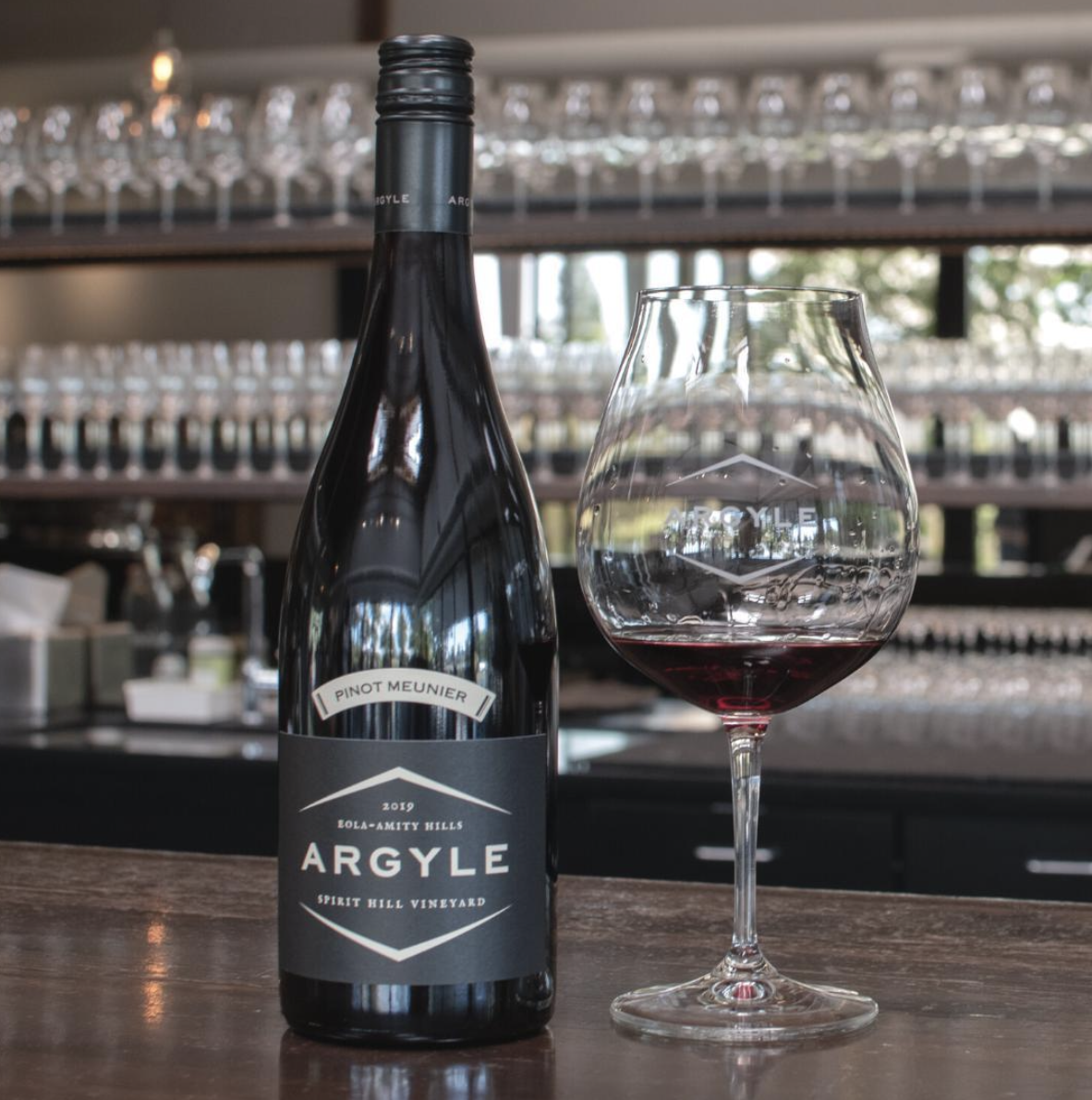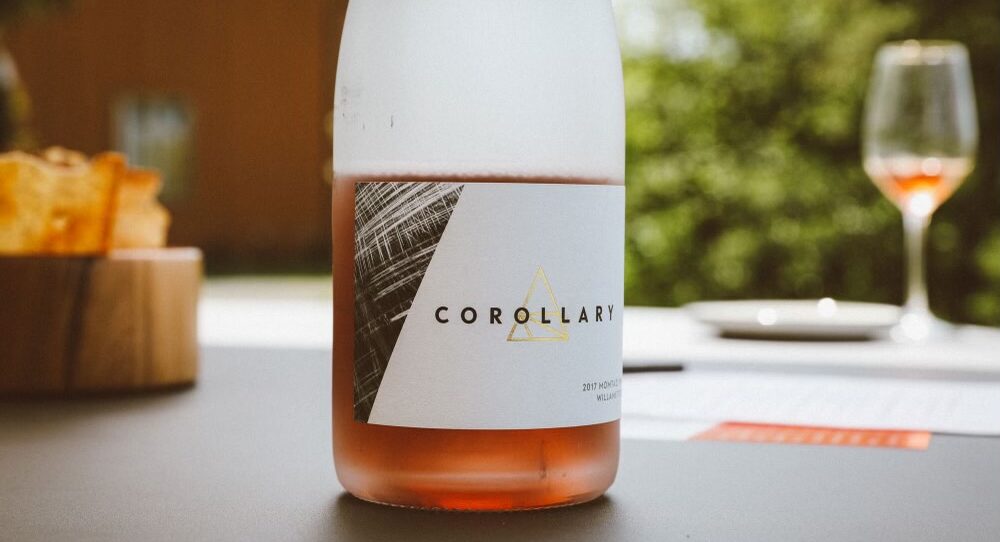 Next on your tour is Corollary Wine, where the most important part of making sparkling wine is listening to the land, and prioritizing sustainable, eco- friendly practices. "It's the right thing to do," Corollary believes, "and we think it makes the wine taste better too." There is something also very understated about Corollary and its ability to let the grapes speak for themselves. Their goal is simple: "Finding the very best grapes- and then staying out of the way as much as possible." This takes time, respect, and patience, and that's what Corollary focuses on. "We are committed to letting our wines develop at their own pace," their website states. "Good things come to those who wait."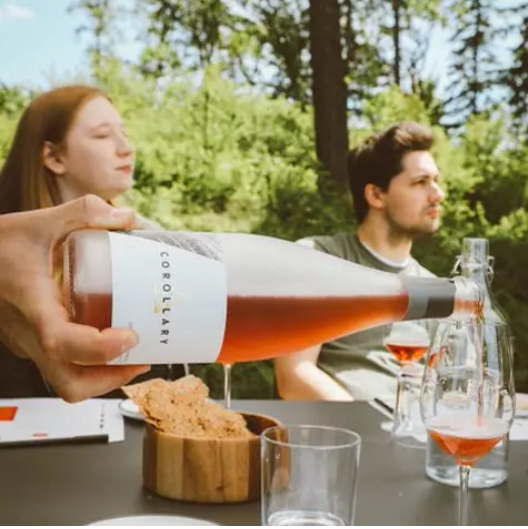 Corrolary Wines is a must try for the sparkling obessed, with their thoughtful approach in wine-making and their dedication to creating the best sparkling wines.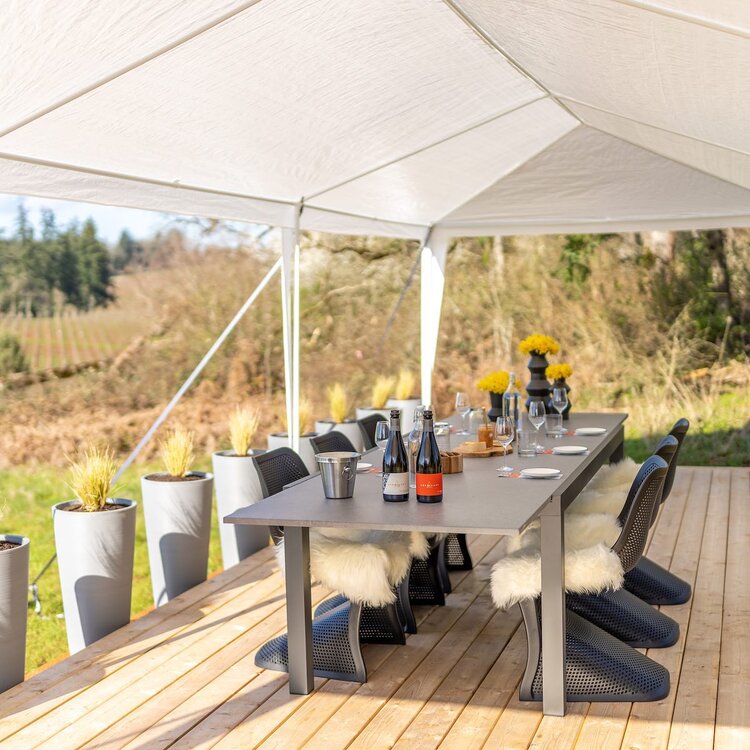 With a beautiful outdoor patio setting guests are in for a delightful treat in a tranquil environment.
Alas, good things must also come to an end, but we at The Dundee would never let you return home empty handed, which is why a taste of one more spot remains. At the end of your tour, you will receive a bottle of bubbles from Evening Land Winery, gift-wrapped to take home (or drink in your room later on in the night). Be careful though that all those bubbles don't lift you right up into the sky. After all, we at The Dundee would love to see you back here again soon!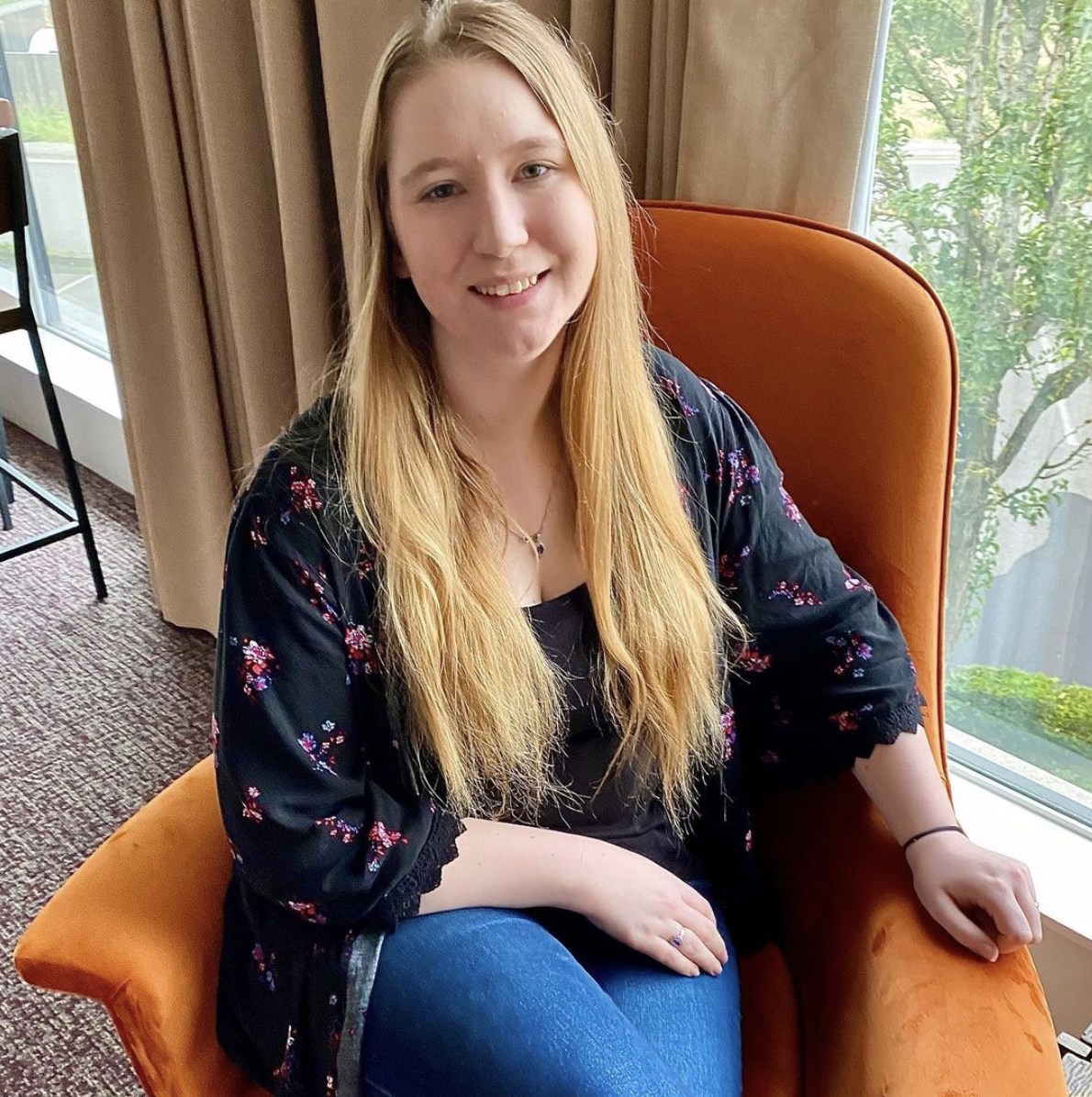 Interested in booking?
Meet Melanie, Our Package Specialist for the Sparkling Package! By sending her a quick email, you can coordinate your next Sparkling Adventure.
For Inquiries and Booking, please contact Melanie at melaniedundee@gmail.com