The Willamette Valley is known for our world-class Pinot Noir and Chardonnay, but there is a whole other world of local treasures that nourish and ripen within our soil. One of the most exciting and upcoming industries in Oregon is a famous culinary delicacy: the Oregon truffle. That is why we are so excited to share our recent conversation with truffle hunter, Ava Chapman about her love for truffles, the benefit of hunting with dogs, and her work with the Truffle Foray at Knudsen Vineyards. Ava, along with her Truffle Hunting dog, Joey are two-time winners of Joriad, North America's truffle-hunting dog championship.
A truffle hunt in action! The forests of the Willamette Valley are the perfect climate for truffles to grow.
First and foremost, Ava suggests visiting the website for the North American Truffling Society (NATS) in Corvallis as an unending resource for all things truffles. The NATS is a year-round non-profit organization and a great way to keep track of upcoming events, classes, and festivals. Ava also recommends checking out a book NATS publishes called Field Guide to North American Truffles, which is invaluable for all truffle enthusiasts wanting to take their knowledge to the next level. And if you're interested in Oregon-specific events, a final resource worth noting is the Oregon Truffle Festival, which is one of the country's most esteemed annual events.
Ava, is clear to make the distinction that she is a truffle enthusiast, rather than a truffle expert. This distinction is important because while an expert in the field takes years of dedication, anyone can be a truffle enthusiast and learn how the truffle-hunting process works. For Ava, this is a labor of love, not a full time business, and her goal is to promote the truffle industry in wine country, helping it grow with the help of her faithful companion, the adorable Labrador Retriever, Joey.
Joey, the acclaimed truffle-hunting dog!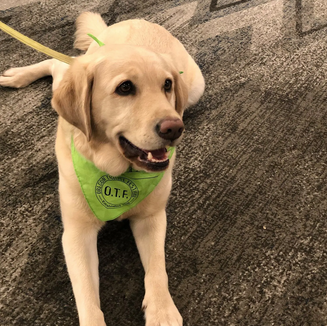 Joey with his stylish Oregon Truffle Festival bandana!
Joey, along with Ava, guide "truffle-curious" guests for the Knudsen Truffle Foray.
Now, you might be thinking about the different ways to hunt a truffle. The film "Pig" with Nicholas Cage focuses on the importance of Truffle Pigs, while other films show individuals raking for truffles in hopes of finding a surprise bounty. Ava, however, explained to me the reasons she believes truffle-smelling dogs are the way to go (outside of the fact that they're adorable, obviously.) "They're trained to sniff out only culinary truffles," Ava said. "That helps you catch more of what you're looking for, while leaving the ones that aren't ripe in the soil." This helps the land, because most culinary truffles need to be eaten to reproduce. "People will go out into the forest with these long rakes (4-5 inch tongs) and start raking the soil up. In so doing they will discover truffles. But in so doing, they also collect everything that's there, increasing the potential for tearing up the tree roots and damaging the truffle patch." It turns out, because truffles are underground fungi, they need fungivores (squirrels, voles, deer, foxes, sheep, skunks, elk, and bears) to dig truffles up, ingest them, and then excrete them in order to reproduce.  That's how they spread their spores. So if someone rakes up the entire patch there's nothing for the fungivores to eat, and the patch will no longer produce new truffles. This is where the dog and handler come in. The dog is trained to find the scent of only ripe truffles and the rest get left. So in a sense, you have truffle dogs to thank for keeping the supply up.
The relationship between dog and handler is a special one, as one is constantly learning from the other. "We train the dogs to hunt truffles," Ava said. "And at first, you know everything. You have to tell your dog 'this is how we work, this is the scent you need to follow, this is what we expect from you and this will be your reward.' The piece that is difficult is when you go into the woods. Now the dog knows everything and you know nothing. It reverses. That's why it's a team. You learn to watch the dog's behavior and respond accordingly."
Once Joey was trained to find truffles, it was time for Ava to track down the supply. "That's what I've been working on," Ava said. "Finding properties with supply." And when it comes to the United States, Oregon is proving to be an ideal spot. It's in the forest, on the west side of the Cascade Range, with a large population of young Doug Firs. "Truffles are all around us," Ava said. "But finding a really good truffle patch gets more specific."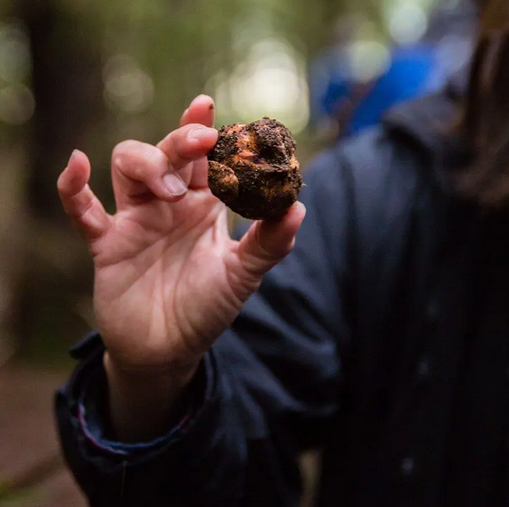 The coveted Oregon Truffle! The Oregon Truffle Festival is a great way to learn more about the dynamic world of Truffles (photo from OT).
As I spoke with Ava, I started wondering why all of this work was required. After all, couldn't we just grow truffles ourselves? Turns out, it's not as simple as that.  "Since truffles are underground," Ava explained, "they don't photosynthesize, so there needs to be a relationship with a plant. That plant has to agree with the truffle. There must be a symbiotic relationship underground. Without that plant, the truffle receives no sunlight and no sugars." Now, here in Oregon, Dr. Charles Lefevre (truffle expert and forest mycologist) is working to successfully inoculate truffles. This includes finding plants that truffles will essentially bond with, forming that symbiotic relationship. "He takes the tree roots," Ava said, "(Douglas Fir or Hazelnuts in Oregon), does his magic of inoculation and plants them in orchards for truffles." But that task is not easy, and at this particular time, inoculation has only been successful with the French Black Truffle, and not the Oregonian truffles. Fingers crossed though, as the future of truffles could not be in better hands than Charles Lefevre's.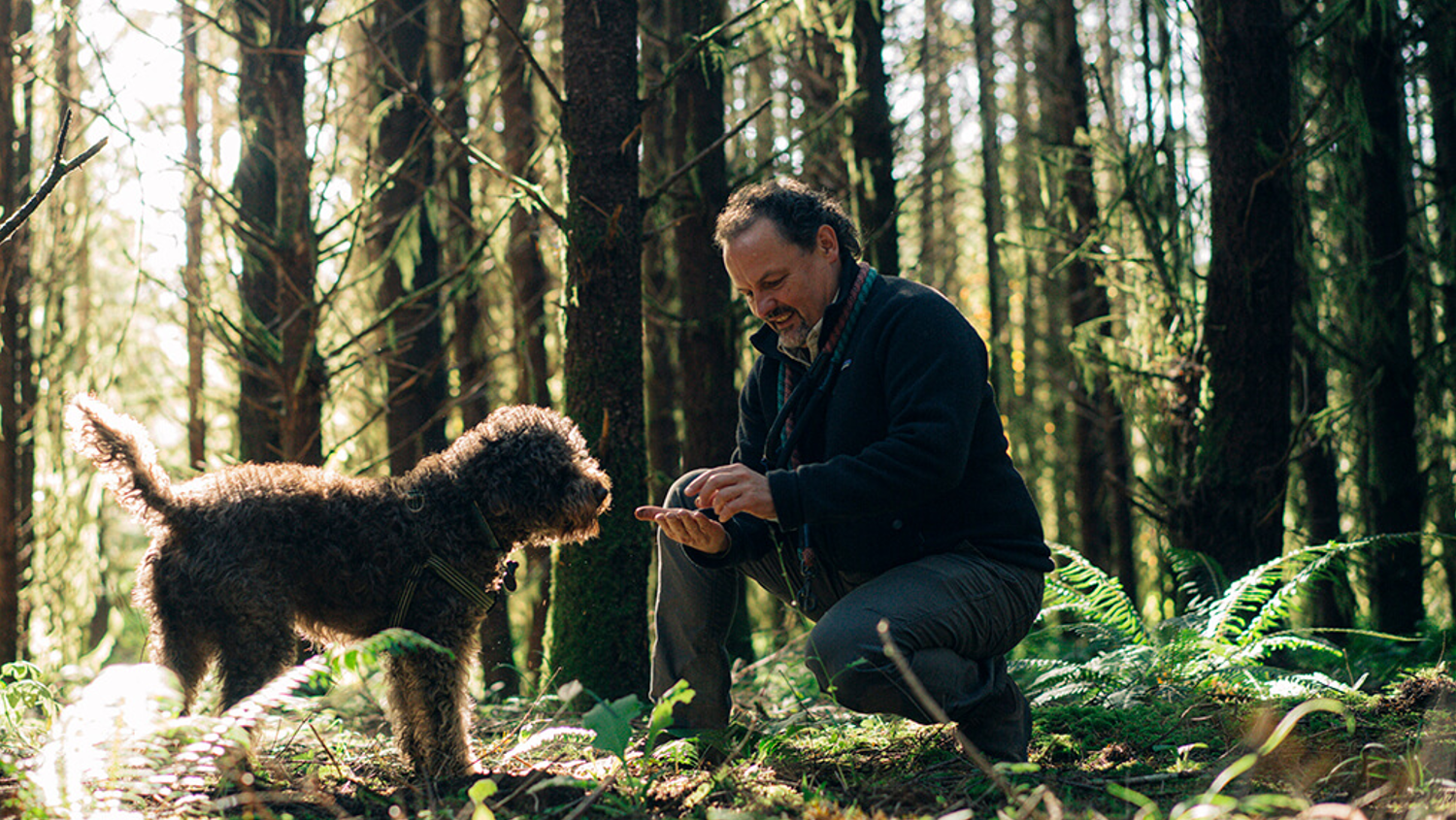 Dr. Charles Lefevre, truffle expert and forest mycologist
So now that we know a little more about truffles, let's dig into the Truffle Foray that Ava participates in through Knudsen Vineyards. The Foray takes place twice a year, usually in January and February, and the event includes a wintery walk through Knudsen's property and (no shocker here) a hunt for truffles. Ava and Joey lead the way, allowing each guest to be as much or as little involved as they like, and a gourmet 4 course truffle-themed lunch (with wine) finishes up the experience. Ava will tell you more on the history of the Oregonian truffle, the importance of identification, how to hunt safely during the pandemic (masks are worn, and guests take turns digging to keep socially distanced, etc.), and why the best way to handle a truffle is by putting it in the hands of a talented chef. While it is not guaranteed that you will find truffles, the truffle-themed lunch is included either way, as is the excitement and experience of hunting something hard to find. You can also check out The Dundee website for the combo package that includes the foray and two nights at The Dundee.
Knudsen Vineyards has sweeping views of the Valley and Mt. Hood, surrounded by forest, it is the perfect spot to experience both Oregon wine and Oregon truffles.
If you're now thinking, "Why Knudsen?" I'm so glad you asked! Knudsen has been producing fruit in the Willamette Valley for decades, and yet in order to help with the biodiversity on the property, Knudsen has kept some of its surrounding property untouched, even by vines. That has given the land plenty of time to create those symbiotic relationships between truffle and tree. Beyond that, Knudsen doesn't use any pesticides, herbicides, or sprays on their grapes, which would ruin the mycology of the truffle. Knudsen property is also home to many Doug firs, which are an ideal bonding choice for a culinary Oregonian truffle. Add the heavy duff and sword ferns on the property (which shows the soil is dark and moist enough) and you have a recipe for an exciting foray through the forest. Yet keep in mind that part of the thrill is also not knowing. It's getting your hands dirty (if you choose to) and searching the soil. But if truffles are there, Joey will find them, and with Ava's guidance, Joey will show you just where to dig them up.
It's important to note here that guests don't keep the truffles found during this experience because it's important to first identify them and make sure they are safe to eat.  Properly categorizing each truffle also helps further research and study, as this is still a relatively new industry in the United States. Regardless of what you find, however, truffles will still be feasted on during the lunch following the hunt.
One other reason to attend a truffle foray specifically at Knudsen is the phenomenal convenience of the experience. Everything is done on the property. Everything is brought to you. No additional bus rides or side trips are required. And when you finish the hunt, the gourmet lunch following waits for you on the very same land, allowing you to enjoy the day at ease, without the stress of added travel. All tools and equipment for truffle hunting is also provided, so all you need to bring is weather appropriate clothing, (there's a chance you could get wet and muddy) and your most adventurous spirit.
The Truffle Foray at Knudsen Vineyards is a one-of-a-kind full truffle experience! Learn about truffles, hunt for them, and enjoy a "truffle infused" lunch paired with Knudsen's wines.
With all this talk about truffles, wine, and food, we had to ask Ava if she had a particularly favorite truffle. She answered without hesitation: winter whites, as they have a delicious garlicky taste and work amazing in truffle butter. If your mouth is watering as much as mine is reading that, I have some good news for you! Ava was kind enough to provide for us her truffle butter recipe (to the right). Just make sure to freeze whatever you're not planning to eat in few days following its completion, as it will last much longer that way.
Truffle Butter (the Ava Chapman way)
Finely chop (very finely) a winter or summer white truffle into high quality softened butter, your choice of salted or unsalted.
Mash it so it is well dispersed.
Then mash into a glass container and keep it in the freezer unless you are planning to use it all within two days.
Can be used on toast, meats, vegetables, etc. Basically whatever you want!
"There are many other truffle recipes to be found online for fabulous dishes. I like the truffle butter as any one can make it, even kids." –Ava Chapman
Truffles inspire many chef's in the Willamette Valley, you will see truffle inspired dishes on many local menus.
Finally, Ava shared with us her favorite aspect of the truffle-hunting world, and it isn't the aroma, taste, or even final yield of the truffles themselves: it's the community. It's the power this activity has to bring people together and form a relationship, just like the truffle and tree must have a relationship, and just like the handler and dog must have one too. The interest in truffles brings together people from all over and engages them to learn about the land, learn about food, and sit around a table savoring the moment as a feast is shared. "So much can grow from this tiny fungus," Ava said, and we believe she's the perfect person to show you how first hand. So check out the North American Truffling Society, the Oregon Truffle Festival, and the Truffle Foray at Knudsen Vineyards. We at The Dundee can't wait to host you and through all of your upcoming adventures!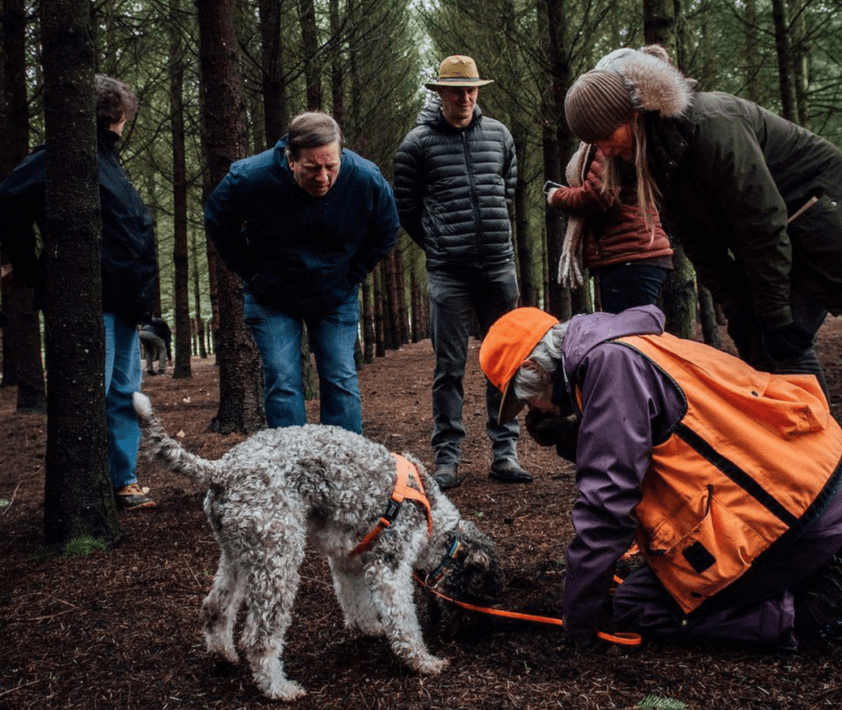 A group truffle foray at the Oregon Truffle Festival.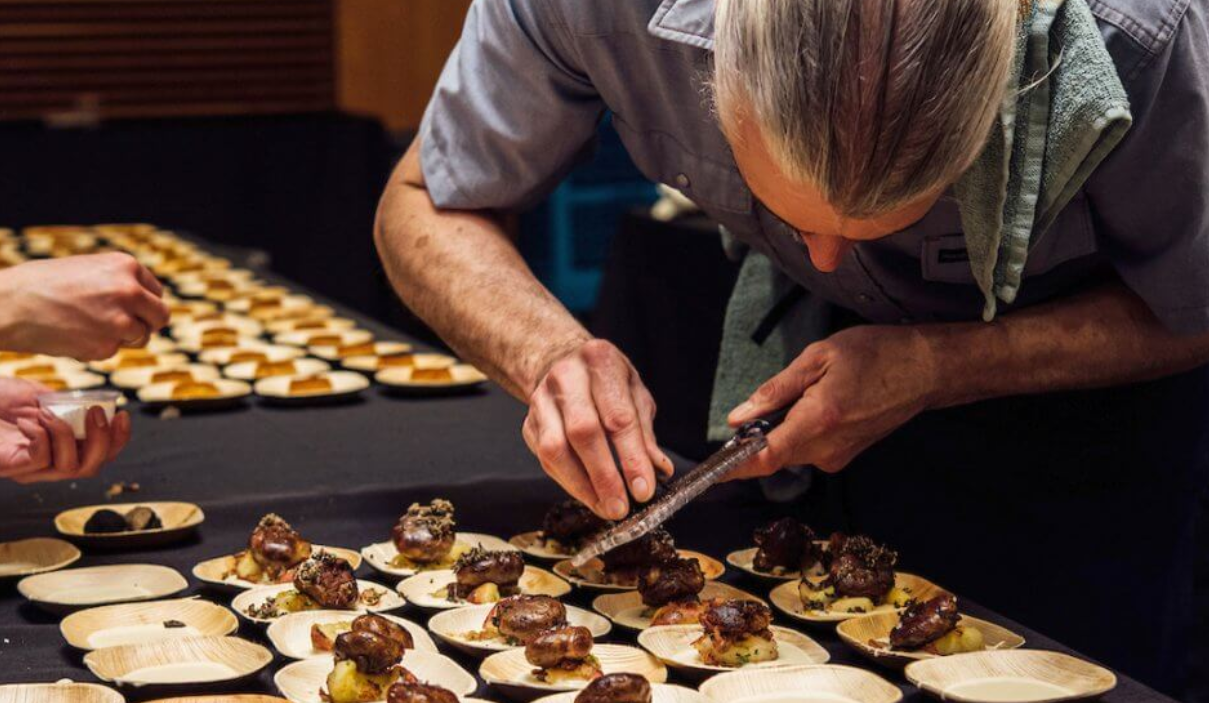 A chef prepares meals for the Oregon Truffle Festival attendees.