With so much wonderful wine in the area, sometimes it's hard to know where to start. So if you're hoping to learn more about wine before your next trip to the Willamette Valley, look no further! At The Dundee, we love to connect you with the expertise of the professionals. This week we were lucky enough to interview Michelle Kaufman, the Communications Director at Stoller Family Estate. We recommend reading her responses from start to finish with a glass of Pinot Noir in hand.
What is your role at Stoller Estate?
MK: I am the communications director for Stoller Family Estate. A Portland native, I earned my degree in journalism from the University of Oregon, focusing on public relations and communications. Prior to joining Stoller Family Estate, I served as communications manager for the Oregon Wine Board for six years. I currently serve on the Board of Directors for the International Pinot Noir Celebration, Willamette Valley Wineries Association, Chehalem Mountains Winegrowers, and associated marketing committees. In my role, I oversee all media relations and communications efforts for the Stoller Family Estate, Chehalem, Chemistry Canned Oregon, and History wine brands.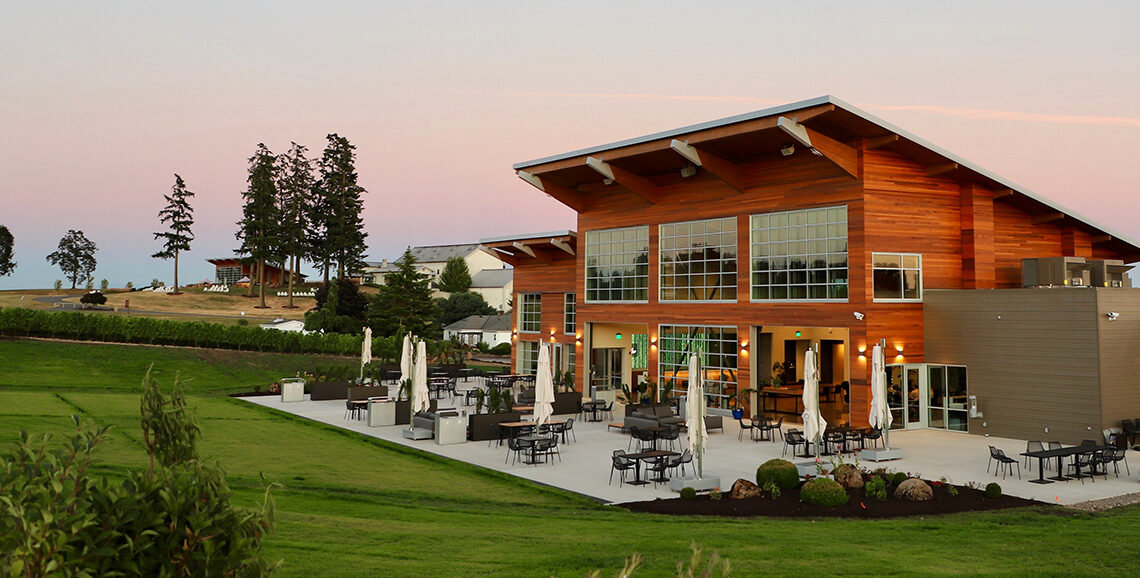 How has Covid 19 changed the wine business in the PNW, and are there any practices you've adopted that you think you'll keep afterwards?
MK: During the early days of the pandemic, we knew we were in uncharted territory and had to make the best decision for our guests, our employees, and our community. Our team immediately started idea-ing on how we could bring the tasting room experience to people since they couldn't come to us. Our team spent months of trial and error before launching our take-home tasting kits right before Thanksgiving. Each take-home flight features five of our favorite wines for $25 ($15 for club members). You can enjoy these flights with loved ones at home or on a Zoom with friends and family around the country. That's right! We can ship a tasting flight so you can share a fun evening with your favorite wine lovers for only $30 per flight, which includes ground shipping anywhere in the continental U.S.
What would you say is the narrative of Stoller?
MK: At Stoller, our roots run deep. The family established the property in 1943 and the vineyard 50 years later. Over the last 25 years, we have patiently transformed the 400-acre property into the largest contiguous vineyard in Oregon's Dundee Hills. We control every step of the wine-growing and winemaking process, from pruning to bottling and everything in between. The result is award-winning wines that are balanced, complex, and consistently exceptional.
Much has changed from the original Stoller family farm, but two things remain constant: our pioneering spirit and commitment to our farm. We continuously seek new ways to refine and protect our legacy so that it can thrive for generations to come. Our winery was the first in the world to receive LEED Gold certification, attesting that our winery is sustainably built and environmentally friendly. We are honored to be ranked on the USA Today 10 Best Reader's Choice, Best Tasting Room in 2016, 2018, 2019, and 2020, and Oregon's Most Admired Winery by the Portland Business Journal for six consecutive years.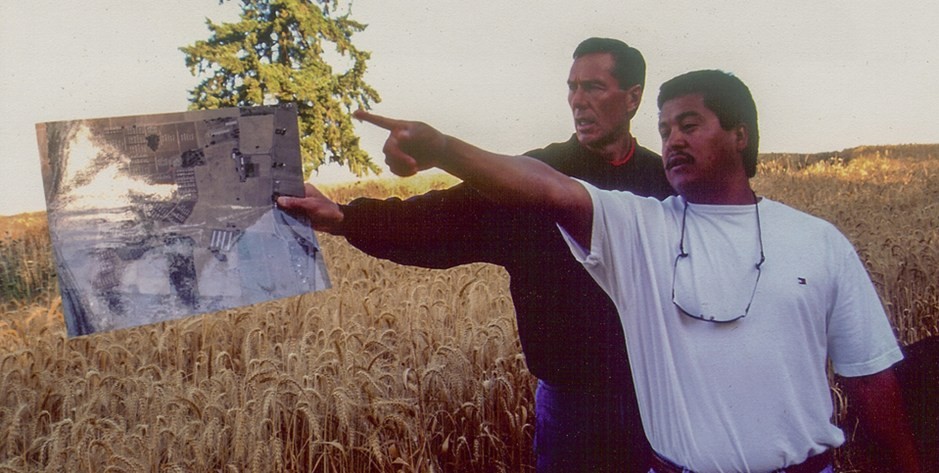 In 1993, Bill Stoller, founder and owner, purchased his family's farm with the dream of cultivating a world-class vineyard and became a partner in Chehalem Winery. Stoller produced their first vintage in 2001.
What is the process of promoting a new wine?
MK: Promoting a new wine is always a fun process! We start by tasting the wine with the winemakers to develop the tasting notes and technical information sheet. Then we taste the wine with our tasting room team and learn from our winemakers about it. From there, we release the wine to our club members, followed by the general public in the weeks to follow. Depending on the wine in question, we will send it out for reviews and scores, promote it on social, and do fun email and SEM campaigns around the release as well.
What do you think makes the wine in the PNW special?
MK: As a native Oregonian, I never truly appreciated how special the Pacific Northwest was until I lived elsewhere. Our agricultural bounty is endless. Our outdoor activities are literally only a car-ride away. There's a saying, "what grows together goes together," and now that I work in wine, I can appreciate this sentiment to its fullest.
What is your relationship with the winemakers?
MK: To help tell the story of each wine and capture the little nuances of each vintage.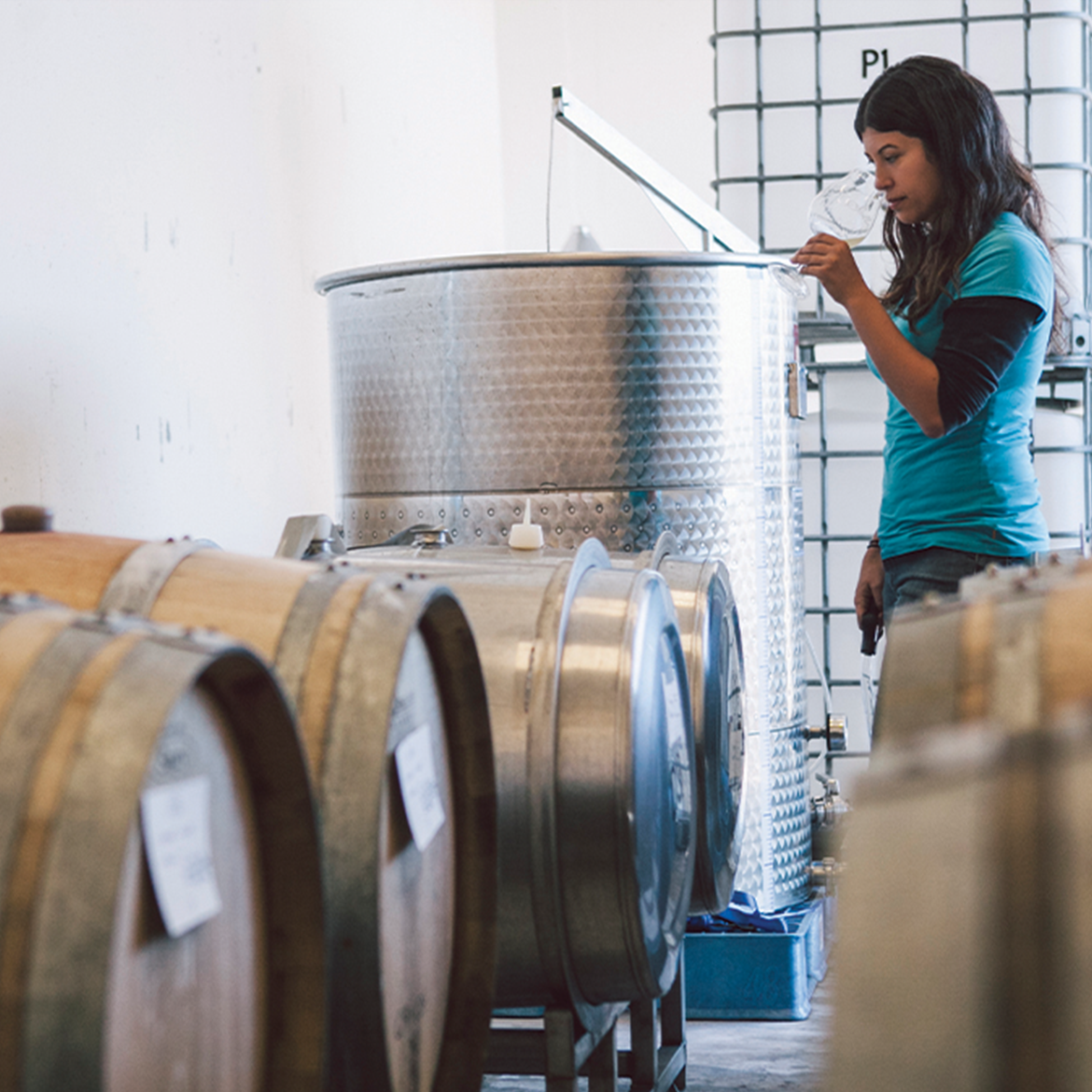 Stoller's Pinot Noir spends approx. 10.5 months in oak barrels before it is blended and bottled.
What sets Stoller apart from the other wineries in the area?
MK: Our history. It's unusual in the Oregon wine industry for one piece of land to be the same family for as long as the Stoller family has farmed ours. Growing up on the family farm has created a deep connection to our land for our owner Bill Stoller, and it's our driving force. He once said he wanted to build a company to last 200 years and to do it, we must take care of our land, our people, and our community. That philosophy empowers each of us.
What is Stoller's flagship wine? And what is your personal favorite wine?
MK: Our flagship wine is probably our Dundee Hills Pinot Noir. The wine is truly a mosaic of our estate, including fruit from all the Pinot clones that we grow, all the vine ages, and all the elevations where it's planted. The goal of this wine is to represent Stoller Pinot in a glass.
My favorite wine is Helen's Pinot Noir. Growing up, Aunt Helen's fresh-baked pies (made with fruit grown on our estate) were Bill Stoller's favorite. He named this Pinot Noir after her because it's made from some of the oldest sections of the Wädenswil clone of Pinot Noir, which tends to be more elegant with bright red fruit and baking spice that is refined and reminiscent of her cherry pie. As a fun aside, you can come visit and stay in our Estate House, which is where Aunt Helen used to live.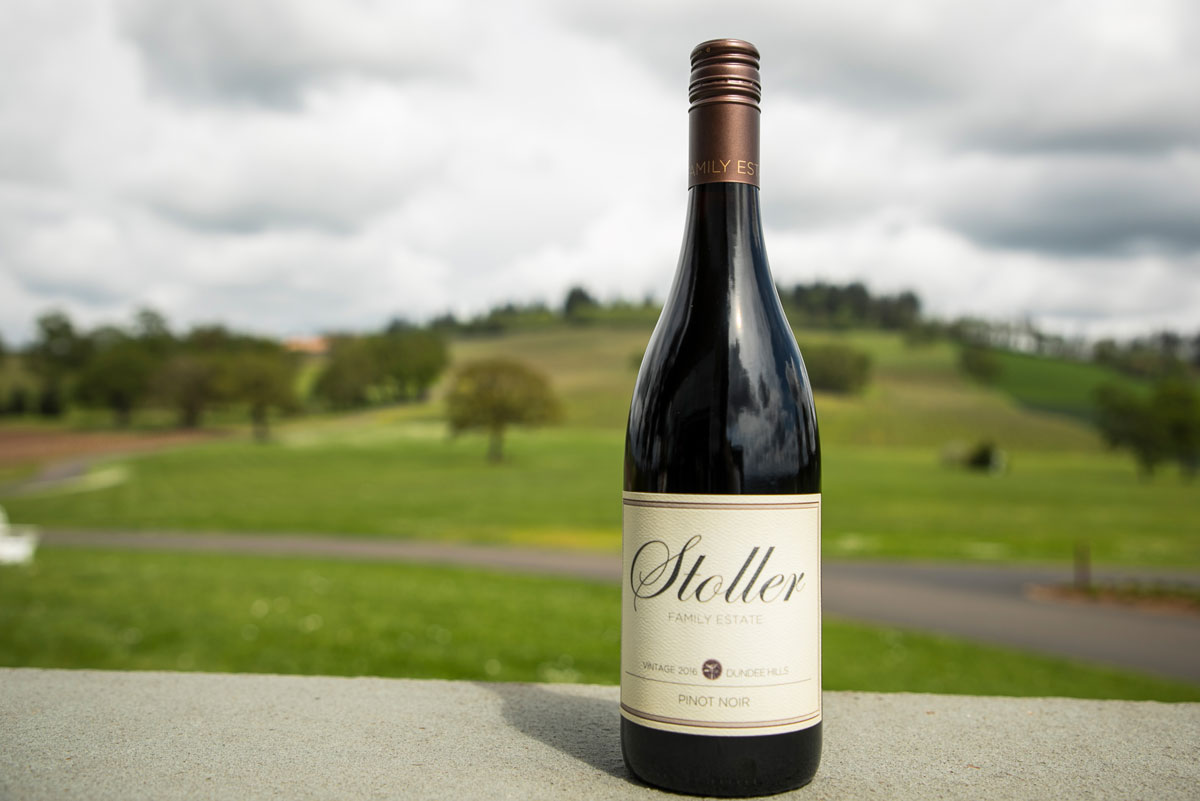 Stoller's flagship wine, Dundee Hills Pinot Noir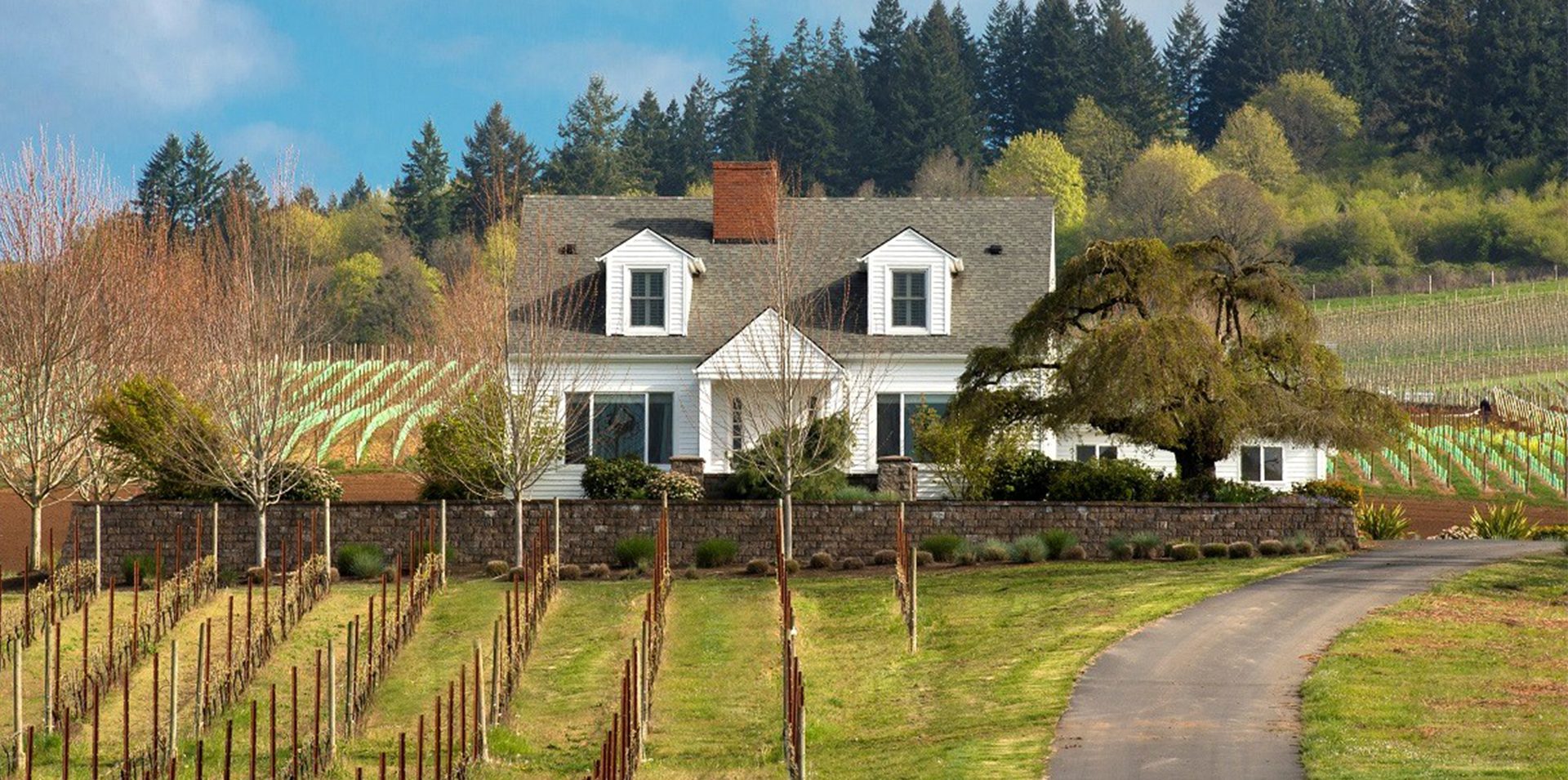 The Estate House, where Aunt Helen used to live
What would you say is your funniest, strangest, or favorite memory of working in the wine industry?
MK: When I started in the wine industry 10 years ago, I really didn't like Chardonnay, though to be fair, I wasn't drinking or buying good Chardonnay either. During my interview with the Oregon Wine Board, my soon-to-be boss asked if I liked wine, and my response was yes except for Chardonnay. Charles then had the biggest laugh and simply said, "We'll get you a good one!" Needless to say, he did, and I LOVE me some Chardonnay, oaked, unoaked, and everything in between.
What do you think is the biggest wine faux pas?
MK: Being closed to trying new things, though I think this is trey for life and not just wine. Sometimes people have preconceived notions of what they like (or don't), and they can miss out on something extraordinary. See my answer above as an example.
If you could name your own wine, what would it be?
MK: Oooh, good question. I haven't ever given it much thought. My three cats are all named after characters in T.V. show, so maybe I could pull on that thread.
Stay up to date with the latest from Stoller on their blog and their video library. We loved this brilliant video from Stoller when they opened back up for wine-tasting this summer!
Planning your trip to The Dundee? We recommend scheduling a tasting appointment at Stoller, or adding a Stoller Tasting Kit to your reservation, so that it is waiting for you in your room!
Stoller Family Estate is currently open daily for tastings as well as curbside pickup. Make sure to say hello to Michelle if you see her at the winery, and bonus points if you find out the names of her cats!