If you are an experienced Oregon Wine Country visitor, then you've probably heard that good wine starts with good grapes. Well, the same can be said for our famous PNW cuisine. Good food comes from good products, and Dundee is brimming with delicious local eateries. However! Why limit your experience with these local flavors when you can bring the taste of Dundee home with you? Local products are great to take home, local products make perfect gifts, and nothing beats home cooked meals for your family and friends. That's why The Dundee Hotel asked their blog writer (hey, that's me!) to try making a meal using a variety of local products. Even though I am in no way a skilled chef, the meal turned out to be both simple and perfectly delicious. So now I am here to share my experience with you, provide the details of the products I used, and confirm that the gift of a meal made with top products can't help but put a smile on your face.
 The first thing I did was line up all of the products I had been given side-by-side so I could get a general sense of the flavor profiles I was working with. Here is what I had…
The Durant Olive Mill produces a selection of fused oils as well as traditional extra virgin olive oil.
Good wine makes everything better….cooking too!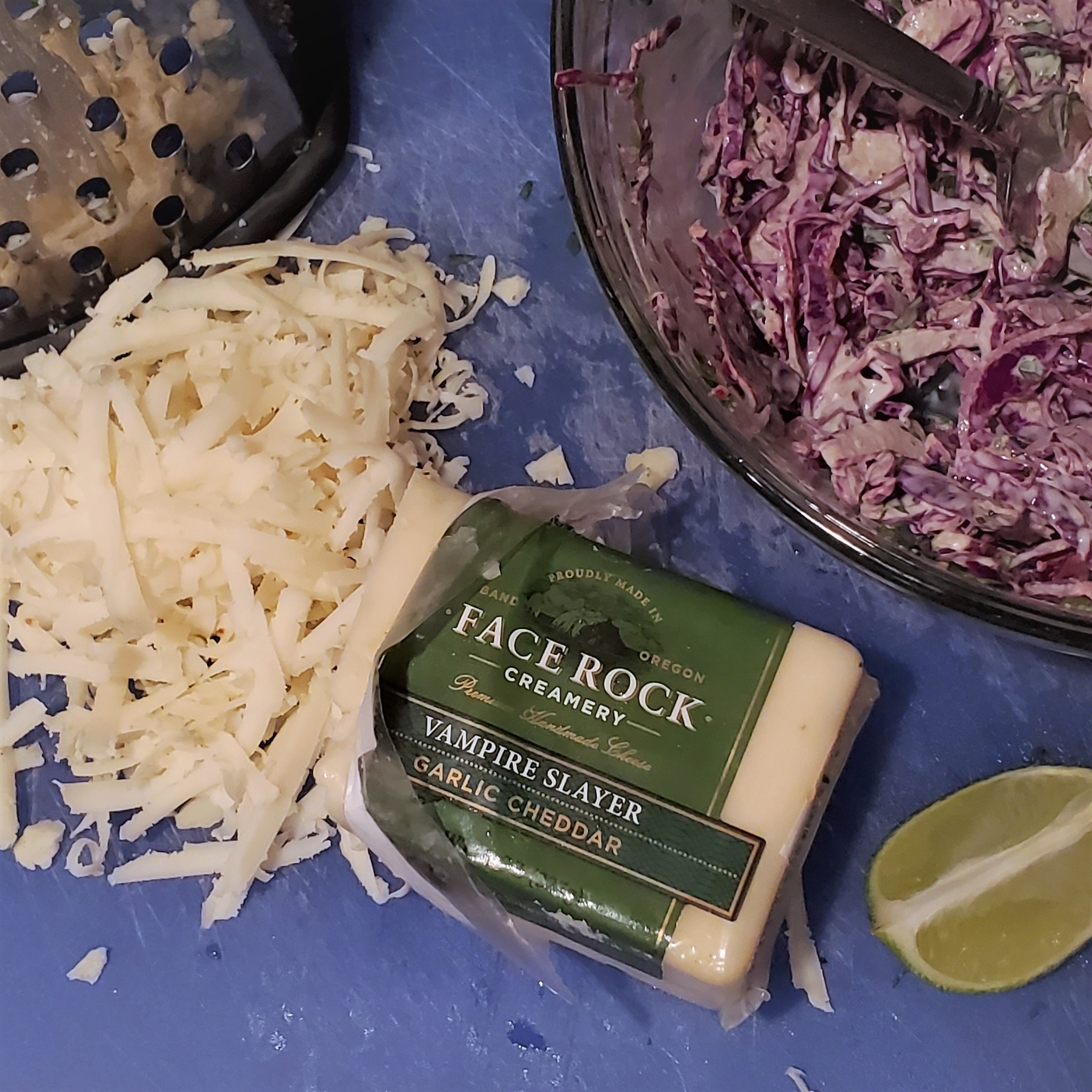 Face Rock is carrying on the cheesemaking legacy of the Bandon area, which dates back to the 1800s!
*It's important to note that while this is what I used, the options in Dundee and the Willamette Valley are endless, so you may choose to take your meal in an entirely different direction.
Nestled in the heart of McMinnville, NW Food and Gifts is great one-stop shop for a bounty of locally procuded foods, wines, and spirits. This March they celebrate 15 years in business!
Once I had all of my products lined up, I chose a few priorities in terms of what I was looking for in this meal. I landed on three things:
I wanted to showcase the ingredients, which means I didn't want to make it too fancy or hide the flavors with anything super rich.
I wanted to use as many of these products as I could in one single meal, as opposed to making a series of different entrées or desserts. 
I wanted to make something that didn't feel overwhelming (not a ton of equipment) or like I'd end up with a disastrous-looking kitchen at the end.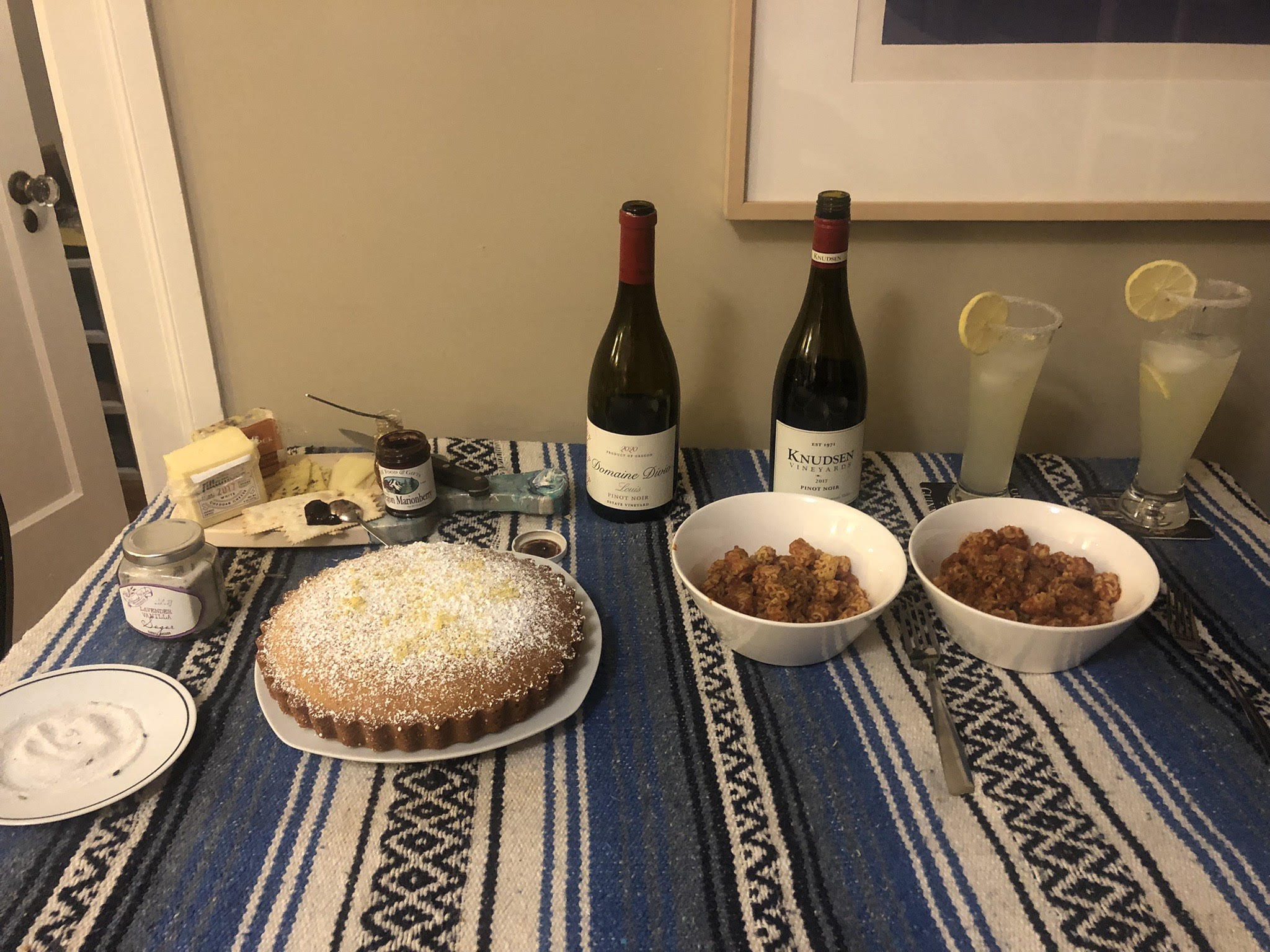 The finished product – a thoughfully crafted three-course meal highlighting Oregon made ingredients!
 In the end, I choose a cheese plate for an appetizer, a red-wine based pasta dish (with several local products included in the sauce) as an entrée, and an olive oil cake with marionberry jam and blackberry honey on the side for dessert. To top it off, I served chilled lavender lemonade with a lavender sugar rim alongside the cake.  The process was simple, taking less than 2.5 hours from the start of cooking to the end of dinner. I do want to note though that I had help, as a good friend of mine came over to assist with the process and share in the local flavors of Dundee (thanks Cherie Swain!)
With many local creameries and fruit farms to buy from a cheese plate is great way to begin a locally themed meal!
Once I looked up my recipes (which are posted in full below) it was time to double-check all of my ingredients. I don't know if you all have this tendency or not, but it seems to me like no matter how many times I write down a market list when it comes to cooking a fuller meal, I forget at least one thing when shopping and always have to go back to the store. So if you're trying this at home, now is the time to double check!  When you have your ingredients, there is another important step left to take. You have to put on your favorite apron and start a playlist that makes the kitchen feel fun. For me, I chose the "Itty Bitty Pretty One" Pandora station, but you can pick whatever makes you feel like cooking!
Grab some friends and turn up the beats! A home cooked meal is not only healthier but also enhances your creativity, encourages curiosity, and develops stronger bonds between you and those you are cooking with. 
When you are starting with quality ingredients, like Durant Olive Oil, it's hard to go wrong!
Apron on and tunes playing, I began with the cheese board. I cut thin slices of each cheese I had from the Willamette Valley, and I used the Knudsen Pinot Noir to create a fruit dip. I also used some of the marionberry jam and blackberry honey to create a few different sides to spread on the crackers. Caution though: don't get too full too fast! I personally kept the cheese plate in the other room as I cooked so as to ensure that I would still have room for the rest of my meal.
From sauces and marinades to candies, ice creams and cheeses, you can add wine to just about anything!
Fruit and wine are natural pair. Follow the recipe below and slice up your favorite fuits!
Next up, I started the olive oil cake. This particular recipe asked for ¾ cup olive oil, so in order to keep it from becoming over-citrusy, I used about 1/3 cup of the lemon olive oil, and 2/3-cup regular olive oil (don't worry, there's more lemon that comes in later on). The original recipe also asked for orange-infused water, but I didn't have any in my house (I always forget something!) so I skipped that part and ended up adding more lemon zest at the end. Also, I recommend using a cake tin for this that has a removable bottom so as not to damage its delicate look as you remove it from the pan later on. The star of this recipe is definitely the olive oil, so it's a perfect vessel for using a top brand from the Willamette Valley. With minimal sugar and flour, the olive oil is what brings this cake so much flavor while keeping its texture light and fluffy.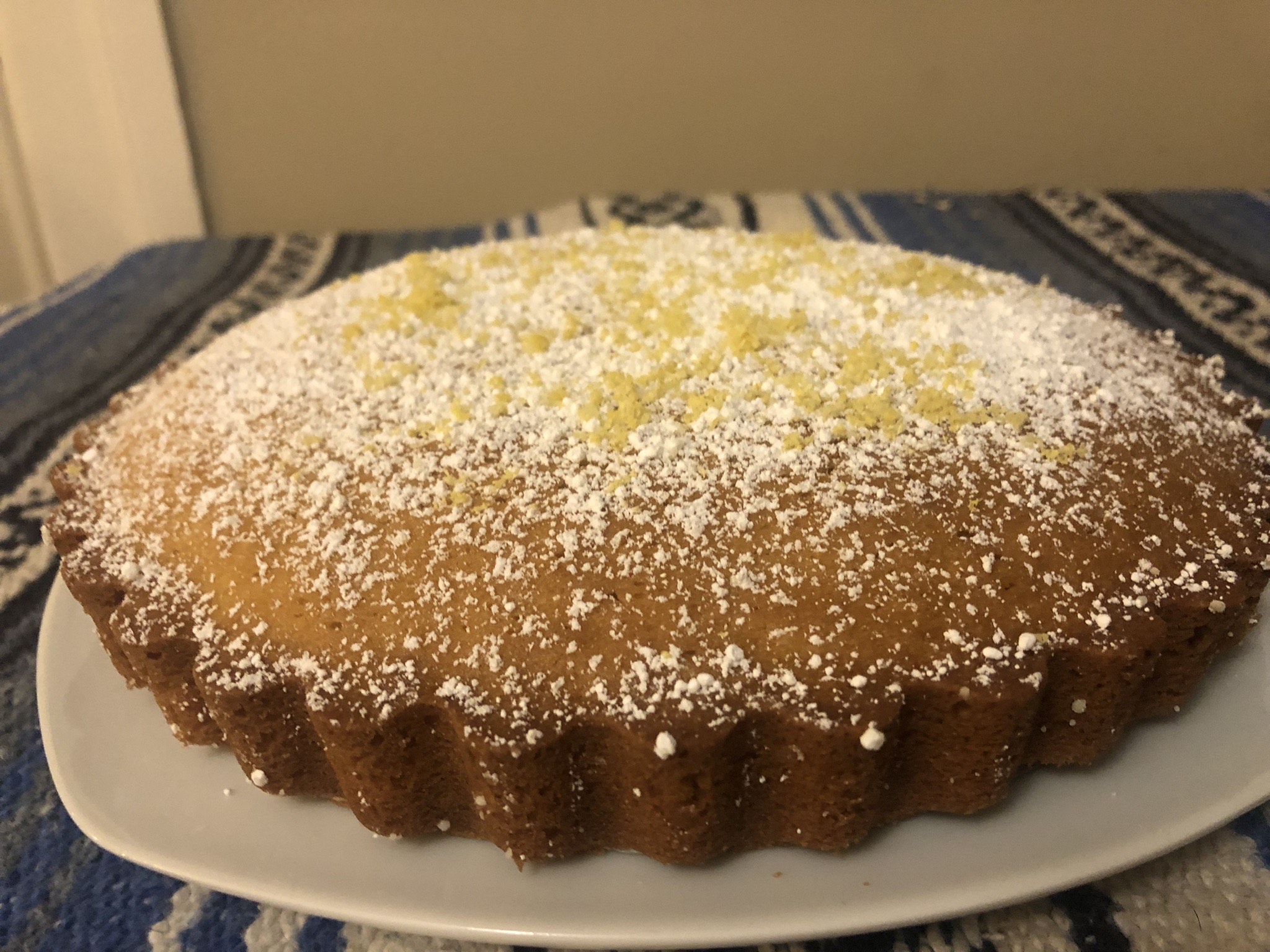 The lightly sweet and airy cake can be served with whipped cream, a scoop of ice cream, or macerated fruit to amp up the decadence.
Olive oil cake from Durant!
As the cake was cooking in the oven, it was time to start the pasta. While I included several local ingredients in this dish, the reason I chose it was that the star of the sauce is red wine. So don't be afraid to use something you really like. (It may sound obvious, but we've all been there, using the wine we forgot about last week and have to get rid of. This is not one of those times!) I used the 2020 Domain Divio Pinot Noir. The recipe asks for spaghetti but I chose radiatori pasta instead as I thought it would scoop up more sauce per bite. The other local ingredients I included were the cooking spice blend (instead of the straight oregano suggested in the recipe), the basil olive oil (this is key, as the basil brings out extra complexity in the sauce), the blackberry honey (this surprised me, as I had never used honey in a pasta sauce before, but it helps with the red wine reduction and thickens the base), and then finally I added some of the Face Rock garlic cheddar cheese as there is no such thing as pasta without cheese for me.
Note: I added the basil olive oil last, even after I plated the pasta, to keep that flavor at the forefront of the palate when tasting.
The staples of a great pasta dish – a hearty pasta that can hold up to thicker sauces; an oil that packs a puch of flavor; wine to add richness to the sauce; and a simple but savory tomato sauce!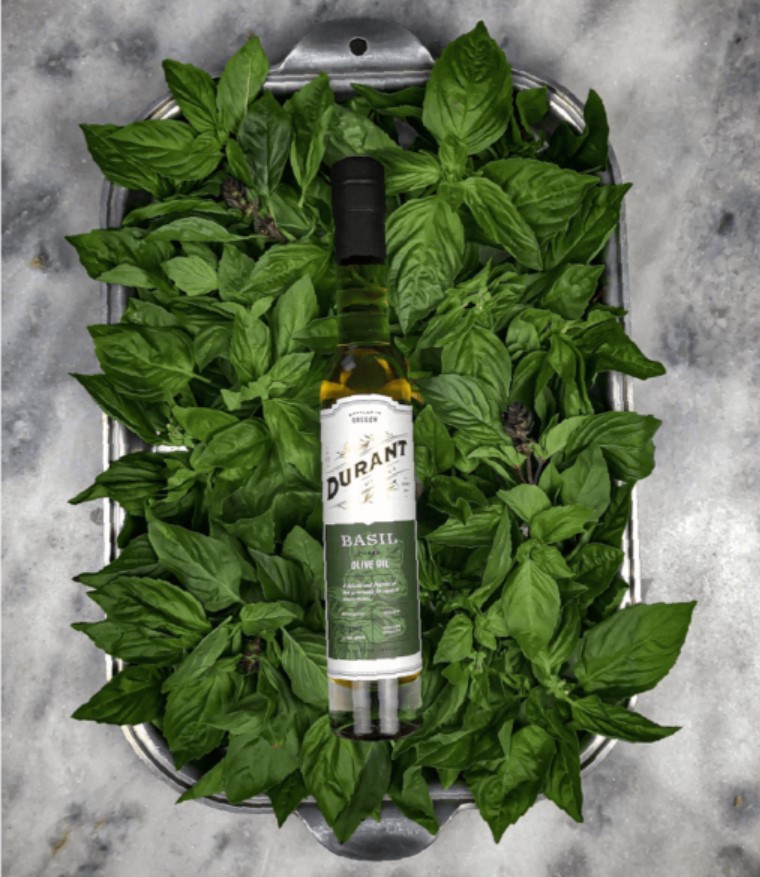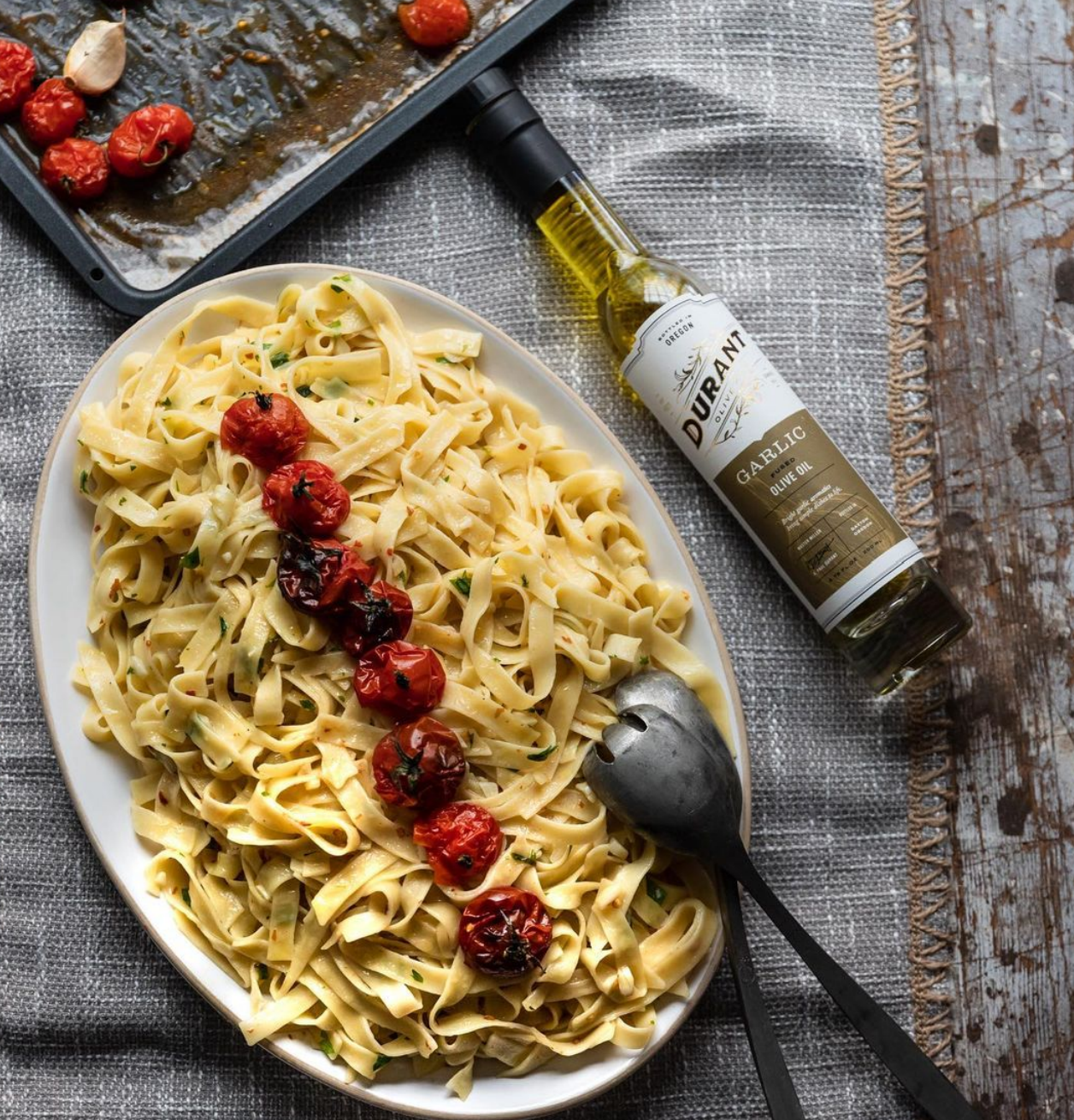 When the olive oil cake was ready and cooled, I dusted the top with powdered sugar and leftover lemon zest. I love this look as it's so simple and clean, but still somehow feels fancy and like you've put real effort into something.
It was then time to dine, and I was lucky enough to have two world-class Pinot Noirs left over to sip with dinner. But when it came to dessert, I figured this was the perfect place to include my local lavender sugar. I traced the drinking edge of two glasses with a lemon wedge before dipping them both into the sugar to create a thick rim. I then added some iced lemonade, along with a few fresh lemon wedges, and a couple of drops of lavender essential oil to pair with the olive oil cake.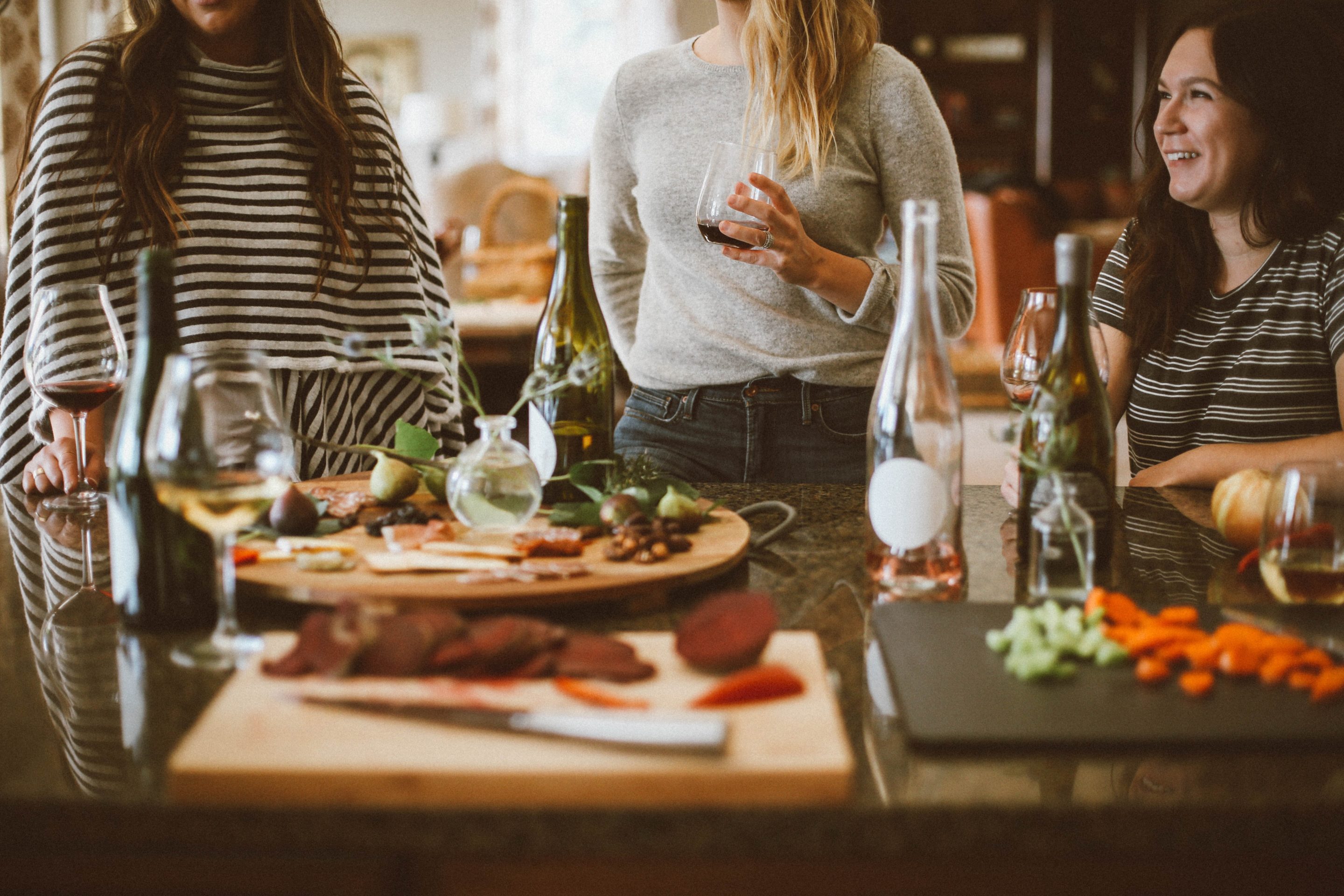 As you gather with your loved ones this season consider making a meal together – good food and good company is always a winning recipe!
Y'all… this meal was so good. I would 10/10 recommend the recipes I chose, but it's hard to imagine any recipe that wouldn't work with such delicious, local ingredients. So why not give it a try? Whether you're cooking for your friends and family, or for yourself on a night when you could use the warmth of a home cooked meal, nothing beats comfort food in the fall and winter. Just make sure to tag us if you post any photos, along with the businesses you supported by buying local in Dundee. We can't wait to see what you come up with!