The holiday season is upon us, and chances are you're considering what to get the special people in your life. We at The Dundee Hotel believe gifts can come in many forms: something to open, time put aside to spend together, an experience to try, or a small token that tells someone you thought of them. That's why we have put together a list of the top 7 gifts in the Willamette Valley. Varying in size, expense, and style, you can choose the perfect way to celebrate this season, whether you're telling a family member you love them, a friend that you'll always be there for them, or hoping to get a smile from your Secret Santa that you've only spoken to once at an office party. Whatever the need, we at The Dundee Hotel have you covered!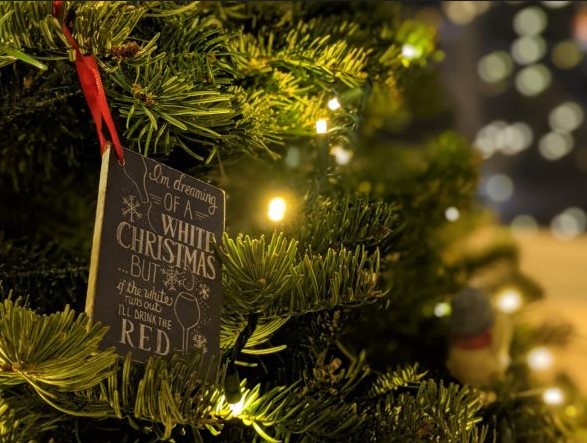 Whether you are shopping for others or a gift for yourself, Dundee has a wide range of gifting choices!
#1  A Stay In Wine Country:
Nothing says "the perfect gift," like one that takes up no room, involves no installation, and means getting out of the hustle and bustle of everyday life. That's why we've created a holiday catalogue filled with specials for staying with us throughout the year, making visiting wine country more affordable than ever. Plan a winter wonderland amidst the vines that have made the Willamette Valley so famous. Or if your holiday plans are already booked, surprise a loved one by planning a future trip in advance, conjuring a light at the end of the tunnel that is sometimes winter. Some of our holiday deals include multiple stays, discounts to local eateries, wine tastings, gifts, and more. We even have options for larger groups, accommodating family reunions, corporate trips, and/or holiday celebrations. And remember, there is no rule saying you cannot gift yourself with a mini-vacation. So treat yourself! Reserve a room, bring a book, and cozy up by a warm fire, sipping Pinot Noir and eating a locally crafted charcuterie board. Whatever the occasion, and whomever for, there are plenty of options for a Dundee Hotel stay around the holidays!
Here are a few recommended hotel packages, surprises, and add-ons for the holidays, but click on the link below for the full list of available options:
The Adelsheim Gift Box
Perfect for a present that includes a future wine tasting getaway
You have two sizes to choose from.
The larger includes two bottles of wine from Adelsheim (Pinot Noir and Chardonnay), an Adelsheim wine key, and two Adelsheim wine glasses. Plus a TWO-night stay at The Dundee!
The smaller includes one bottle of wine from Adelsheim (Pinot Noir or Chardonnay) and a one-night stay.
Sparkling cider is also available for a non-alcoholic option
 Exclusive Experience with Parra Wine Co.
Private Tasting
Unique Varietals for the PNW
Wine sold exclusively for this experience
The Adelsheim Gift Box is a great idea for any occasion!
Squad Package
Includes wine tasting for up to six people
A shopping spree with an included $50 gift card per person
Two bottles of sparkling wine to enjoy as you shop
A night spent in our epic Squad Room
Tis the season to celebrate friends
The Pinot Package
Sample varietals from multiple vineyards
Perfect opportunity to bring some wine home as future presents
Gives the best overall sense of the wine you can experience here in the Valley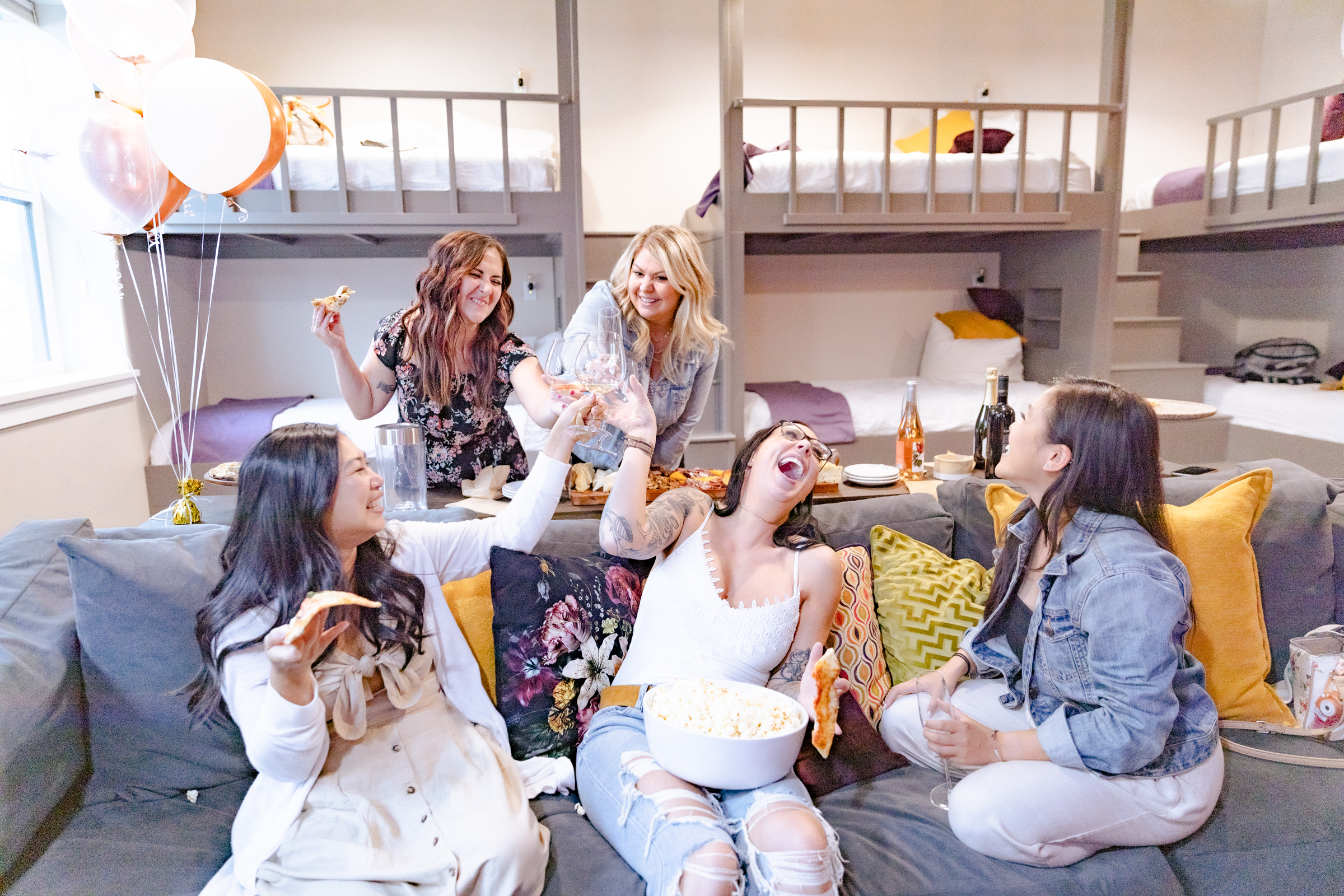 With the Squad Package your party is already planned; just bring your toothbrush and fun-loving spirit!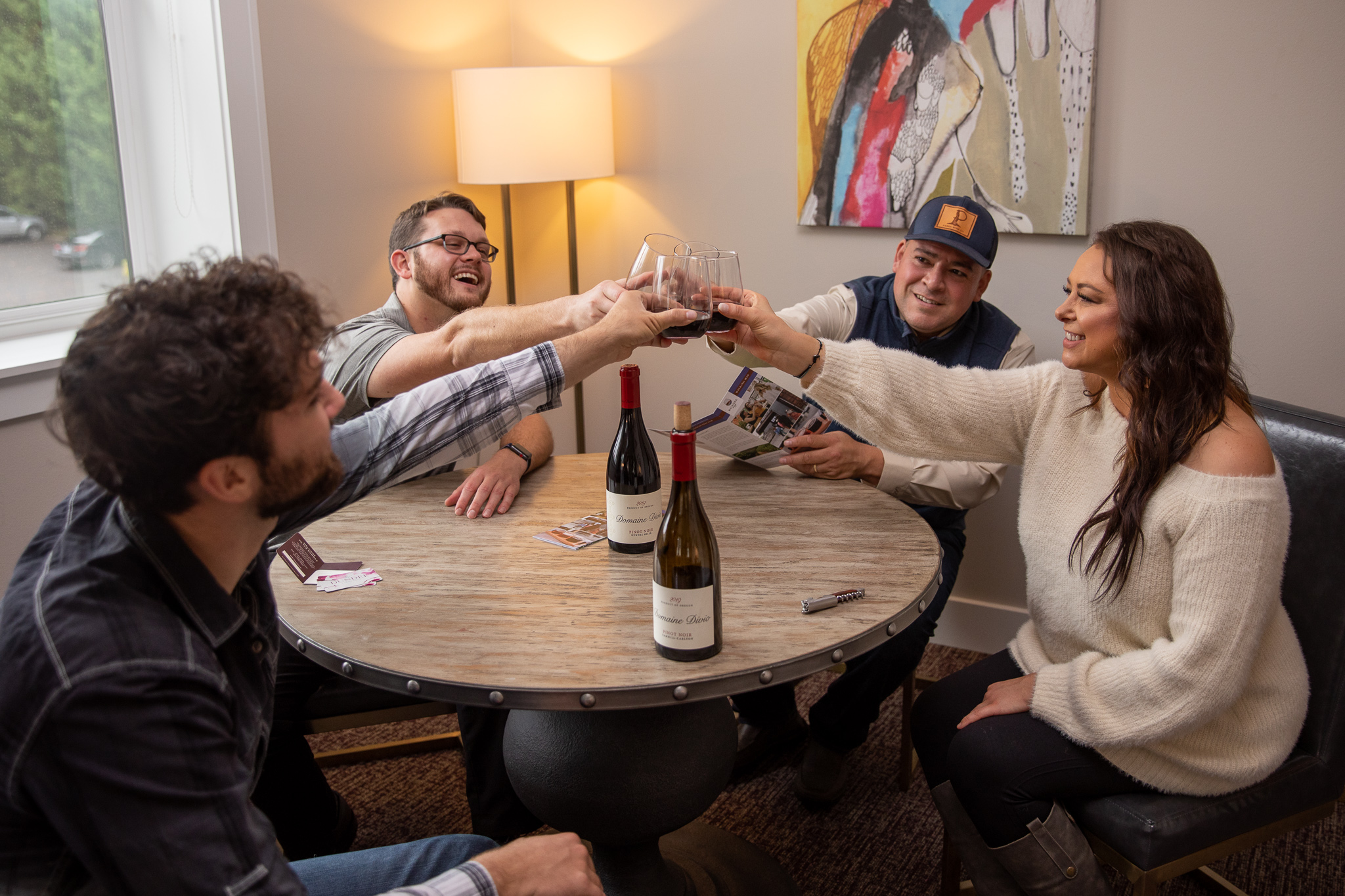 The Pinot Package includes three bottles, a tasting, and a $75 gift certificate to Trellis Restaurant.
#2  Wine
Let's go ahead and mention the most obvious item on our list. After all, this is wine country. Someone recently told me that while wine is often paired with food, she likes to pair wine with people. Find a bottle of wine that makes you think of someone specific. Perhaps that means you have shared this wine together before. Or perhaps you think it's outside of someone's comfort zone and might expand their palate. Whatever the reason, wine is a perfect holiday gift, especially from the Willamette Valley where you have such a range of flavors, complexities, and varietals. And if you're not sure who you're shopping for yet, no problem! Wine is the ultimate gift when it comes to TBD receivers, as it can be enjoyed straight away, or saved for years until that perfect occasion arises. With multiple tasting rooms sharing a space within The Dundee Hotel, we recommend booking a trip with us and taking that time to explore the bounty of the PNW. Ask our front desk agents for recommendations. They would be happy to set up any tastings or tours you're interested in, as well as bottle purchases. Just let them know what you're looking for, as the Willamette Valley is home to nearly seven HUNDRED wineries!
No forced smiles here! A gift of wine or wine-related items is sure please those on your list!
Top Right: Unsure what to pick? Most winery have digital and hard-copy gift certificates.
Bottom Right: Dobbes Family Estate has a great selection of gift packs and a Wine Club membership.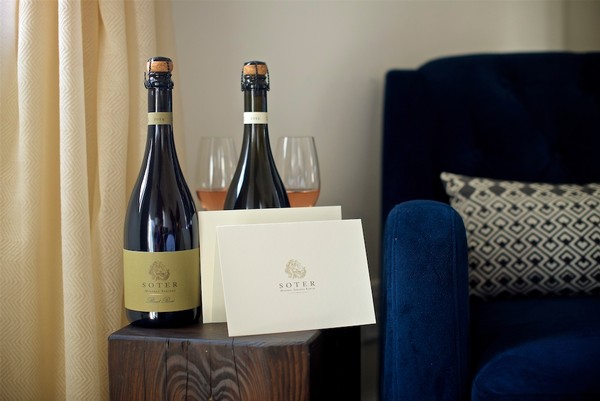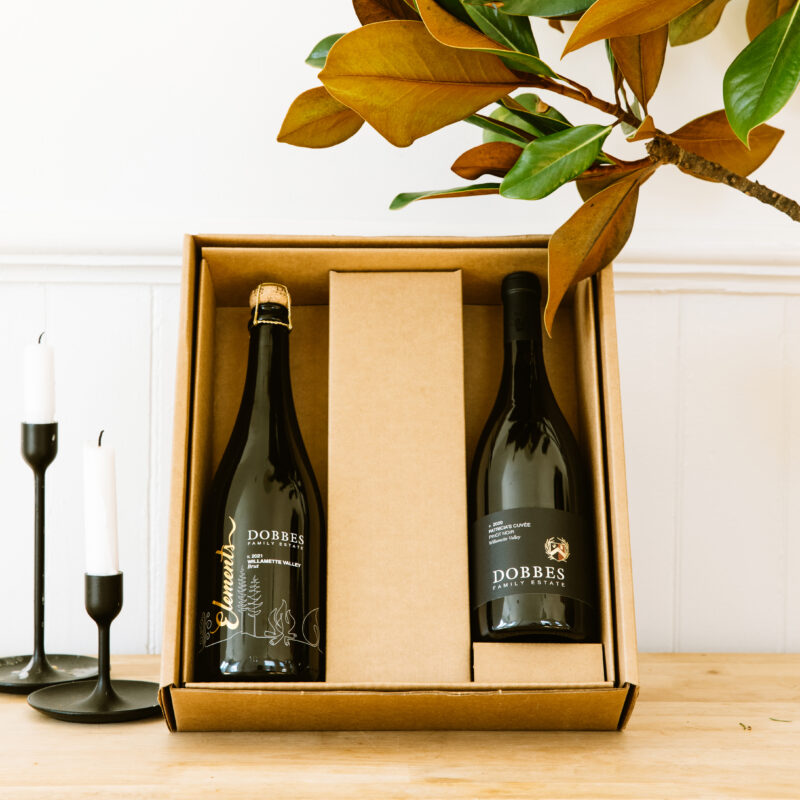 #3 Oregon Olive Oil
Famous chef Yottem Ottolenghi once said that olive oil "lifts the spirits in winter," and we couldn't agree more. There's a reason it's been used in cooking for thousands of years. That's why #3 on our list is fresh olive oil (or any of the array of olive oil based products) from the mill at Red Ridge Farms, the only Olioteca in the PNW. Hearing about this for the first time? If so, you are not alone. Perhaps when you think of olive oil, you picture a more Mediterranean setting and climate. Yet this award winning olive oil is proving that Oregon soil has a far vaster range that anyone may have thought 20 years ago. With free tastings, countless olive oil flavors, cookbooks, classes, tours, and other olive-oil-based products, there is no shortage of potential gifts for the special people in your life. And the holidays mark the perfect time to visit, as olives are harvested in the late-fall, which means brand new products are released throughout the following months.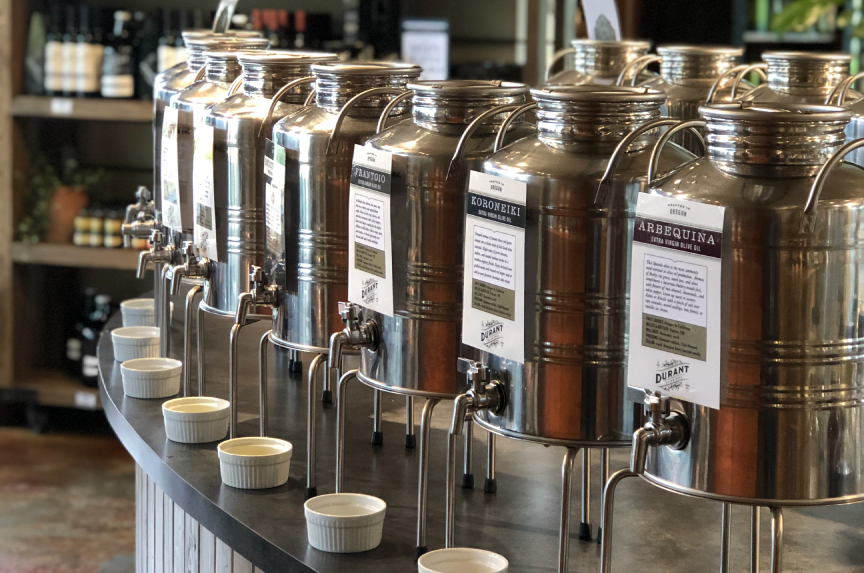 Enjoy the self-serve tasting bar to sample Durant extra virgin olive oils and vinegar. If you have more time check out the tasting experiences and mill tour.
#4 Food
If you think of PNW food, words that often come to mind are "local," "eco-friendly," "seasonal," and "organic." But just as important is our favorite food-related word: "Delicious!" From fresh cheeses cultivated in the valley, to hazelnuts, chocolates, and truffles, (check out this website for info on the truffle festival in Oregon) you could plan countless visits to Dundee and still have endless flavors to explore. A few of our favorite spots include Briar Rose Creamery, Brigittine Monks Gourmet Chocolates, and Columbia Empire Farms (Hazelnuts, anyone?). Note though that a lot of these choices (and more) can be found at Red Hills Market, only a short drive away, or even closer at The Dundee Hotel's "Holiday Market," which will bring together local restaurants, artisans, and winemakers from across the valley. (See #7 for more details on the holiday market.)
Don't like to cook or prep? A perfect solution for you and those you're shopping for then might be a gift certificate to one of Dundee's stellar gourmet eateries. Dundee Bistro, Trellis, and Field & Stream are all great places to start. Or if you're looking for a more relaxed vibe, you can't beat Los Kopitos food truck!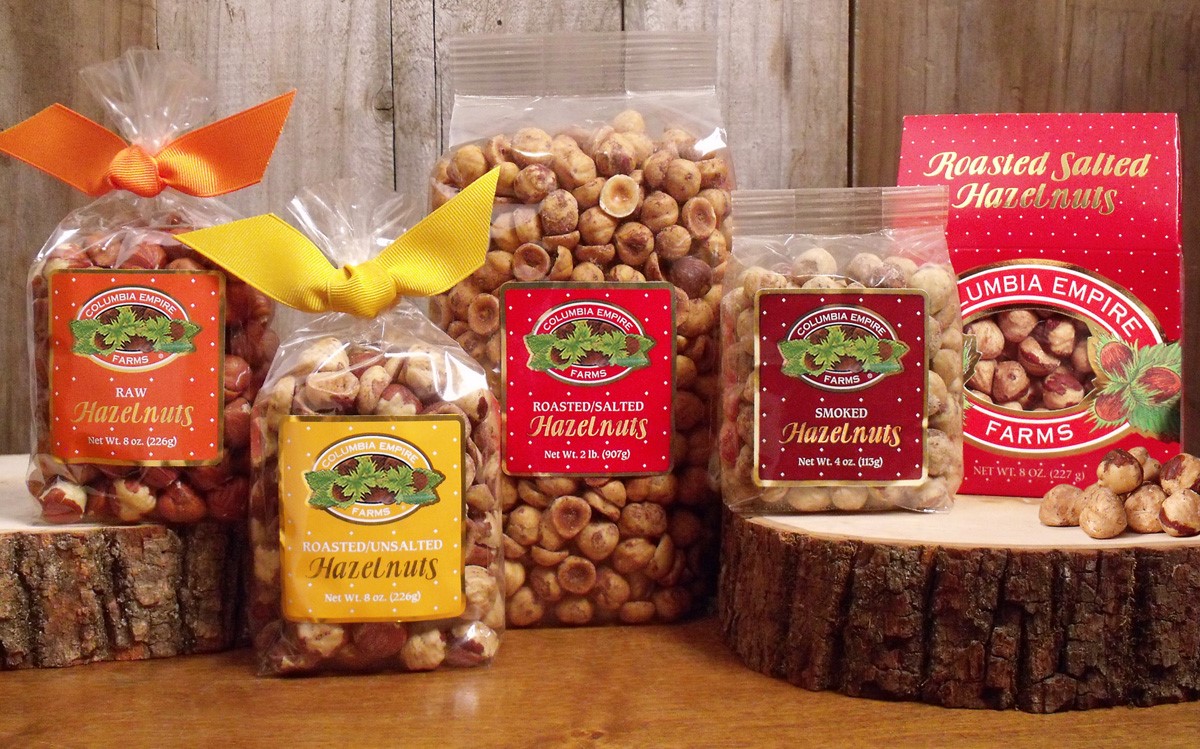 Go nuts! Or sauce! Or sweets! Or Jams and Jellies! Columbia Empire has it all!
Los Kopitos is a local favorite for delicious Meixcan dishes.
Briar Rose produces only hand made cheeses – with a little help from a few four-legged friends!
The Brigittine Monks are completely self-supporting. The confections support the Monastery and their charitable works.
#5 An Event/Experience 
While anything mentioned on items 1-4 would make a great holiday present, why not take it one step further and turn it into an experience? Wineries, farms, and olive oil mills alike offer tours throughout the year. Watch how olives transform from ripening in trees to producing the oils, lotions, and soaps you'll be gifting to your friends. Pet the cows that provide the milk for the cheese you'll be sampling and notice firsthand how time alone can change the flavors and textures of a single bite. Wineries in particular hold various unique experiences yearly, from food and wine pairings, to cooking classes, vintage tastings, vineyard tours, and holiday specials. Call the front desk of The Dundee or explore your favorite winery's website for details. Turn any tangible gift into a series of memories by exploring what "locally made" really means.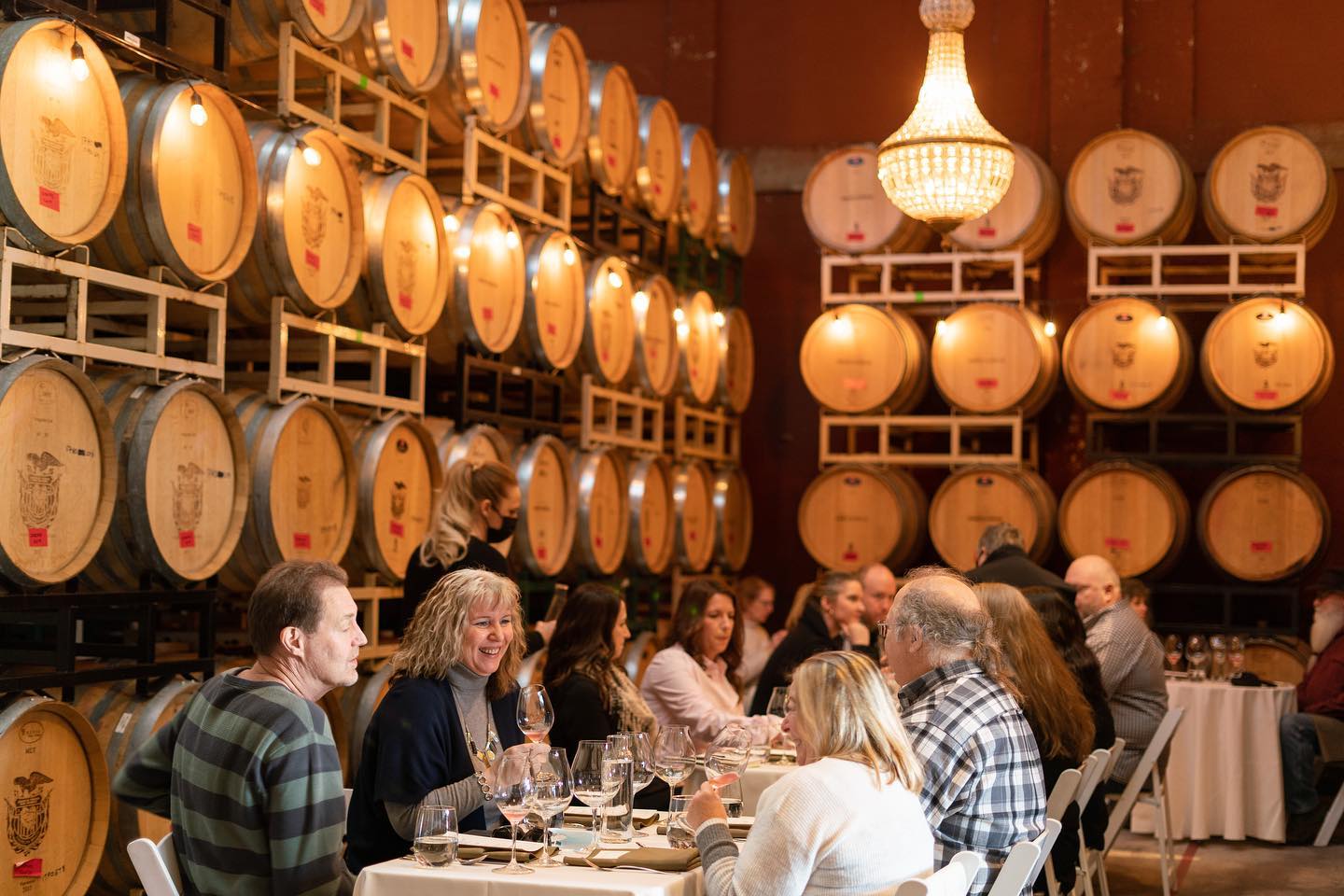 Domaine de Broglie regularly hosts themed dinners and club parties.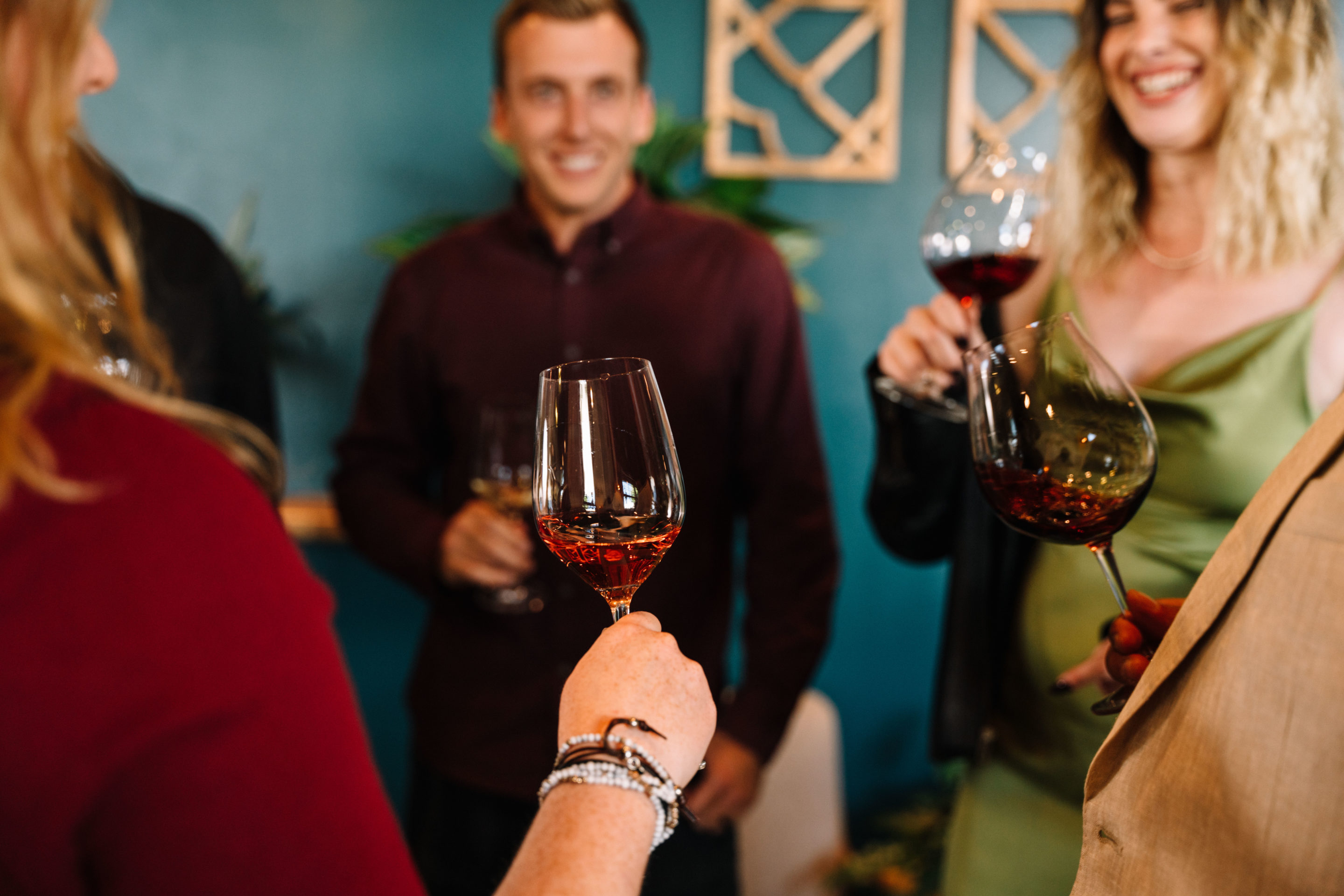 Book a stay at The Dundee and select one of our packages with wine tasting experiences included.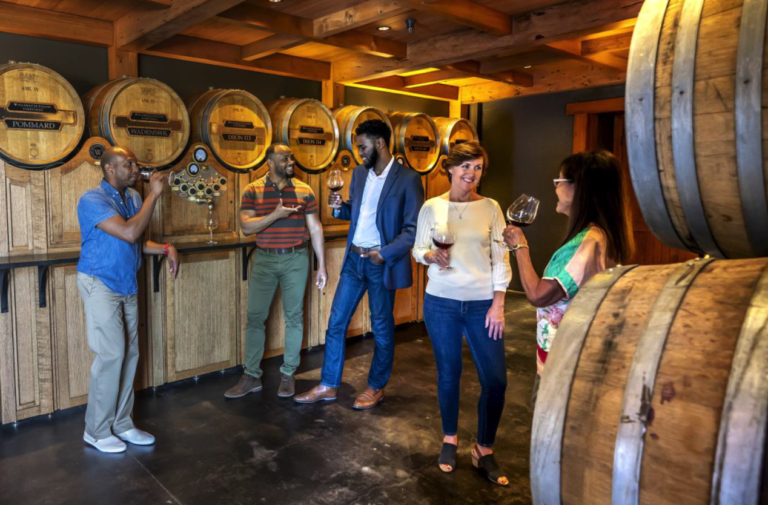 Craft and sample your own Pinot blend at Willamette Valley Vineyards unique Clonal Blending Experience!
#6 Create Something
There is one type of gift that is nearest and dearest to our hearts, and that is anything made for someone specific. A homemade present can range across any budget, and includes the most important aspect of giving, the idea that a certain person in your life is worth the time to put something together. For example, if your budget is low, you can create an itinerary for someone you know is visiting wine country, putting in the work so they don't have to. (Let us at The Dundee be a starting point of expertise for you!) Or perhaps the homemade aspect of a gift is the cherry on top of items 1-5, in which case, how can you put what you've purchased together? Perhaps you create a homemade charcuterie board or wine basket. Maybe you plan a tour of your own, deciding where your gift receiver should go and when, enjoying the cheeses or wines you have purchased at the end of the day. Or perhaps you travel to wine country a day ahead of time and have a self-made cheese board waiting for your companion by the time they check in.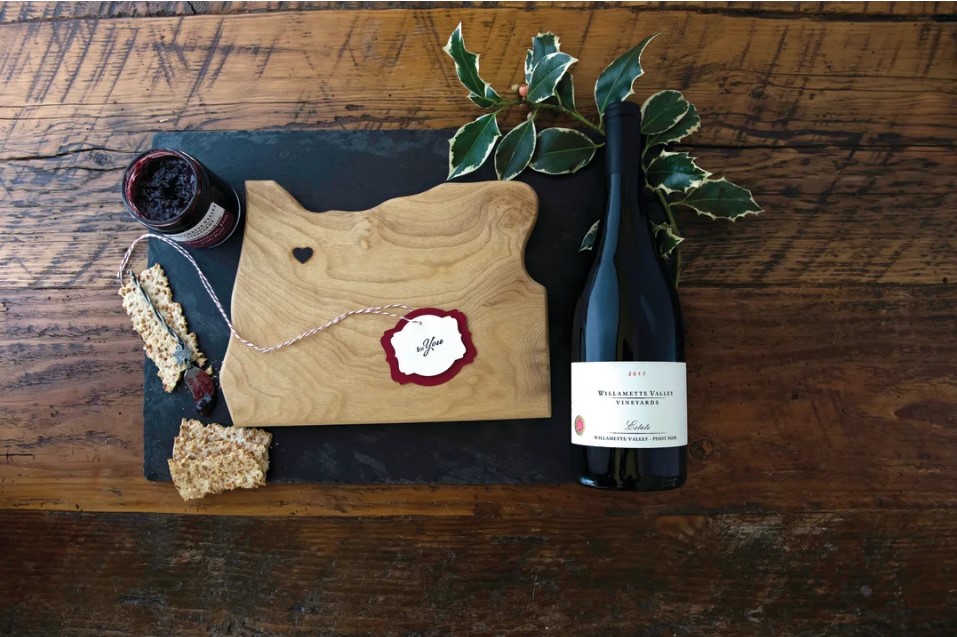 A bottle and entertaining tool are great starts for a themed gift basket.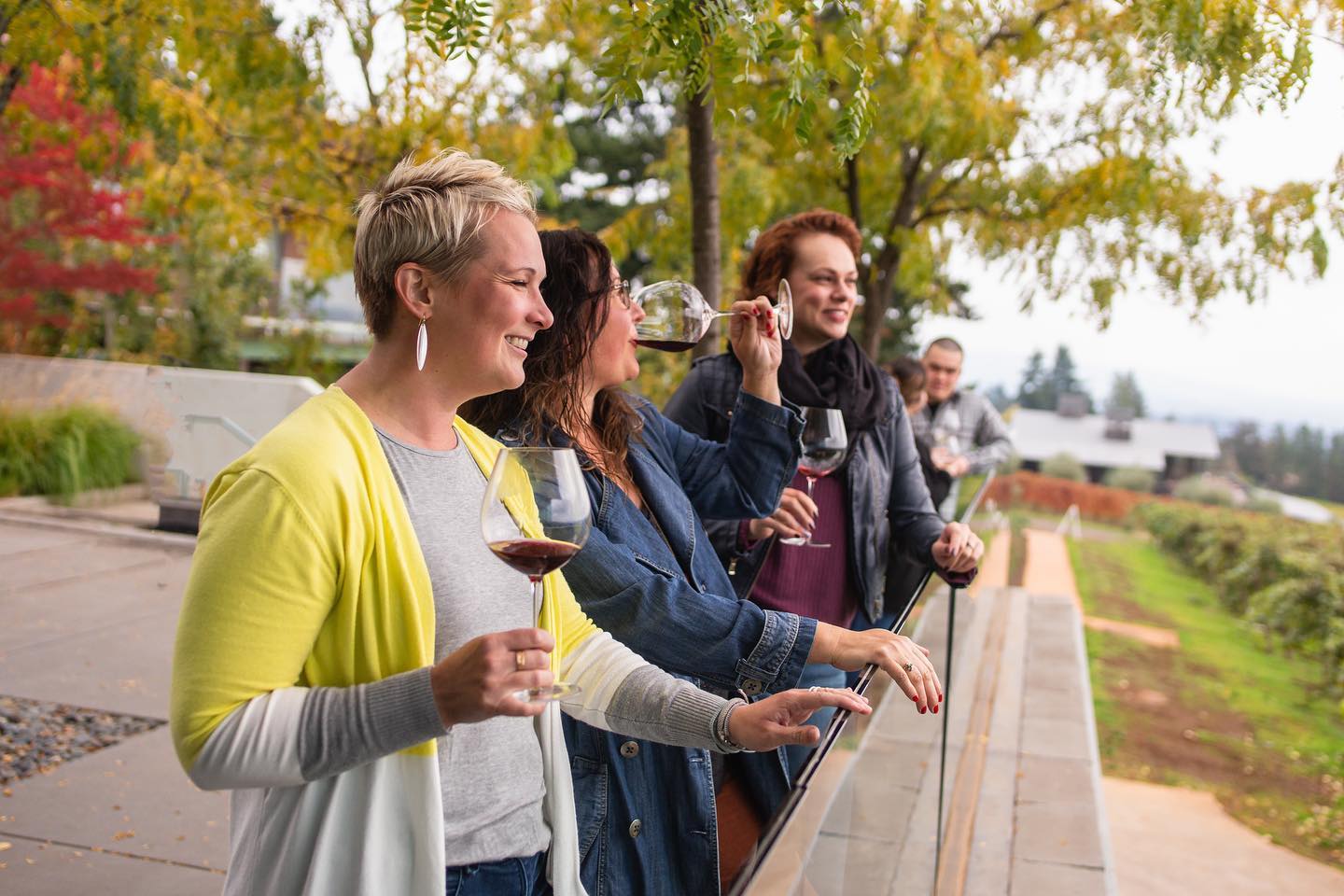 Be sure to put Furioso Vineyards to indvidually prepared wine tour itinerary. The views are some of the best in the Dundee hills!
We also, however, know that time is precious. So if you want to spend 100% of your vacation enjoying the trip and not prepping for it (understandable) there are also countless self-guided tours that still leave wiggle room for any creative detours or spontaneous ideas that might arise. We recommended the self-guided Oregon Cheese Trails, Travel Dundee Virtual Passport trips, Great Oaks Food Trails, and/or Truffle Hunts during the winter, as well as  (of course) a trip to multiple wineries, which allow you experience the range of PNW varietals. Perhaps the creative aspect is simple putting together a playlist for your Pacific Northwest adventure. Delight the gift receiver by including their favorite music, or make the itinerary a surprise and hide clues for each stop within the mix.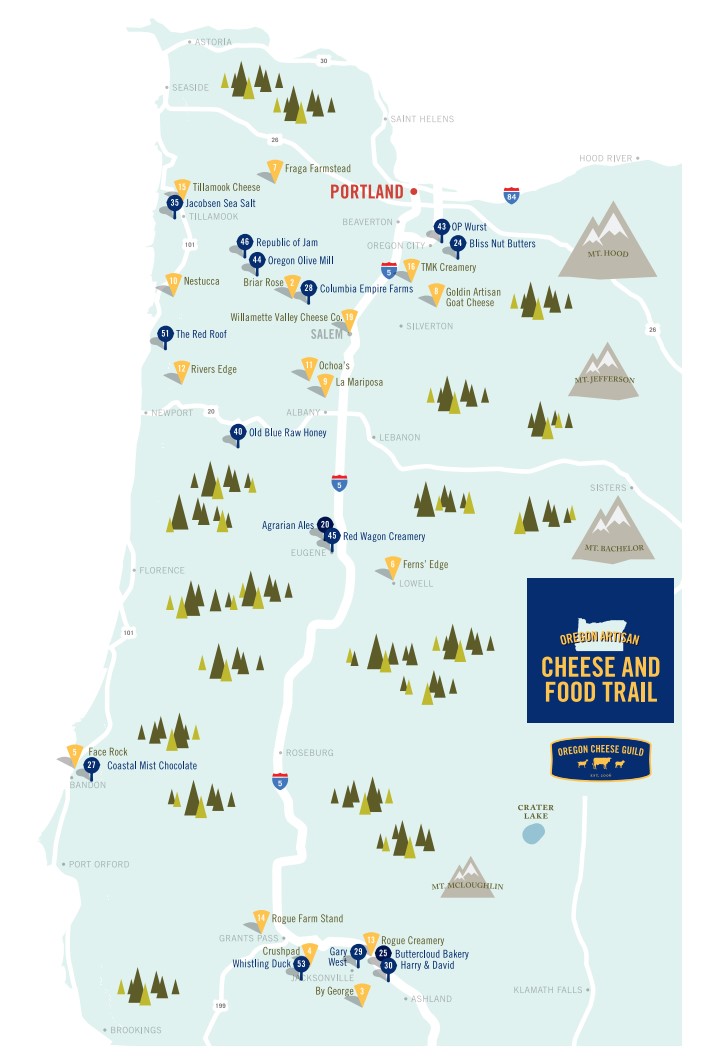 The Oregon Cheese Guild developed regional maps to help you enjoy the products of more than 20 local cheesemakers. 
We can help you arrange a group tasting event. The fire pit at Abbey Road Farm has the quintessential Pacific Northwest appeal!
Plan a trip to the heart of Oregon wine country with the Dundee Digital Passports.
#7 Receiver's Choice
As seen by this list, we have a lot of suggestions for gifts in the Willamette Valley. But no one knows your loved ones like they know themselves, and sometimes the best idea for a present is to simply ask them what they want. That's why for our final suggestion on this list, we recommend you bring them to The Dundee Hotel and allow them to pick what they'd like to do, see, or purchase. We can help set up any itinerary you might like, and when it comes to tangible gifts, our holiday market will be open again this season. There you can explore and ask about local wines, cheeses, olive oils, crafts, artwork, and the warmest of locally made blankets to get you through winter. The best part is that a portion of the proceeds goes towards supporting the Oregon Food Bank. The market is for everyone, but promo codes will be given to all guests for extra perks and discounts. 
* No matter what you buy or how you choose to celebrate someone, we at The Dundee Hotel are here to help, and we'd love to host you whether it's throughout the holidays or beyond.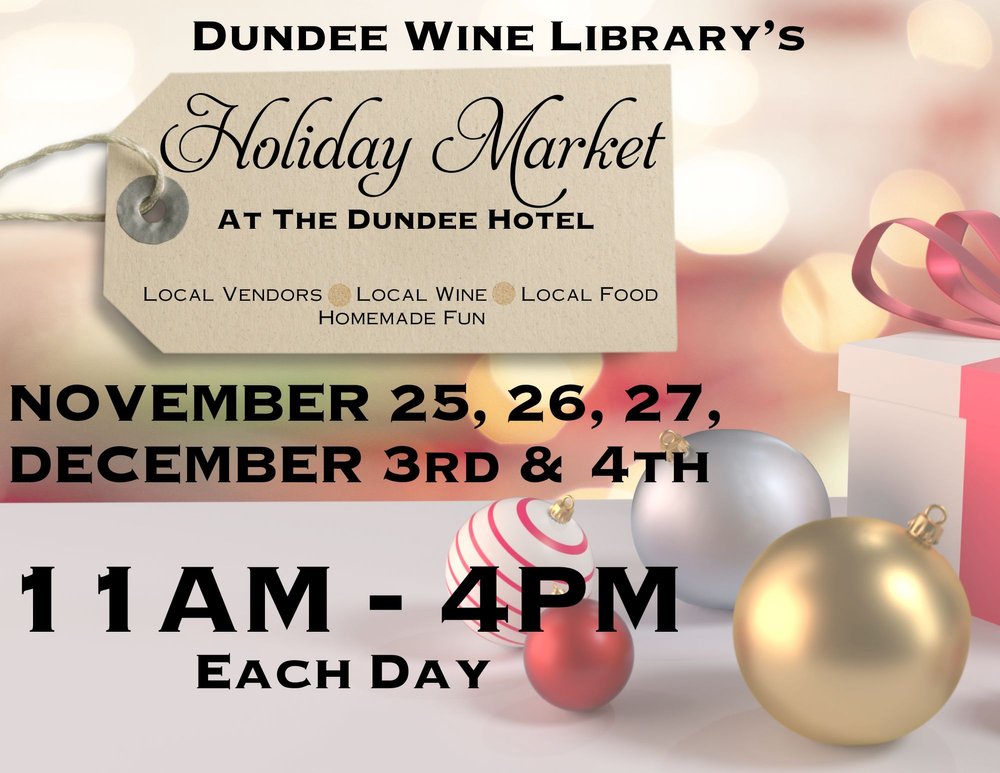 Our Holiday Market is packed with a dazzling array of vendors with art, jewelry, ceramics, foods, holiday decor, and wine of course!
With our holiday gift ideas your shopping list will be complete in no time!