The Willamette Valley is known for its world class Pinot Noir and Chardonnay. However, sparkling wine also has a long history in Oregon, and it is growing more prominent due to new innovations and increasing popularity. In honor of the New Year and expanding horizons, we have put together a list for all the bubble fans out there. The top eight sparkling experiences here in the Willamette Valley. So, what are you waiting for? Whether it's a birthday, family gathering, romantic weekend, or just plain fun, put a little sparkle in your step and come see what we the Valley has to offer!
1. "Bubble Fest" at Anne Amie Vineyards
One of the most popular sparkling events in the Willamette Valley celebrates not only sparkling wine, but community as well. Anne Amie Vineyards brings together dozens of wineries each year to hold a festival that gives any visitor a superb overall view of what the Valley has to offer. You can join for a single day or the weekend, and taste the full spectrum of Pacific Northwest bubbles, along with delicious bite sized eats provided by local culinary vendors. This year's 8th annual event will take place on February 18th and 19th, but keep in mind the wines offered can still be purchased throughout the year. So if you miss the weekend, an experienced staff member will help you find the perfect bubbles to take home.
For tickets, and a full list of the vendors, check out the official website.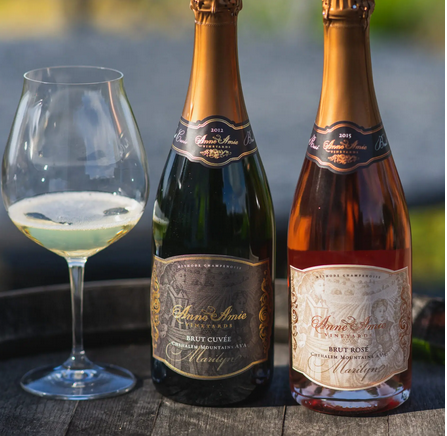 While being known for their sublime pinots, Anne Amie vineyards is the host of bubble fest, a celebration of all the sparkling wines of the valley.
Interested in attending this years bubble fest? The Dundee is offering free transportation for up to two people per reservation to and from the event. All you have to do is book using this link.  
2. A Tasting at Argyle
There is no winery in the Valley more synonymous with sparking wine than Argyle. Founded in the 1980's, Argyle has been one of the strongest advocates for the development of sparkling wine in the PNW since day one. With over a dozen sparkling wines to choose from, you have several options for tastings, from reserving a spot at the Tasting House, to ordering bottles or cases to go, or walking in for a glass of bubbly at their Spirit House Lounge on weekends. Argyle offers both indoor and outdoor (covered and heated, of course) seating, and well-behaved pets are allowed to join for all outside reservations. Check out Argyle's upcoming events and experiences, and if you're a fan of the arts, check out how Argyle supports local artists through their "Art of Sparkling" scholarship!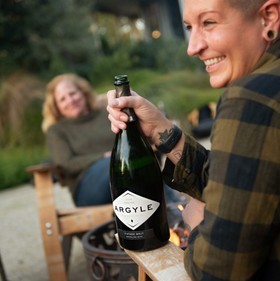 Argyle winery is a pioneer in the Willamette Valley, founded in 1987 and establishing one of the most well known wineries in the Valley.
All sparkling wines at Argyle are 100% Argyle grown, vintage dated, and made from hand picked, cold pressed grapes.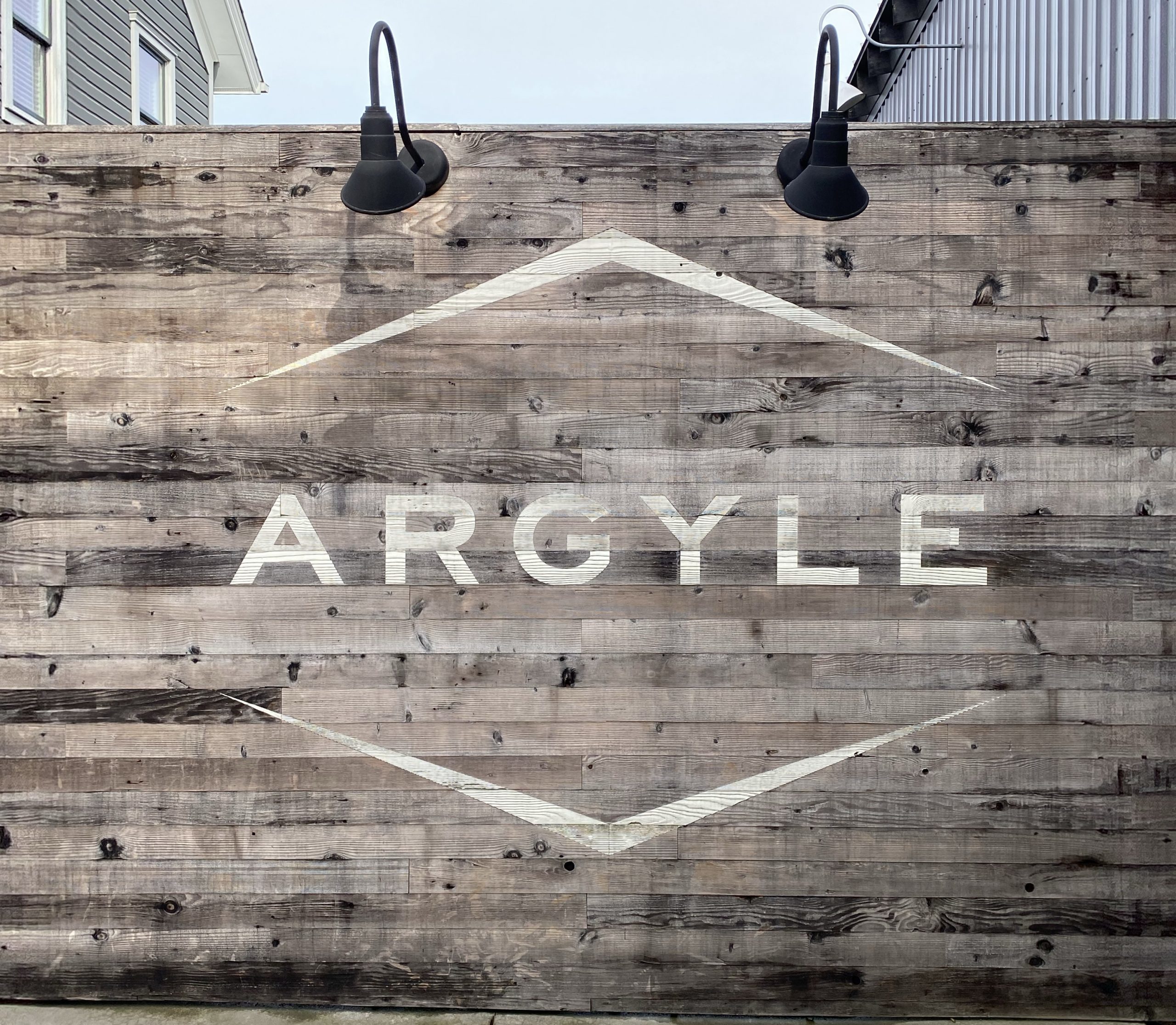 Want some sparkling but dont want to go too far? Not to worry, here at The Dundee we carry Argyles classic sparkling brut that can be delivered right to your door.
3. Oregon's "Best of Oregon Bubble Trail"
Bubbles are having a moment in the Willamette Valley and it is a great moment! The "Best of Oregon Bubble" Trail is a great way to experience the best bubbles of the Valley.  The trail includes these talented bubbly makers: Argyle, Lytle Barnett, Elk Cove, ROCO, Adelsheim, Lundeen, and Trisaetum. It's a self-guided experience that allows you to taste the very best bubbles the ingenious winemakers of Oregon have to offer. Take your time, or better yet, make it a weekend and bask in the full experience. Book your room at The Dundee using promo code 13BOBTRAIL to receive 15% off the best available rate February – March, 2023. All you have to do is call the participating wineries ahead of time and reserve a spot, making sure to tell them you're partaking in the Best of Bubbles trail. For information, check out Best of Bubbles Trail.

Immerse yourself in the extraordinary sparkling wines produced by Oregons top producers of bubbles in the valley. For more information, click here. Book your room at The Dundee using promo code 13BOBTRAIL to receive 15% off the best available rate February – March, 2023.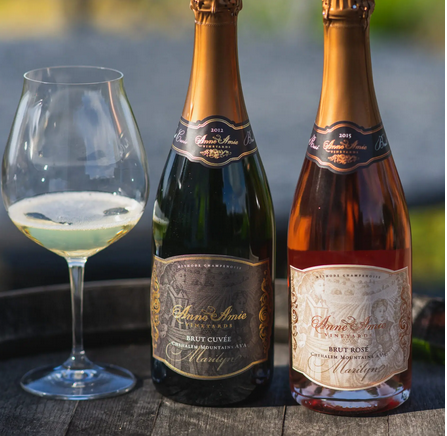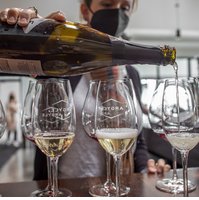 4. A Sparkling Tasting at Sokol Blosser Vineyards
Sokol Blosser not only has world-class sparkling wines, they are also a mere 6-minute drive from The Dundee. So if you're craving a low key but delicious experience nearby, Sokol Blosser is a favorite. With five different sparkling wines to choose from, ranging from Rosé of Pinot Noirs, to Cuvee Brut Sparkling, and Sparkling Blanc de Blancs, this single winery offers a beautiful range of what the Willamette Valley has to offer. If you enjoy their wines (and we know you will) we recommend purchasing their "Evolution Sampler Kit," which pairs together a collection of 12 Sokol Blosser wines organized to showcase the full spectrum of what's currently available.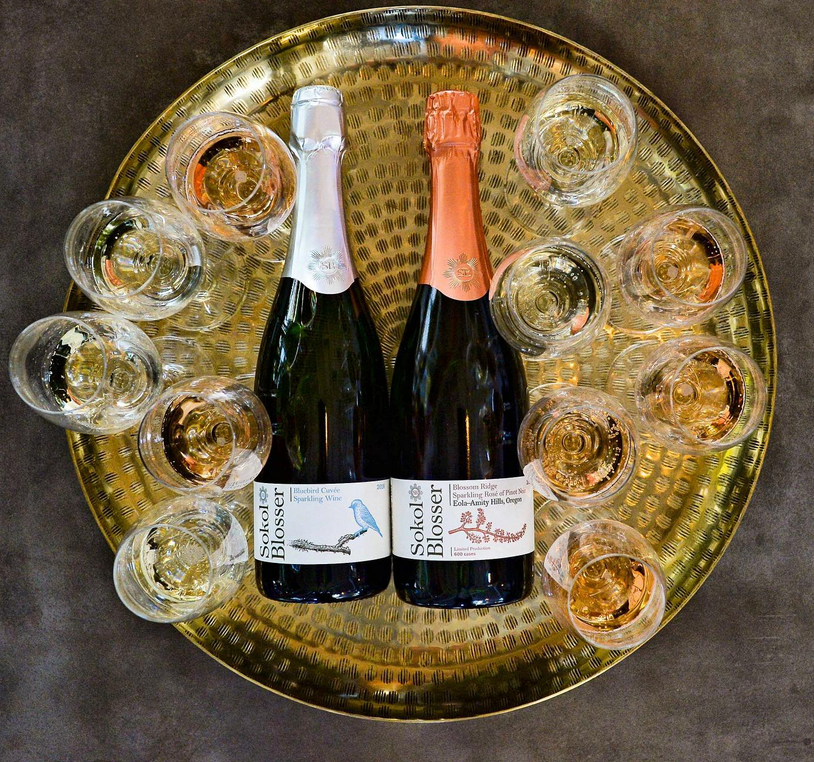 Sokol Blosser hosts many events throughout the year to celebrate their many classic wines, check them out here.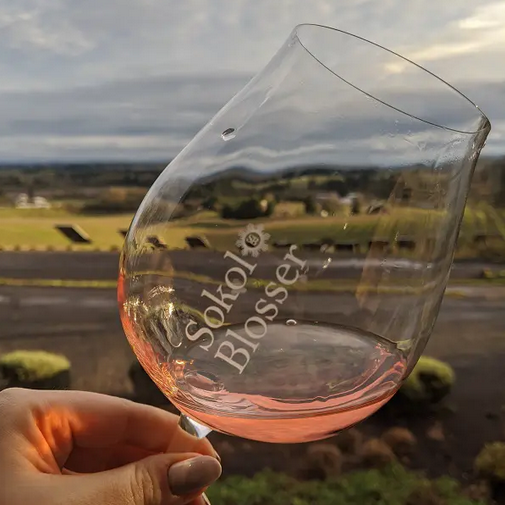 Experience a vast array of Sokol Blossers sparkling wines and find the perfect one for you.
5. Raptor Ridge's "Flight and Bite" Sparkling Celebration:
If you're looking to celebrate pre-Valentines Day with some sparkle in the air, we recommend looking into the Raptor Ridge "Flight and Bite" series from February 9th-13th. Join the experts to enjoy the release of their 2018 Sparkling Brut Rosé along with locally crafted and deliciously paired food bites, designed to bring out all of the subtle flavors in each pour. In addition, stop by on the 11th for a full day Sparkling Celebration Brunch, featuring international varieties of Sparkling Wine (along with their latest releases, of course). Your three-course brunch menu will include blinis with herbed crème friache and smoked salmon, quiche Lorraine and mixed greens with Dijon vinaigrette, and crepes with lemon curd, thyme, and crème anglaise. Doors open at 10am and close at 6pm, but make sure to book your spot ahead of time!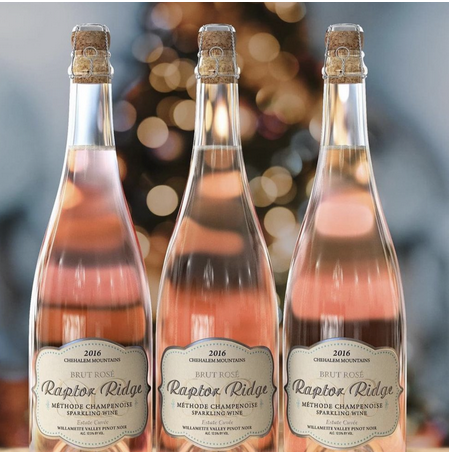 Raptor Ridge is an exceptional experience with beautiful grounds, a vibrant tasting room, fun events and how about some Sparkling Brut Rosé on a sunny day?
Raptor Ridge hosts a sparkling event each February. Perfect for Valentine's celebrations – bright, crisp, bubbly! Sip on sparkling while celebrating love in all forms. Cheers!
6. A Sparkling Flight at Kramer Vineyards:
Festivals are a lot of fun, but sometimes we don't have time off on a particular date or weekend in the year. Luckily, the Willamette Valley is filled with dozens of wineries that offer exceptional sparkling wine tastings year round. One of our personal favorite options is located at Kramer Vineyards. Kramer offers a full sparkling-specific flight; glasses and bottles are both available for purchase, as is a kitchen menu full of wine friendly snacks. You can book a private or group tasting, but both fill up quickly, so make sure to call ahead of time so you don't miss out!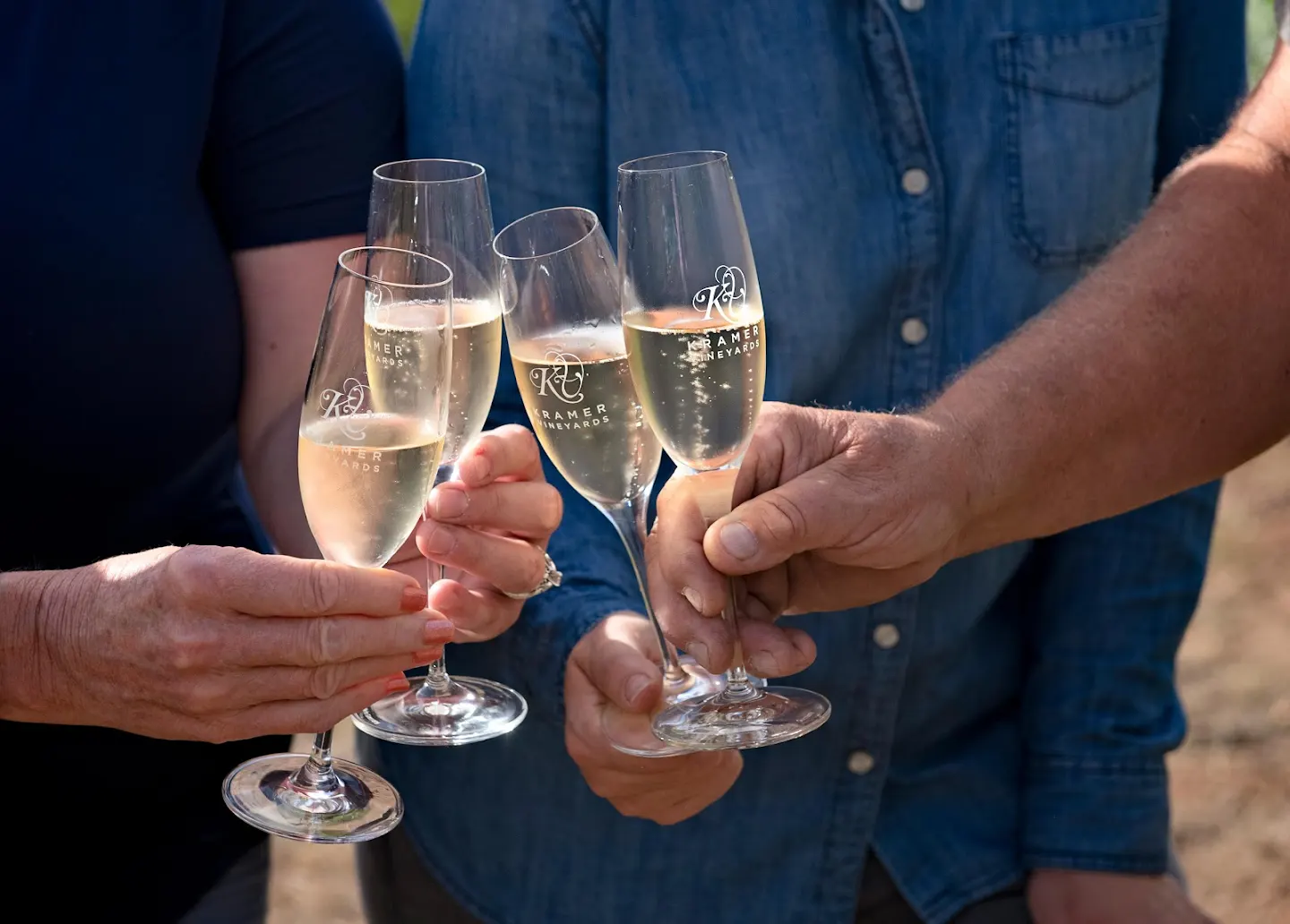 Experience a brand new AVA at Kramer Vineyards, located in Carlton Oregon and known for its unique geologic circumstances which creates wines with a flavor profile like no other.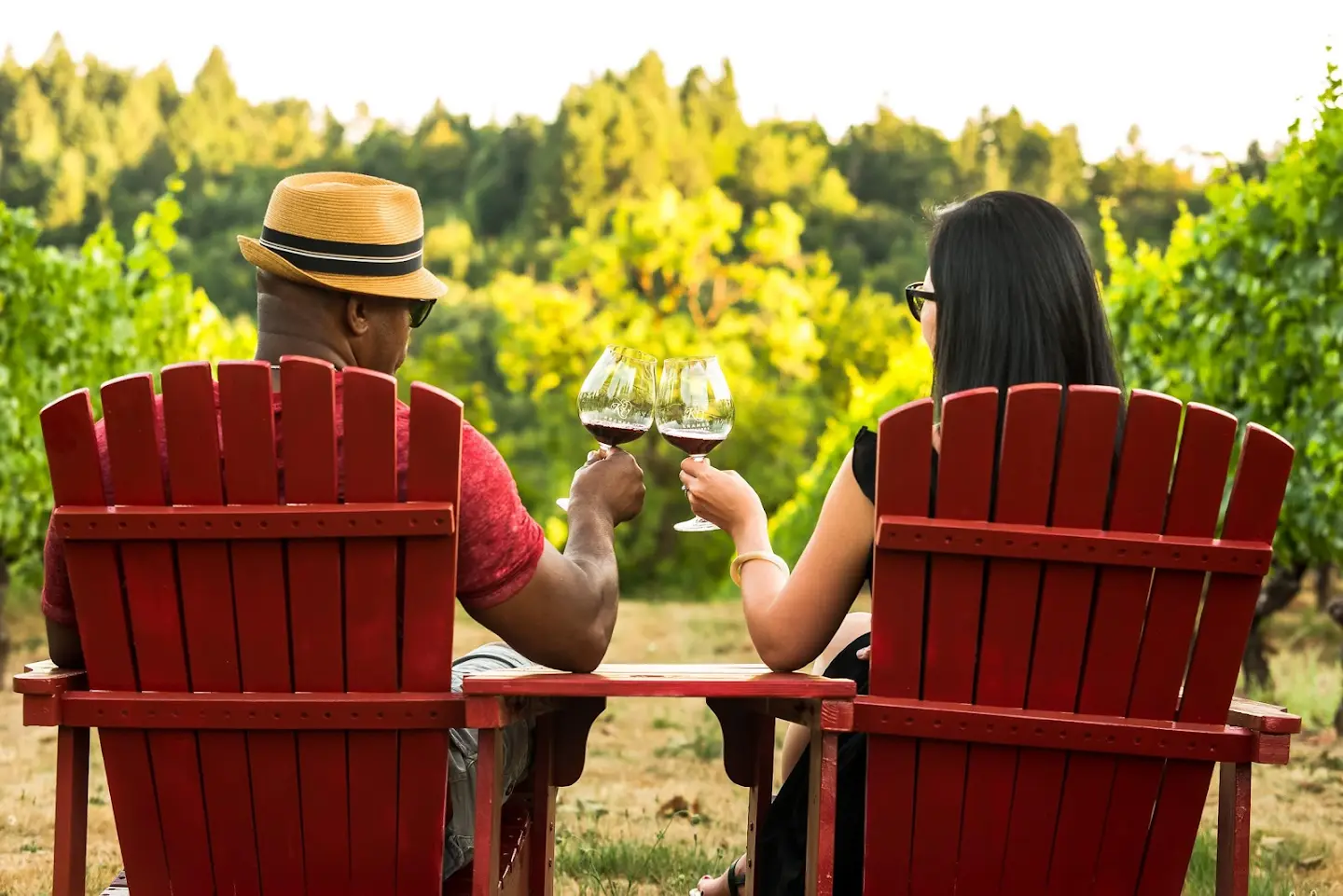 With a multi-generational estate you can always expect a warm and welcoming experience with extensive knowledge about their wines.
7. 7. Willamette Valley Vineyards presents "Sparkling Wine at Domain Willamette":
A new exciting opportunity has arisen at Willamette Valley Vineyards (WVV), and that is the chance to taste from Oregon's FIRST sparkling wine facility that produces world-class méthod traditionnelle sparkling wines at Domain Willamette. This branch of WVV is located at the Bernau Estate Vineyard in the Dundee Hills, is biodynamically-farmed, and ages its wine within an underground aging cellar. Food pairings are available, as are educational tours, with the option to taste indoors outdoors. However, with the sweeping views of Dundee, we always suggest an outdoor tasting when the weather permits. Book your spot today here.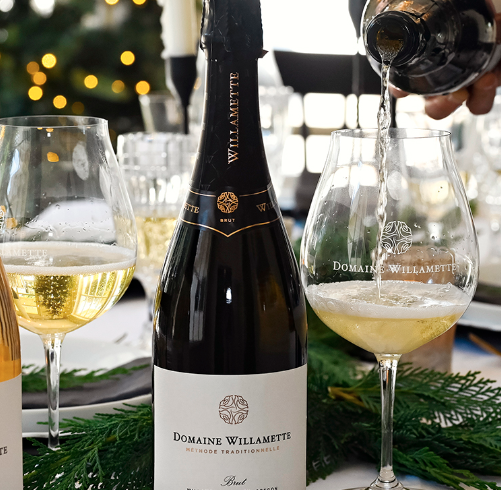 Time to try the Willamette Valley's first sparkling wine facility just in time for Valentine's Day!
Enjoy incredible views and elegant wines at Domaine Willamette.
8. Make your own tasting flight:
While there are countless activities and experiences in the area to try when it comes to sparkling wines, nothing will ever be as specifically catered to you as creating your own! Scroll through the list below of all of the wineries in the Willamette Valley that offer sparkling wines, or try a bottle from each of the places mentioned above. Order some food for pick up at one of our many local culinary treasures and create your own flight with you and your friends. Want to make a mimosa? Go for it! Put ice in your wine? No one's judging you here! And no heated deck or tasting room can compete with lounging in a soft bathrobe and sipping bubbles in a one-of-a-kind room at The Dundee! Best part? If you fall in love with a particular bottle, the winery is only a short drive away the next morning for you to pick up and take home.
There is nothing better than a plush robe and a glass of bubbles in hand.
Remove the hassle and order a mimosa kit to be delivered to your room upon your request, equipped with everything you need for some relaxing morning mimosas.
So there you have it: the best bubble experiences in the Valley. Book your room with us at The Dundee, and let that inner sparkle shine!