Picture it: your friend invites you to the beautiful Willamette Valley. There's gorgeous scenery, delicious artisanal food, and of course, world-class wine. Only one problem… (Cue dramatic music) YOU DON'T LIKE WINE. (Shhhhhhh! Don't let anyone hear you!) It might be hard to imagine visiting wine country and as non-wine-lover, but the truth of the matter is the Willamette Valley has tons to offer all preferences, from wine and beer, to cocktails and a range of spirits via local distilleries.
So, The Dundee has created the perfect itinerary for the whiskey lovers out there. Introducing our "Whiskey Weekend Getaway," where one can explore a new and upcoming flavor profile of the PNW.
Note though: this package must be booked on weekends, as several of the stops don't take visitors during the week. So mark your calendars now and come explore a different flavor of Oregon!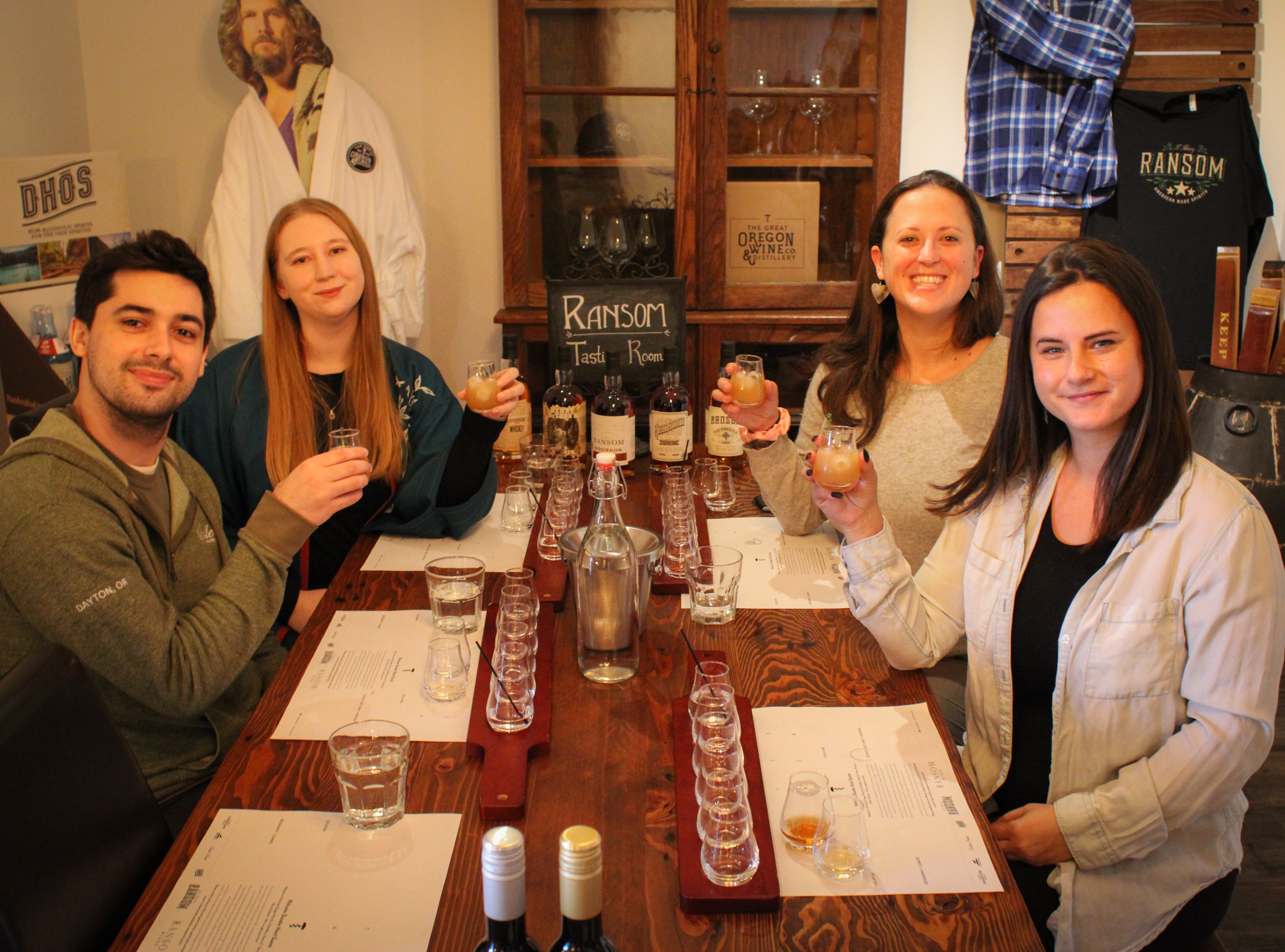 Tasting at Ransom, our crew was joined by "The Dude"……can you spot him?
Your "Whiskey Weekend" starts off with a hearty breakfast at Red Hills Market (included in the package). A staple favorite for locals, Red Hills Market has a full range of breakfast and lunch items to fill even the rumbliest of bellies. Owners Jody and Michelle pride themselves in offering sustainably sourced, organic cuisine that showcases the range of what our region has to offer.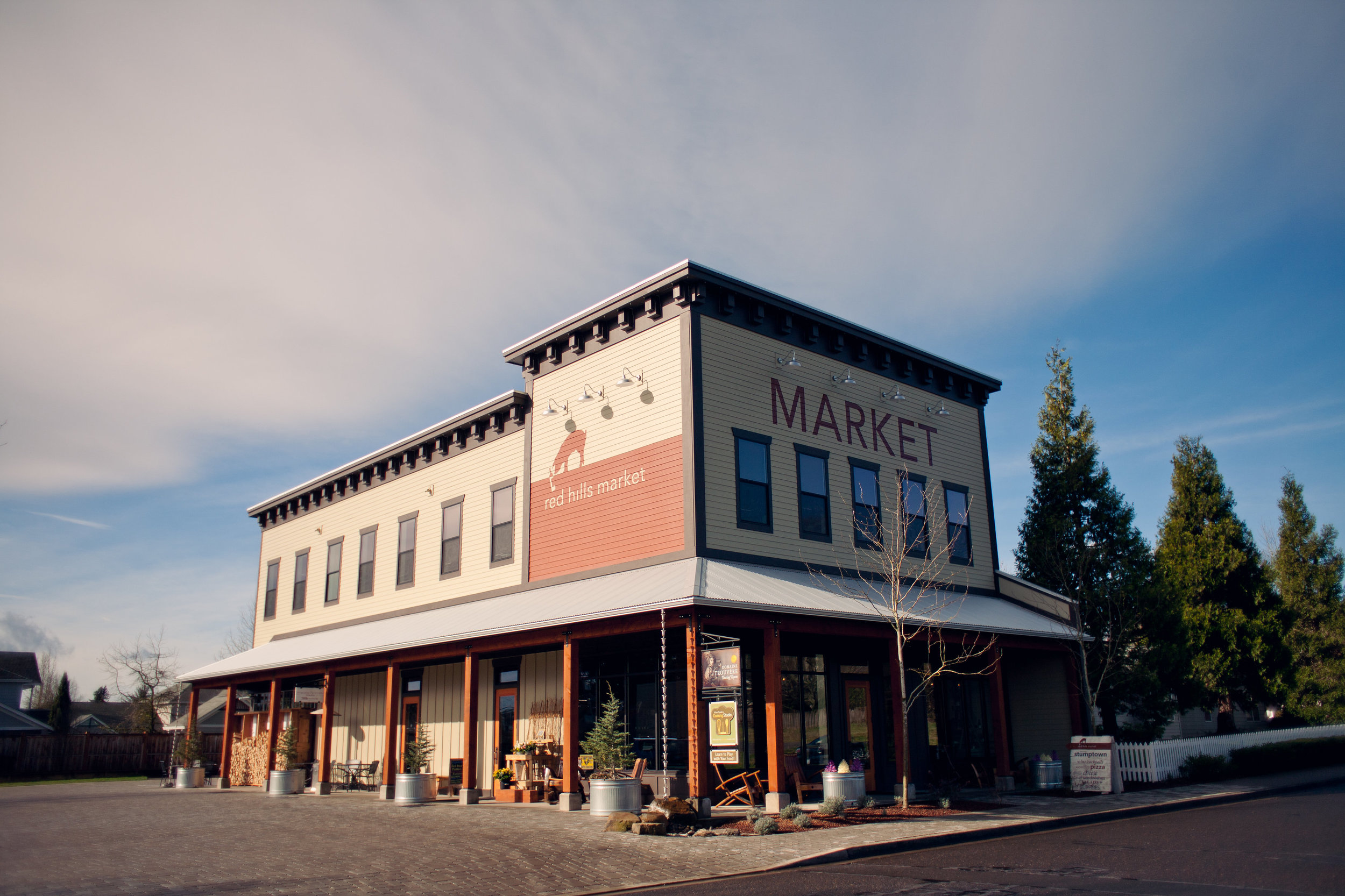 Red Hills Market is a great local spot to relax and enjoy delicious soups, burgers, and pizzas.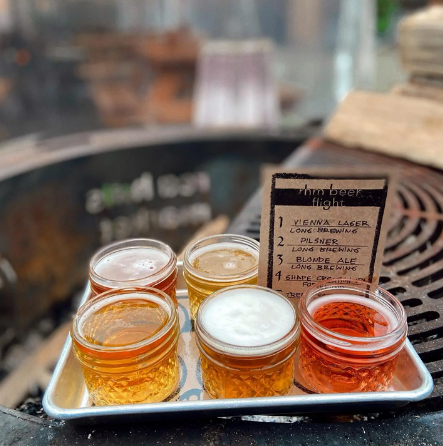 Want to add some beer into your weekend? Red Hills Market has you covered. Give their beer flight a try!
After breakfast, it's time to start tasting! The package includes two flights (so bring a friend) and your first spot is one of the brightest stars in the Oregon whiskey world, Ransom Distillery. Not only does Ransom have incredible whiskey, tasting there is like taking a gentle dive into the history of spirits, and is as much educational as it is fun. Learn about the various types of whiskey, which lineages have come from Europe vs. which (by definition) must be American made, and don't forget to say hello to the world's best Distillery Dog, Steinbeck! Top it all off with a cocktail named after The Dundee (without giving too much away, all we're going to say is… fresh thyme) and take in the history of the area as you sip.
Ransom Distillery also partners with (and resides within) Duck Pond Wine Cellars. So if you'd like to pick up some wine in the process, you have famous complex flavors at your fingertips, and you'll know you're buying responsibly as Duck Pond Cellars was the first vineyard in the United States to be certified as a "natural path production." When you're ready to head out, leave Ransom with a bag of goodies, including two free Rocks Glasses: the only way to sip whiskey.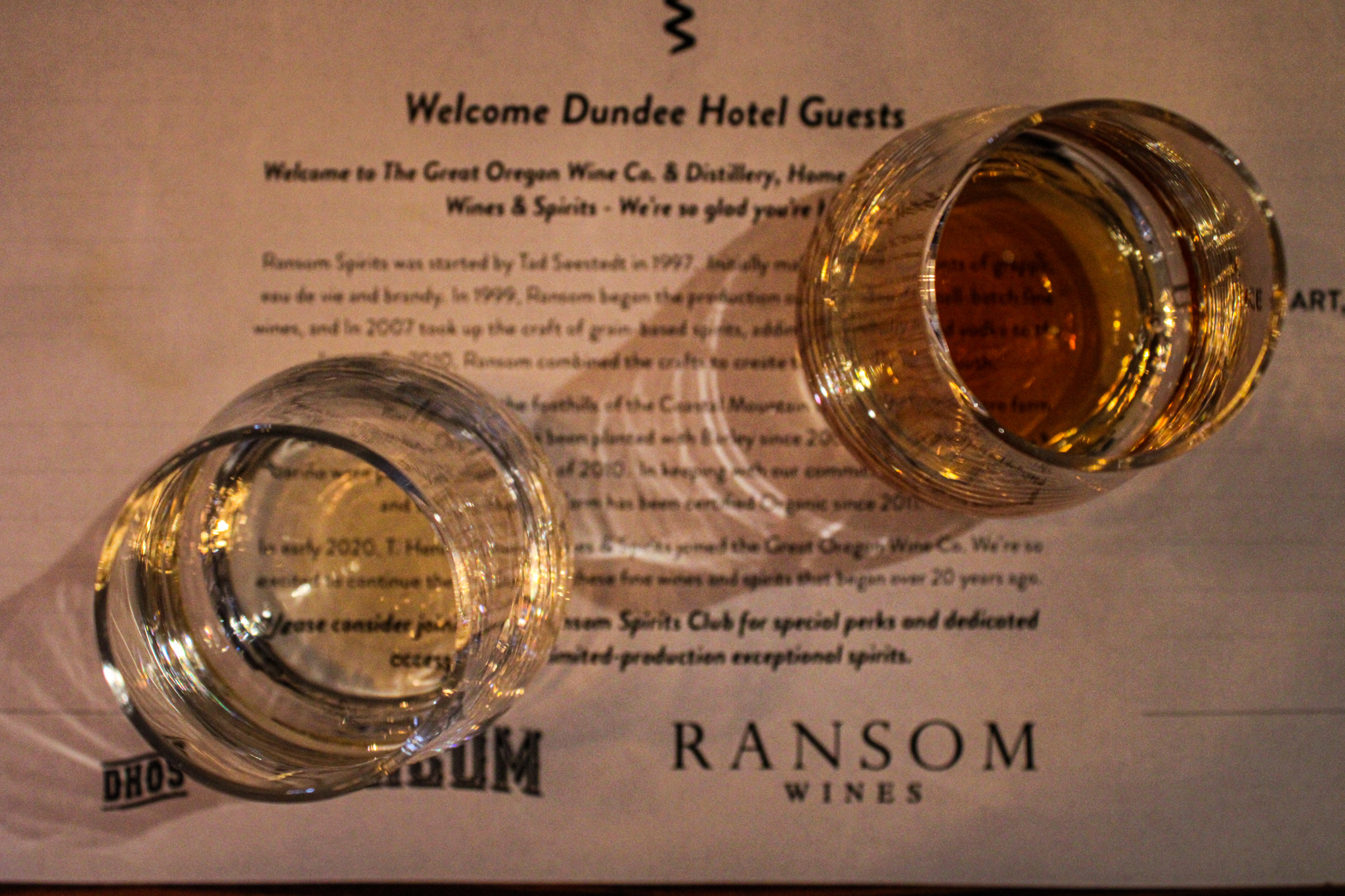 At Ransom Distillery, there are endless options to choose from at your tastings, ranging from Bourbon Whiskey to Rye Whiskey for whatever your palate enjoys.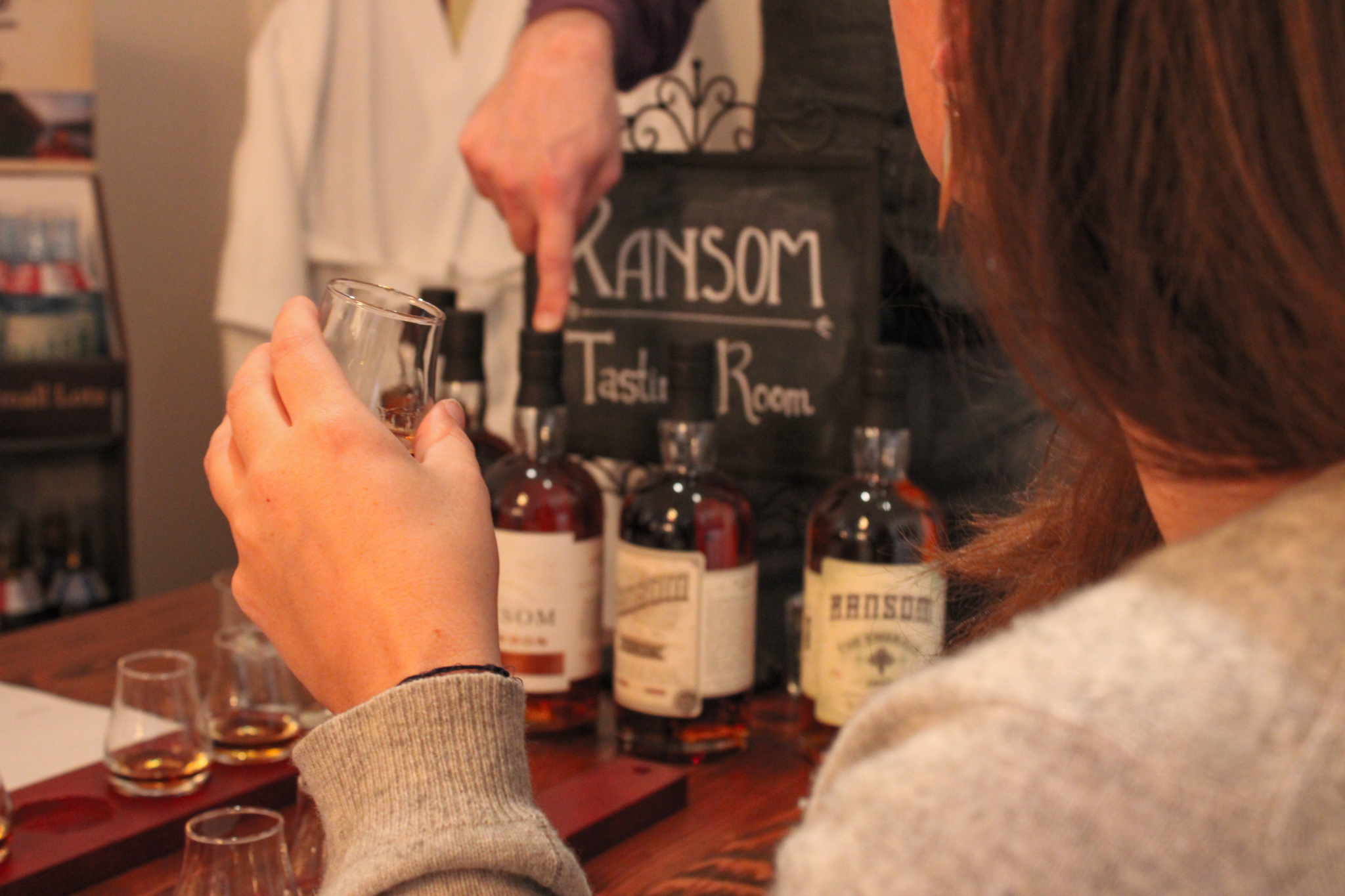 At Ransom, they distill their spirits in a hand-hammered, direct-fired French alembic pot still, making all of the selective cuts by taste and smell.
Time for lunch! Cleanse the palate by stopping at Los Kopitos Food Truck, one of the tastiest food trucks in the entirety of the PNW. (We're not exactly objective, as it's a common stop for the staff at The Dundee, but just trust us on this). Lunch is included with your package, and while you can't go wrong with anything, we personally recommend the Spicy Carnitas Gorditas. Covered outdoor seating is available or you can sit inside the tasting room of their partnering business, Methven Vineyards. But don't take too long because once your stomachs are full, you have more places to be!
Los Kopitos is a wonderful spot to enjoy fresh and local ingredients.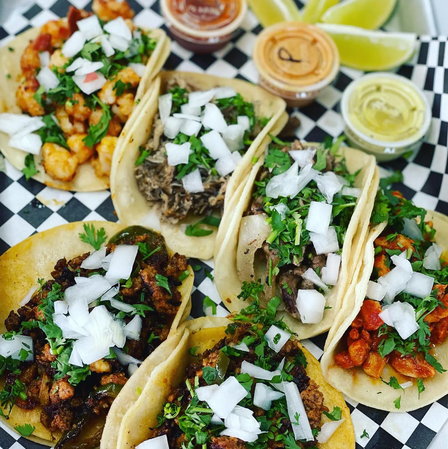 Tacos and Whiskey? Sounds like the perfect weekend!
Your second whiskey stop provides a much different feel than your first. While Ransom focuses on the history and production of whiskey throughout the world, Branchpoint Distillery is where you go to sit back, relax, and take your time catching up with friends. With its heated patio and laid back atmosphere, you'll want to sip slowly, choosing between one of two flights available through the "Whiskey Weekend Package" (a traditional tasting flight or their rotating cocktail flight). We know you'll love it here, and we recommend checking out their many special events throughout the year, like cigar nights and cocktail classes. For future events, dogs are welcome on the heated/covered patio, which is warm enough that you don't have to worry about doggo (I brought mine once during the winter, and ended up relaxing on the patio in a t-shirt). Bonus: Branchpoint Distillery offers locally made dog treats for all of your four-legged family members.
To top it all off, your package includes a $25 credit for any merchandise you'd like to purchase from Branchpoint and take home. (Our personal suggestion would be the shirt that reads, "Help Farmers. Drink Whiskey." I mean… if it's for the farmers…)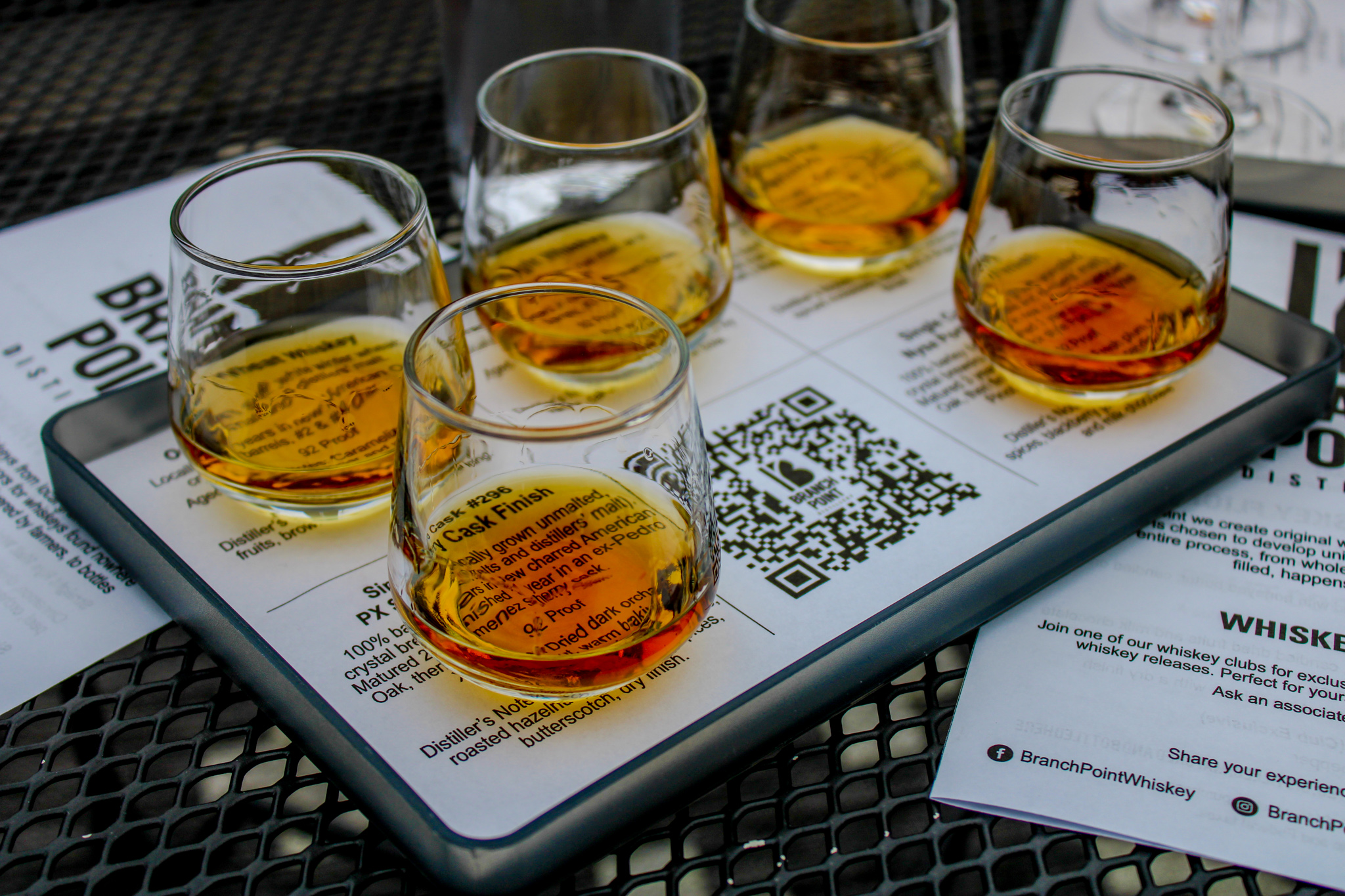 At BranchPoint Distillery, staying local is a key aspect of their whiskey making process, with each grain being locally sourced and distilled right on site. 
Branchpoints tastings feature outdoor patio seating with a relaxing, homey environment that allows you to take a step back and enjoy time with your loved ones.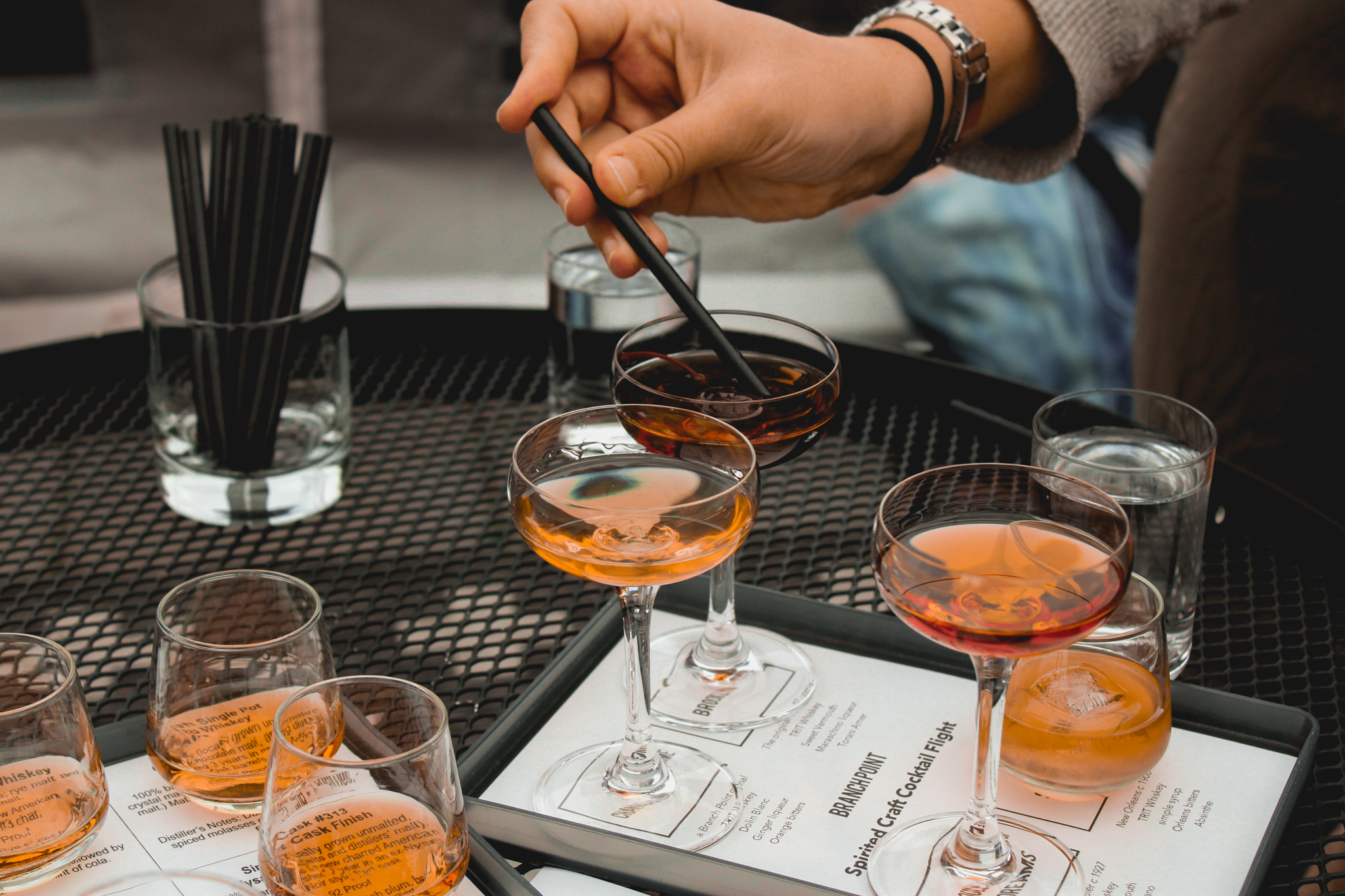 Need a change? Not to worry, Branchpoint offers a cocktail flight as an additional options for their guests.
After your second tasting, head back to your one-of-a-kind room at The Dundee Hotel. The "Whiskey Weekend Package" is a daytime event, but our friendly staff at the front desk would love to recommend some fantastic dinner places to try. You might, however, want to pick up some food up to go and spend the evening cuddled up with one of our signature robes, sipping the whiskey you may have purchased throughout the day, and dreaming about the unique cocktails you experienced at Ransom and Branchpoint. Regardless, the following day you'll head home with the knowledge that the Willamette Valley has much more to offer than wine.
There's a reason whiskey was originally called "Uisge Beath," which translates to "water of life." Whiskey has been cherished as long as it has existed, and its potential is exploding in the PNW with multiple top-of-the-line distilleries to choose from. So what are you waiting for? Book your stay with us and discover this more hidden side of the Valley!