The Willamette Valley is a great place to explore wine, not only because we have some of the best wines in the world, but the Valley's low-key, approachable ethos makes learning about new wines fun and easy. No need to be intimidated by all the wine jargon, curiosity is the key ingredient for a great experience. Drew Hildebrandt, the Tasting Room Supervisor at Furioso Vineyards, has provided us with everything you'll need to know about making your next wine tasting event a success.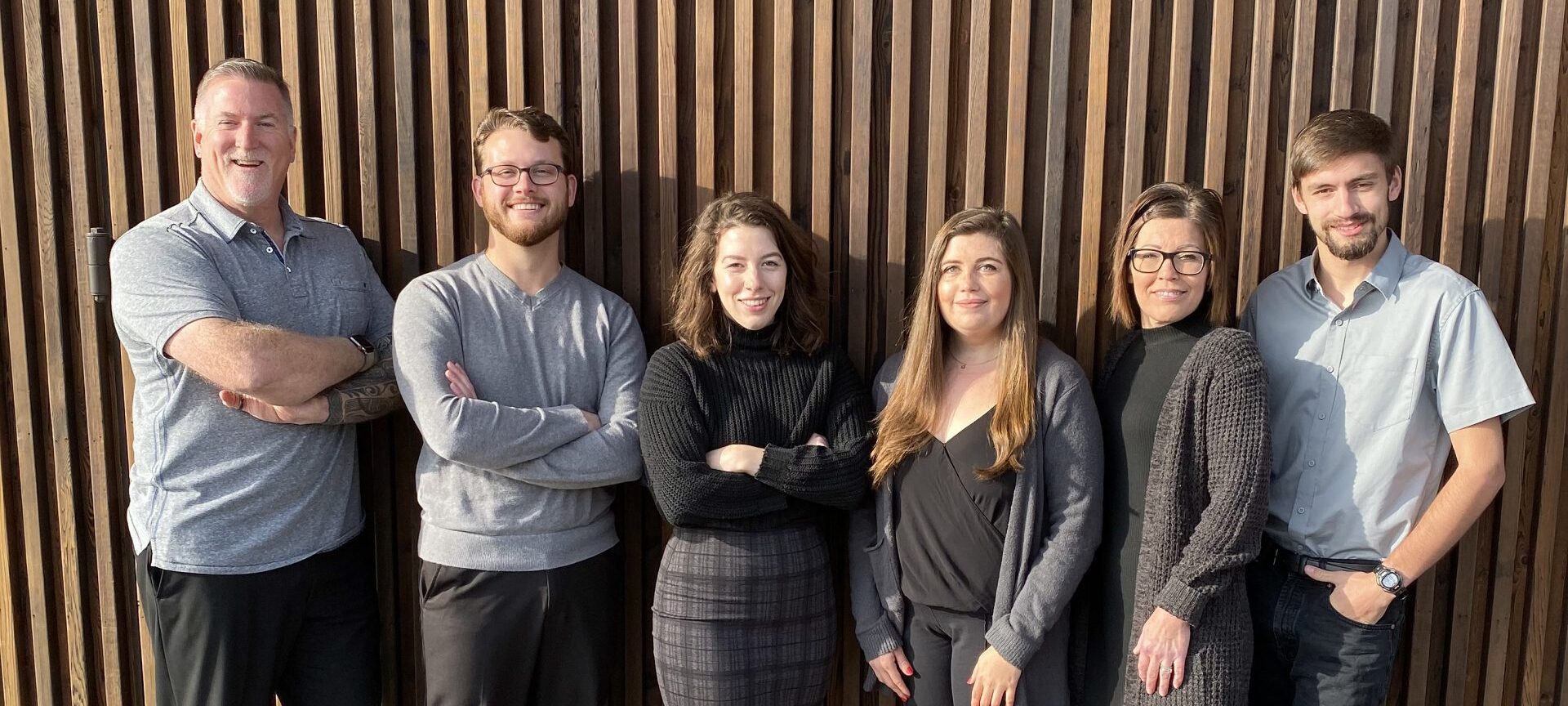 The all-star hospitality team at Furioso is a favorite stop for our guests.  Drew Hilderbrant (2nd from Left), Tasting Room Supervisor, is our guide for this post!
Pre-Trip
Make a reservation. Wineries are being extra careful to keep everyone safe, and multiple parties are turned away each day to keep everyone socially distanced. So, take the time to ensure your spot in advance.
Drew's second pre-trip is to plan around food! (I mean, that's good advice for all things, don't you think?) There is nothing worse than tasting wine on a grumbly stomach. Multiple wineries provide food, while others allow you to bring your own from home. Check the website of the vineyards you are planning to attend and arrange food accordingly.
Before you head out, plan to visit no more than three wineries, as your palate can fatigue, and the different wines will begin to taste more and more similar.
Once you've embarked on your trip, the real fun begins! Drew's main piece of advice is to be curious. There is no wrong question to ask and winery staffs adore talking about the vineyards on their properties.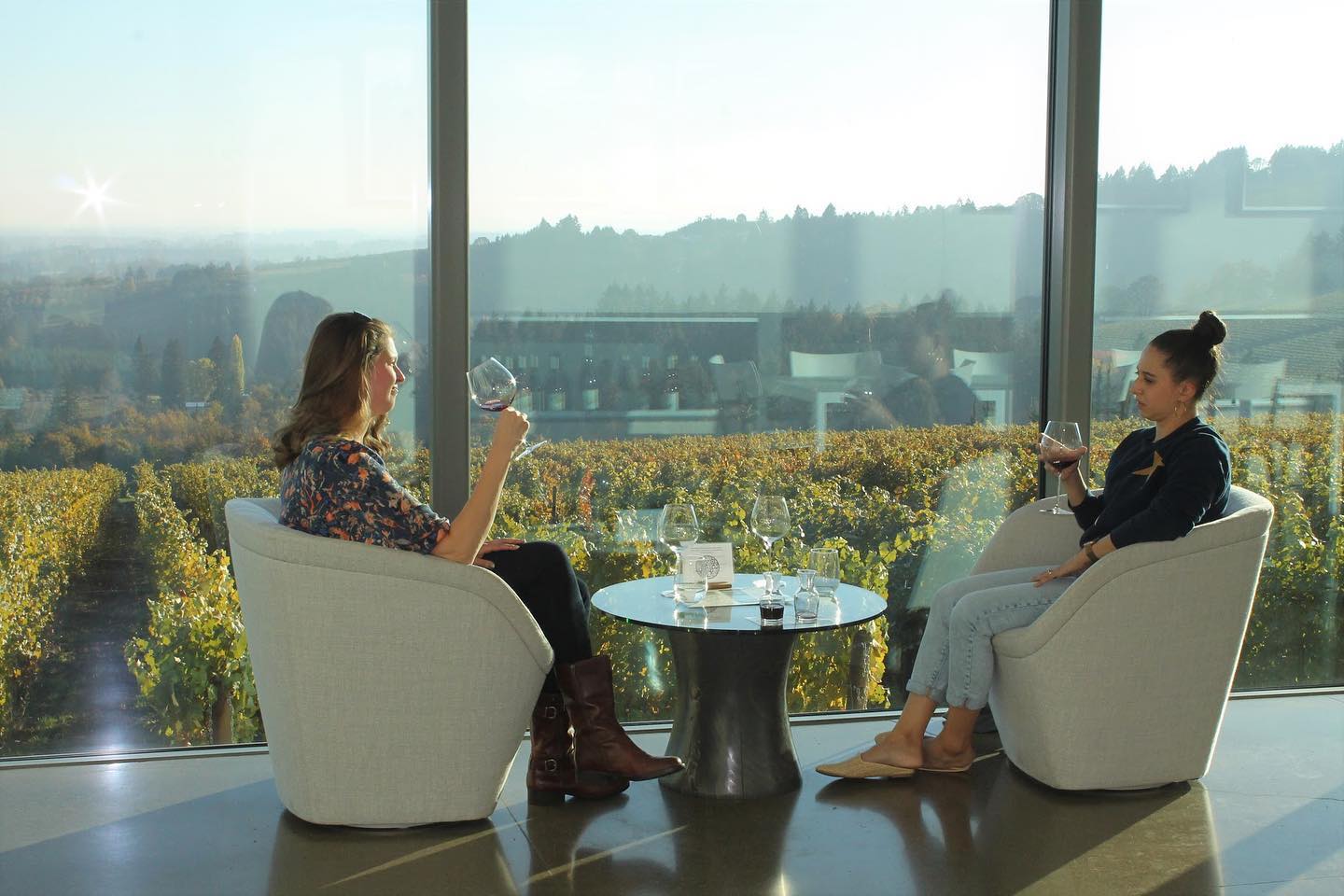 The stunning tasting room at Furioso offers one of a kind views of the Valley
Approach Tasting with Curiosity
There's only one way to deepen your wine IQ, and that's to ask and learn. Drew has offered some example questions to get your started…
"Is this wine acidic?" – you will feel acidity in your cheeks, slightly, like when you bite into a lemon (but less intense of course). Some tasters love it, some don't.
"Is this wine tannic?" – When you taste bold reds you feel tannin in your gums. It feels like a cottonmouth sensation. Sometimes it can be very intense, and everyone has different sensitivities (not as much of an issue in the Willamette Valley though, with Pinot Noir)
"Is this wine made more to enjoy by itself or to pair with food?" – There are so many different approaches to winemaking, but often we talk about "New World" vs. "Old World" approaches. The Old World tends to be more food-oriented and New World tends to lean more towards having a glass by itself.
While Tasting
Branch out sometimes! We often tend to stick with or avoid certain types of wine (I'm not a Chardonnay person, etc.), but hopefully, wine tasting broadens your horizons and generates surprises! Drew even mentions that at Furioso Vineyards, he has a "Chardonnay for non-Chardonnay people."
Don't rely solely on your taste buds. Your nose cannot be underrated, as it tells you as much about the wine as your tongue. So, don't feel silly sticking your nose way into the glass as you smell the wine, making sure to get the closest whiff without dipping your nose in (not that We've done that or anything). Wine glasses are tapered to help you smell more effectively,
Wine is all about temperature, so when holding your glass, choose the stem. Holding the cup will heat the wine and perhaps even dull the flavor.
Then once you sip, tasting has three different phases: the initial impression, the mid-palate, and the finish. Paying attention to these three different moments can help you focus on the nuances of the wine, as opposed to trying to taste the wine as a whole, which can be overwhelming.
Lastly, don't be afraid to ask for other recommendations. The Willamette Valley is a close-knit community and all about camaraderie. Most winegrowers and managers love sharing their favorite places in the Valley to help you build your itinerary.
So there you have it! Some wine tasting tips to practice at home or spring into action during your next trip to Dundee. We'd love to host you here at The Dundee Hotel!
The team at Furioso L-R: Jim Maquire (Direct to Consumer & Hospitality Manager), Giorgio Furioso (Founder/Proprietor), Dominique Mahé (Winemaker), Jared Etzel (Head of Wine).